Like GearBrain on Facebook
IKEA's Place smartphone app uses augmented reality to show what items sold by the furniture company look like in your home, but there is one major problem. It is impossible to buy anything.
Instead, the app can only be used as a demonstration of how pieces of furniture might look in your home. You can then save these to a shopping list to use in-store, or head to the website and do your shopping that way instead.
But this is about to change, as IKEA shifts its retail strategy to encourage more buying from home, instead of customers having to drive to one of its out-of-town stores.
Read More:
The move, which will begin in Europe before spreading to the US later in the year, shows IKEA has the utmost faith in the app's ability to faithfully show what items will look like in shoppers' homes. After all, if the AR isn't accurate, customers will be faced with the inconvenience of having to arrange for ill-fitting furniture to be sent back for a refund.
IKEA announced its renewed interest in augmented reality in an interview with Reuters. Barbara Martin Coppola, chief digital officer at the furniture store, told the news agency: "It's a completely new experience. The app is combined with the store experience, with the online experience."
The new app, which will replace IKEA's existing Place AR offering, will launch first in France and the Netherlands, then roll out to the company's eight top markets. This includes the US, UK, Germany and China.
Users will be asked to input the dimensions of their room, then choose from a range of different tastes and styles, and tell the app what stage of life they are at. They can then select pieces of furniture and, using the rear camera of their smartphone, see a live, 3D representation of what the item will look like in their home.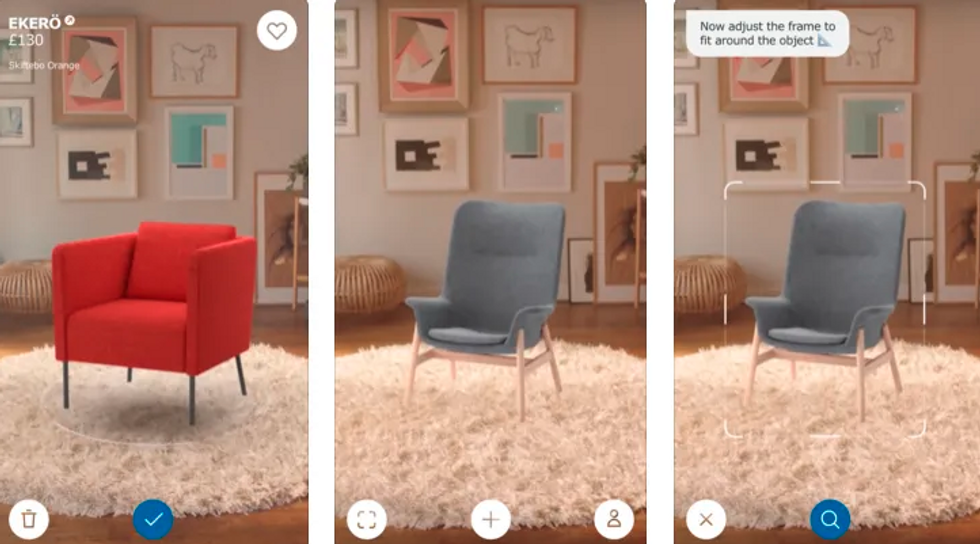 Place augmented reality app will soon allow shopping from your phoneIKEA
Like the current Place app, items can be locked into place, allowing you to walk up to and around the item, which stays exactly where you left it. Once happy with their selection, shoppers can then order the item and have to delivered to their home.

Of course, augmented reality cannot completely replace seeing a piece of furniture in the flesh. It is perhaps unlikely that shoppers will buy expensive items like sofas without first inspecting what they feel like in person. But for simpler items like tables and lamps. The app could well convert many AR browsers into buyers.
The app will also come into play at IKEA's new, smaller inner-city stores. These, like one which recently opened in central Paris, are much smaller than its usual stores and carry a far-reduced range. But, using the augmented reality app, visitors can try out a chair in person to check how to feels, then change its color or design through the app. We can see this blending of worlds being a popular way to sell home furnishings, while giving IKEA a more prominent position on the high street.
This shift, IKEA says, could see changes at out-of-town stores, which could become stock warehouses to fulfill orders placed online or at the inner-city stores.
From Your Site Articles
Related Articles Around the Web
Like GearBrain on Facebook