Like GearBrain on Facebook
Imagine you could whip out a pair of virtual reality glasses and slip into a virtual reality experience while, say, on a long plane flight, or even while undergoing a long and painful medical procedure? You could use them to show off virtual reality to friends or colleagues. Or, while visiting an ancient ruin, you could know what the area looked like in its prime, via a virtual reality reconstruction.
These virtual reality glasses are, in fact available. Plus they are small enough to fit into your pocket, letting you enjoy a virtual reality experience, while not blocking your peripheral vision.
How much would you pay for a set of virtual reality glasses like these? Hundreds of dollars?
Would you believe they start at less than $5?
Some also do double duty as phone protectors or phone stands. Plus, since the design lets you touch the screen, you don't need buttons or controllers to interact with the VR applications.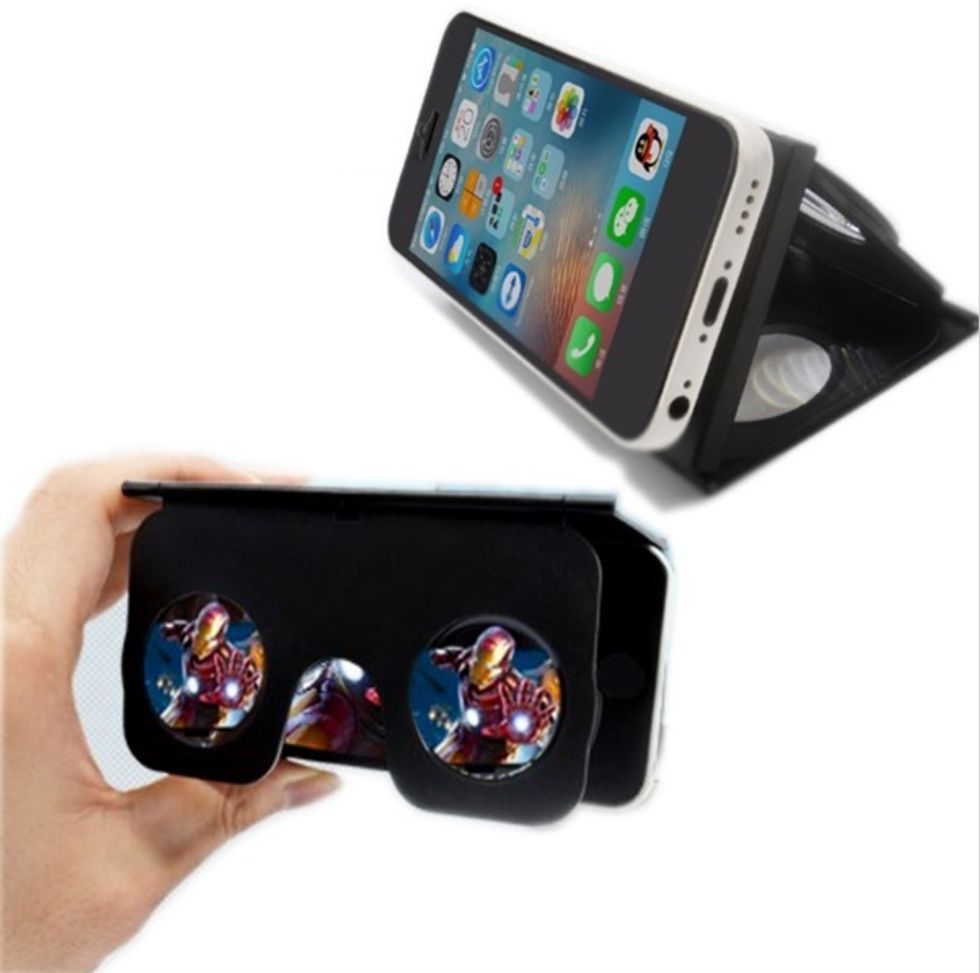 VR Smart Pro 8 can also act as a stand for your VR headset.
VR Smart Pro 8
This tiny little VR headset weighs just 2 ounces, but can hold any smartphone—iOS to Android—with screens from 3.5 to 6 inches in size. Its field of view is on the small side, just 80 degrees. By comparison, the Gear VR is 96 degrees. But then, the VR Smart Pro 8 is under $5, and comes in black, blue, pink and white and can double as a phone stand.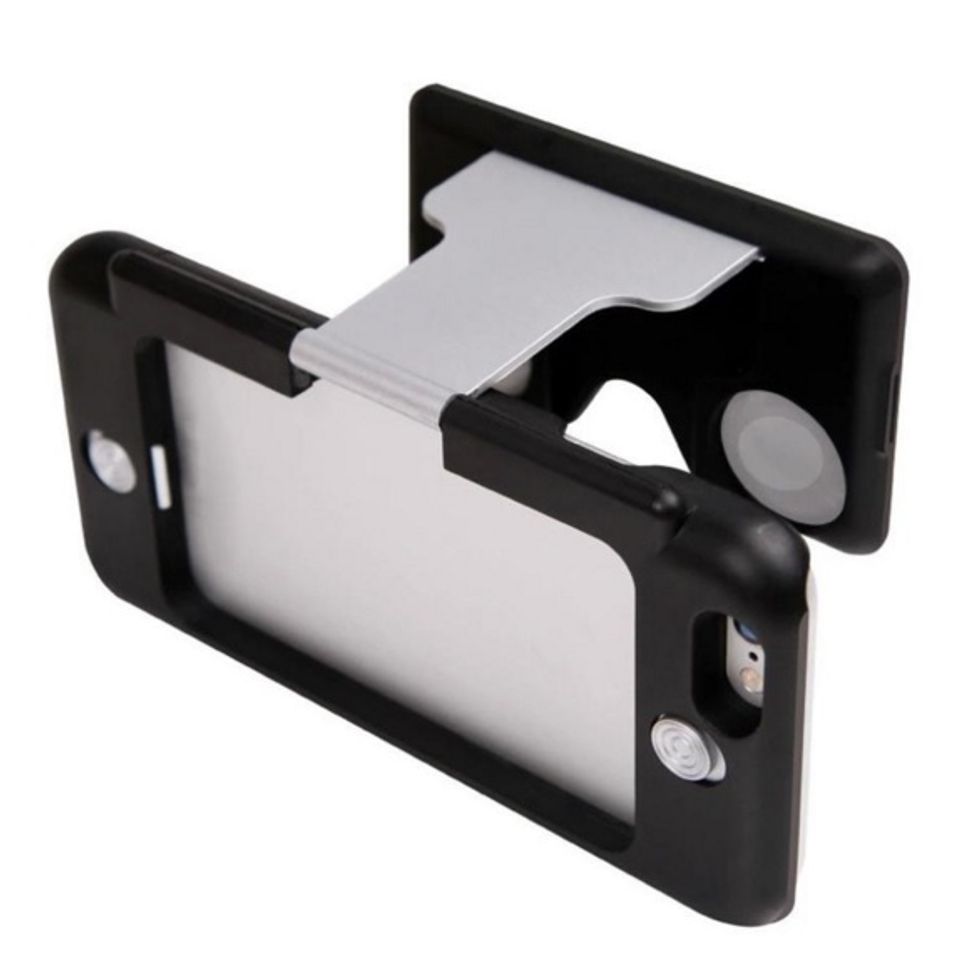 The VR Case will also work as a phone stand, but only for certain iOS smartphones.
VR Case
This headset can be used both as a phone stand and a phone case—but only fits the iPhone 6, 6S, 6 Plus, and 6S Plus. (Sorry Android users.) VR Case comes in black, gold, and silver.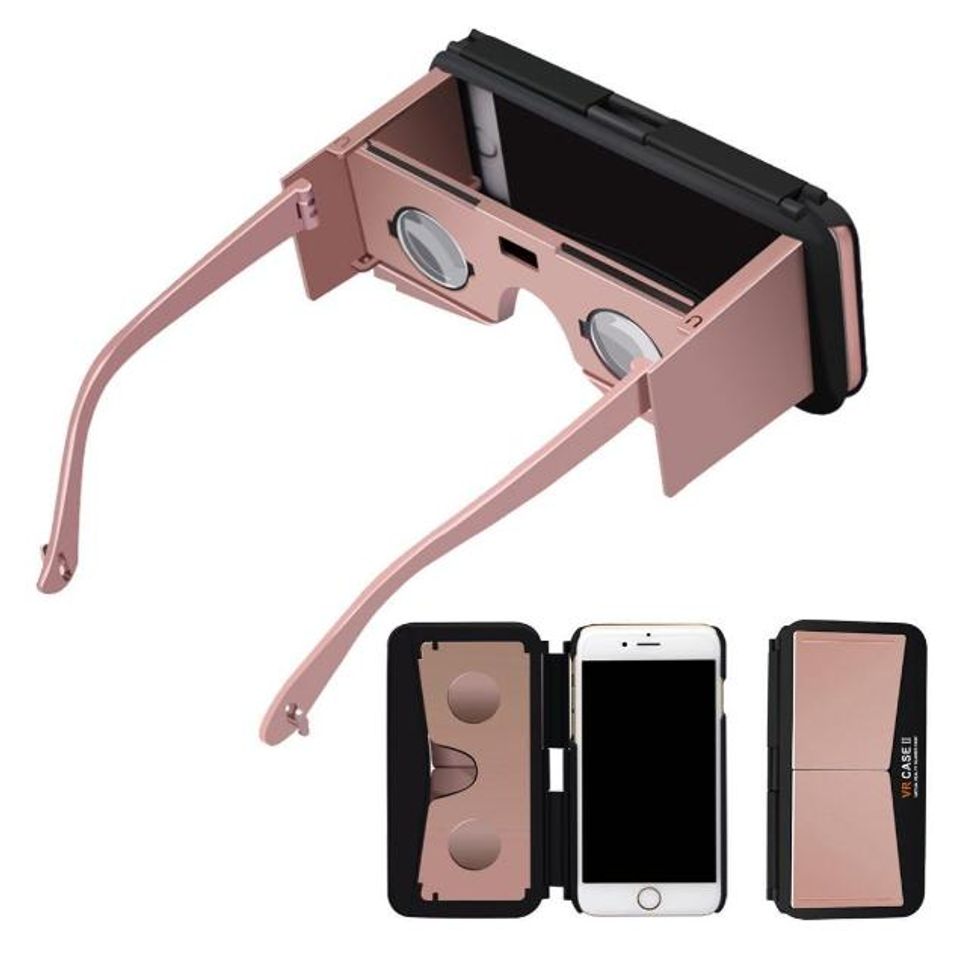 The VR Case II comes in fashion-forward rose gold.
VR Case II

The VR Case II is the only headset on our list that you can actually wear as a pair of glasses, instead of having to hold them in front of your face with your hands. The headset has an adjustable focus, and can double as a phone stand and a phone case. You can choose gold, rose gold, and silver. While the VR Case II weighs just under 3 ounces, the additional weight of your smartphone may make this headset a little bit front-heavy. The headset is also only available for iPhone 6, 6S, 6 Plus, and 6S Plus, starting at under $10.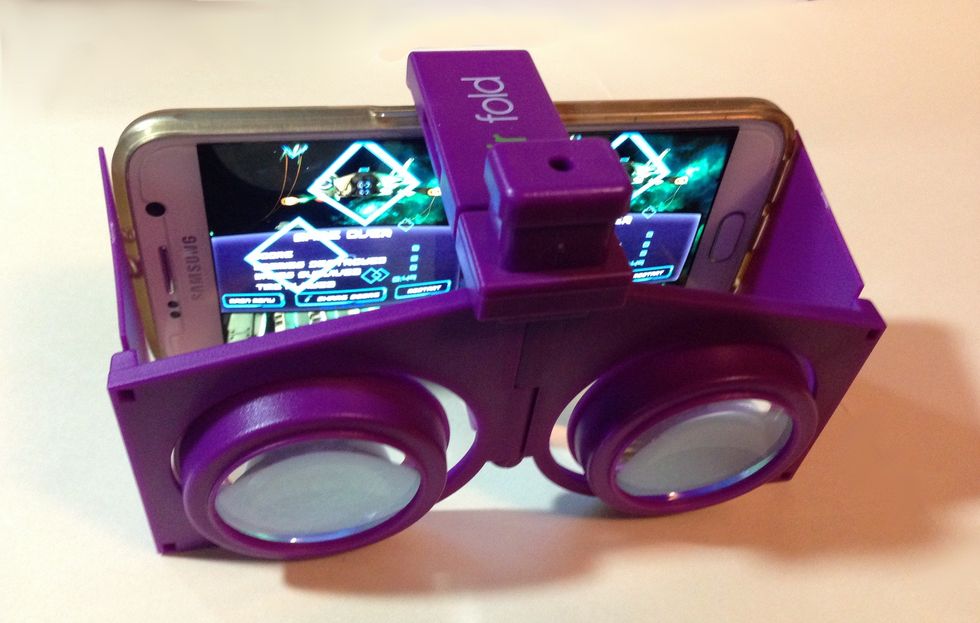 The VR Fold holds any smartphone, including this Galaxy S6.Photo by Maria Korolov
VR Fold

This headset folds in half (hence the name), so that it's smaller than the palm of your hand. VR Fold works with both iOS and Android smartphones, as long as their screens are between 4 to 6.5 inches. Both the focus and the interpupillary distance is adjustable, and VR Fold comes in black, red, and rose. The headset starts at less than $5 and up, and weighs just 2.6 ounces.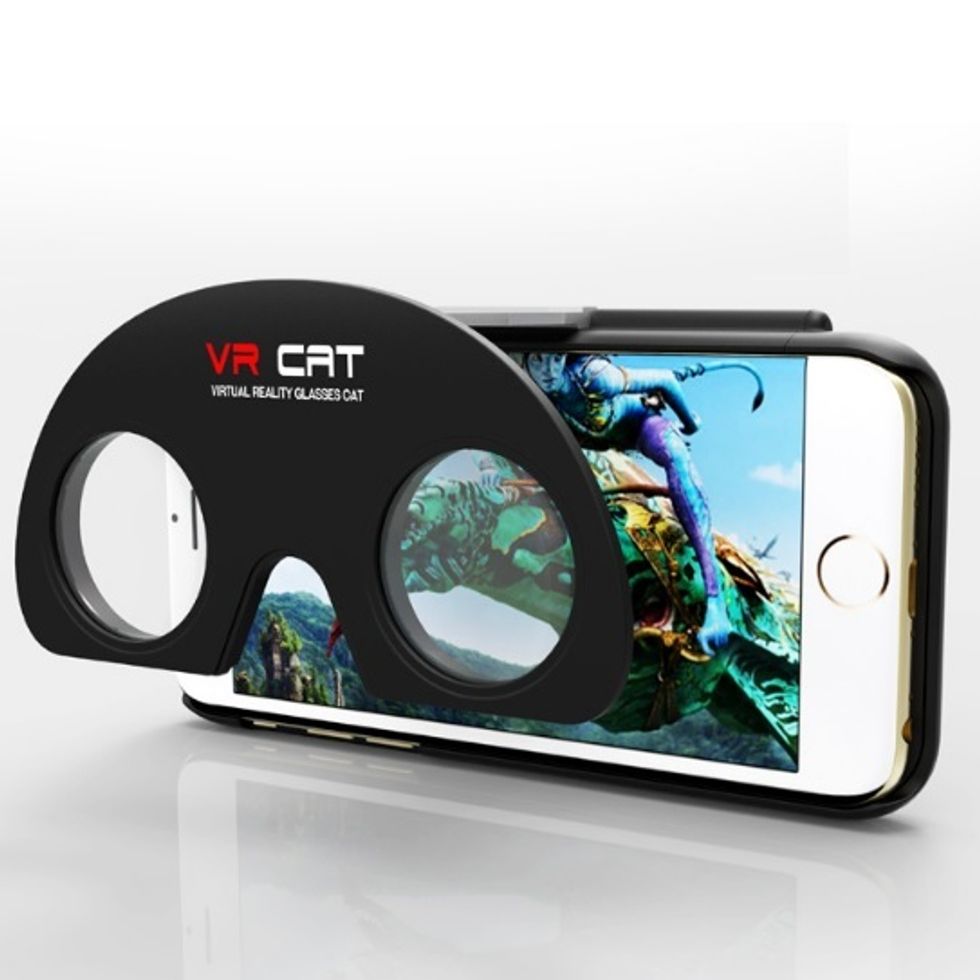 The VR Cat has a rounded look—but no cat eyes.
VR Cat

A foldable VR set for cat-lovers, the VR Cat doubles as a phone case for the iPhone 6, 6S and 6 Plus.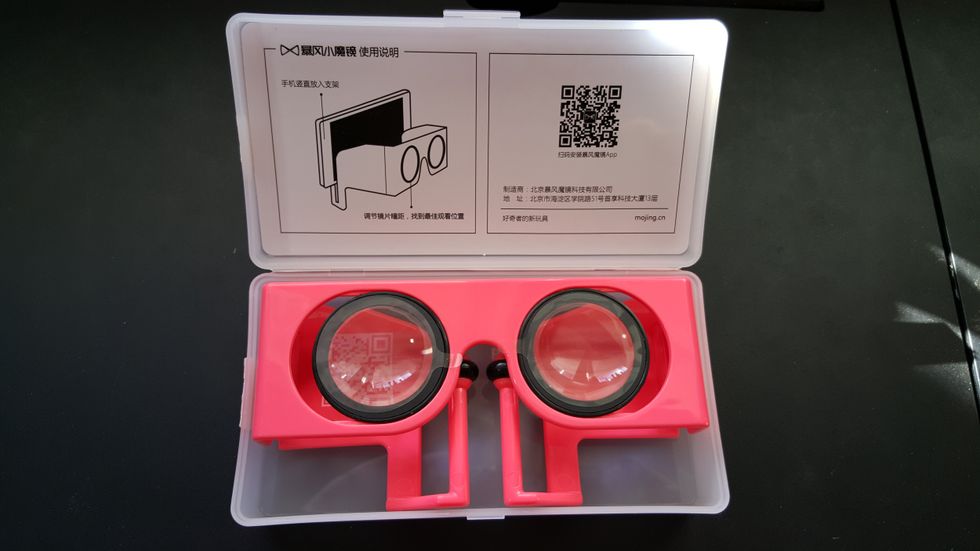 The Baofeng Mojing Small comes with its own case.Photo by Maria Korolov
Baofeng Mojing Small
The Baofeng Mojing Small is still one of our favorites: a tiny, foldable, easy-to-use viewer that can hold any phone with screens between 4.5 and 5.5 inches in size. The headset weighs just one ounce, and comes in a variety of colors from purple, blue and black, starting at about $15.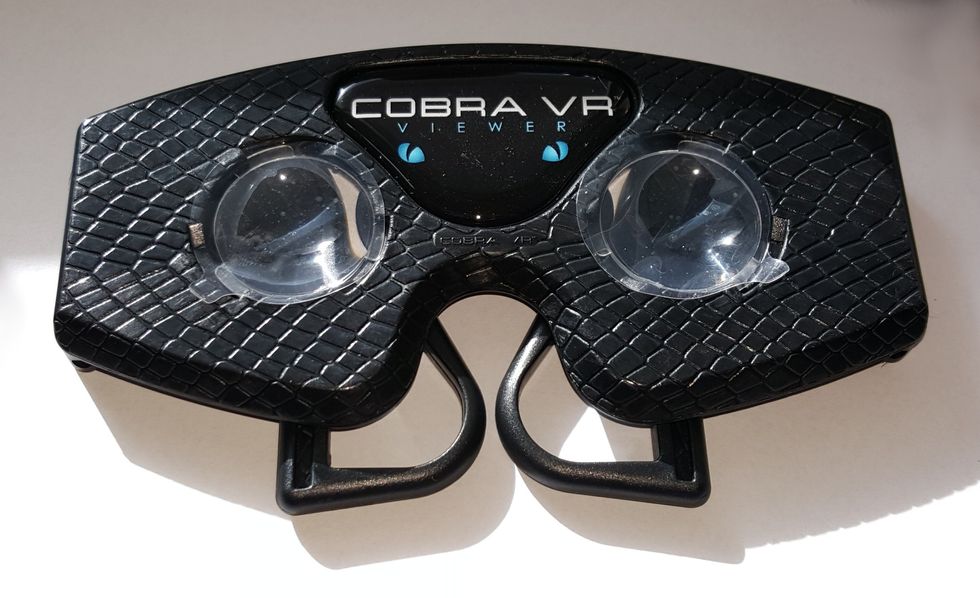 For the fashionista, a VR headset with a snakeskin-look.Photo by Maria Korolov
Cobra VR

A foldable, open-sided viewer with a snakeskin-look design, the Cobra VR is about $10 and weighs 2.4 ounces. The headset fits any smartphone.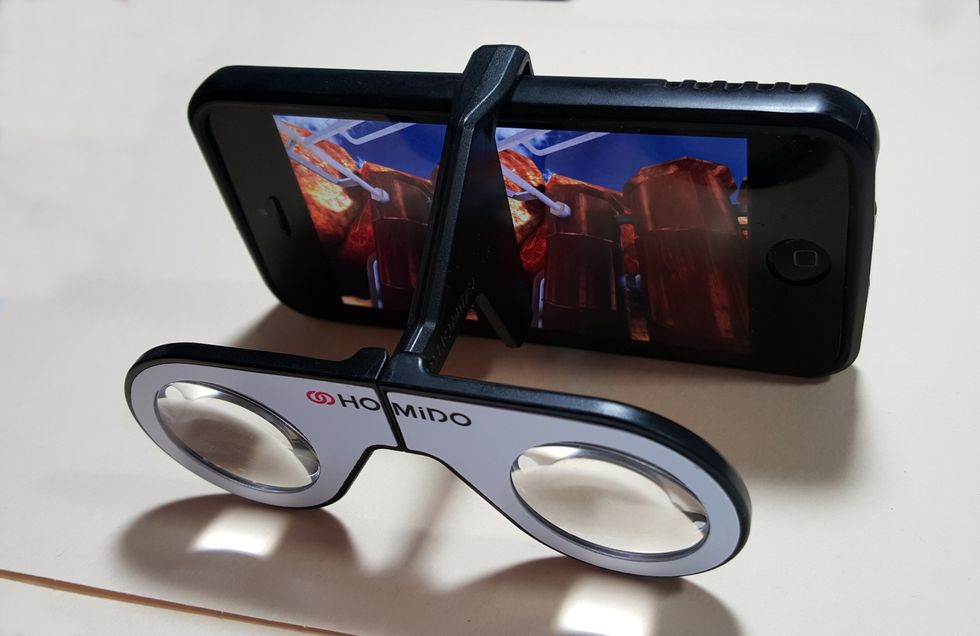 So small, the Homido Mini will fold up into the palm of your hand.Photo by Maria Korolov
Homido Mini
This is one of the smallest VR headsets on the market, coming in at half an ounce. The $15 Homido Mini fits smartphones with a 4 to 6 inch screen, and has a very impressive field of view of 100 degrees.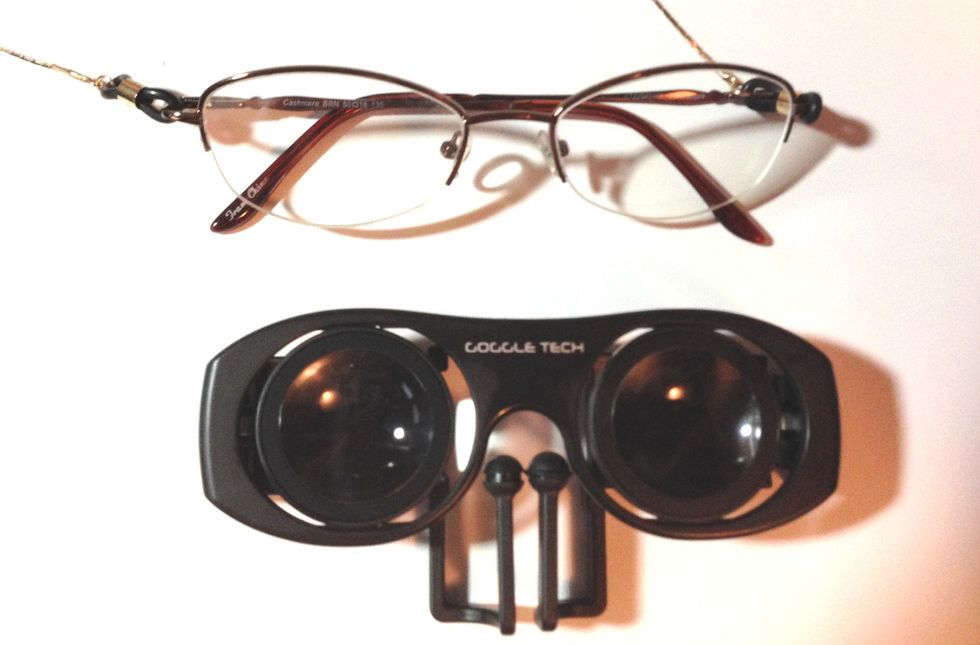 Goggle Tech next to a regular-sized pair of glasses.Photo by Maria Korolov

Goggle Tech C1-Glass
This headset remains my all-time favorite folding headset because the Goggle Tech C1-Glass comes in a very nice hard case, a bit smaller than an eyeglass case. The headset, at about $25, fits any phone with a screen up to 6 inches and comes in black, white, green and wine.
Still not sure which vr glasses to buy, check out GearBrain's 11 Best VR Headsets or 11 Questions About Virtual Reality Headsets Before You Buy. Either of these articles will help you find the right vr glasses or headset that meets your virtual reality viewing needs today.
From Your Site Articles
Related Articles Around the Web
Like GearBrain on Facebook