Like GearBrain on Facebook
Pros: It's very (very) small.

Cons: It might just be a little too small.

Plenty of folding headsets claim to be able to fit in your pocket. But the Homido Mini, weighing in at just half an ounce, can fit in that little extra pocket in the front of your jeans that you normally don't use for anything.

When folded, this headset is smaller than the palm of your hand. if you sneeze hard while holding it in the palm of your hand, you might just blow it away. And then your dog will jump up in the air and swallow it whole. And the Homido Mini will almost definitely fall between the cushions of your couch at least once. And be lost forever.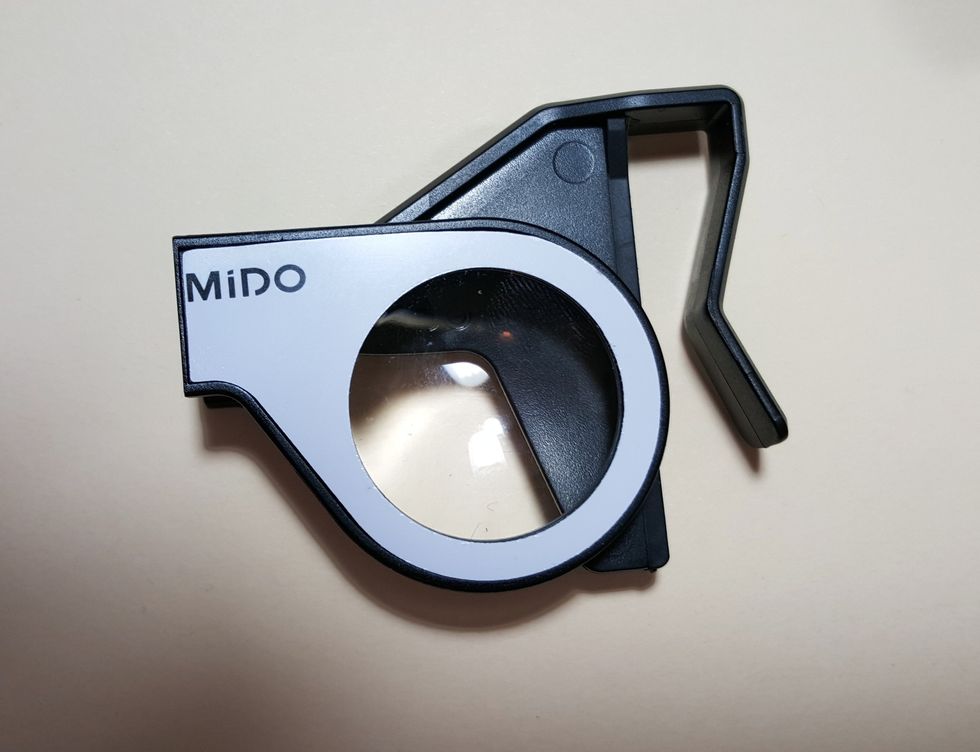 Homido Mini viewer, folded up. (Image by Maria Korolov.)GearBrain
All jokes aside, this viewer costs $15, and works with any late-model iPhone or Android smartphone. Just unfold it and clip it to the front of your phone, then hold it up to your face. Think of the headset like an old-fashioned pair of spectacles—except you get to watch very 21st Century technology with them instead.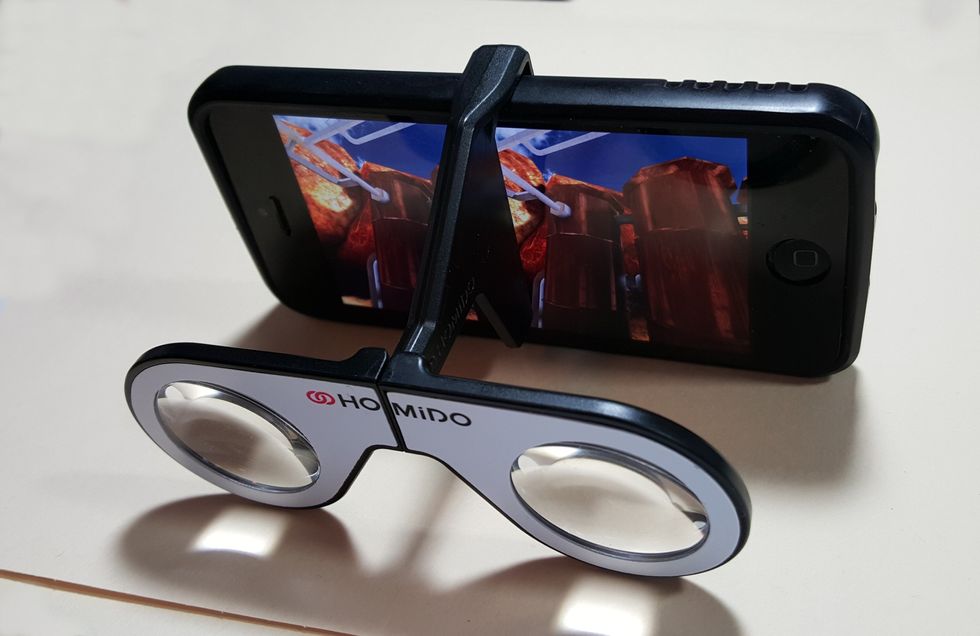 Homido Mini virtual reality viewer. (Image by Maria Korolov.)GearBrain
Still, this is not a viewer that you want to use for full-length movies or for casual virtual reality games, since you have to hold it in place pretty carefully. If you move your head too hard, the viewer will slip a bit, and everything will go out of focus.

Homido Mini is also not the cheapest folding viewer. If you search Amazon, you can find many folding viewers ranging from $4 to $10, including some that also double as phone cases. (Check out our review of the VR Fold, another folding VR headset that comes in at just $5.)

Why would you want this viewer? You can give them out to friends or customers as a cute little gift, or stick one in your purse — or pocket — for when you quickly want to check out a 360-degree video or travel app. The headset is also useful in case you want to give people a little taste of virtual reality.

The Homido Mini is not particularly immersive. Though it has a decent field of view of 100 degrees, and is open sided, so you can still see the real world in your peripheral vision. That might be a good or bad thing, depending on where you use the viewer. However open-sided headsets mean you can touch the screen to interact and switch with apps, plus queue up videos. In other words, you don't need a button or a controller.
The viewer does not come with a carrying case, so you will need a little bag to protect the lenses from getting scratched. However Homido Mini does ship with a little booklet with the Google Cardboard QR Code on it (nice.) But if you lose that small book, here is the code for your reference: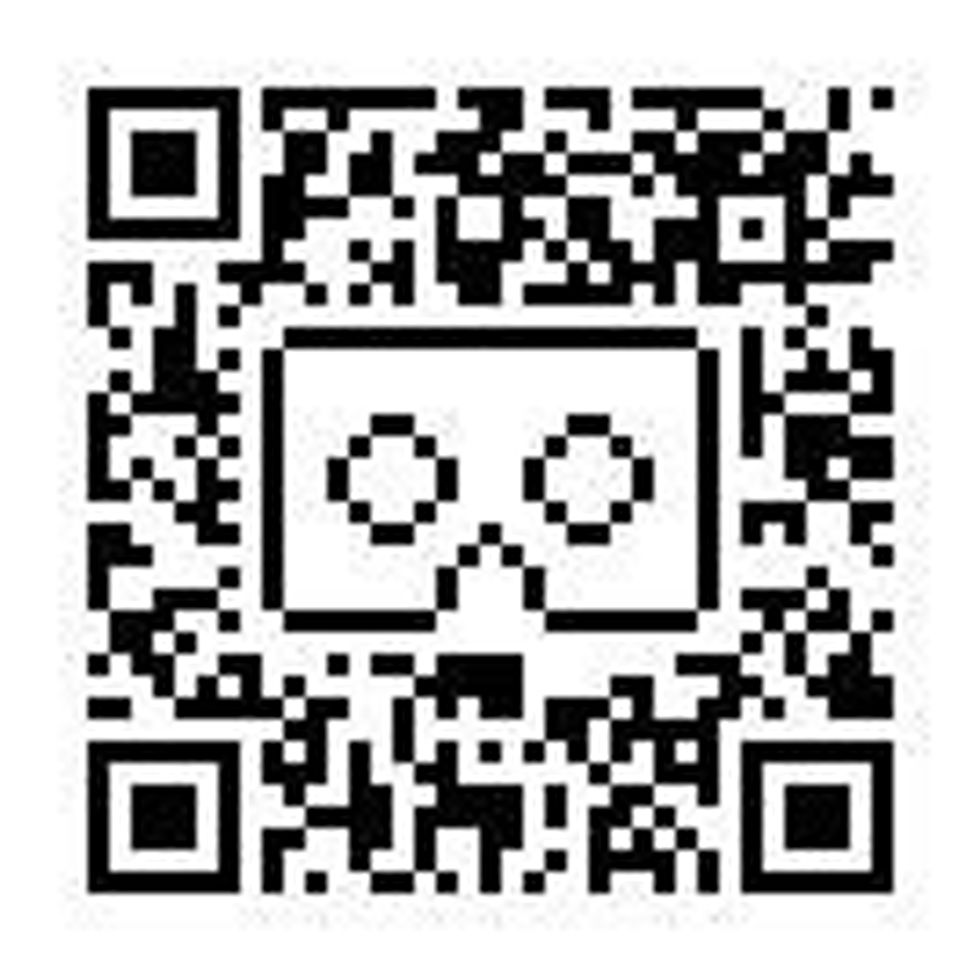 Why do you need a QR Code? The code is necessary to calibrate the headset so it works properly with your smartphone. The calibration is through the Google Cardboard app, available for both iOS and Android.

Homido is a French company that also makes larger, enclosed headsets, as well as a 360-degree camera and a wireless gamepad for Android phones. It is also known for its Homido Center app and Player app, which are portals to a variety of virtual content including 360-degree videos and browsing the Internet.
Buy the Homido Mini for $15 on Amazon.
Looking for more VR headsets? Please check out GearBrain's reviews on 5 Best VR Headsets For Travel Apps, Buying Guide: Best VR Headsets for Gamers, Best VR Headsets For Android Smartphones and Best VR Headsets For Sports. And see our recommendations for more folding headsets here. Still not sure which vr headsets to buy, visit GearBrain's 11 Best VR Headsets or 11 Questions About Virtual Reality Headsets Before You Buy. Either of these articles will help you find the right vr glasses or headset that meets your virtual reality viewing needs today.
From Your Site Articles
Related Articles Around the Web
Like GearBrain on Facebook