Like GearBrain on Facebook
Virtual travel and tourism are the most popular reasons consumers turn to virtual reality today. Nearly three-quarters, or 74 percent, of mainstream U.S. buyers are either "interested" or "very interested" in virtual travel, tourism and adventure, according to Greenlight VR's consumer research. For comparison just 61 percent buy VR headsets to play games.
If you happen to be among those 74 percent, you're in luck.
While the best virtual reality games require high-end, expensive headsets most travel apps out there today work on low-cost mobile-based headsets.
Instead of spending hundreds of dollars on an Oculus Rift or an HTC Vive— plus another $1,000 on a computer powerful enough to run them—you can spend less than $100 and still get a great experience.
These low-cost headsets use your smartphone to power them, so you not only dodge upgrading your computer, but you also get to enjoy VR without dealing with cables or complex installation procedures.
Most travel apps are built around either 360-degree, panoramic photos or 360-degree videos. Photos and videos? Two things smartphones do really well.
For example, there are already more than 150,000 360-degree videos on YouTube, many of them featuring interesting travel destinations. Google's Street View can also, instantly, transport you to almost any place on Earth, including many popular undersea destinations.
Using them couldn't be simpler. Just load the video, photo or travel app onto your smartphone, switch to virtual reality mode, and drop the smartphone into your virtual reality headset. Then check out our round up of the best virtual reality travel apps.
But before you scroll down to see our recommended headsets, a note of warning. Google's new Daydream platform is coming out later this year, part of Android Nougat, the next Android release. This OS promises better performance, better graphics, and a new hand-held motion controller.
Any headset you buy today will be obsolete very quickly, so don't spent too much money. Fortunately, mobile-based headsets start at around $10, so there's a viewer for any budget.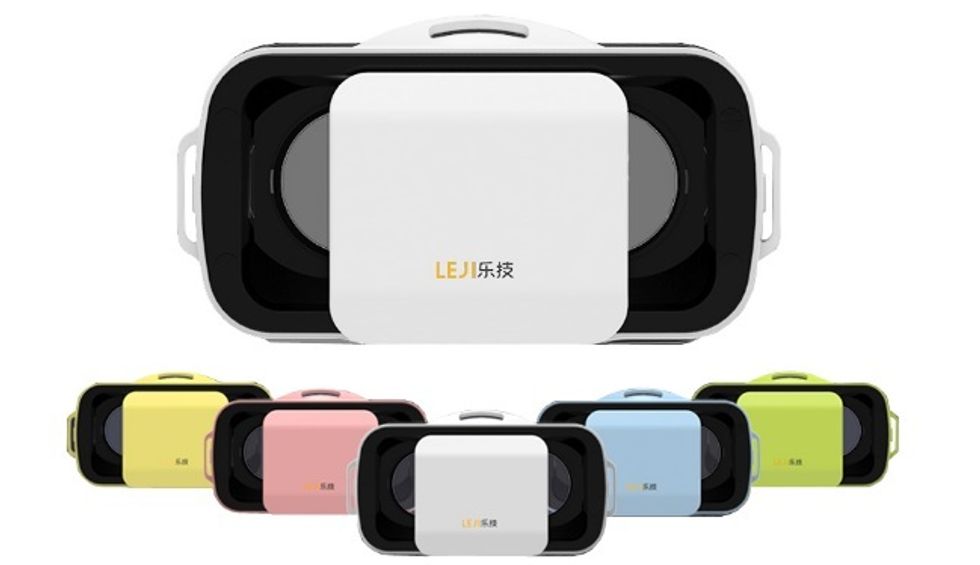 Leji VR Mini.
Leji VR Mini
This is the headset that I reach for most often. It's cute, small, light, has adjustable lenses and a headstrap, comes in five different colors and is super easy to use -- just pull up your favorite travel app and drop your smartphone into the holder.
The main disadvantage of this headset is that it doesn't have a built-in button, and you can't touch the screen itself without taking the phone out of it. However, most travel apps are look-to-activate, so a button isn't usually needed.
If you want to use this headset with interactive games, however, you'll probably want to get it bundled with a remote controller.
Get it on Amazon for $25 with a controller or less than $14 without one.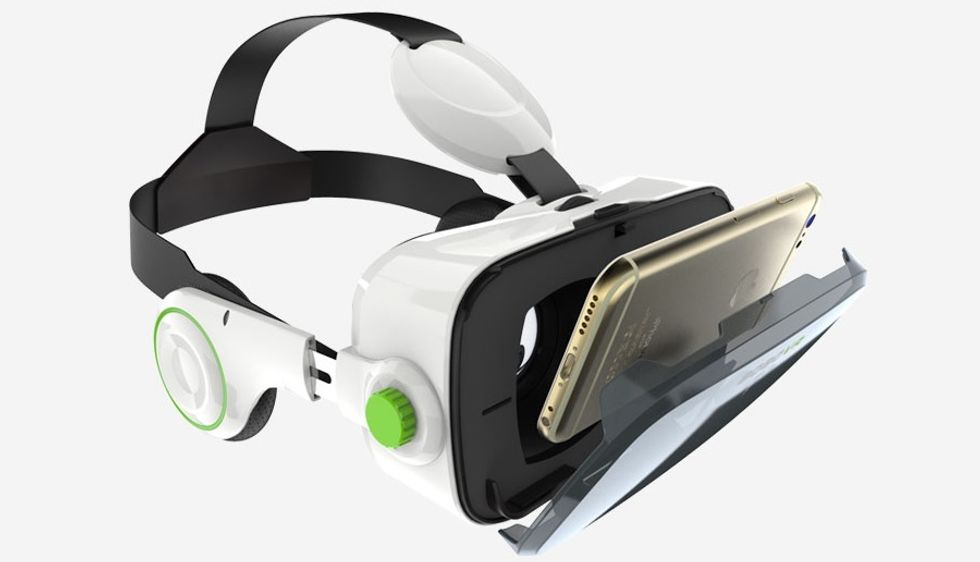 BoboVR Z4. (Image courtesy BoboVR.)
BoboVR Z4
This is the best mobile headset that's not a Gear VR. It works with any late-model iPhone or Android phone with screens between 4 and 6 inches in size, has built-in headphones and a control button, and is very easy to use. Get it for $39 on Amazon.
The field of view is a very impressive 120 degrees, more than the Oculus Rift, HTC Vive, or the Gear VR. This means that you get the widest view possible on your smartphone, though for the best experience you want a phone with the largest, highest-resolution screen that you can afford.
The lenses are adjustable, it fits over glasses, and it is very easy to use -- just open the front cover, drop in your phone, and snap the cover closed.
It weighs 15 ounces. That's a little bit more than the Gear VR, which weighs 12, or the Leji Mini VR, which comes in at just 7 ounces. But a lot of that is due to the headphones. You can also buy a version of this headset without headphones, which weighs 11 ounces.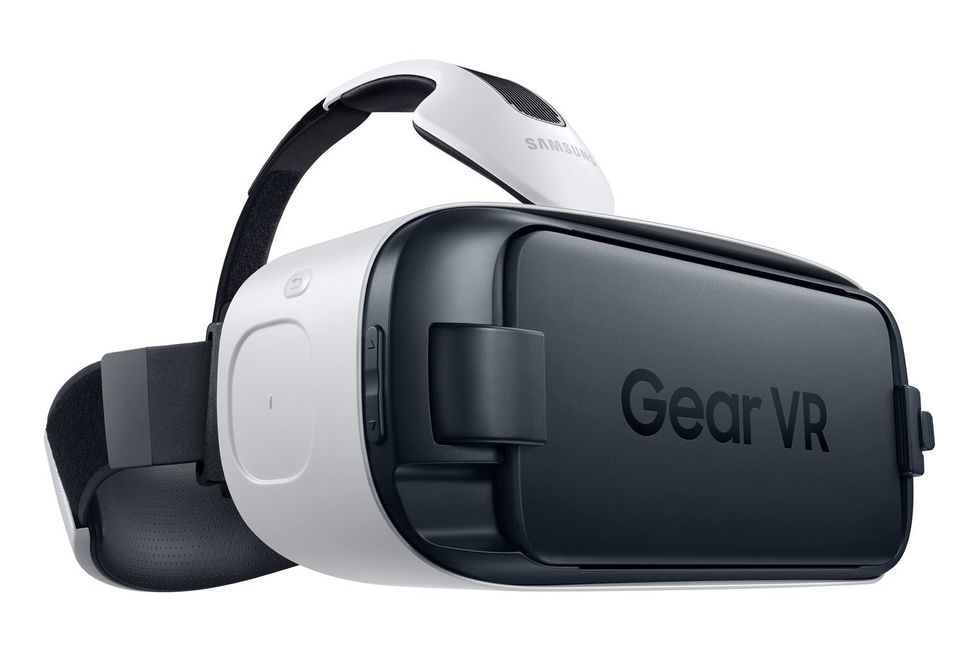 Samsung Gear VR. (Image courtesy Samsung.)
Samsung Gear VR
The all-around best mobile virtual reality headset -- if you happen to own a Samsung phone, and don't mind being limited to the small selection of apps in the Oculus Gear VR app store.
The Gear VR has extra built-in sensors to make the virtual reality experience a little bit more immersive, a built-in trackpad, and while its app store might be small, it offers some premium apps that you can't get for the other headsets on this list, including Samsung VR, its proprietary video platform.
Use it with the Galaxy S7 and S7 edge, Note5, Galaxy S6, and Galaxy S6 edge smartphones. And if you want to get the Cardboard-compatible VR apps in the Google Play store, you can always pick up one of the other headsets on this list. There are work-arounds to get your Cardboard apps to run on Gear VR, but I've personally had problems using them, and the hassle just doesn't seem worth it.
The Gear VR also sets itself apart with its proprietary interface. You don't have to take off the headset to switch apps, and the built-in trackpad and buttons make it easy to navigate the virtual menus and interact with applications. On the downside, it heats up quickly and drains the phone's battery.
Buy it from the company, on Amazon, or at your nearest Best Buy for $99.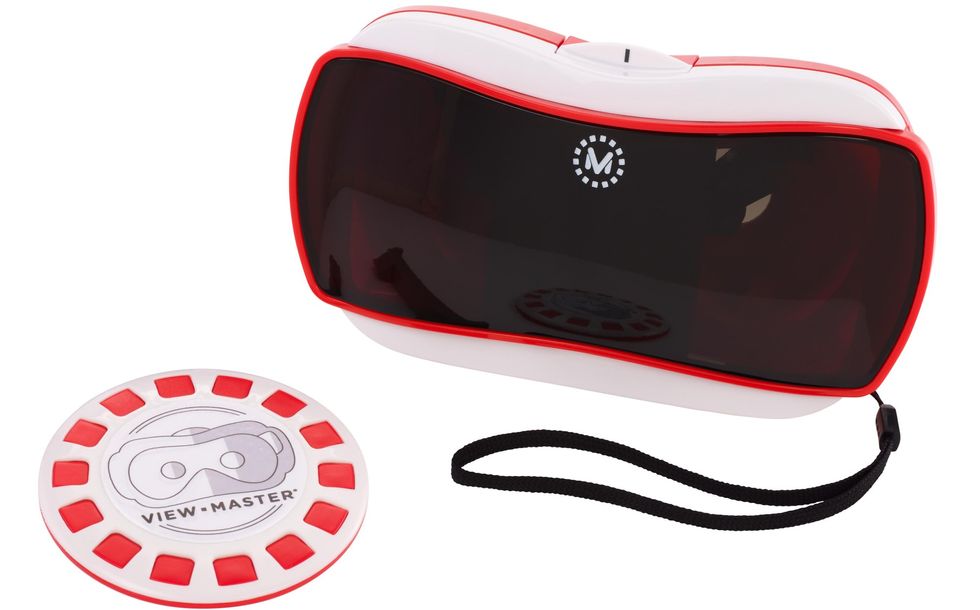 Mattel View-Master VR. (Image courtesy Mattel.)
Mattel View-Master VR

A great, fun headset that your kids with play with, too. It won't fit over your glasses, it doesn't have adjustable lenses or built-in headphones, and it doesn't have straps to hold it on your head, but it is very cute and very easy to use. The touch button is nice and big, so you'll have no problems finding it, and the headset's design makes it a pleasure to hold.
Mattel will try to convince you to buy the expensive "Experience Reels" but you can just ignore them -- the View Master VR will happily run any of the VR apps in the Google Play or Apple app stores.
Buy it for just $13 on Amazon or pick it up at your neighborhood Target or Walmart.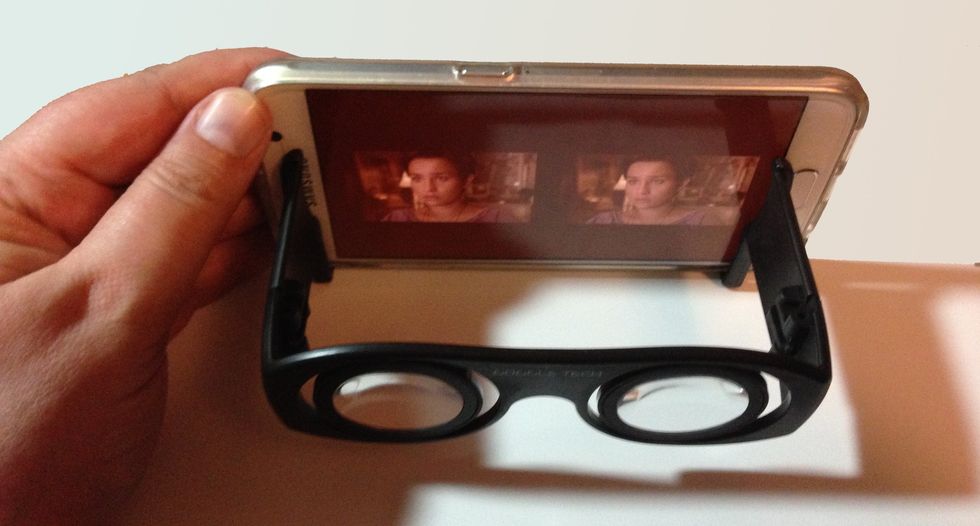 Goggle Tech C-1 Glasses. (Photograph by Maria Korolov.)
Goggle Tech C-1 Glasses

Finally, maybe you are interested in a headset that you can use to watch virtual reality travel videos while actually traveling. This little item folds up flat, weighs just one ounce, and comes with a nice little carrying case. It works with any late-model Android phone or iPhone. It's also available in a couple of different colors, if you don't like the standard black. Get it for $25 on Amazon.
If you don't like this one, there are plenty of other folding, open-sided headsets to choose from, some of them starting at under $10.
One major benefit of open-sided headsets is that they allow full access to the phone's screen, so you don't have to carry a separate Bluetooth controller to interact with apps, or to switch between applications. Plus, they don't block your peripheral vision, so won't miss your train stop.
The downside is that these headsets are too small to have headstraps, and you have to hold them up with your hands. So these aren't for watching a two-hour movie. On the plus side, since they're not tightly strapped to your head, you can use them with your glasses.
Still not sure which vr headsets to buy, check out GearBrain's 11 Best VR Headsets or 11 Questions About Virtual Reality Headsets Before You Buy. Either of these articles will help you find the right vr glasses or headset that meets your virtual reality viewing needs today.
Like GearBrain on Facebook