Like GearBrain on Facebook
Pros: Sound quality, personalized voice-command, can answer or place calls via app and device
Cons: Look, app download requires Wi-Fi connection, battery drained rather quickly on iPhone
Let's start with the obvious: Vi, a new fitness wearable hitting the market today, is not its selling point. After all, a set of earbuds you wear around your neck is not new — nor attractive. The idea most people go for today when selecting headphones is something small (like the AirPods) or sizable to deliver impressive sound quality. You'll get one with Vi, if not the other.
But Vi is not meant for playing back music. Although the stereo sound she delivers is impressive. (Thank harmon/kardon for that, which is behind the sound quality of the device.) What Vi is truly designed to do is whip your behind into shape and do so with a kick in your step, all the while not taxing your brain with too many things to push or keep track of while you're trying to hit a personal best. On that front, Vi delivers—and delivers impressively.
Vi launched last year through a Kickstarter in June 2016, raising nearly $1.7 million. The company is finally pushing out the consumer model, which launches today on both Amazon and Best Buy, with a global roll-out planned for June, the company says.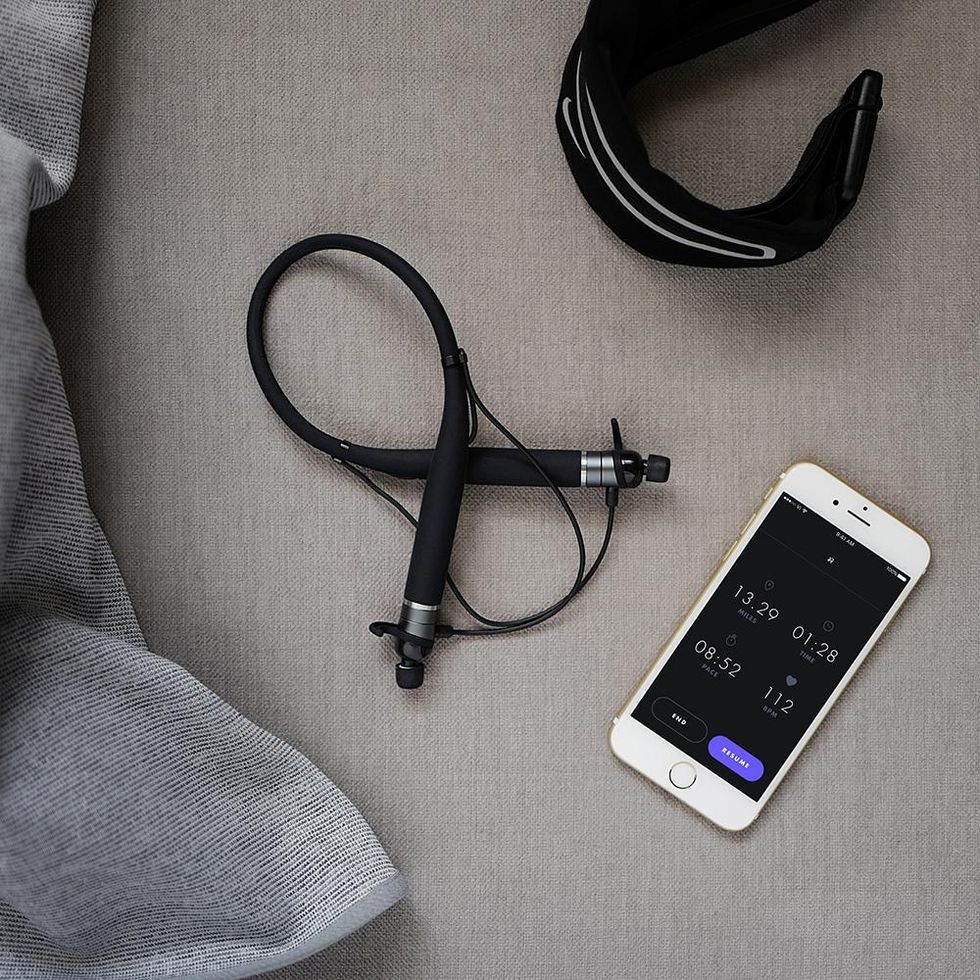 Vi links to your smartphone.
Chatty Cathy

Vi is an artificial intelligence fitness device that combines health data with a voice-driven app. This is not Alexa, nor Siri. She's not going to look up the latest news from Capitol Hill. But she is going to know your name, your last workouts, how to get your to maximize your fitness, and cajole to push not only harder and further, but smarter. The company calls it an "AI personal trainer," and that sounds about right. Because honestly, she's chatty.
Vi was clearly written and coded with a friendly, colloquial person in mind. By that I mean you'll hear the AI say things like "dang it," "like a boss," and maybe tell you your "run was nuts " and at a "nuclear pace." She'll also try to make sure she gets your name right, and you can choose, if you feel so inclined to have her call you different pre-programmed names like Cowboy. Don't tell us if you do that. Just keep that to yourself.
The device is connected to your smartphone via Bluetooth, and also to the company's cloud. Vi pulls and reads your heart rate, speed, pace and distance among other details. You're only going to be able to use Vi to run, for now. And you can't use Vi indoors, although the company says an indoor, treadmill feature is coming in the next quarter. While the device is water resistant, it's not meant for the pool, but perhaps instead a light rain.
Vi also comes with multiple earbuds to make sure you get the best fit possible to your ear. This is key so you get optimal sound, and also because Vi is picking up some of your health data from contact with your body—which is you ear. So the better the fit, the better the data for you.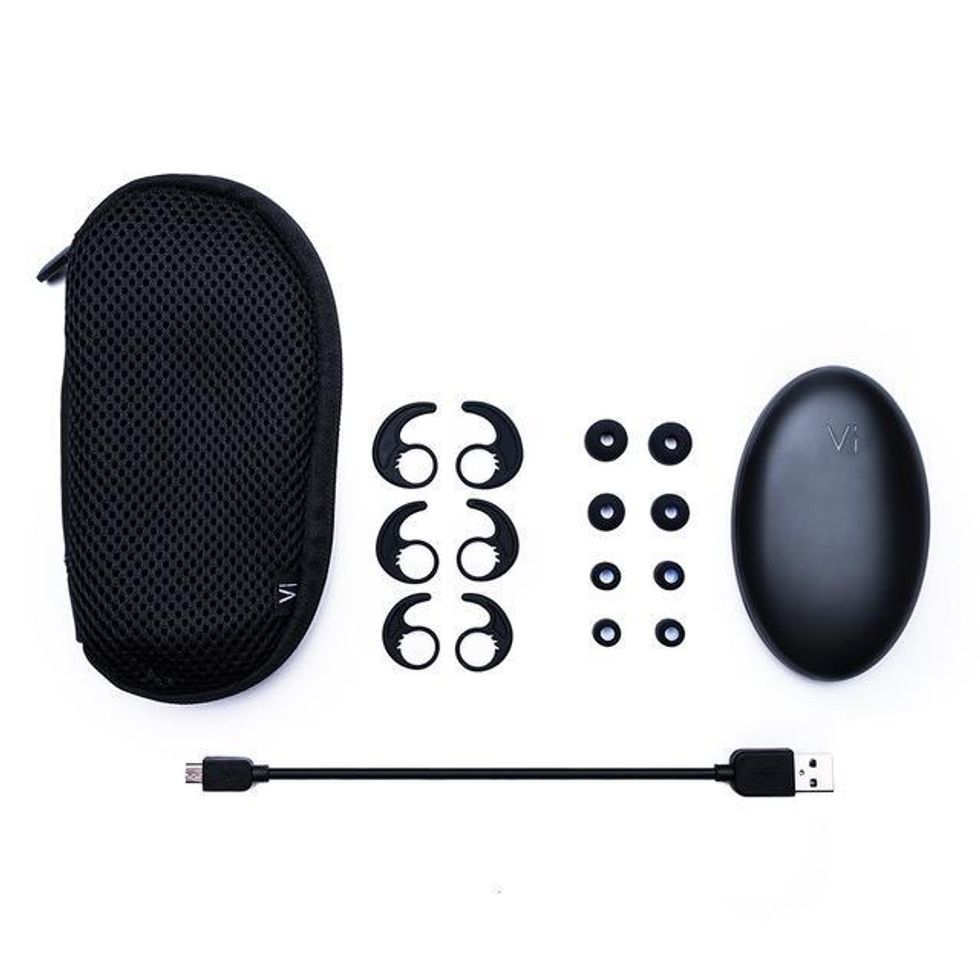 Vi comes with multiple earbuds so the fit to your ear is precise.
I'm not a runner. In fact, to be blunt, I hate running. Exercise, to me, should involve a mat, some chimes and a lot of "Ommm" sounds. But Vi could change that. Given the device to test before its launch this week, I felt compelled to try and please the voice app. Don't get me wrong—I did not go running with Vi.
Out for a, well, test run
I tested the AI while walking, checking to see how it would read my workout even if I didn't break a sweat. There are buttons on the neck piece of Vi that lower and raise the volume of her voice and also music that can be played from a Spotify account (if you have one) or your own music stored on your smartphone.
The allure of Vi is its AI. But downloading 100 MB for an app? That's takes some time, and you need to be connected to Wi-Fi to get that on your smartphone. After downloading the app, make sure you've charged the device. The directions are fairly simple and Vi comes with an adapter to plug into a USB charger.

Once you pair Vi via Bluetooth to the app, you setup your account which is done through either Facebook or separately. And you do need to have an Internet connection if you want to use all of its features, such as streaming music. There you're prompted to include your name, age, gender, weight and height. Most key, though, are entering your goals which include losing weight, reducing stress, maintaining fitness and the like. I picked reducing stress. (Remember the "Omm?")
You can connect Vi to third-party apps like Google Fit and Apple HealthKit. And Vi will want to link to your location so she can tell where you are when you do a workout, and even the weather. When you launch Vi, she'll note if there's rain or if the weather is chilly, bringing more personalized touches to your workout.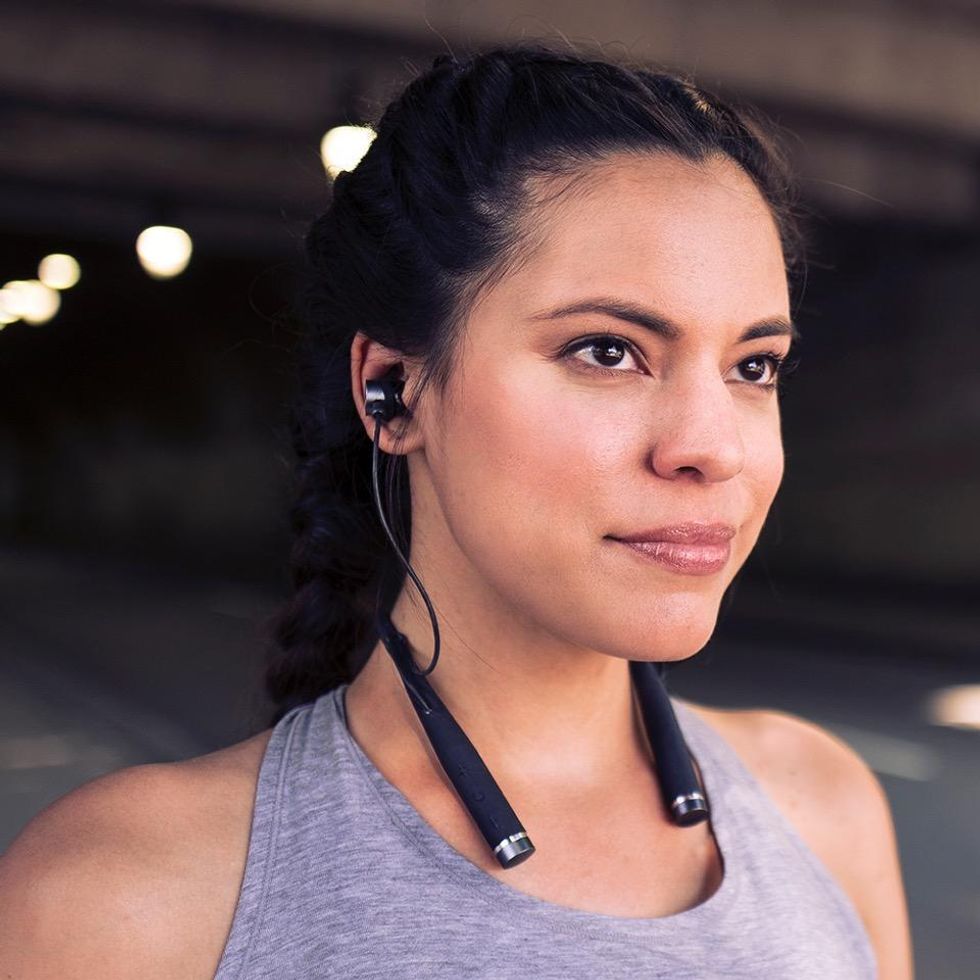 You can wear Vi during the day, even when not working out.
During the workout there are little touches that make this far more sophisticated than a fitness tracker. She tell you when it's time for a cool down, if you're going too fast to keep your regular pace, when you've hit a fat burning zone, or can play a beat so you can match your step and keep pace with your record, or if you're trying to push to the next level.

I also liked the ability to place a quick call. The app actually asked me if I wanted to route the call through my Vi headphones (I said, yes, of course) and I was able to make the call and leave a message without disconnecting my earbuds. Nice.
AI + fitness
At $249 this is not going to be lightly-decided purchase. If you don't like Vi, you're not going to want to toss her aside in a drawer for that investment. Also, for now, Vi only works with smartphones. While the company is looking to link to other devices, that will come in future generations. But for those burnt on their current fitness devices, who are more than just weekend runners, Vi is a gadget absolutely worth considering.
The device should be thought of more as a fitness system, linking personalized, voice-controlled AI to fitness data. It's not a $100 an hour fitness trainer barking at you while you train for a marathon. (Vi's programming makes her too sweet to bark.) But for now, Vi is pretty close.
Like GearBrain on Facebook