Amazon is working on a bedroom mirror, using so-called "blended reality" to show how clothes would look on you before buying them — or even trying them on your body.
The mirror, which uses a range of cameras, lights and projectors, can also show the user's reflection in a variety of different settings — for example, to show how a new swimsuit would look on the beach or by the pool.
Data gathered in 2016 by consumer analysts Savvy Marketing found that almost two-thirds (64 percent) of shoppers who bought women's clothing online in the previous six months had returned at least one item.
Compiled for the BBC, the data also revealed that 56 percent of all online shoppers had returned at least one item over the same period. A year earlier, it was reported that 40 percent of clothes bought online were returned. In the UK, one woman claimed in 2016 to have spent £25,000 ($34,000) on clothes online — and returned £20,000 ($27,000) worth.
Such prolific returning of clothes bought online can affect the retailer's bottom line, as returns services are often offered free-of-charge, despite the average returned item passing through seven pair of hands before it is available to be bought again.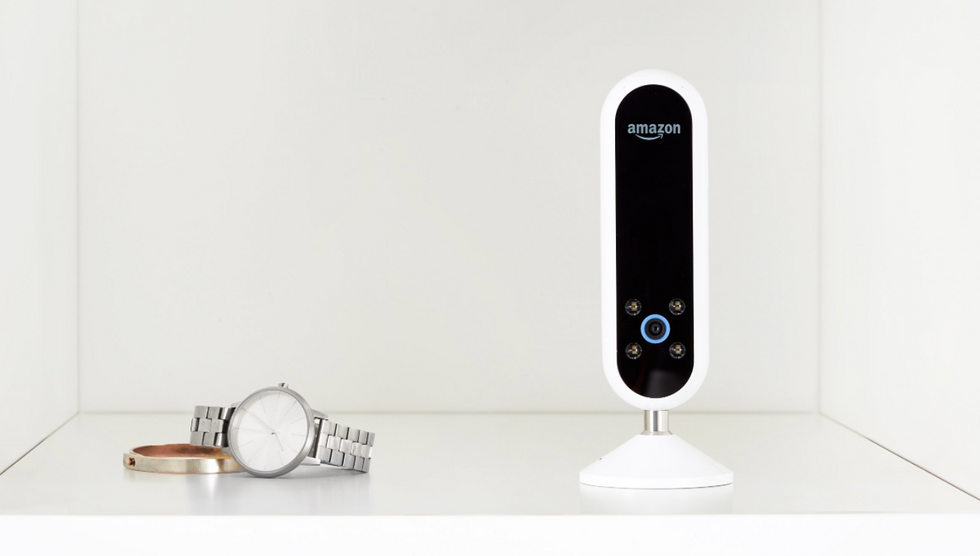 Echo Look is a camera which can act as a digital style assistantAmazon
First discovered by GeekWire, Amazon's new patent abstract describes: "Systems and methods...are provided for generating a blended reality view of a user...combining images reflected by a mirror with images transmitted from a screen behind the mirror."
The new device could be seen as an evolution of the Echo Look, a product currently sold by Amazon on an invitation-only basis, and which uses a camera to analyze a user's clothes and act as an AI-powered style assistant. Amazon doesn't mention in the patent whether the AR mirror could be woven into the Echo Look or not, to help boost its own fashion sales.
The new patented mirror first works by deciding what should be reflected, and what is to be replaced, with a virtual image. Your face, for example, would be reflected as it is. Your body and limbs would be reflected with different clothing added virtually, and the background would be completely replaced by something new. The patent shows how an eye-tracking module is used to locate users and identify them.
Amazon says how the mirror could be used "for entertainment and other purposes," adding: "These visual displays can be used to alter scenes as perceived by users, for example, by adding objects to the scene that do not actually exist."
Don't forget to visit GearBrain's What Works with Amazon Alexa to see the other connected devices that work with Amazon Echo and Alexa enabled devices.