Apple has just released the latest iPhone software update, called iOS 14.6. The update includes a handful of new features and prepares iPhones for upgrades coming to Apple Music in June.
The biggest change with iOS 14.6 is probably the instructions of a subscriptions service to the Apple Podcasts app. Once enabled, this will make it possible to pay a subscription to your favorite podcasts.
Read More:
This will be enabled by podcast creators if they choose to do so, and they have control over what price to charge. Creators can offer exclusive content to monthly subscribers, or offer podcast episodes without adverts to those who decide to pay. It will also be possible for podcast creators to offer free trials and sample episodes in a bid to win custom from potential subscribers.
Another update with iOS 14.6 is support for lossless music from Apple Music. Apple announced earlier this month how high-quality lossless audio will be coming to its streaming service in June at no extra cost. But there are hardware limitations, discussed here, so the upgrade will only really be enjoyed by subscribers with high-quality headphones and other audio equipment.
A feature coming to more users with iOS 14.6 is Dolby Atmos music via Apple's spatial audio technology. Apple Music subscribers will first need to update their iPhone to iOS 14.6, then wait for Apple to enable the feature at some point in June.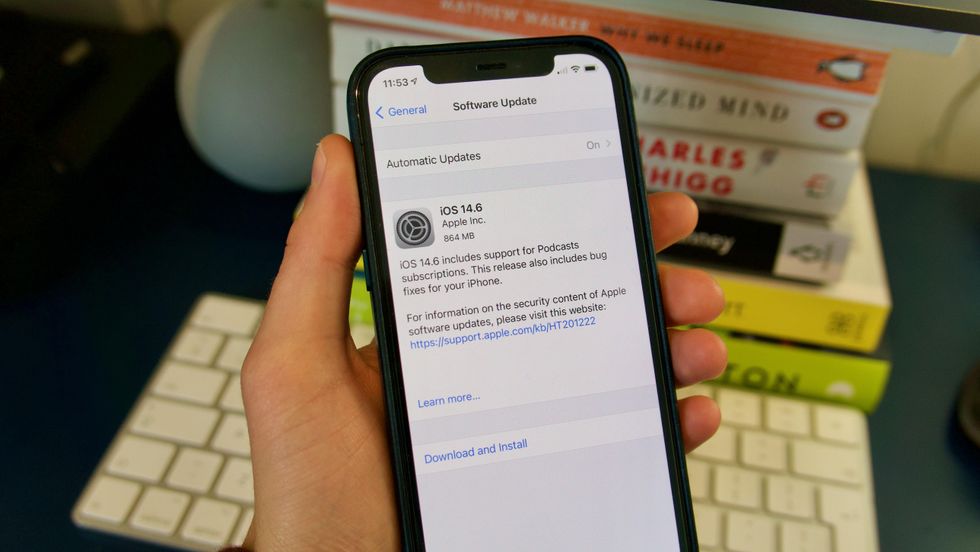 iOS 14.6 is available to download and install nowGearBrain
AirTag users will also benefit from updating to iOS 14.6, as Apple now offers a way to add an email address to an AirTag switched to lost mode. Previously you could only add a phone number, which anyone who discovers the lost AirTag can view when holding it near to their smartphone. With iOS 14.6, AirTag owners can show an email address instead of a phone number, if they so choose.

Also new with iOS 14.6 is how Apple-owned Shazam is now an App Clip. Identifying a song is still done by opening Control Center and tapping on the Shazam button, but now instead of displaying a notification that redirects you to a website, a Shazam App Clip opens within iOS to show details about the song.
Lastly for iOS 14.6 is Apple Card Family. A long-overdue feature, this lets the owner of an Apple Card share it with up to five people, including anyone aged 13 and older from your Family Sharing group. With this feature, families can track their expenses, manage spending, and optional limits can be set for each user.