Apple's recently-released AirTag is a possession tracker that uses Bluetooth to help you track down items like keys and bags when they go missing.
Central to finding your lost AirTag is Apple's Find My app, which comes pre-installed on iPhones and iPads. Whenever the lost AirTag comes into Bluetooth range of a passing iPhone, or other Apple device connected to the Find My network, its location will be shared with you, the owner.
Read More:
But anyone who comes across a stray AirTag can also help to reunite it with its owner – just as long as the owner has put the misplaced AirTag into Lost Mode, using their Find My app.
On finding a lost AirTag, perhaps attached to a set of keys dropped in the street, all you have to do is hold the AirTag close to your iPhone or Android handset. The AirTag then uses NFC to send a notification to your phone, which contains a web link. NFC is the same technology smartphones use to make contactless payments with Apple Pay and Google Pay.
Tap on this link and you will be taken to a page of the Find My service, called found.apple.com, which states that the AirTag has been marked as lost by its owner. This page also shows the serial number of the AirTag, plus a phone number or email address for you to contact the owner.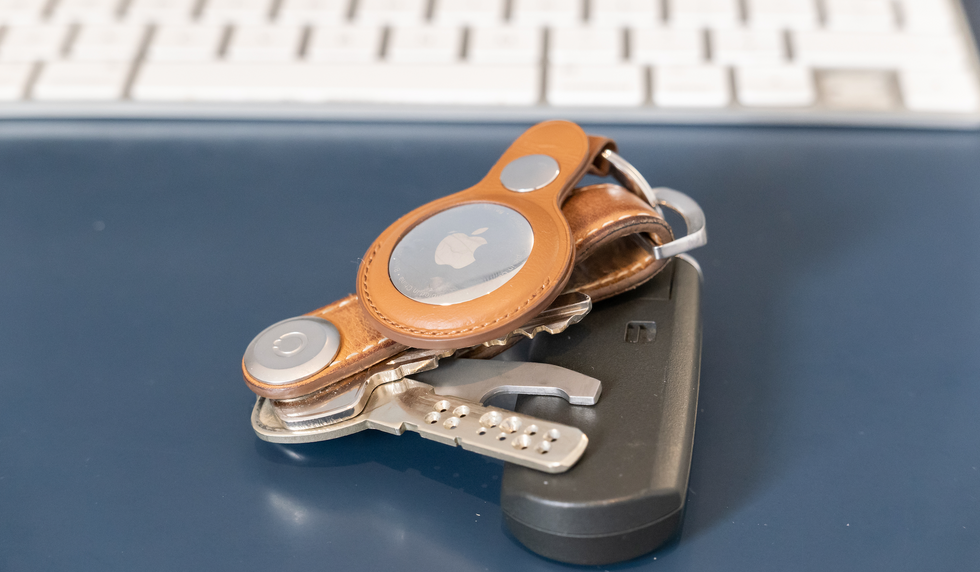 Apple AirTag in Apple's leather keyring accessory GearBrain
Now just give that number a call and arrange for the AirTag (and whatever it is attached to) to be returned to its grateful owner.

AirTags are also equipped with a system for alerting iPhone users to their presence. This is intended to prevent unwanted tracking and malicious use of an AirTag, by alerting you when the AirTag is close to your iPhone for an extended amount of time, while also being away from the iPhone of its owner.
As well as alerting you to potential unwanted tracking, this feature can help you reunite a lost AirTag with its owner. Say you picked up the wrong bag at the airport, or the wrong jacket after leaving a bar; the AirTag inside will recognize your iPhone as unfamiliar, then alert you. AirTags in this state also emit a sound when moved to help you locate them. Then just tap it on your phone to see the owner's provided contact details.
New Apple AirTag