Like GearBrain on Facebook
For years now, Apple has made annual updates to its macOS computer operating system, just as it does with the iPhone, iPad and Watch. But, while these are often incremental updates building on the Mac OS X system that arrived back in 2001, for 2020 things are different.
With macOS Big Sur, Apple is taking a much larger step forwards, and the update will see the Mac interface shift closer to the iPhone and iPad, in terms of design and functionality, than ever before. It's such an important update for Apple, that it is called macOS 11, instead of yet another iteration of macOS 10.
What does the Big Sur name mean?

Apple has named the last few versions of macOS after regions of California, such as El Capitan and Catalina. The trend continues with Big Sur, which s a mountainous section of the Central Coast of California, between Carmel Highlands and San Simeon.
What's new with macOS Big Sur?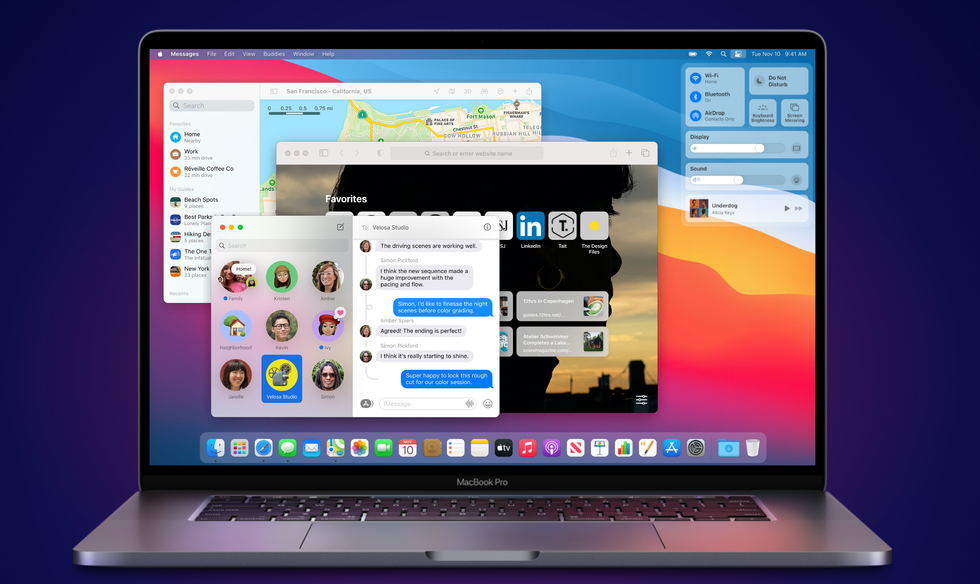 Big Sur brings many visual elements across from the iPhone and iPadApple
The big story for Big Sur is user interface design. The dock, menu bar, icons, control center and notification center have all been given a major redesign. Many now share their look with the iOS equivalent, with the dock and especially the control center looking familiar to anyone who has used an iPhone or iPad.

Individual applications have also had an overhaul with Big Sur. Apple has added a full-height sidebar to apps, rounded corners right across the user interface, and brought new features to Messages and Maps.
The Safari web browser is all-new, Apple claims, with new customization options, faster performance, better battery life and improved privacy. Apple has also made it easier to important your bookmarks, browsing history and passwords from Google Chrome, taking away a common barrier to entry when switching from one browser to another.
There's also a new customizable start page for the Safari browser, and a new dedicated section of the Mac App Store for Safari extensions, like those you may be familiar with on Chrome. A new translation feature in Safari of Big Sur claims to translate entire web pages, not just blocks of text, into seven languages with one click.
With regards to security, Apple says the new Safari will alert you if any of your saved passwords have been exposed in a data breach, then help you update them to keep you and your data safe. Apple claims Safari is up to 50 percent faster at loading frequently visited web pages than Chrome, and it can stream up to 90 minutes more video when using battery power than Chrome and Firefox, or 60 minutes' extra web browsing.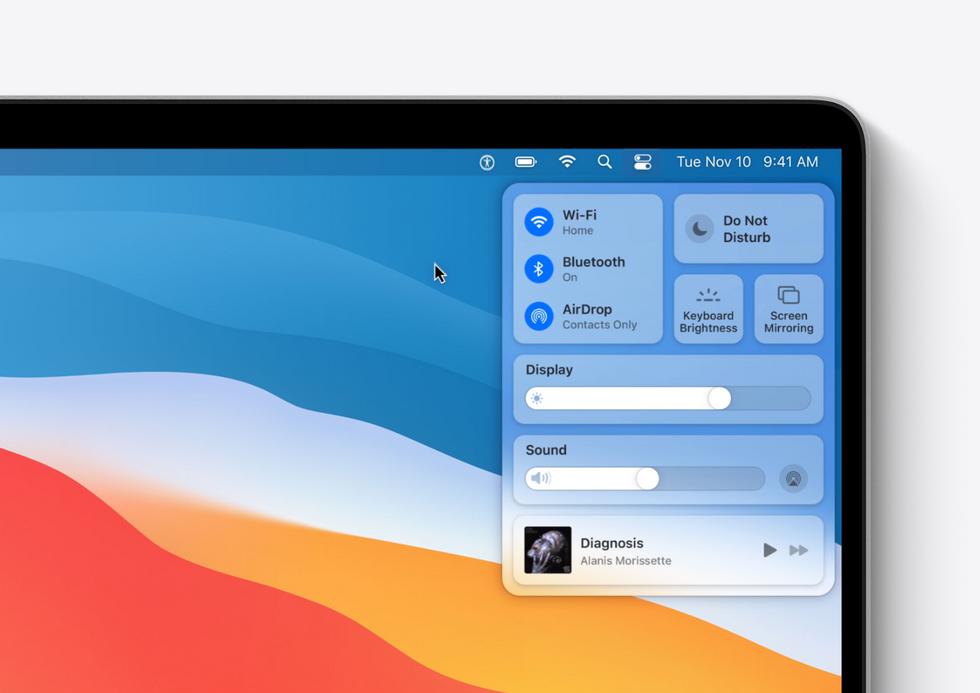 Big Sur includes a completely redesigned control centerApple
The updated Messages app includes many of the new features recently rolled out to the iPhone and iPad, including pinned conversations, inline replies, group photos, Memoji and mentions. You can also search for trending images and gifs, and include them in your messages.

Also echoing recent iOS updates, the new Maps app for macOS Big Sur includes cycling routes, electric vehicle routing (including stops for charging), indoor maps, and Look Around, which is Apple's answer to Google Street View.
As for smaller new features with macOS Big Sur, there's automatic device switching for AirPods, an improved Siri that gathers up more knowledge from the web to answer your questions, faster software updates, and HomeKit updates bringing Secure Video, Face Recognition and Activity Zones features to the Home app.
You can read the full list of macOS Big Sur updates on Apple's website here.
macOS Big Sur release date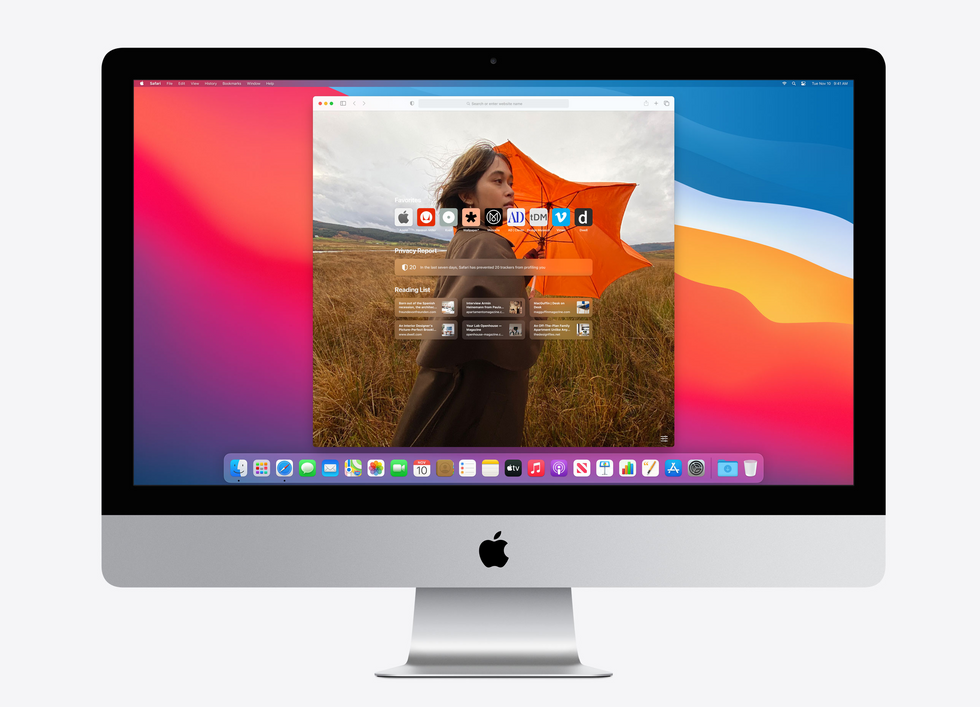 The Safari web browser of Big Sur is said to be much faster and more energy efficient than beforeApple
Apple announced at its 'One More Thing' Mac hardware event that Big Sur will be available to download from November 12, which is today.

The company didn't reveal an exact time, but it has historically tended to release new software at around 10am PT / 1pm ET. So you only have a few more hours to wait.
That said, Apple's servers tend to get very busy when new software is released, and there is always the concern of bugs still lurking in brand-new software, yet to be squashed. As such, we recommend that readers wanting to install Big Sur onto their Mac, especially if said Mac is used for your profession, wait a day or two to make sure the coast is clear first.
How to upgrade your Mac to macOS Big Sur
Once Big Sur is available later on November 12, you will likely receive a notification on your Mac. If not, you can check manually by clicking the Apple icon in the top-left corner, then clicking on About This Mac. Then click on the Software Update button on the pop-up window to check if Big Sur is available.
macOS Big Sur compatibility
Below we have written a list of all Mac computers that Apple says macOS Big Sur is compatible with. To check the age of your Mac, click the Apple icon in the top-left corner, then click on About This Mac. The window that appears will show the name of your Mac, followed by the year it was launched. Sometimes the time will be described in more detail, such as "late 2018".
As is often the case, Apple has made its latest software compatible with relatively old machines, so owners of MacBooks from as far back as 2013 can still get involved with Big Sur.
iMac – 2014 and later
iMac Pro – 2017 and later (all models)
Mac Pro – 2013 and later
Mac Mini – 2014 and later
MacBook Air – 2013 and later
MacBook Pro – late 2013 and later
MacBook – 2015 and later
Apple MacBook Pro (13-inch, 8GB RAM, 256GB SSD Storage, Magic Keyboard) - Space Gray (Previous Model)
From Your Site Articles
Related Articles Around the Web
Like GearBrain on Facebook