Like GearBrain on Facebook
Long-suffering users of Apple headphones may finally get what they deserve in 2019, as the iPhone maker is reportedly working on two new pairs of high-quality headphones.
Apple will use 2019 to launch new, higher-quality AirPods, a new pair of "studio-quality" over-ear headphones, and a new version of the HomePod Siri speaker, according to unnamed sources speaking to Bloomberg.
Despite its ownership of Beats, the music streaming and headphone company it bought for $3 billion in 2014, Apple is yet to produce any high-end headphones of its own. The company is often criticized for the quality of the EarPods shipped with iPhones, and while improved — plus gaining wireless smarts — the AirPods are still not the answer many Apple fans were looking for.

This could change if the rumors of Apple-branded over-ear headphones are accurate, especially as insiders claim they will be pitched as a higher-end alternative to the Beats range, to compete against Bose and Sennheiser. It is claimed the headphones were due to launch before the end of this year, but have been delayed until 2019 — a common theme at Apple these days.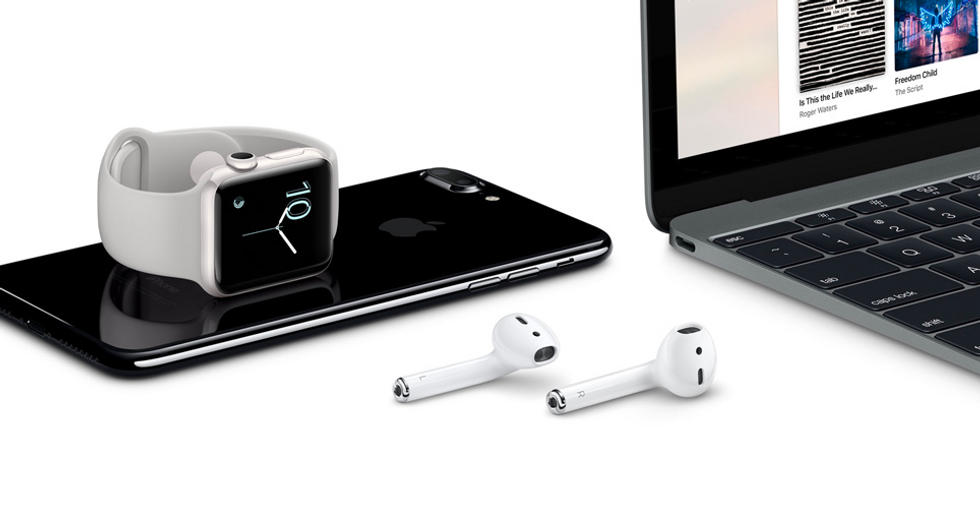 The current $159 AirPods could gain a 'Pro' sibling in 2019Apple
The report echos claims by highly-regarded Apple analyst Ming-Chi Kuo, who said in February that Apple is planning to release "high-end over-ear" headphones soon.
Bloomberg, which is often accurate when it comes to predicting Apple news before it is made public, also claims Apple is working on a new version of AirPods which features noise-cancellation and water resistance. One insider said the new earphones will likely cost more than the existing $159 item, and could be seen as an 'AirPod Pro' alternative to the standard model.
In a nod towards its aspiring health ambitions, Apple is reportedly discussing internally the prospect of adding biometric sensors to future AirPods, such as a heart-rate monitor. It isn't clear if this would appear on the 2019 AirPods, or on a later model.
As for a new version of the HomePod smart speaker, insiders claim Apple is working on a new version to launch as early as 2019. Although praised for its sound quality and microphones, the HomePod was widely panned by the technology press for using a version of Siri which is less intelligent than that on the iPhone, and far behind Amazon's Alexa and the Google Assistant.
From Your Site Articles
Related Articles Around the Web
Like GearBrain on Facebook