Like GearBrain on Facebook
Consider buying an Apple HomePod more of an investment bet than a practical purchase because, right now, it's a pretty useless device. Like most gaudy objects, HomePod's aural and aesthetic beauty blinds you of its practical near-worthlessness in comparison to competitors imbued with Amazon Alexa and Google Assistant.

Regardless of its vaunted aural abilities – which are impressive, but not as orgasmic as Apple and its acolytes would lead you to believe – HomePod's smart home functionality pales not only in comparison with Amazon Alexa and Google Assistant, but even compared to an iPhone or Watch. True, Apple is stressing HomePod more as an audiophile speaker than a smart assistant (because it has to), but there are high-quality, less expensive and more functional smart speakers available.
Why is buying a HomePod like making an investment bet? The whole smart speaker/smart assistant market is still developing, not just for Apple, but for Amazon, Google, Microsoft (Cortana) and Samsung (Bixby) as well. None of these digital assistant platforms exhibit a great deal of intelligence as yet; for instance, all require ridiculously precise syntax to initiate action, pairing products to their ecosystems can often be confusing, counter-intuitive and frustrating (much less operating consistently), and none really exhibit an ability to comprehend context or conduct even a simple conversation.
HomePod simply isn't ready for smart home prime-time, so lower your expectations for functionality if you buy one right now.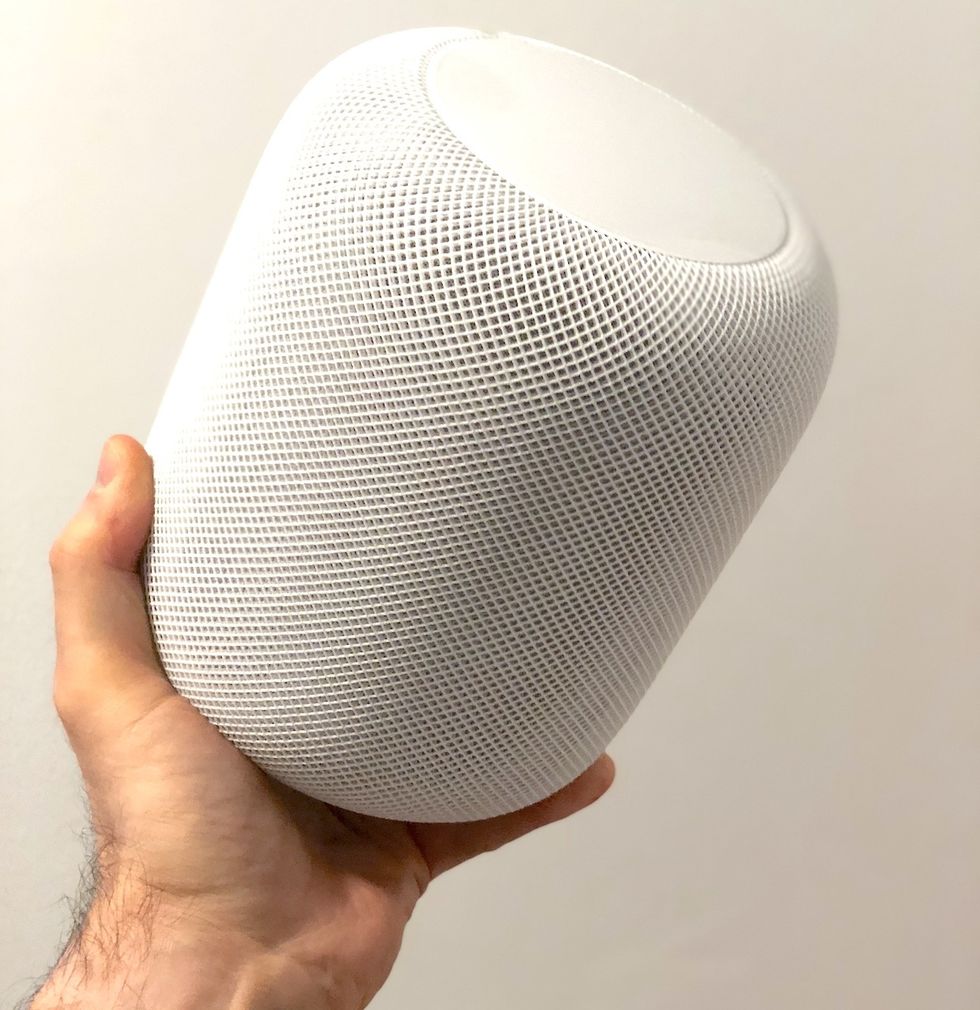 Apple HomePodGearBrain
Set Up
First and foremost, if you're an Android or older iPhone/iPad user – stop reading. HomePod is compatible ONLY with iOS 11.x devices – iPhone 5S and newer, and iPad Air and newer.
In keeping with Apple's high-class tradition, HomePod's packaging is almost as impressive as the aesthetics and acoustics of the device it houses, starting with the easy-to-strip-off plastic outer shrink wrap. Once out of the box, the 6.8 x 5.6-inch HomePod is a hefty 5.5 pounds, which is slightly heavier and wider than other similarly-sized smart home speakers.
HomePod's weight makes sense – it's built like a concrete bunker. HomePod incorporates no jacks of any kind – no Ethernet, auxiliary, audio or headphone jack. Even the woven 6-foot power cord is integrated into the HomePod.
But Apple acknowledges HomePod's weight and silicone base can leave a white ring on some wood surfaces. Since its woofer fires down you don't want to sit HomePod on cloth, so I put a coaster undermine.
To start, make sure your iPhone is running Apple's latest iOS 11.x version, then turn on Bluetooth on your iPhone if it isn't already. Plug the HomePod in an AC jack and, after waiting for the "I'm ready" chime, hold your iPhone within an inch or so of it.
Suddenly, the first in a series of five set-up screens pop up on your iPhone: a start-up screen with a picture of your HomePod (in the color you bought, white or space gray), "Where is the HomePod" to choose your HomePod's room location, "Personal Requests" to allow anyone in your household to chat with it, Terms and Conditions, and "Accounts and Settings" to allow HomePod to access your Wi-Fi and iCloud information. After a couple of seconds, you'll get a personalized welcome screen. The whole set-up business took only a minute or so, far faster and intuitively than any other smart speaker with which I've tinkered.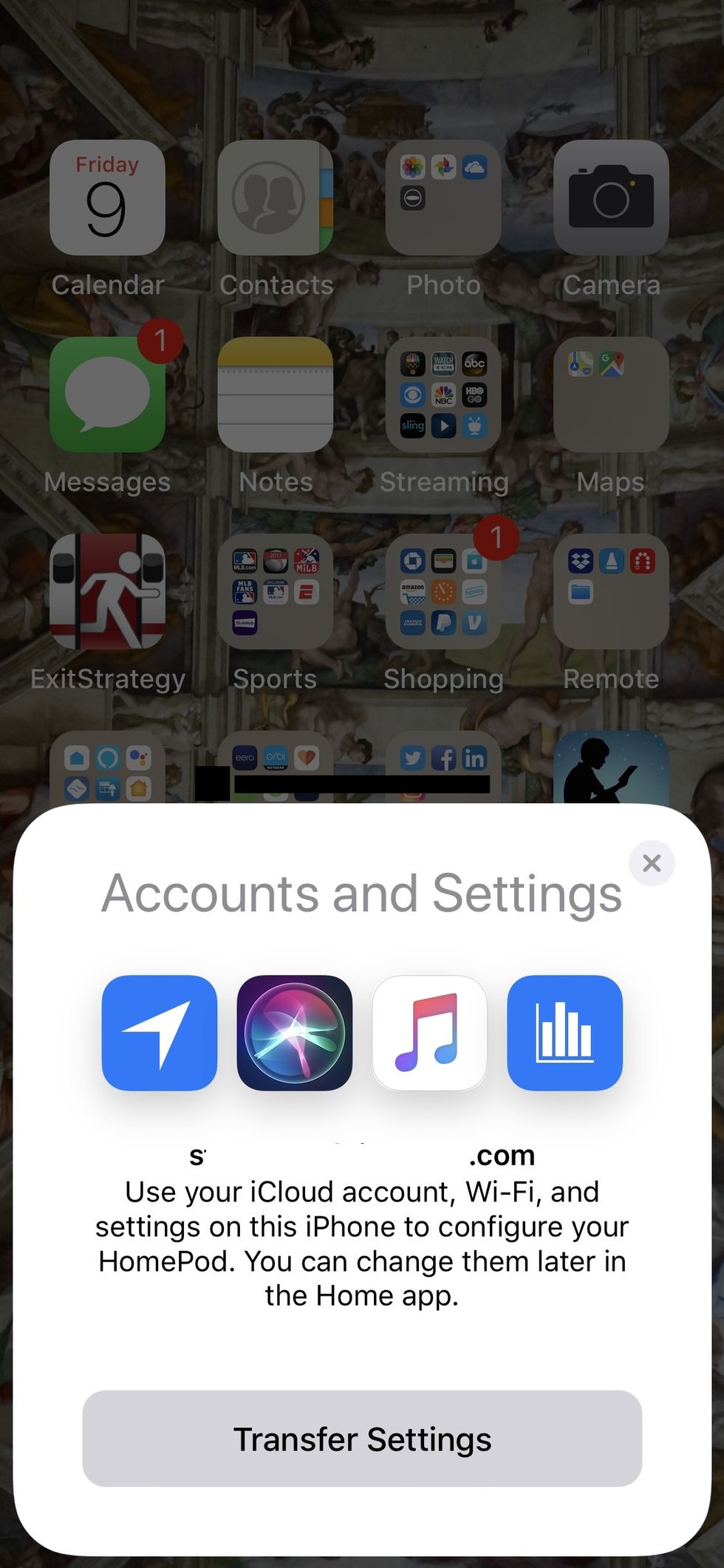 Settings in iphone for HomePodGearBrain
Smarts
When compared to Amazon Alexa and Google Assistant, Siri is pretty stupid, and HomePod makes Siri even stupider.
From a personal assistant POV, for instance, HomePod lets you compose text messages, create reminders and set alarms, just as Siri can on your iPhone or Watch. But HomePod astoundingly cannot access Apple's own Calendar even though any other Siri device can – hell, even Alexa can tell you what's on your Apple Calendar.
Siri also doesn't do context and follow-up like Alexa and Google Assistant can. For instance, ask Siri to remind you to do something on a certain day and it sets the reminder for 9am. Ask Google or Alexa, and both ask you for a time.
HomePod also can't initiate a phone call, as Alexa and Google Assistant speakers can. You can funnel an incoming iPhone call to HomePod via your iPhone, but why would you? Your iPhone has a pretty good speaker already without the multi-step transfer process.
As to simply addressing your information needs, a new test report embarrassingly found that Siri answered fewer questions correctly than Google, Alexa and even Microsoft's Cortana.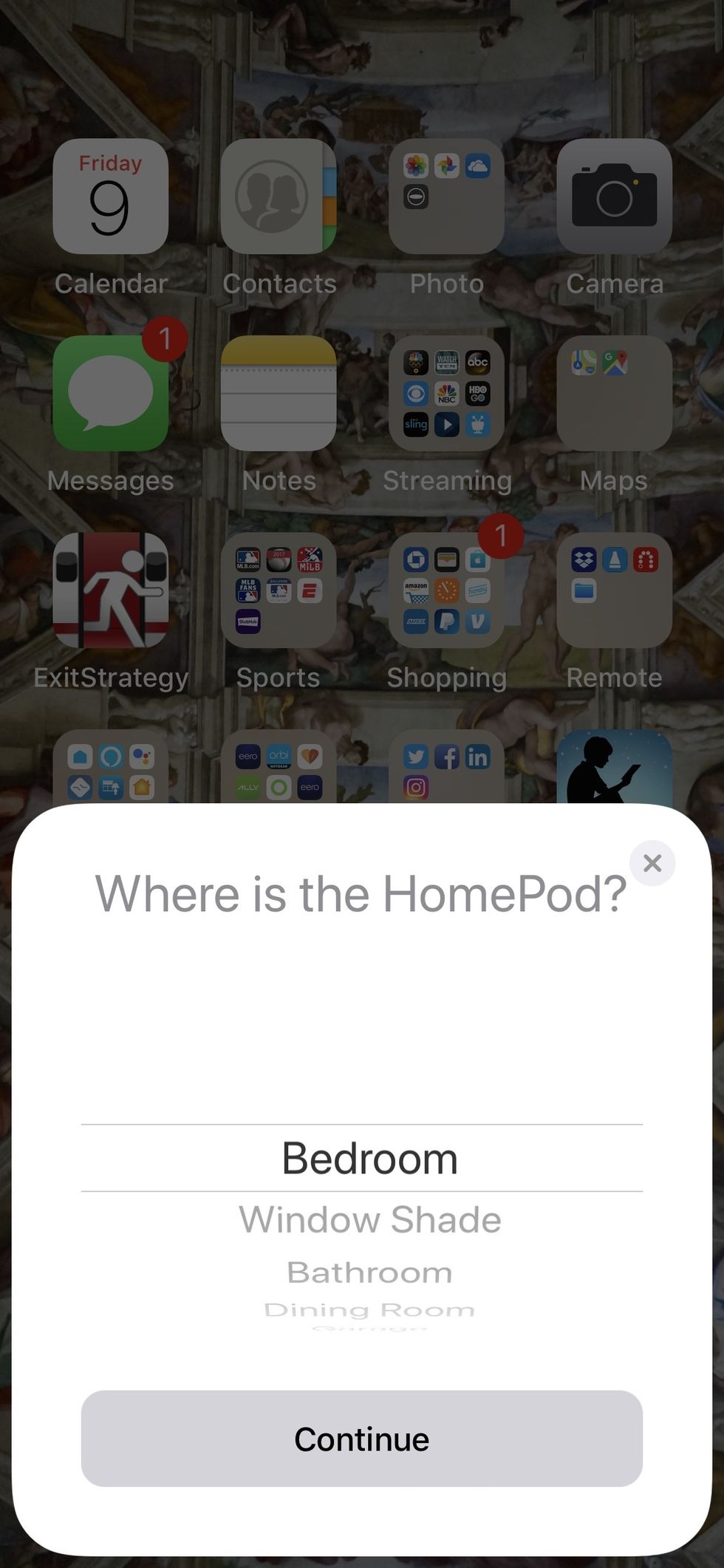 choose where to place your HomePodGearBrain
As a smart home platform, HomeKit offers far fewer compatible smart home products than Alexa or Google Assistant. On the plus side, you need only scan a product's barcode to add a smart home product to HomeKit, rather than having to enter the product name and/or search through a list to add a device to Alexa or Google.
But I've had my own problems connecting Philips Hue and Lutron bridges to HomeKit. Both the Hue lights and my Lutron's Caseta-controlled Serena window shades work perfectly via their own apps and with Amazon Alexa. However, Lutron's HomeKit connection has worked, not worked, and worked – and now, even though the shades can be operated by tapping the icon within HomeKit, they refuse to work via Siri and the HomePod. And even though the Hue app tells me the Hue bridge is connected to HomeKit, their control icon does not show up in the HomeKit app. The Philips customer support person couldn't solve the problem, concluding it might be a HomePod compatibility issue. Except, the Apple customer support page doesn't yet include a link to HomePod support, complicating the potential solution (if any). Needless to say, all this smart home stupidity is a pain in the posterior.
While HomePod/Siri may be stupid(er) than Alexa and Google Assistant, it can at least hear you better over loud music or ambient noise than other smart speakers I've used. Siri never failed to respond upon first utterance, where I've often had to call or shout out multiple times to catch the attention of other digital assistants. Also, HomePod responds audibly to its name being called – usually a grunting "uh-huh?", while Alexa and Google speakers usually respond only visually, if at all.
In short, HomePod shockingly fails miserably as a digital assistant and smart home controller compared to Alexa and Google, in all aspects other than attentiveness. If Siri voice smart home control is your goal, using your iPhone or Apple Watch work just well, if not better, since you'll also have immediate access to alternative physical app control.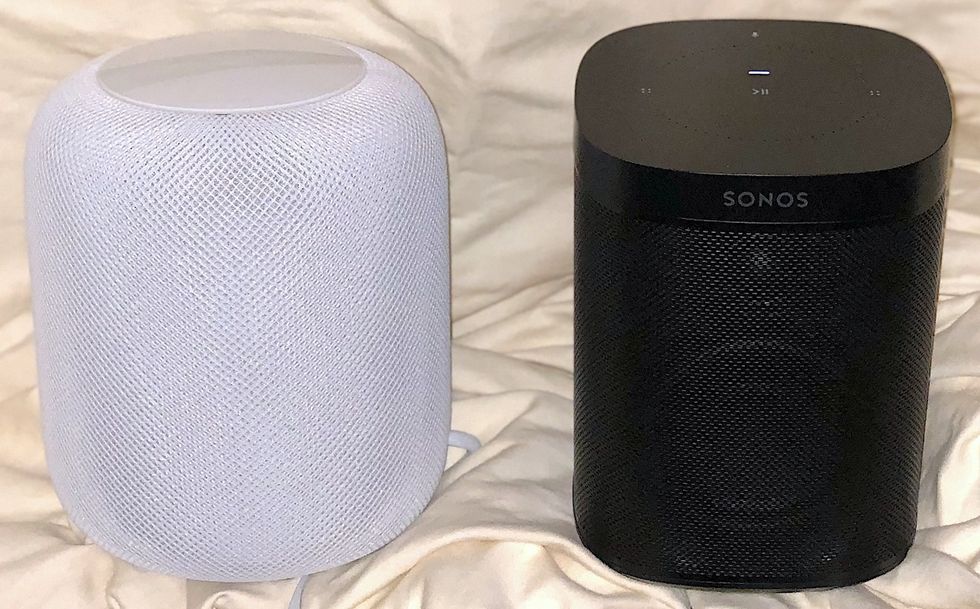 HomePods and Sonos speakersGearBrain
Music Access/Usage
In keeping with its closed ecosystem philosophy, HomePod allows you to access only a handful of music sources via voice, primarily its Apple Music subscription service ($9.99/month). In other words, you can't vocally access Spotify, Pandora, iHeart Radio or any non-Apple streaming service you may subscribe to, or tracks you've ripped from CDs. By comparison, both Alexa and Google Assistant speakers allow you to voice access a limited number of third-party music services.
Instead, you have to use Apple's AirPlay through your iPhone to play these other sources through your HomePod, because HomePod is not a Bluetooth speaker. AirPlay is actually easier to use than Bluetooth since no pairing is necessary – AirPlay-compatible and paired Bluetooth speakers and headphones, such as the HomePod, simply show up in the AirPlay audio source list accessible in any iOS music playback app.
But even if AirPlay is easier than Bluetooth, this defeats the purpose of simply asking HomePod to play music of your choice and source. If you need your phone to play the music you want to hear, you could just buy a cheaper Bluetooth speaker.
Sound
High quality music reproduction is where HomePod excels – most of the time.
Where HomePod excels most is soundstage. With its 360-degree speaker array and sound reflecting techniques, HomePod's aural presentation is wider and more room-filling than other single speakers, smart or dumb, I've used, although Ultimate Ears' Boom 2 ($129.99) and the Riva Turbo X ($199) come close, IMHO.
However, for the same price as a single HomePod, you can buy two Sonos One Alexa-enabled speakers to create a far wider, deeper and satisfying listening experience.
At some point, you'll be able to similarly pair a pair of HomePods to create stereo – but that's $700 – and, theoretically, add multi-room capability for multiple HomePods. But Sonos is already multi-room-ready (it's their thing), and you can create multi-room setups with any Alexa or Google Assistant speakers.
In terms of sound quality, HomePod's sound signature is tuned for more modern ears and modern tunes – hip-hop, rap, dance, etc. Kendrick Lamar, Beyoncé, Prince, Bruno Mars, Jay-Z all sound impressively full-throated, boomy and bouncy. But the midrange and high end isn't equally emphasized. Pop vocalists such as Taylor Swift, Lady Gaga, Ed Sheeran, Pink and Katy Perry to Frank Sinatra, Ray Charles and Tony Bennett, to rock acts such as The Beatles, Pink Floyd, Motown, David Bowie, Bob Dylan, even the "Hamilton" soundtrack, as well as jazz and classical, all get more even-measured acoustic treatment via the Sonos One than the HomePod. It's not that the HomePod doesn't represent these varying artists well, but you get a brighter, more balanced result from the Sonos, especially as a stereo pair.
Summary
Compared to Google Assistant and Alexa, Apple still has a lot of ground to make up in the smart assistant and smart home arenas. If sound quality is an issue, a pair of Sonos One's are the same price and, to these aging baby boomer ears, provide a wider, better balanced, finely tuned, more satisfying sound. I'm admittedly an Apple fanboy, but I am hard-pressed to make a case for anyone buying a HomePod except those willing to bet that Apple will make up ground in these areas and surpass its smart assistant competitors at some future point.
Pros:
Aesthetically beautiful
Great sound
Compose text messages, set alarms and create reminders
Cons:
Doesn't have Bluetooth support
Depends on HomeKit, which has fewer compatible smart home products as Alexa and Google Assistant
Can't initiate a phone call
From Your Site Articles
Related Articles Around the Web
Like GearBrain on Facebook