Apple is having a bad Christmas hangover as consumers fail to rally around the $999 iPhone — causing the company's shares to fall 2.5 percent. Analysts now say that iPhone X sales will fall well below initial estimates.
The new handset went on sale at the start of November and boasts an all-new design and a biometric security system called Face ID. But the new handset's starting price of $999 was hard to stomach for some of the Apple faithful, especially given the equally new iPhone 8 offers many of the X's components for $699.
Apple shares fell 2.54 percent ($4.44) to $170.57 on December 26, from a high of $176.42 in the week before Christmas. Citing Taiwan's Economic Daily newspaper, Reuters reports how some analysts have lowered their estimates on iPhone X sales for the first quarter of 2018.
Citing unnamed sources, the paper claims Apple will cut its iPhone X sales forecast from 50 million handsets to 30 million. The paper also claims Apple's Asian suppliers have reduced the production rate of iPhone components.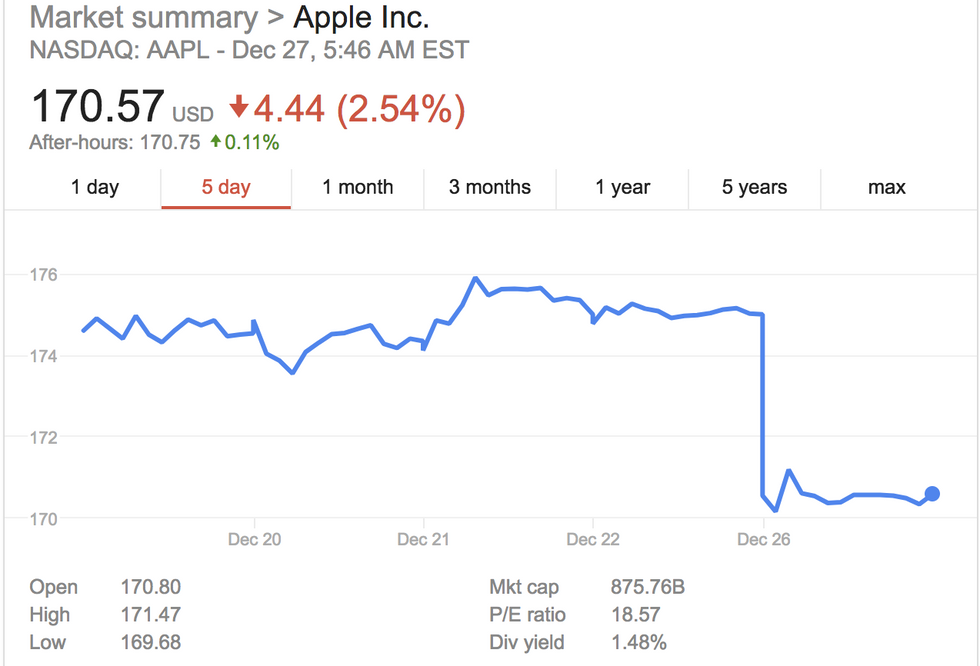 Apple shares drop sharply as iPhone X demand is questionedGoogle Finance
Apple supplier Genius Electronic Optical saw its share price fall 11.4 percent in Christmas week, while iPhone producer Pegatron Corp lost 3.2 percent. Foxconn, Apple's most famous supplier, lost 1.8 percent.
Estimates on how the smartphone is doing vary wildly between analysts. JL Warren Capital expects Apple to ship 25 million iPhone X units, blaming the high price and a "lack of interesting innovations" compared to its rivals and other models of iPhone.
At the opposite end of the spectrum, Reuters cites a note from Loop Capital stating estimates of between 40 million and 45 million first-quarter sales.
Apple does not comment on rumors or speculations. Chief executive Tim Cook said during a trip to China earlier in December that he "couldn't be happier" with iPhone X demand in the country. Apple itself previously described iPhone X demand as "off the charts."