Apple understands that using Siri in public, especially in quiet places like libraries or at work, is awkward and sometimes even embarrassing.
That's why the iPhone maker is working on a way for Siri to understand when you whisper to it, then whisper back. This isn't just a case of recognizing a whisper then lowering the volume of Siri's reply - this would mean the assistant replying with a real whisper.
A newly discovered Apple patent describes "a digital assistant that is capable of detecting a whispered speech input and providing a whispered speech response." Apple suggests how such a feature could be useful when working in a library or in an office cubicle surrounded by co-workers. Another use could be to interact with smart home appliances without disturbing anyone, like switching the lights off late at night when others are asleep.
A bonus of Siri whispering quietly back to you is enhanced privacy, as when she reads out incoming messages and emails, or entries in your calendar, people nearby won't be able to hear what's said.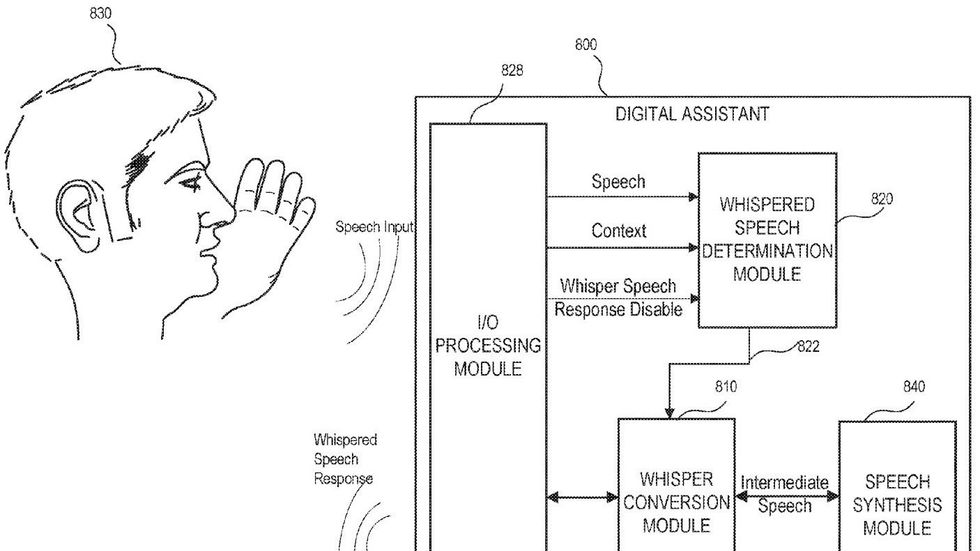 Patent describes a method for Siri understanding whispered commandsApple
Curious to see how Amazon Alexa and Google Assistant would react to a whisper, GearBrain asked both in hushed tones: "Can you whisper?"

Alexa said: "Come closer, closer, just a little bit closer" then whispered quietly: "Yes, I can whisper."
Google Assistant had two canned replies, both delivered with a whisper. She said: "Yes I can" and "too right I can".
For now, Siri simply said in her regular way: "Sorry, I can't do that".
The 57-page patent was only published this week, on December 14, so it could be some time before the Siri in our pockets and on our Macs gets updated to whisper. Also, the usual patent caveats apply - technology companies like Apple often patent ideas which never see the light of day, so just because this patent exists it doesn't mean the whispering feature will definitely ship.