Like GearBrain on Facebook
It is rare for smart home devices to need a factory reset. But sometimes, when they encounter a software fault or simply need a fresh start, a total reboot can be the best, and potentially the quickest, approach to take.
I did exactly this recently with my Philips Hue smart lighting system. Firstly because I had added, relocated and removed several Hue devices in recent weeks, including a Hue Play system that I no longer wish to use. And secondly, my bedroom Hue lights had seemingly become confused by overlapping routines created in the Alexa, Google Home and Philips Hue apps.
Read More:
Instead of delving into each of those applications to work out what had gone wrong, I decided a fresh start would be best, especially since I only have three lights – two bulbs in lamps and a light strip – to control.
Before I get started on the instructions, I should warn those wishing to do the same: a factory reset really does wind everything back to Day One. Your Hue system will need reconnecting to your Wi-Fi router, each light will need adding to the Hue Bridge, then they will need naming, and any routines, scenes and other personalization you had before will need recreating.
So think carefully before searching for a pin, paperclip of SIM tray removal tool and jabbing it into the back of your Hue Bridge. But, if that is the route you want to take – perhaps because you are selling your system or giving it to a friend – the process is outlined below.
But quickly...before resetting, you can delete and reinstall individual lights. This could be a better option if one bulb, light strip or other accessory is proving troublesome.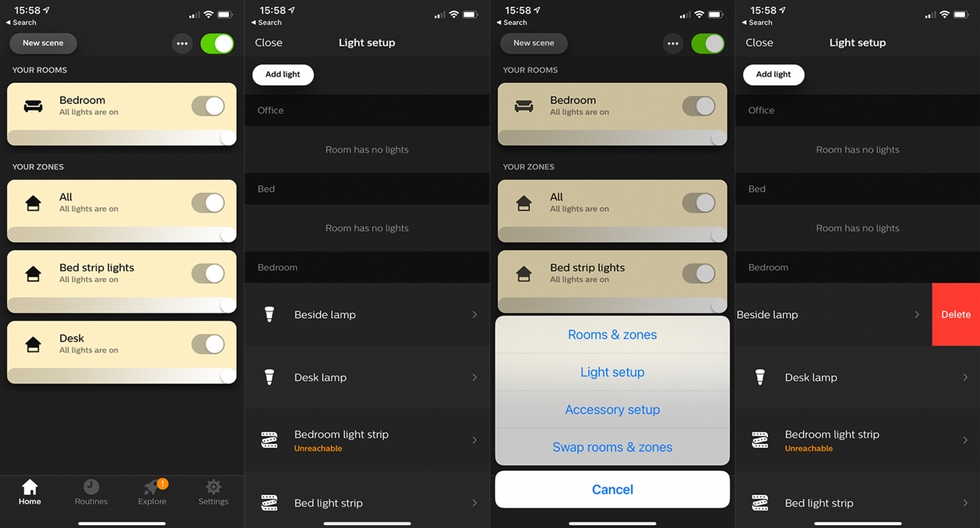 Deleting lights from Philips HueGearBrain
How to delete a single Hue light

Open the Hue smartphone app
From the home screen, tap on the icon with three dots in the top-right
Tap on Light setup
Tap on the light you want to delete, or swipe it to the left
Tap Delete
You can then add the bulb back into your Hue system by removing or unplugging it, reconnecting it to the lamp, fitting or wall outlet, then return to the Light Setup page and tap on the Add Light button.
How to factory reset Philips Hue

If you still want to reset the entire system, follow these instructions:
Remove the Ethernet cable from your Hue Bridge
Turn over your Hue Bridge
Locate the reset button, which is recessed beneath a small hole
Press a pin, paperclip or similar into this hole and hold the button down for five seconds
A light on the front of the Bridge will blink repeatedly. Once it stops blinking the reset process is complete and the Bridge is ready to set up again as if it is brand new.
Now head to the Hue app and set up your smart light system again from scratch.
In my case, this gave me the opportunity to do several housekeeping tasks at once. I renamed some lights that I had relocated since first installing them, created new routines for waking me up with a brightening light each weekday morning, and adjusted how my two Hue dimmer switches work. It also fixed an issue I had with the lights switching on when they weren't supposed to.
This process may take you a while if you have a more complex Hue setup than mine, so some readers might benefit from working methodically through changing the names of lights, actions of routines, and so forth. But if you have a simple system and want to be sure all creases are ironed out in one fell swoop, or want to gift or sell your system, the factory reset is a worthwhile option.
Finally, if you use a smart home system like Amazon Alexa or Google Home to control your Hue lights, you will need to reconfigure routines in those apps after recreating your Hue system.
Check out The GearBrain, our smart home compatibility checker to see the other compatible products that work with Philips Hue smart lights , Google Assistant and Amazon Alexa enabled devices.
GearBrain shows Alexa and Google Assistant controlling the Philips Hue Go www.youtube.com
Like GearBrain on Facebook