Apple has named 350 students from around the world as its latest Student Swift Challenge Winners based on apps they created. Some of the students had track records that belied their young ages — with all of them still finishing up high school.
One student, Gianna Yan, 16, built a free app, Feed Fleet, connecting volunteers with at-risk people needing essentials like groceries after seeing her grandparents, who are immunocompromised, have difficulty getting basics they needed during the pandemic.
"My sister and I felt especially driven to help because we were so far away and couldn't physically be there for them," said Yan, who lives in Oakland, California, in a statement.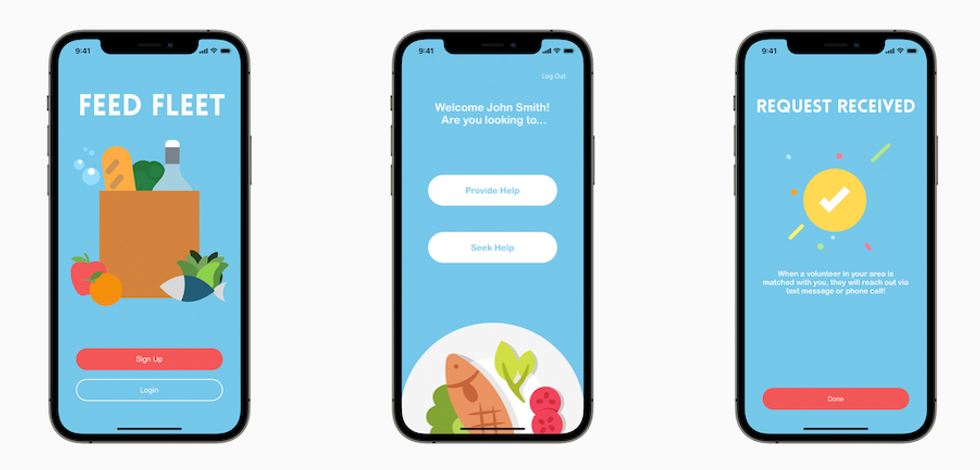 Feed Fleet, a free iOS app, was designed by Gianna Yan, one of this year's Student Swift Challenge winnersFeed Fleet
Abinaya Dinesh, 15, is working on an app, Gastro at Home, to help those with gastrointestinal disorders, like herself, find more information and resources around their condition. Another winner, Damilola Awofisayo, 17, has already launched her own hackathan with a friend through a nonprofit they started called TecHacks. The first event, in August 2020, had more than 800 people coming together from more than 60 countries to participate

All the students, including the three above, won various prizes, including a one-year membership in the Apple Develop Program as well as the coveted invitation to the Worldwide Developers Conference. This year, as in 2020, the event will be held virtually, and is set for June 7.
Apple invited students to build an interactive Swift playground, the language the company uses for building apps on its iOS, Mac, Apple Watch and Apple TV devices, send the details about it and register as well as an Apple developer to enter the contest. They had to
"Every year, we are inspired by the talent and ingenuity that we see from our Swift Student Challenge applicants," said Susan Prescott, Apple's vice president of Worldwide Developer Relations and Enterprise and Education Marketing, in a statement. "This year, we are incredibly proud that more young women applied and won than ever before, and we are committed to doing everything we can to nurture this progress and reach true gender parity."