I am not a watch person. That's not to say I don't own them: Until I bought the Apple Watch 5, I had three. One I bought at Disneyland, the classic, with Mickey's hands showing time. One my parents gave me when I graduated high school. And one that was my grandfather's, that only works at random times, and I treasure because he wore it. But I haven't worn any of them for decades. Bracelets, I adore. Watches are, to me, like that. Adornments for the wrist. My phone shows the time, and does so much more.
Then I had a health scare, and I realized my body wasn't just going to stay the same. And to keep it running as long as I hope it will, I was going to need to make some changes. Here's why I decided an Apple Watch 5 would be part of that solution, and how since buying it at a store in New York, it's worked for me for the past three months.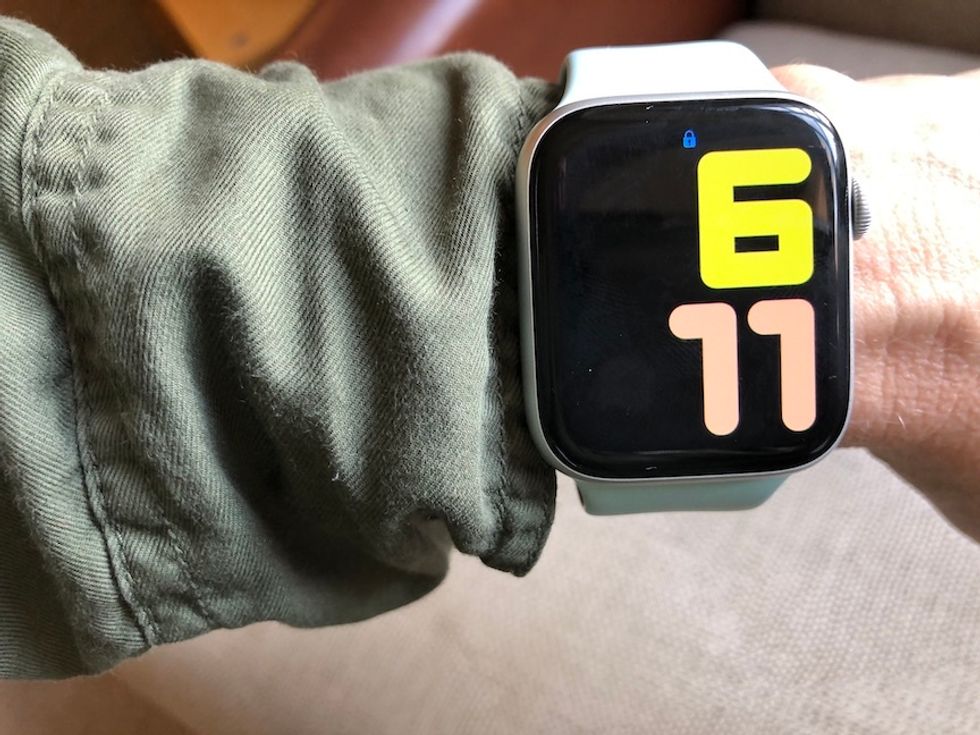 The Apple Watch 5 is the latest wearable from AppleGearBrain
What Apple brought to the newest Watch

I could have purchased an Apple Watch 3 when I stopped at the Apple Store 24 hours after my doctor's visit. It certainly would have been a cheaper spend. You can get the older version of the Apple Watch for just $199. The Apple Watch 5 starts at $399.
But I wanted a couple of things the older version wouldn't offer. For one, I like looking down and seeing the time — and the Apple Watch 5's screen is always on. When it's on your wrist, in what I call down mode, the numbers are a bit grayed out. But as soon as you lift your wrist, even a little, the screen pops to life. That's nice because that's how you use a watch — you look at it to get the time, you don't touch it.
Second, I knew one thing I would be doing more of was running. I write at GearBrain about running, especially when I'm testing earbuds. I always say the same thing: I am not a runner. I mean by that, I know I run. But I am not someone who enters races, who looks for my split times, and tries to improve my pace. I run because I have to, because my heart needs to be exercised, because it clears my head, and because it's, quite honestly, the cheapest, best exercise I can find.
That said, I wanted a device that could help me connect with people while I run, something that would even let me leave my phone at home. The Apple Watch 5 offered me that. Because the watch can be connected to its own cellular network — in other words, you can get a phone number just for the watch — it has a built in antenna. You do need to pay to turn your watch into a mini phone, and it can act as that: make calls, receive calls, send texts, hear texts read aloud, even if you're miles away from your phone. But let's say you're cheap and don't want to pay for that extra line? Let's say you're me.
The Apple Watch 5 can connect to emergency services just by holding down the button below the crown, through that very antenna — even if you don't pay for a separate line. And that puts you in touch immediately with help. Your heart decides it's going to have a temper tantrum and you're out by yourself on a sunrise run? You can get help. That feature alone is what sold me. I didn't need to set up (and pay) for an extra line. I still haven't. But I could still have paramedics find me if I needed? Here's my card, charge me now.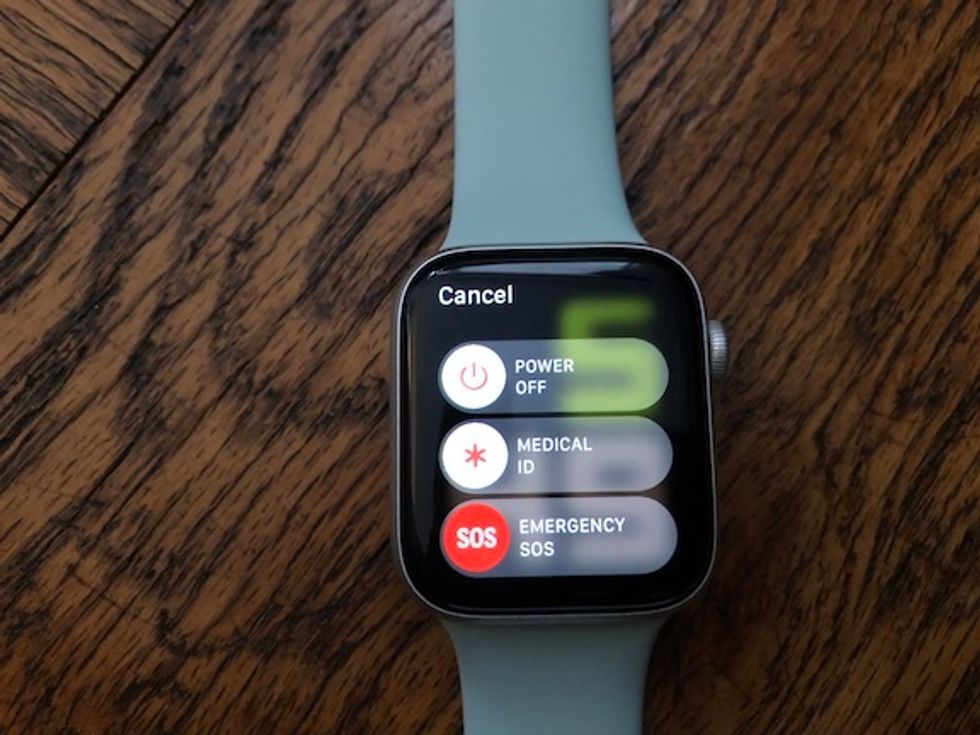 You can still make an emergency call from the Apple Watch 5 without paying for the extra cellular connectionGearBrain
My life with an Apple Watch

Of course the minute I started using the Apple Watch 5, all I wanted to do was play with the toys. I checked my heart rate every 20 minutes. I downloaded apps. I played with apps already loaded. (I love Walkie Talkie, and irritated my aunt playing with that feature alone for a week.) I created music play lists for my run. I checked the weather. I read the mini News briefs. I could not believe how much time I spent huddled over this postage stamp-sized screen.
I also use a tracking app with my family, a fact my teen daughter chaffs at intensely. The Apple Watch 5 would buzz me when she got home, buzz me when she left. I knew when my husband left to walk the dog, even when I was stuck at my desk in another room. My watch buzzed me with messages from my team, even those from Slack, when stories were ready to be edited, or uploaded to our site. It read my messages aloud, with such a hilarious mispronunciation of friend's names it became almost fun. I've even grown fairly adept at returning messages by writing on the tiny screen with my finger. It's like finger-painting. And yes, I love that too.
The Apple Watch did something else too — it helped me let go of my iPhone. Hours would pass and I would realize I didn't know where it was. Hours would pass then when I wouldn't check social media. Hours would pass when this additive little device would not be in my hands.
In short, I found that the Apple Watch turned into a buzzy, chatty smaller version of my phone — but one that required much less interaction. I could even turn off all of these notifications, and some I started to do as it's easy in the settings. But, while I know I eventually will, I haven't yet.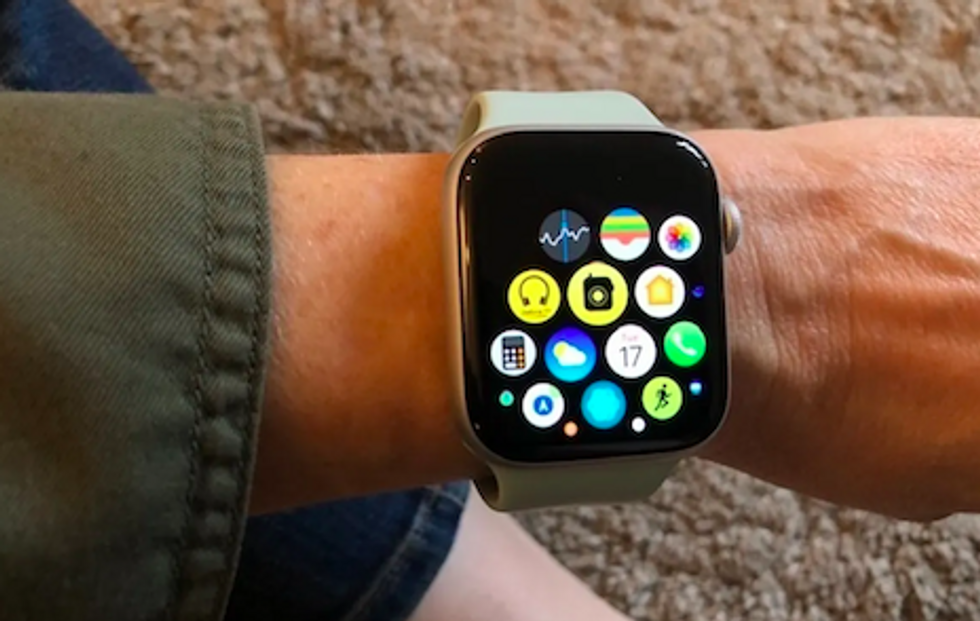 Some of the native apps to the Apple Watch include Walkie TalkieGearBrain
As a health device

One of the biggest selling points for the Apple Watch in years is its ability to take an electrocardiogram — or ECG — from your wrist. This detects electrical signals from your heart But as one of the techs reminded me, as he stuck several sticky leads on my chest one day at the doctor for my annual checkup, these wrist readings are done from one lead — in other words, just one point. They're not going to replace a visit to your doctor, and they never should.
So even though, of course, I played with that metric a lot during the last few months, I watched more closely details like my heart rate when it was at rest and when it was at work. I looked at my VO2 or the maximum amount of oxygen consumed during exercise, which gave me some sense of my aerobic fitness. I also wanted to know how many calories I was burning, not as a weight loss measure, but to show much me how much cardiac work I was putting my body through, how much I was exercising my heart.
These metrics showed up in an app called Activity. It's insanely addicting. You just want to close these rings that show you how far you've done every day on how many times you've stood, how many calories you burned and how many minutes you were active. I would run around my couch to close those rings. I would run while brushing my teeth. I hate those rings. They do however keep me feeling I've accomplished something everyday for my health. For that, they can stay.
The downsides
The Apple Watch 5 is a watch, yes. But it's really a digital device. It's a piece of tech masquerading as a heritage item. Yes, you can buy an Apple Watch with an Hermes logo and a leather band. They even have stainless steel bands. But you're just dressing up a processor and sensors. Would you clad your laptop in gold-plating and jazz it with a luxury logo? You don't need this for your Apple Watch either.
Even without all of these extra, the Apple Watch 5 is an expensive item, and one you're not going to be handing down to your grandchild — unless as an oddity to show them how poor our technology was compared to the amazing inventions they'll have then. Also, every Apple Watch should have its cellular connection wrapped into the same pricing as the iPhone. One connection, one price.
Yes, you can use your Apple Watch 5 to make calls, but it needs to be near the iPhone. It shouldn't need that. I'd like to see device makers and telecoms think about fixing this metric. We're paying for a cellular connection. That connection should move to all our devices, even when they're not in range of each other.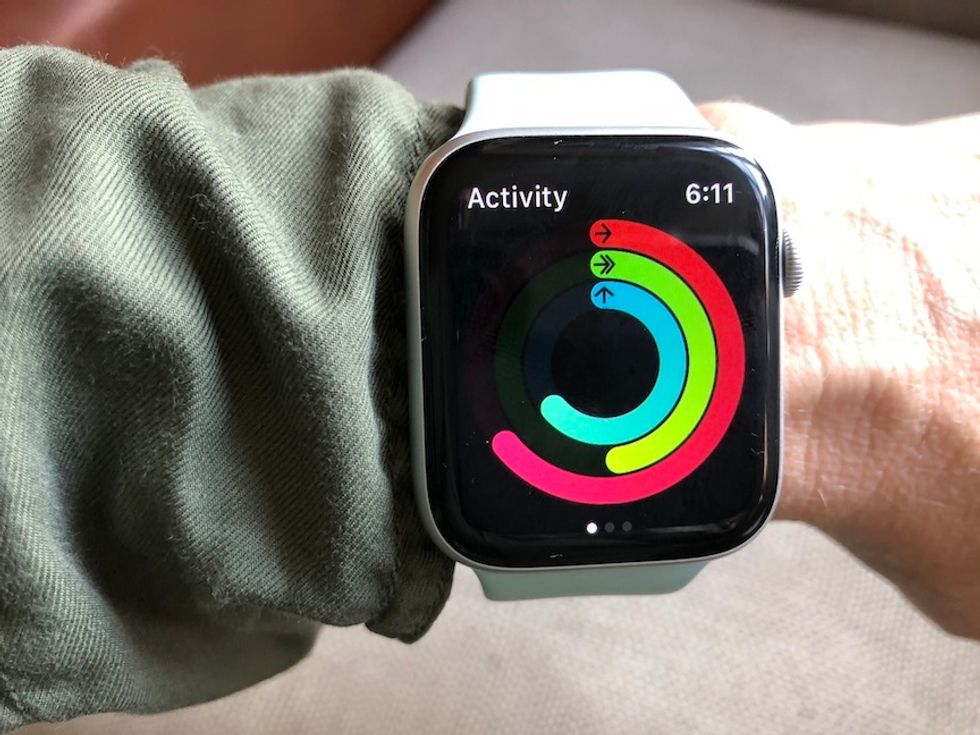 The Activity tracker on the Apple Watch is addicting, driving you to close your rings every day.GearBrain
Things don't always update as I'd like them to on the Apple Watch. Even three months in, and I still find my podcasts are not updated and ready to listen to in the morning when I grab it to go for a run. I really don't like hearing my daily news brief tell me it's Tuesday when it's Wednesday, for example.

Also, turning up the volume on my Apple Watch isn't always seamless. When I'm running I want to not have to fumble moving back to the app pushing out my music or podcast, and then try to gently turn that crown on my watch up or down. I am sure there's an easier way. That's just to say three months in, and I'm still learning.
So should you buy one?
Should you buy another connected device in your life? That's a question of need. I felt I needed a device like this — something I could wear on my wrist, that would help me track important metrics of my health, that would help me stay connected when I wanted to, and keenly, something that would work with the rest of my devices.
I've been an Apple user for decades, and I just never switched. I review Android phones, tablets and computers. Some of these are fantastic, and Android has some of the coolest bells and whistles out there (Open your camera with a flick of your wrist? Um, yes please)— and some of the most affordable. But, I've stuck with my iPads and AirPods, my iMacs and MacBooks, and of course my iPhone. I just wanted to make sure I had a wearable that seamlessly integrated with all of that. Android watches can work with iOS, and very easily. Some of the great ones include those from Samsung. But I took the easier route, and went with an Apple Watch.
I bought the big one too, the 44mm size, and I bought the cheapest band in a color that reminded me of a beach sky where I grew up in California, and turned it to the face (there are dozens, you'll get lost playing with those too) that read like a 1980s pop band. It's colorful, it's cheerful, and since I almost exclusively wear navy, black and army green, it pops like a smile against my wrist.
Will I grow tired of the Apple Watch 5 one day and stop wearing it? I'm positive I will. I'm nothing if not eager to try new tech, new devices, new toys. But for now, this is the device that I'm using, to stay connected to my work, to my family, and to my health.
Pros:
Seamless connection with other Apple devices
Slew of free health apps
Can customize looks from dozens of watch faces and bands
Cons:
Price, it's very expensive
Have to pay extra for a second cellular connection
Don't always update overnight with podcasts
Apple Watch Series 5 (GPS + Cellular, 44MM) - Space Gray Aluminum Case with Black Sport Band (Renewed)