3:26 pm Annnnd.....we're out.
3:23 pm ET HomePod will come in white and space grey, and priced at $349 and start shipping later this year.
3:22 pm ET Addressing the issue of privacy with HomePod. Until you say the phrase, "Hey Siri," there is no connection/link with Apple.
3:18 pm ET Apple wants you to think of this device as a "musicologist," with Siri serving up the music you want to play. Can also reads news, sports, weather, set up reminders, and can also talk to your HomePod and talk to HomeKit devices. For example, "Turn on air conditioning,." Or set up scenes.
3:16 pm ET Reads the spatial environment to determine how to play music.

3:15 pm ET Has a four-inch woofer, dynamic modeling, and all controlled Apple A8 chip which is same chip that powers iPhone.
3:13 pm ET Says: Were working on this speaker for later this year but here it is: Called HomePod.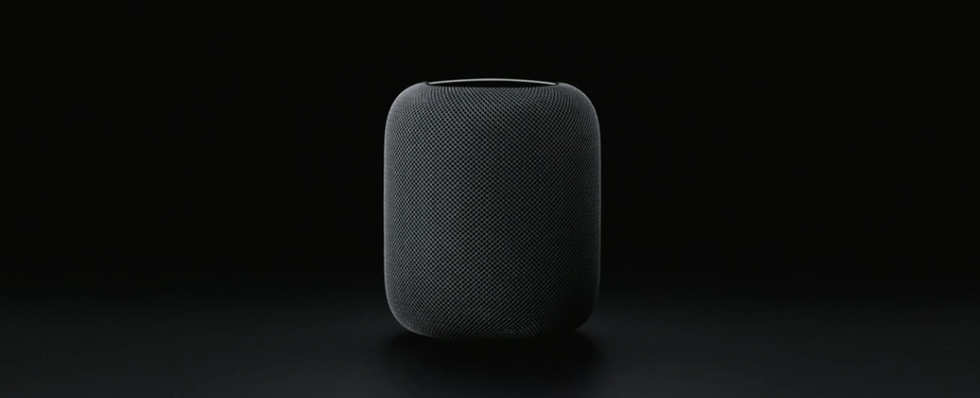 3:11 pm ET We think this is going to be the smart speaker... They're calling it a "Breakthrough home speaker"

3:10 pm ET Cook says he wants to reinvent home music. (This is the final new launch today.)
3:00 pm ET Integrating Apple Pencil more into iOS 11. And Notes has built-in document scanner.

2:55 pm ET Apps at the bottom of the iPad, and summon from bottom of the screen in iOS 11. Also Drag and Drop will come to iPad, with text, images, ....
2:53 pm ET iPad Pro will have double memory starting at 64GB. Here are the new details and pricing, starting today, and shipping next week. Will ship with iOS 10, but will be updated once iOS 11 launches.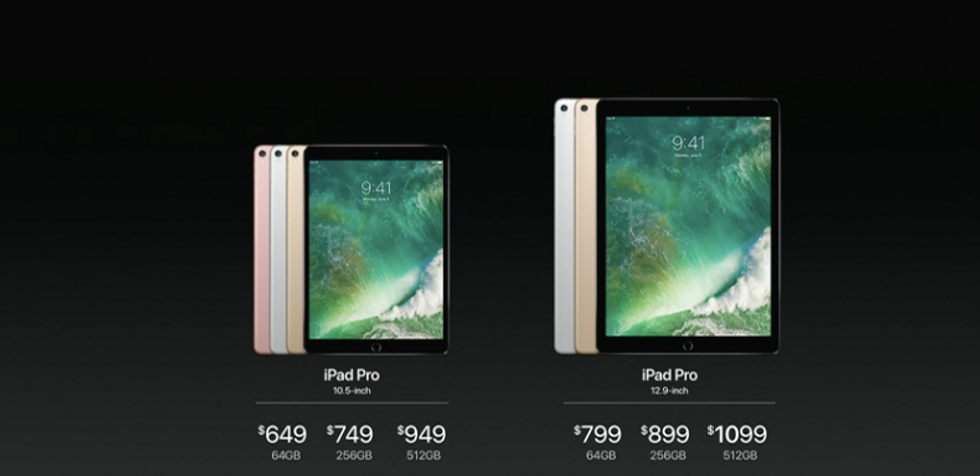 2:47 pm ET The displays will also dynamically update their refresh rate.
2:45 pm ET We're talking about iPad Pro, which has a 10.5-inch Retina display, 20 percent larger. But it still weighs just one pound. And it has a full-sized on screen keyboard, and full-sized Smart Keyboard, with support for more 30 languages. New displays coming to all iPads, 120Hz display refresh rate so motion content will be smoother.
2:41 pm ET Cook is back on stage with No. 5 updates: And he's talking about the iPad.
2:37 pm ET Alasdair Coull Wingnut AR's creative director now demoing how AR Kit works.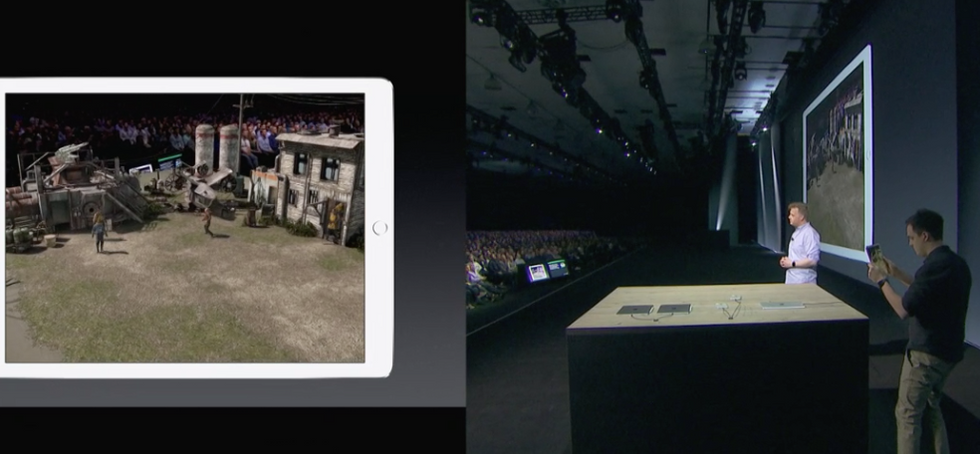 2:35 pm ET Apple is launching AR Kit, to support augmented reality creation to Apple. Code that will let you place virtual objects into real spaces.
2:33 pm ET Okay, now some updates about AR.
2:26 pm ET App Store updates from Phil Schiller. Says Apple has now paid more than $70 billion to developers, 30 percent just in the last year. There is going to be a brand new App Store - new redesign. Starting with a new tab called: "Today" which will update everyday. Also other new tabs called "Games" and "Apps." This looks to be a simplification of the store, cleaner.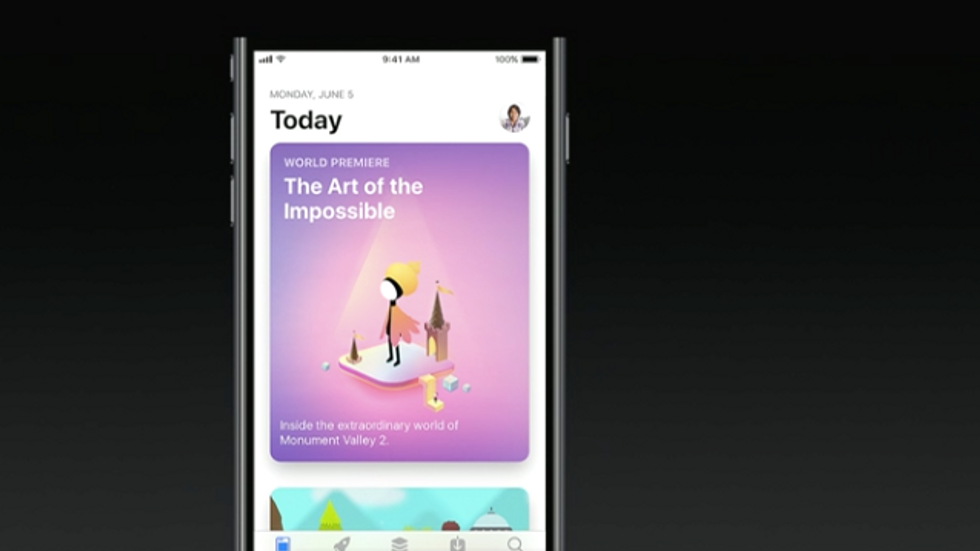 2:19 pm ET HomeKit updates. Updating with support for speakers. Apple Music has 27 million customers says Federighi. Now you'll be able to see what your friends are listening to in Apple Music.
2:16 pm ET Updates to airport Maps so you can see where security actually is—and plan how long it will take to get there. Also lane guidance so know which lane to be in when driving, and making your next turn. Also building on Do Not Disturb While Driving: So when you install iOS 11, we are going to suggest you activate Do Not Disturb While Driving which will basically black out your screen and send a message to people that you have Do Not Disturb on.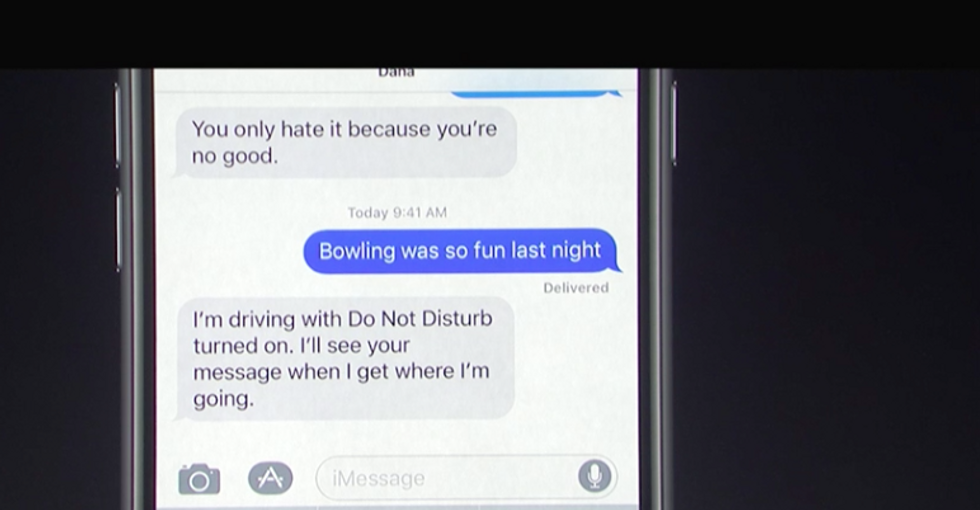 2:13 pm ET Live Photos are getting updates with new bells and whistles including long exposure. You can watch videos in Memories in both landscape and portrait.
2:11 pm ET Control center is now a single page, and can jump into each one for more information. And Lock Screen will have more notifications, and scroll up for more right from that screen.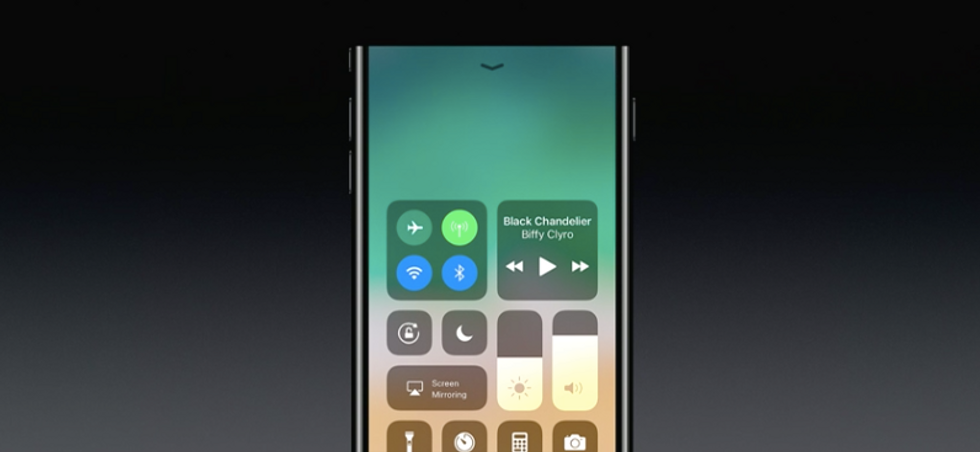 2:08 pm ET Camera updates coming as well. iPhone 7 and iOS 11 will be able to take better low-light images. True Tone flash also coming. Live photos will be updated: can trim them.
2:05 pm ET Siri is getting a male voice. And more realistic ways of speaking, more nuances. And also supports translation, so it will actually say something back to you in the language you request. English, Spanish, German, Chinese and more languages coming.
2:04 pm ET You can send money through Apple Pay through Messages. Also will work on Apple Watch.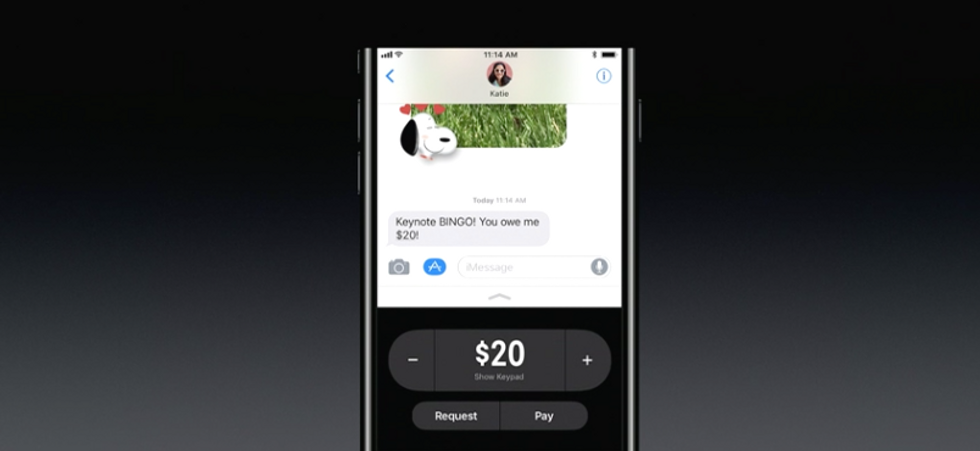 2:02 pm ET Apple Pay will be in more than 50 percent of retailers in US by the end of the year, Federighi says. But now: Person to Person payments (Hello Venmo: This is aimed at you.)
2:00 pm ET iOS 11 coming, and Federighi is back on stage to walk us through it. Starting with Messages. In iOS 11 with Apps visible at the bottom of Messages, so you can bring stickers and others into Messages. Also, now all Messages will be in sync across all devices.
1:58 pm ET Cook is back on stage...and we're talking about iOS now.
1:54 pm ET New iMac Pro details that won't start shipping until later this year—saying the most powerful Mac that Apple has ever made. Will be offered with up to 18 cores of computing power. Will have Radeon Vega graphics. Up to 128GB ECC memory. 1080p FaceTime camera. And more updates as well to the iMac Pro. Will be priced at $4999, and available in December.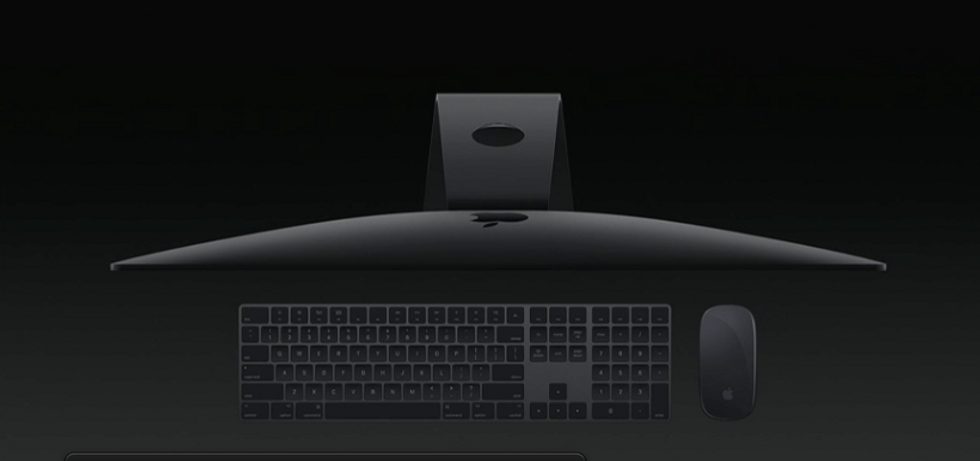 1:52 pm ET MacBooks also going to be updated and everything starts shipping today.
1:51 pm ET Here's the new iMac lineup.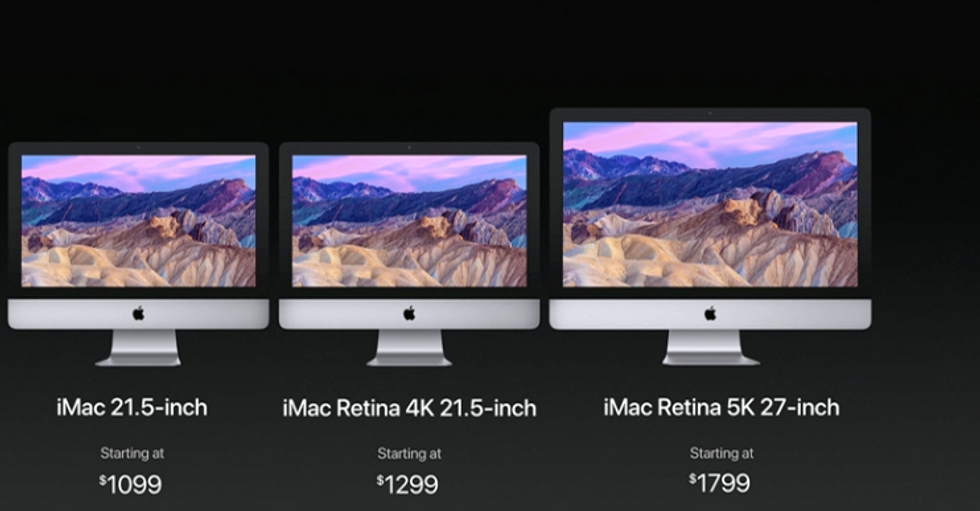 1:46 pm ET Industrial Light & Magic's John Knoll is on the stage to show off the new graphics updates, by showing off VR content that can be created as part of the demo which Epic Games' Lauren Ridge builds live.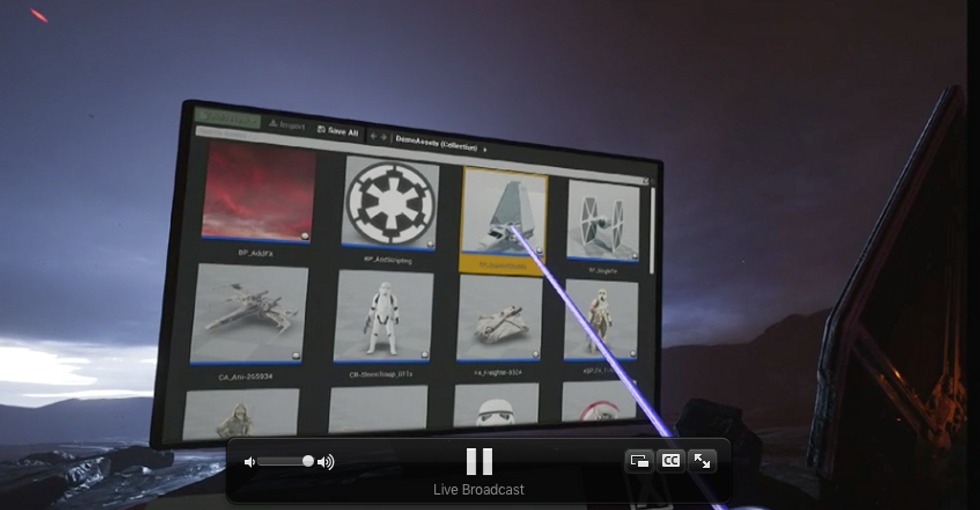 1:44 pm ET iMac updates: Screens will have 500 nits, 43 percent brighter with one billion colors. Will be able to have up to 32GB of memory depending on the iMac.

1:41 pm ET Metal for VR is coming to High Sierra. A VR-optimized display pipeline. And Pro apps (like Final Cut Pro X) will be supported. Steam VR is coming to Mac. Unity too.

1:40 pm ET Bringing Apple file system to macOS. Native encryption, instant file and directory cloning. Duplicating files happens faster. Updates to new video standards. Graphics updates as well. (Much of this is for developers....)
1:35 pm ET Mail will be more efficient. And talking about Photos, with a new view that has all imports in chronological order. Enhancements to editing photos as well: which will let you fine-tune colors, and even select colors.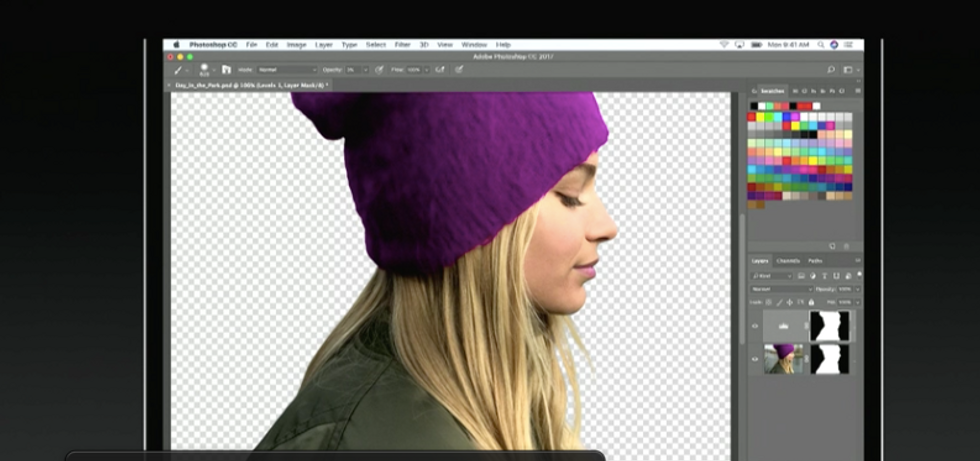 1:33 pm ET Federighi is talking about Safari updates, which will include audio play blogging. Now talking about how things chase you on the web with goods—like you're being stalked. Now Safari will include Intelligent Tracking Prevention. Not blocking ads, but says privacy will be protected, but without much detail.
1:29 pm ET Craig Federighi on the stage now to talk about macOS. The newest update will be called macOS High Sierra. (yes, really.)
1:28 pm ET Now we're talking about the Mac.
1:28 pm ET WatchOS 4 coming this fall. Now Tim Cook back to stage.
1:27 pm ET Music updates to watchOS 4 as well. You can view photos, save news headlines to be read later. Also workout updates so you can know how much more you need to do to hit your goal. And can pick music playlist, and control music from watchOS 4 during the workout.
1:24 pm ET There are also going to be monthly challenges in the activity setting, with some animated fireworks when you hit milestones. Workout feature is also being updated with new Pool Swim metrics. You can also add the ability to track multiple workouts in one sessions. WatchOS 4 will also connect to gym equipment so it can share data, so all information "matches," says Lynch. StairMaster and Cybex are just two equipment brands that will work with watchOS 4 starting this fall.
1:19 pm ET Apple Watch will have a new Siri watch face, with reminders, photo memories, routes for your work commute even a pass for your flight for the afternoon—even from third-party apps.There other faces too including Toy Story faces with Woody, Jessie and Buzz that are animated.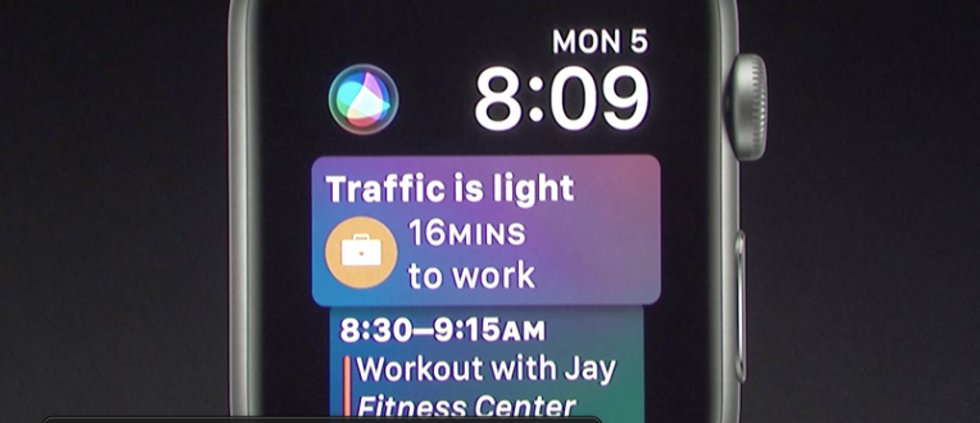 1:18 pm ET Apple Watch updates to its OS. Kevin Lynch is coming up to talk about watchOS 4.

1:16 pm ET Amazon is coming to tvOS, on Apple TV.
1:14 pm ET Cook says there are attendees from more than 75 countries from across the world. One of the youngest developers is a student, a 10-year-old, who started coding when he was 6-years-old and has five apps on the App store. There's also an 82-year-old from Japan, a developer who published first app this year.
Here we go:
1:12 pm ET Tim Cook is talking about the commitment to the developer community, saying it's going to be biggest and best WWDC ever.
Updates to begin shortly. Stay tuned.....