Like GearBrain on Facebook
As well as their sound quality and networking abilities, Sonos smart speakers are known for working with both Google Assistant and Alexa.
The compact Sonos One was the first to offer access to both voice assistants, and now the Move, Beam and Arc also have this feature. They can't operate both voice assistants at the same time, so when first setting up the Sonos you are asked to pick which you want to use.
Read More:
But you might have since changed your mind. Perhaps in building out your smart home you have switched from Alexa to Google Assistant, or vice versa. So you will want to change the assistant used by your Sonos devices.
Thankfully this is easy and requires just a few taps of the Sonos app. For this piece we are using the new Sonos S2 app, which was released in 2020.
First, open the Sonos app and tap on the gear-like settings icon in the lower-right corner. Under 'Voice' at the top of the screen you'll see which assistant your Sonos system uses. Tapping on the assistant shown here will then display which of your Sonos devices use it, if you own more than one.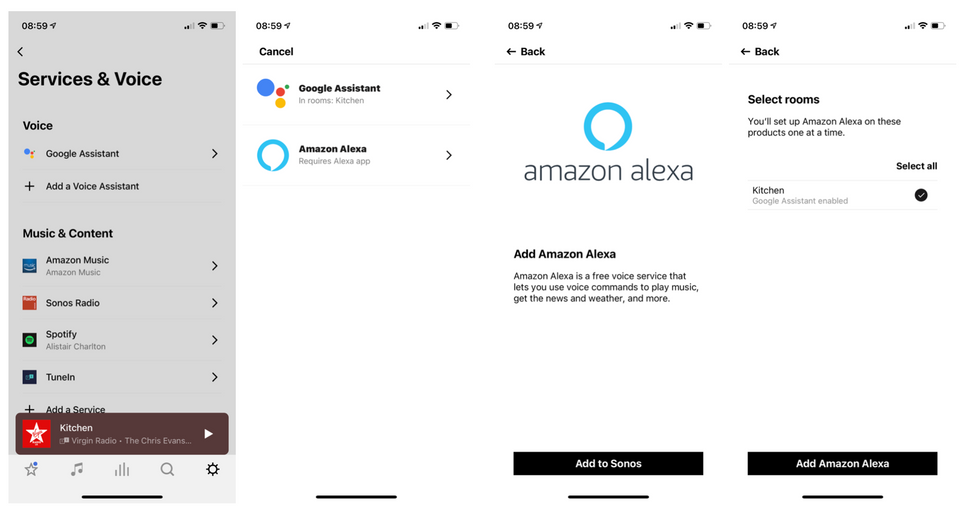 Changing the voice assistant of a Sonos speakerGearBrain
To change from one assistant to the other, tap on 'Add a Voice Assistant' then tap on the one you want to switch to, either Alexa or Google Assistant.

It is then simply a case of following the instructions laid out by the Sonos app. The process is similar for both assistants and will ask you to log into your Amazon or Google accounts in the Alexa and Google Assistant apps. Make sure you have these installed on your phone before going any further.
There are a fair few steps to go through here, but it is all simple and little more than logging into the voice service you want to use, then giving it and your phones the permissions they (and your Sonos speaker) need to work. The whole process takes no more than five minutes, and once complete your Sonos speaker is ready to use with your chosen voice assistant.
Check out The GearBrain, our smart home compatibility find engine to see the other compatible products that work with Sonos, Google Assistant and Amazon Alexa enabled devices.
From Your Site Articles
Related Articles Around the Web
Like GearBrain on Facebook