This year's Apple Watch could be offered with cases made from ceramic and titanium, as the company once again pitches its smartwatch at the luxury market.
References to the two new case finishes were discovered in a beta build of Apple's upcoming watchOS 6 software, and highlighted by iHelp BR. The news comes just a few days after the same website discovered a potential release date for the iPhone 11 in the same beta software.
Read More:
The leaks come in the form of a pair of animations showing a virtual representation of the back of the Watch's case. This animation is shown during the pairing process when first setting up Apple's wearable with an iPhone. The animations clearly state 40mm and 44mm versions with "Titanium Case" and "Ceramic Case" written on the back.
Apple hasn't offered a titanium Watch before, but has just started using the material with the new Apple Card. One would expect a titanium Watch to be slightly lighter than the rest of the range, but also command a higher price.

It isn't clear for now if these are additions to the Series 4 range, which debuted in the fall of 2018, or if these are members of a new Series 5 range. Very little has been said about the Series 5, which is expected to launch in September alongside the iPhone 11. The event is tipped to take place on September 10.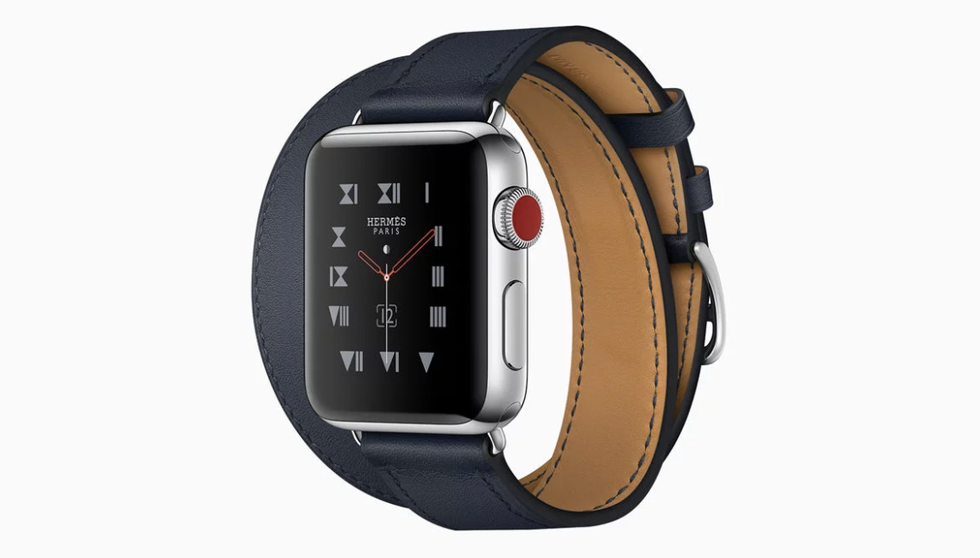 Luxury Hermes versions of the Watch could be joined by ceramic and titanium models for 2019 Apple
With last year's Series 4 representing a major upgrade for the Watch - new case sizes and the ability to take an ECG - we don't expect much to change for the Series 5.

Apple has regularly experimented with different case materials since the Watch first launched back in 2015. That first model was offered in aluminum, stainless steel and gold - the latter costing up to $20,000, give to A-list celebrities like Beyonce, and sold to the public in very low numbers.
Since then, Apple has transitioned away from high-end luxury, instead offered stainless steel and aluminum throughout the Watch's life. A ceramic version of the Series 2 and Series 3 was offered, but no such model exists in the current Series 4 range. The company also sells a range of watches with luxury leather straps by Hermes, complete with unique Hermes-branded watch faces and the brand's trademark orange packaging.