Like GearBrain on Facebook
This new fourth-generation Apple Watch is a larger step forward than any of its predecessors. It has a bigger, better screen, more power, new software, fall detection, a louder speaker, and potentially life-saving tech in its ability to take an EKG (electrocardiography).
Where the Apple Watch began as a fashion item - remember Apple selling $20,000 gold versions in Parisian boutiques? - this latest model ditches the high-end Edition line entirely, and instead focuses more clearly than ever on health and fitness. Apple's intentions here are most obvious with the watch's new EKG (also known as an ECG) - a measurement which can alert you to heart problems and produce medical-grade heart rhythm data to be shared with your doctor.
There is an argument that Apple is trying to run before it can walk - the EKG doesn't work yet, and hasn't received medical certification outside of the US - but Apple's vision for the Watch cannot be dismissed. Once every feature is up-and-running, the Watch Series 4 will have the ability to save lives. It also tracks your exercise, taps your wrist when you get an email, and is highly customizable.
But should you buy one? And, if you already own an Apple Watch, should you consider upgrading to Series 4? Let's find out.
Unboxing Apple Watch Series 4 in less than 10 Seconds www.youtube.com
Apple Watch Series 4: Hardware and display
Since the Apple Watch first arrived in 2015, this year's model is the first to feature a major physical resigned - and yet, from memory at least, you would be hard-pressed to spot the difference. This is perhaps testament to how close Apple got to the target with its first attempt, or a sign that major innovation on such a compact device has even Jony Ive running short on ideas.
Whatever the case, the big change here is the display and overall size of the Apple Watch. Both have grown for the Series 4, but in such a way that your existing watch straps will still fit just fine. Buyers of the expensive Hermes leather bands can breathe a sigh of relief.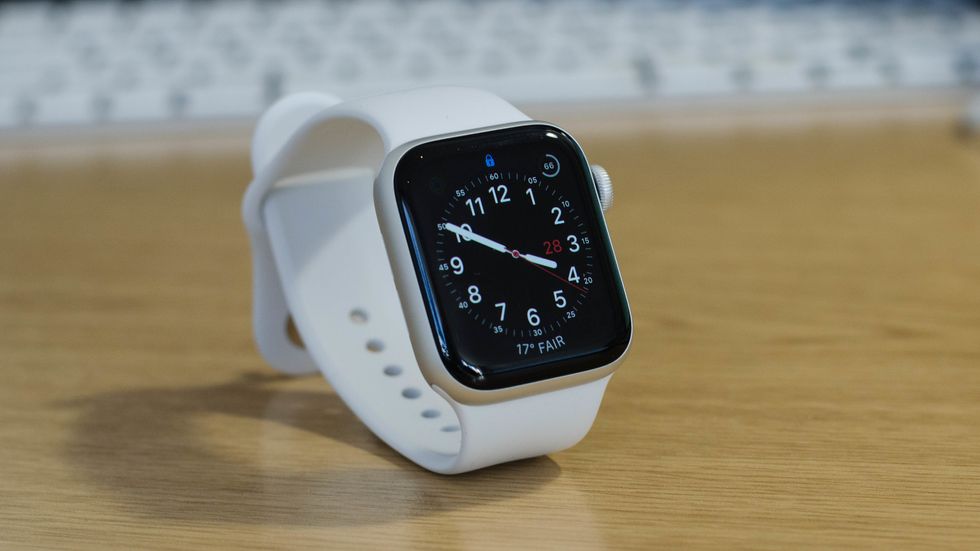 Apple Watch Series 4GearBrain
The Series 4 is offered in two sizes, 40mm and 44mm. These take the place of their 38mm and 42mm predecessors, but buyers shouldn't worry about getting used to a larger device on their wrist; it's going to feel immediately familiar. The bigger difference is with the displays, which have grown by 30 percent and now stretch much closer to the edges of the case, following the iPhone X and XS as screen bezels shrink into the sidelines.
This is a good move. Where very thin bezels on a smartphone can make the device tricky to hold, a watch strapped to your wrist clearly doesn't have this issue. Smaller bezels can only be a good thing.
Apple Watch Series 4 44mm GPS Only, Space Gray Aluminum - Black Sport Band (Renewed)
The display itself is not only larger but has more pixels than before, coming in at 448 x 368, compared to 390 x 312 on the Series 3. This increases pixel density from 303 per inch to 326 - the magic number which qualifies it as a 'Retina' display, where the density is such that Apple claims the human eye cannot depict individual pixels.
Being OLED (as before), the display produces bright, punchy colors and very deep blacks, which help make the more traditional faces feel like those of a real watch and not a computer display. That said, the Watch still does not have an always-on mode, so spends most of its life as a blank, black rectangle on your wrist, only illuminating when you raise your arm, tap the screen, or rotate the crown.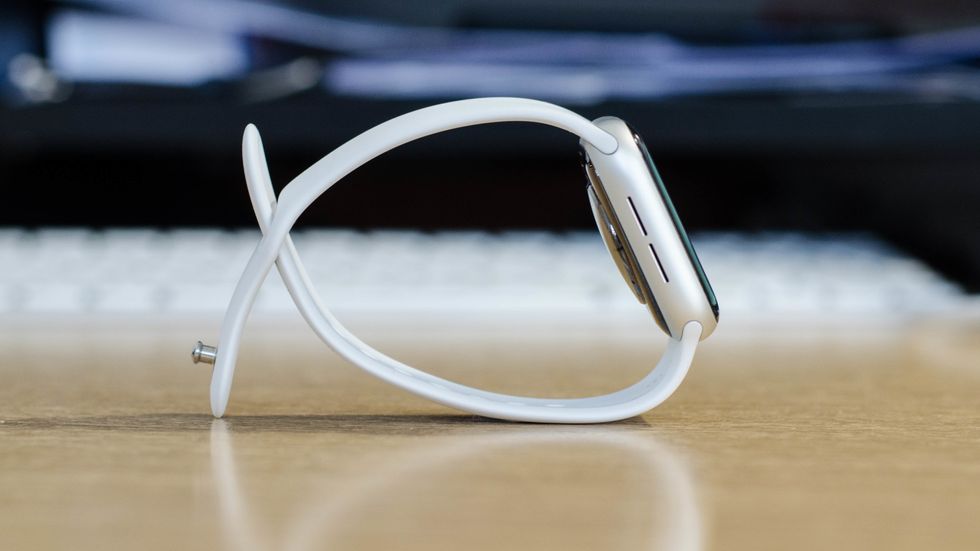 Side view of Apple Watch 4GearBrain
Samsung and others offer an always-on option on their smartwatches, where the time is constantly shown, so it's a shame that Apple remains reluctant to follow suit - especially as it feels the battery would be up to the job, providing it is charged daily.

Although taking up fractionally more space on your wrist than before, the Watch Series 4 is a little shallower than the last three models (only the original Watch, before Apple introduced the Series nomenclature has a smaller case). Adding to the new model's compact credentials is how the side button has been made flush with the body, instead of standing proud.
The Digital Crown has also seen some changes. Cellular models (which have their own 4G connection for making phone-free calls) now just have a discrete red ring on their crowns, instead of the entire crown being red, as with the Series 3.
Also new for the Series 4 is how the Digital Crown has haptic feedback when you rotate it. This uses the Watch's existing Taptic Engine, meaning the crown itself does not vibrate and click as your turn it, but it feels like it does. The effect is subtle but very smartly done, with the engine delivering a firmer tap when you bump into the end of whatever you're scrolling through, and it's clicking can just about be heard as well as felt. It's a similar sensation to rotating the bezel of a diving watch, and has 'quality' written all over it.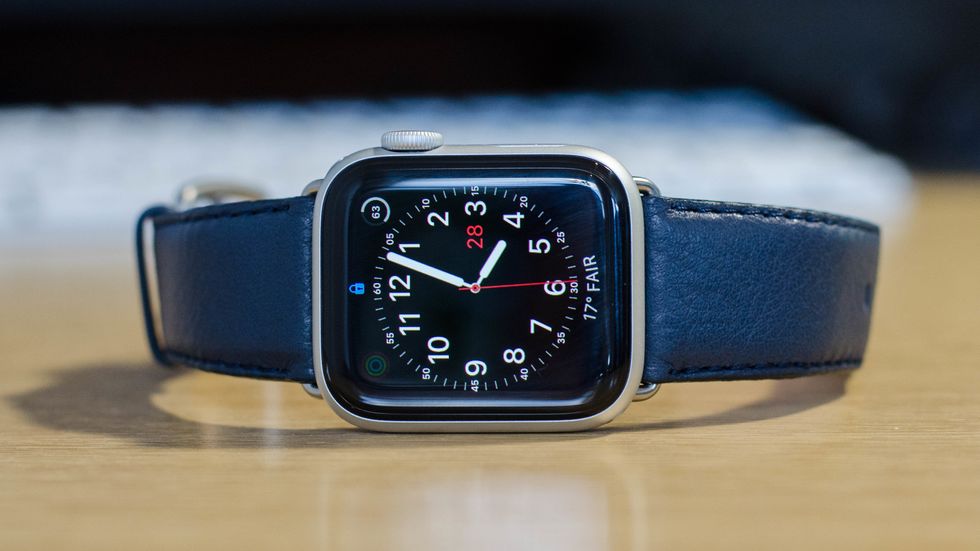 All older third-party straps work with the new models of WatchGearBrain
The speakers of the Series 4 are louder than before, meaning owners of the cellular model can have phone calls without raising the watch right to their face. Siri can also be heard loud-and-clear, and yes, the Mickey and Minnie Mouse faces yell out the time when you tap at the screen.

As ever, there is a wide range of options when it comes to picking your Apple Watch. There are the two case sizes - 40mm and 44mm - then you can pick to have GPS, Bluetooth and Wi-Fi, or those three plus a cellular connection. The cheaper aluminium model is offered in silver, gold and space gray, while the pricier stainless steel version comes in black, gold or regular stainless steel, and the Hermes range takes the steel model then adds custom branded faces and a number of luxury leather straps. The white ceramic Edition model is no longer available.
Apple Watch Series 5 (GPS, 40mm) - Gold Aluminum Case with Pink Sport Band
In all, prices range from $399 to $1,499.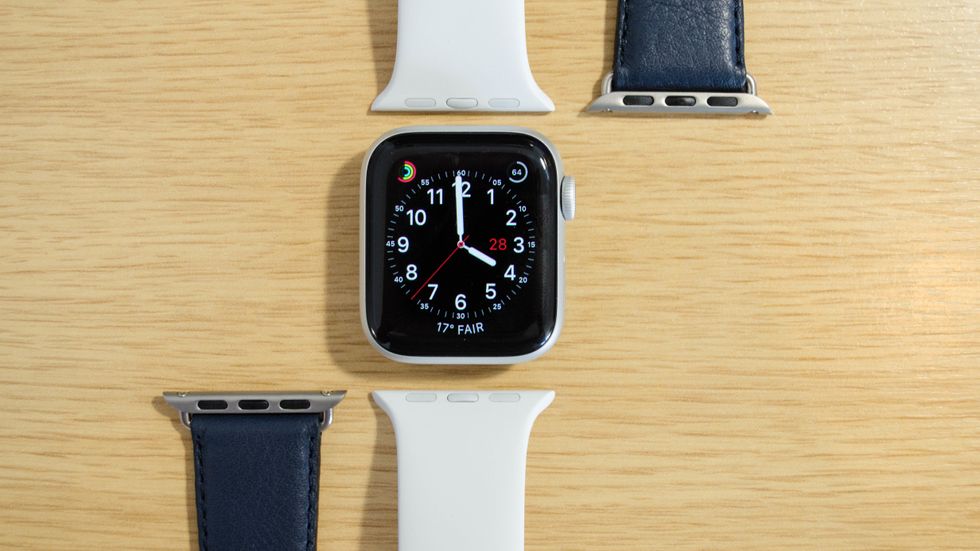 Switch bands with Apple Watch 4GearBrain
Apple Watch Series 4: Software
The Watch Series 4 runs Apple's new watchOS 5 operating system. This same software is available for all previous Watches apart from the very first, and includes a range of new features. One is a walkie-talkie where you can push the screen to speak immediately to a Watch-wearing contact; another lets you set up fitness competitions between you and your friends, and automatic workout detection reminds you to log every exercise as you begin.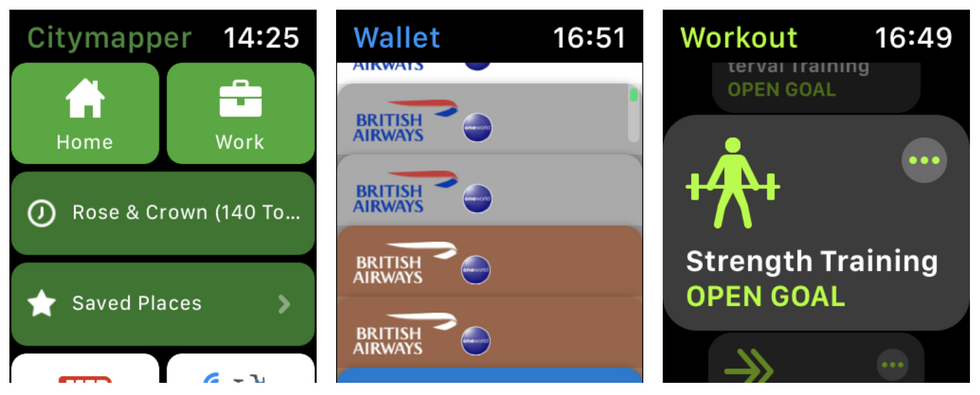 Use iphone to connect to appsGearBrain
watchOS 5 also includes new yoga and hiking options in the workout app, and the app can be set to help you keep a certain pace while running. A podcasts app is new with watchOS 5, syncing new episodes to the Watch when they are released.
A new Siri watch face uses machine learning to offer suggestions based on what you are doing, and what your daily routine looks like. Look at your watch at 5pm on a weekday, and Siri will suggest your 'Drive Home' music playlist, if you have such a thing. Perhaps more usefully, the Siri watch face will show information about your commute to work first thing each weekday morning.
Finally for Siri, a new feature called 'Raise to speak' activates the assistant when you raise your wrist. This can be switched off is it becomes annoying, but we found it actually did a good job of knowing when to listen and when to stay out of the way.
With the feature enabled, you don't actually need to say "hey Siri"; just raise the Watch to your face and ask a question, like "how's the weather looking?"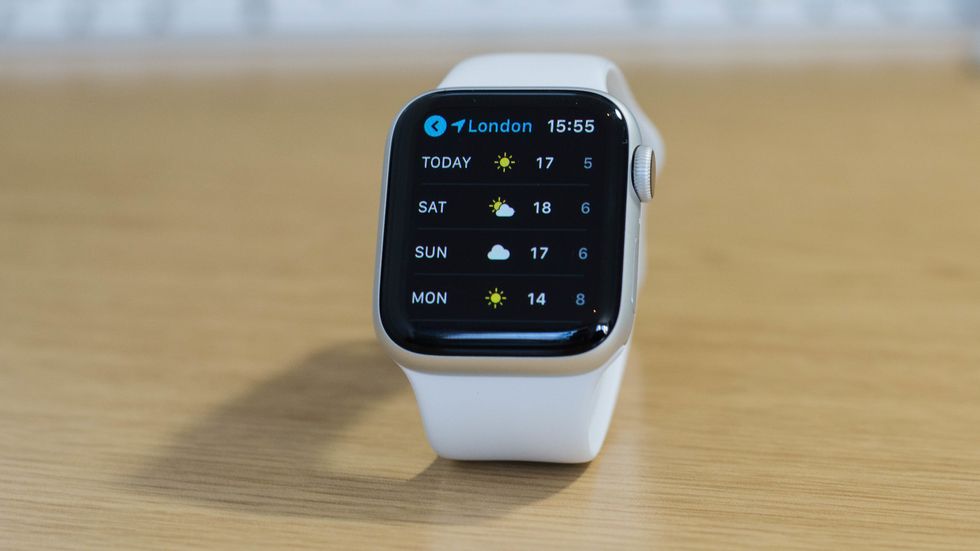 Apple Watch 4 can provide the local weather.GearBrain
Overall, the Apple Watch's software feels much faster than it did at launch in 2015. Back then, it was a slow, frustrating mess which was confusing to navigate and often presented loading screens while data was pulled from your iPhone. The operating system is now much quicker, with very little loading unless you go out of your way looking for it.
If you do, then you'll find some apps still load for long enough that you just reach for your iPhone instead. But part of owning a smartwatch is understanding exactly what you will use it for, then stripping out the unnecessary apps (and notifications) accordingly. Do you need to be buzzed every time you receive an Instagram like? No, but being alerted to a call from one of your favorite contacts - perhaps when your iPhone is in the other room - is clearly useful. Keep apps and notifications down to the essentials, and smartwatches work at their best - both in terms of performance and usefulness.
For us, wearables like the Apple Watch are to help make your life simpler and more efficient. Do you want to dig into a third-party health app to check your data on a tiny watch screen? If the answer is no, then use the Watch to collect exercise data, but view it on your iPhone, where the user experience is greatly improved. Similarly, while you can view images received in iMessage chats on the screen - and even type out or dictate a reply - the Watch is more about being alerted and quickly consuming content, rather than creating it.
After the novelty of owning a smartwatch wears off, you will use it to tell the time (of course), receive notifications, track exercise and maybe sleep, check the weather, and set the occasional timer while cooking. And, in our opinion, that's just fine. It's a companion device.
Apple Watch Series 4: Watch faces

Apple Watch 4 facesGearBrain
A lot has been said about the Watch 4's new faces, with their information-overload design. At first, yes, this screen full of complications (a word Apple uses as a nod to traditional watches) is overwhelmingly information-dense. But it can be configured to make sense.
For example, we created a face with the time, day, date, battery level, our next alarm, activity progress for the day, the temperature (with highs and lows for the day), and our next calendar event. We left one space blank.
This seems like a lot, but because we created it ourselves, deciding exactly where every piece of information goes, we are familiar with it - more familiar than any consumer who glances at the faces on Apple's Watch 4 commercials. The face is not only legible, but tapping on any complication opens the corresponding app, turning the face into a useful screen of shortcuts.
Alternatively, you can create a face with nothing but a very simple, traditional watch design. The only downside here is Apple still not allowing third-party faces. We would love to see app developers get creative and offer faces (even sell them) via the App Store. It would likely be a trademark minefield at launch (hello, 5,000 fake Rolex faces), but surely Apple could make this work.
Apple Watch Series 4: Health and fitness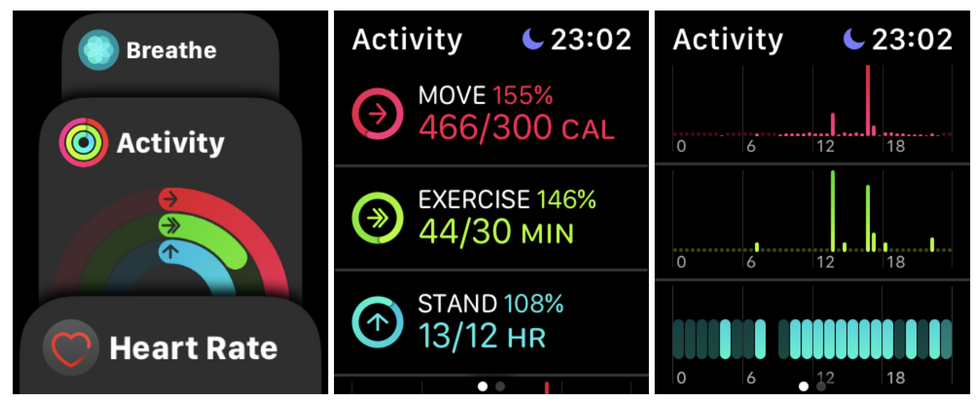 GearBrain
Fitness tracking has always been an important part of the Apple Watch, but the Series 4 now demonstrates how general health is also prominent on Apple's radar.

But it isn't there just yet. Being able to perform an EKG is arguably the Series 4's headline feature, but it wasn't available at the time of writing. Apple says the function will be added via a software update before the end of 2018, but only in the US, where it is the only smartwatch to have gained certification from the FDA.
Apple Watch Series 4 (GPS + Cellular) (Renewed) (Pink Sport, 40mm)
Watch Series 4 owners everywhere else will have to wait for each market (like the European Union) to certify Apple - and this could take some time. The same certification process applies to a second new feature, where the Series 4 can alert its wearer if their heart rate shows an irregular rhythm.
A third potentially life-saving feature - and one which is available now - is fall detection. If you fall over and don't get up, the Watch Series 4 buzzes your wrist and asks if you're okay; it can then be used to call the emergency services or your pre-defined emergency contact. If you don't respond, it'll make the calls on your behalf.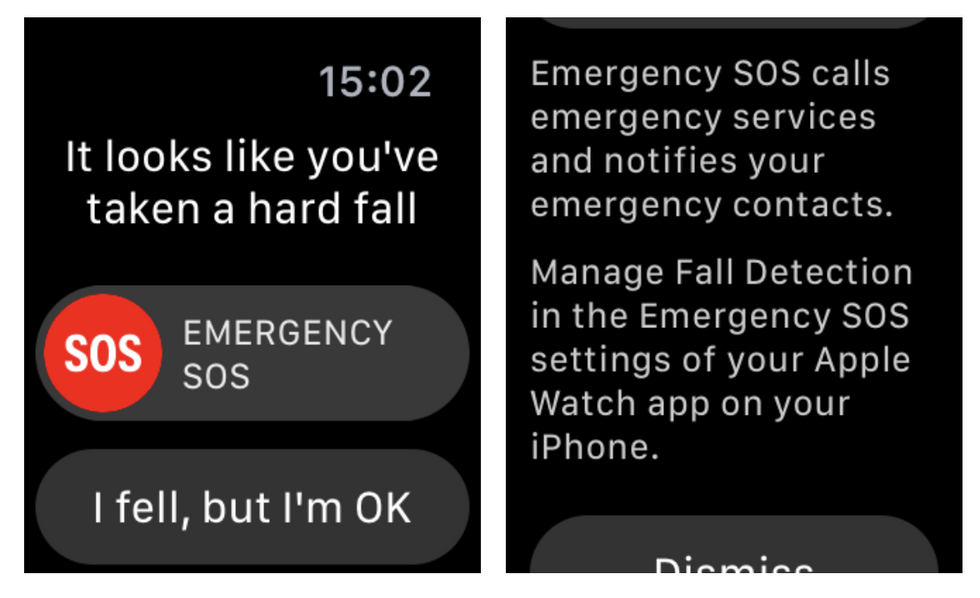 Apple Watch 4 displays emergency messagesGearBrain
This could be genuinely useful for consumers who are epileptic and prone to seizures, or for elderly people who would rather wear a piece of sleek, modern tech instead of a hospital-issued device. We just hope this feature doesn't result in the emergency services being flooded with false positives when the Watch incorrectly identifies a fall.

In our testing - yes, we deliberately threw ourselves to the floor in the name of journalism - the Watch buzzed into life when we took a slow, moderate fall (onto a carpeted floor) and remained still for around 10 seconds. The watch tapped our wrist firmly gave us three options; to make an emergency call, say we fell but are okay, or tell the watch that we did not fall. Dropping the watch on one occasion also caused a fall alert.
Fitness tracking is simple to use and works well, but lacks the diversity of Samsung's recent watches. You can measure running, walking, hiking, yoga, cycling and swimming. But for other exercises and workouts you need to pick the 'other' option, then tell the Watch afterwards what it was you did. As such, there's no way to log weights, reps and sets for weight-lifting, for example.
Also still missing from the Apple Watch is sleep tracking. This is a strange move by Apple because the battery is up to the job - and we know this because there are several third-party sleep tracking apps, some of which are very good. We found a night's sleep takes between 20 and 30 percent from the battery, which can be restored if you charge the watch during your morning shower. We used Autosleep, which provides a detailed breakdown of your sleep cycles and imports this data into Apple's Health app.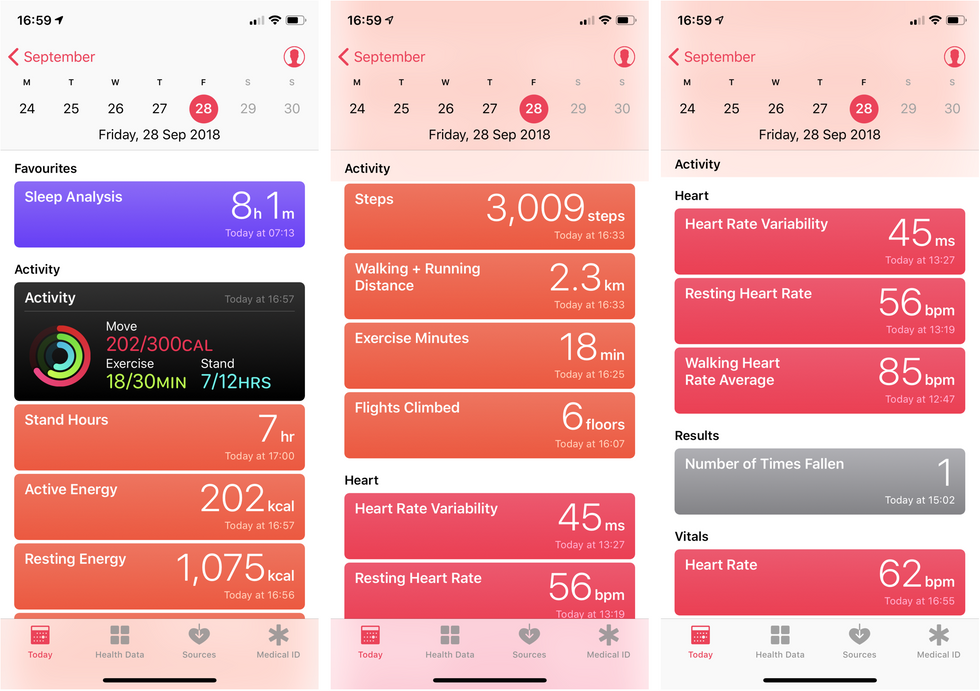 Apple Watch 4 tracks you health and sleepGearBrain
With sleep tracking added, wearing an Apple Watch gives you a huge amount of daily data. Our iPhone Health app, pictured above, now serves up:
Sleep time
Active calories burned
Resting calories burned
Steps taken
Combined walking and running distance
Time exercised
Flights of stairs climbed
Number of hours where we stood up at least once
Heart rate variability
Resting heart rate
Average walking heart rate
Times fallen
This could be seen as information overload, but it depends what you want to get from your wearable. Each of these can be switched off or hidden from view to simplify your experience.
Apple Watch Series 4: Battery life
Apple claims the Series 4 lasts up to 18 hours, which is far less than some of its rivals - even those which permanently display the time, like the Samsung Galaxy Watch and its claimed "up to three days" of battery life.
We found the Watch Series 4 gets closer to 24 hours on a charge, and that's while we have been using the watch more than usual during our review process (fiddling with apps, changing settings, taking screenshots, falling over…)
You could probably stretch this to a weekend if you forgot the charger and turned off things like Wi-Fi on the second day. But realistically you'll want to rest it on the magnetic, wireless charger once a day - we found doing this while we got ready each morning was enough to keep it topped up for the rest of the day.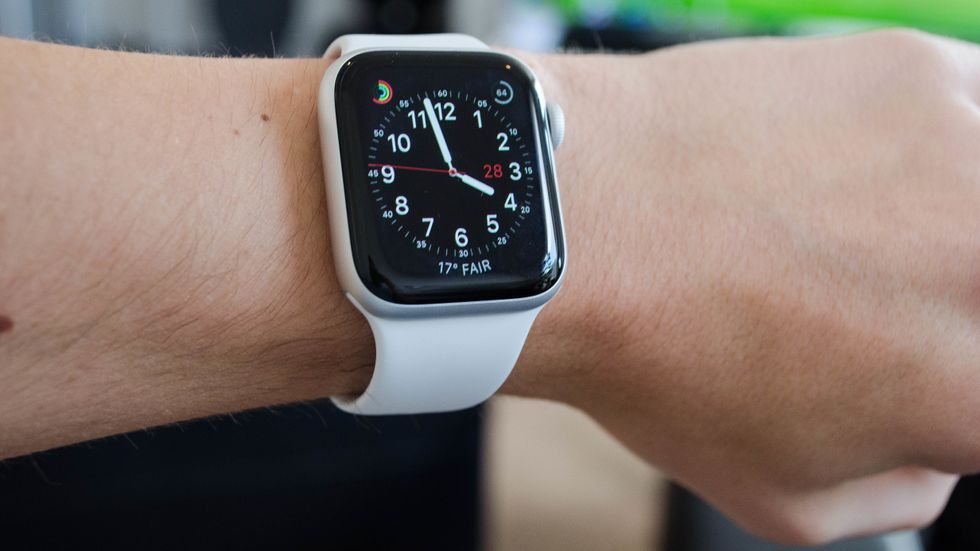 Apple watch 4 comes with long battery lifeGearBrain
Apple Watch Series 4: Verdict
The Watch Series 4 makes the biggest step forward of any Apple wearable to date. Last year we saw Series 3 introduce a cellular connection, but that only benefited those who really wanted to leave their iPhone at home. The Series 4 has upgrades and new features which benefit everyone.
The larger screen looks fantastic without making the Watch noticeably larger - we just wish it'd constantly show the time - and new details like the haptic crown are nicely executed.
Apple Watch Series 4 (GPS + Cellular, 44mm) - Space Gray Aluminium Case with Black Sport Band (Renewed)
Apple's wide range of case sizes, materials and colors - plus a number of different straps, luxury options, and highly customizable faces - is something its rivals don't come close to matching. Buyers of traditional watches often want something to match their personal style, and smartwatches should be no different - Apple gets this right when most other tech companies don't.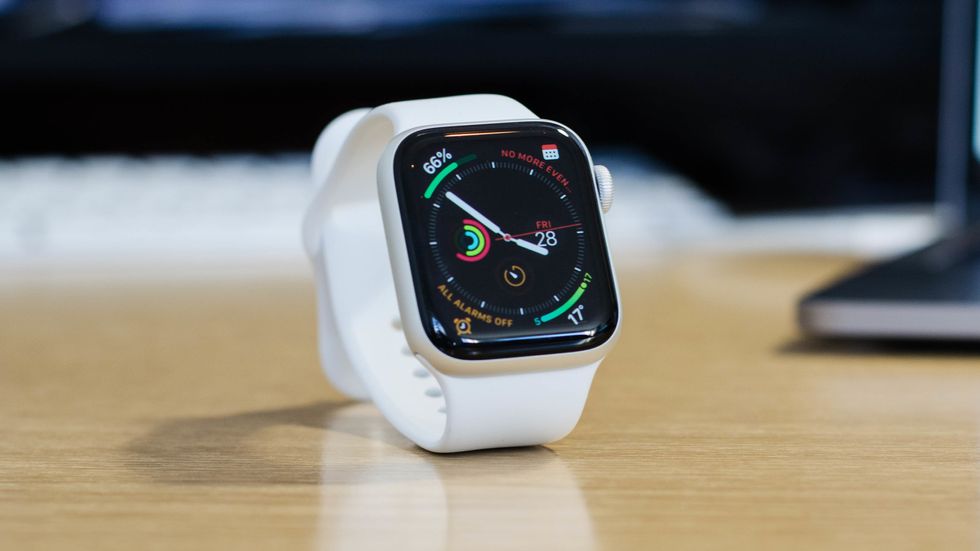 Apple Watch 4GearBrain
Performance from the Watch Series 4 is all you really need it to be. Siri is very fast, the preinstalled apps open quickly (and so do many from third parties, like Citymapper), the faces are highly customizable, and battery life is fine - just charge your watch as often as your phone.
Fitness tracking is better than ever, but lacks some of the granularity of rivals like the Samsung Gear Sport and Galaxy Watch. But - once it all comes online - Apple's health features, like the EKG tool, have the potential to be real game-changers, even life-savers.
The Series 4 is Apple's best watch yet - of course it is. But unlike in previous years, this is a device owners of any predecessor should be looking to upgrade to. For iPhone owners - because Android support is still a no-go - this is the best smartwatch on sale today.
Pros
Bigger screen, same slim design
Highly customizable (and old straps still fit)
Taptic Engine as fantastic a notifier as ever
Cons
EKG not available at launch
Time not displayed constantly
No Android support
Apple Watch Series 4 (GPS, 44MM) - Space Gray Aluminum Case with Black Sport Band (Renewed)
Like GearBrain on Facebook