Apps such as Acorns, Stash and Robinhood have grown popular, by teaching users how to save and investment with minimal upfront costs. We took a deeper look at these apps finding they really just help you passively save money: investing is just a side effect. While you certainly can invest large amounts of money, the average investor is more likely to be interested in the hands-off nature of the apps.
Acorns, Stash and Robinhood do have slight differences, some easier to use, some offering some details about stock, and some helping you get into a savings routine. Here are our experiences to help you decide which app is the best for your specific saving and investment goals to get you ready for your retirement, whenever that may be.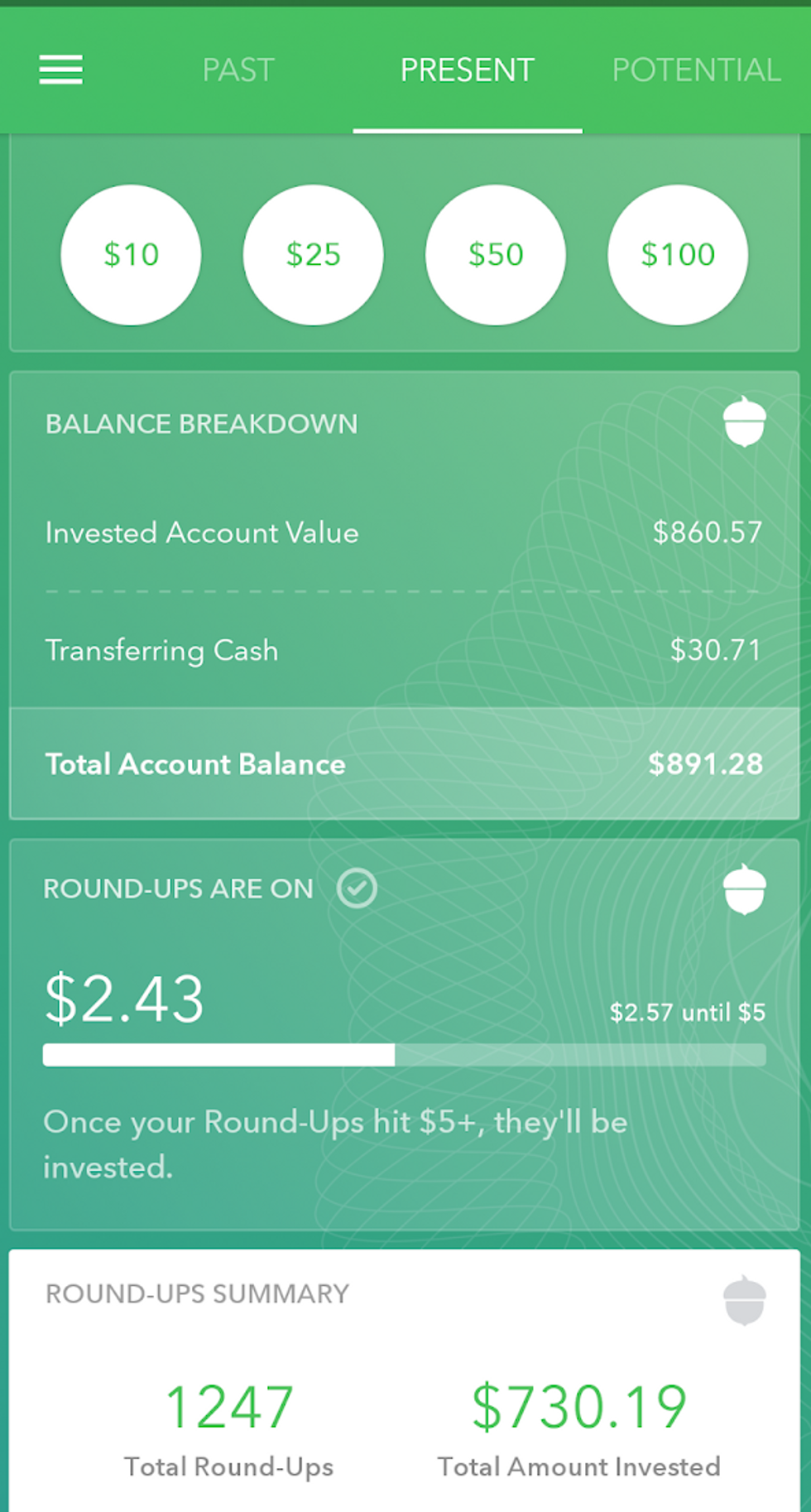 Acorn lets you roundup your purchases and invest the difference.GearBrain
Acorns: Getting started
I've been using Acorns for about a year and a half, saving over $850 in round-ups through the smartphone app, which collects "spare change," left over after you make a purchase, then investing that money into various stocks. Say you use your debit card on a $4.50 bagel in the morning. A total of $5.00 is deducted from your account: $4.50 for the bagel and $0.50, which goes into your Acorns account.
Acorns requires users deposit a minimum of $20 into their account when setting up app. The app invests in six Exchange Traded Funds (ETFs), including Vanguard S&P 500, Vanguard Small-Cap, Vanguard FTSE Emerging Markets, Vanguard REIT, iShares 1-3 Year Treasury Bond, PIMCO Investment Grade Corporate Bond Index, and you can easily follow these publicly traded stocks and bonds.
Since using Acorns I've seen a steady increase in my account, most from funds passively siphoned from my own bank account — not actual gains from investments. Overall, I've earned a total of $19.93 from stocks and $11.87 in dividends — and as a complete novice when it comes to the stock market, I don't mind that I haven't earned much from investing. I started my account with the simple intent of saving money, and the genius of Acorns is you don't notice money coming out and saved in the app.
I remember opening the app after several months, shocked to see over $650 in the account. It felt similar to collecting all the spare change in your home, and realizing you had more than $100 in coins just laying around.
Acorns: How to save
Users connect Acorns to a checking account, debit card or credit cards to collect round-ups. You can also set a multiplier to these roundups, from double, triple to even ten times the amount of the initial round-up. In addition to roundups, users can set up recurring and one-time deposits daily, weekly, monthly or at random.
I have a monthly recurring deduction of $5 set on my account. I've also added $25 one-time investments to my accounts a few times and have seen slight boosts in my gains — and I can potentially save close to $80,000 by age 72. This is likely not enough to retire on, but it is a decent amount of money to set aside mindlessly.
Another way Acorns helps users save is incentivizing them to link their Acorns account to services including Uber, Amazon and Blue Apron. A portion of any charge from those accounts can be diverted to your Acorns account. I haven't used this "Found Money" feature effective for me as you have to be a new user for those investment options.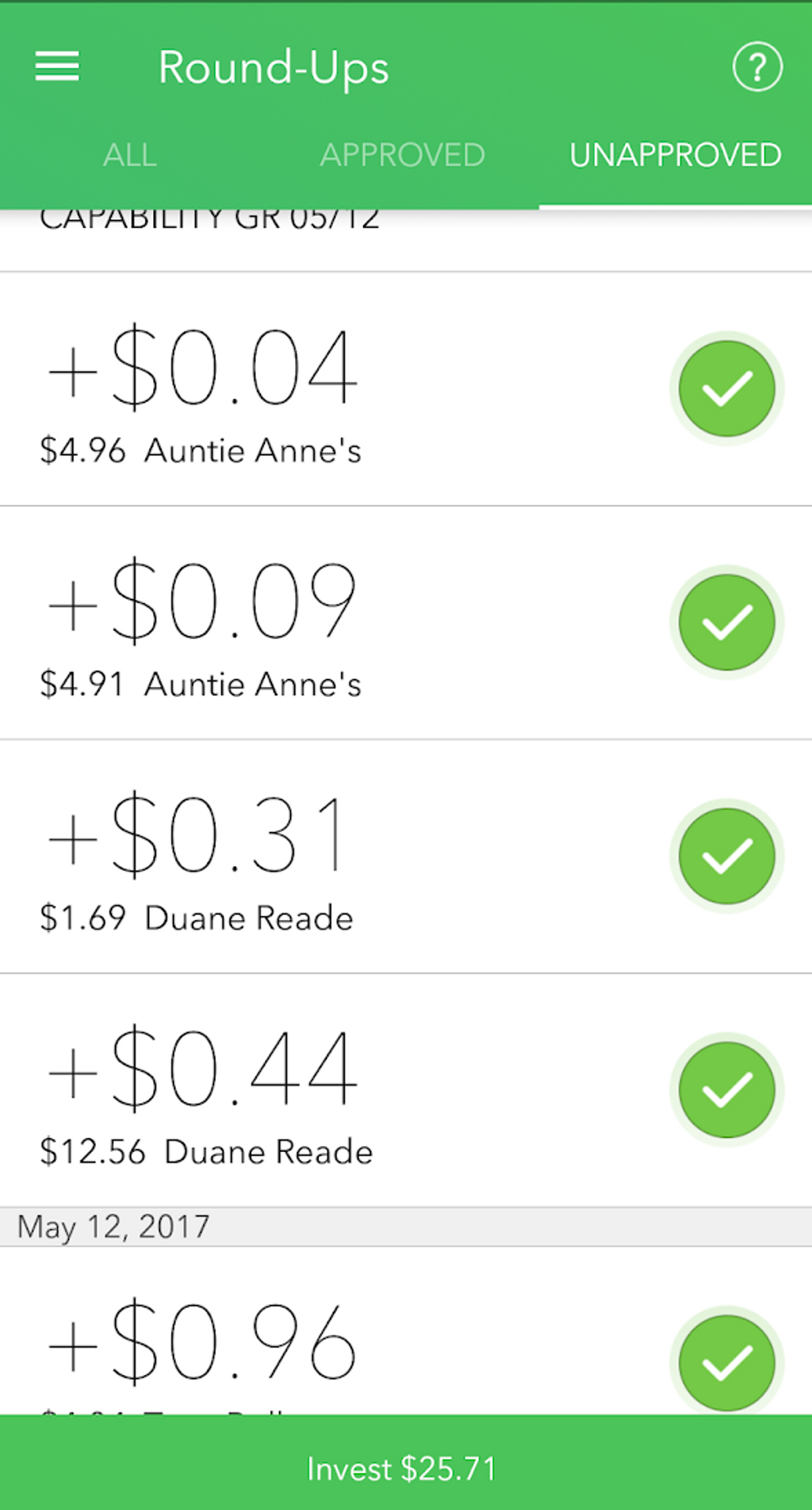 Roundups can be as little as a few pennies with the Acorn app.GearBrain
Acorns: Final thoughts
I recently added a new credit card to my account, under the impression that the app would start adding the roundups to my account. Instead, I found I had to authorize these roundups. So that's something to keep in mind: you can't just set the app up and forget it.
Security wise, the app has several safeguards. I have a pin, password and my fingerprint, a biometric option, set up to authenticate. I typically sign in with my fingerprint. However, the biggest issue I have with the app is trying to remember my password, when my fingerprint sensor login expires.
Rating: 8 out of 10
Pros:
Very easy to use. Most features are automatic once set

App includes articles to help users learn more about investing

There are several options available for users to save money

Cons
Low risk stock and bonds are used so there is very little learned from actual investing

The "Found Money" deal require members to be new users to affiliate apps

The investment tips and tricks section is buried deep within the app

Stash: Getting started
Stash does an excellent job teaching users about investing, through demos and investment lessons. After logging in, you'll first see a rundown of what's new on the app, or in the stock market, before being taken to the home page. Stash lets you purchase actual stocks that are easy to identify. Under the "Invest" tab, users can select stock folders or individual stocks for purchase. I have one share of four different investment folders in my portfolio:
Young Money includes stocks like Twitter, Netflix, Amazon and Nike
Conservative Mix includes stocks in the iShares Core Conservative Allocation ETF.
Delicious Dividends includes dividend paying companies such as Intel, Verizon, Home Depot, Pfizer.
Uncle Sam includes bonds from the Vanguard Intermediate-Term Government Bond ETF.
After about two months of using the Stash Invest app, my total portfolio value is just $24.13, with $0.13 earned from one of the Young Money and Conservative Mix folders.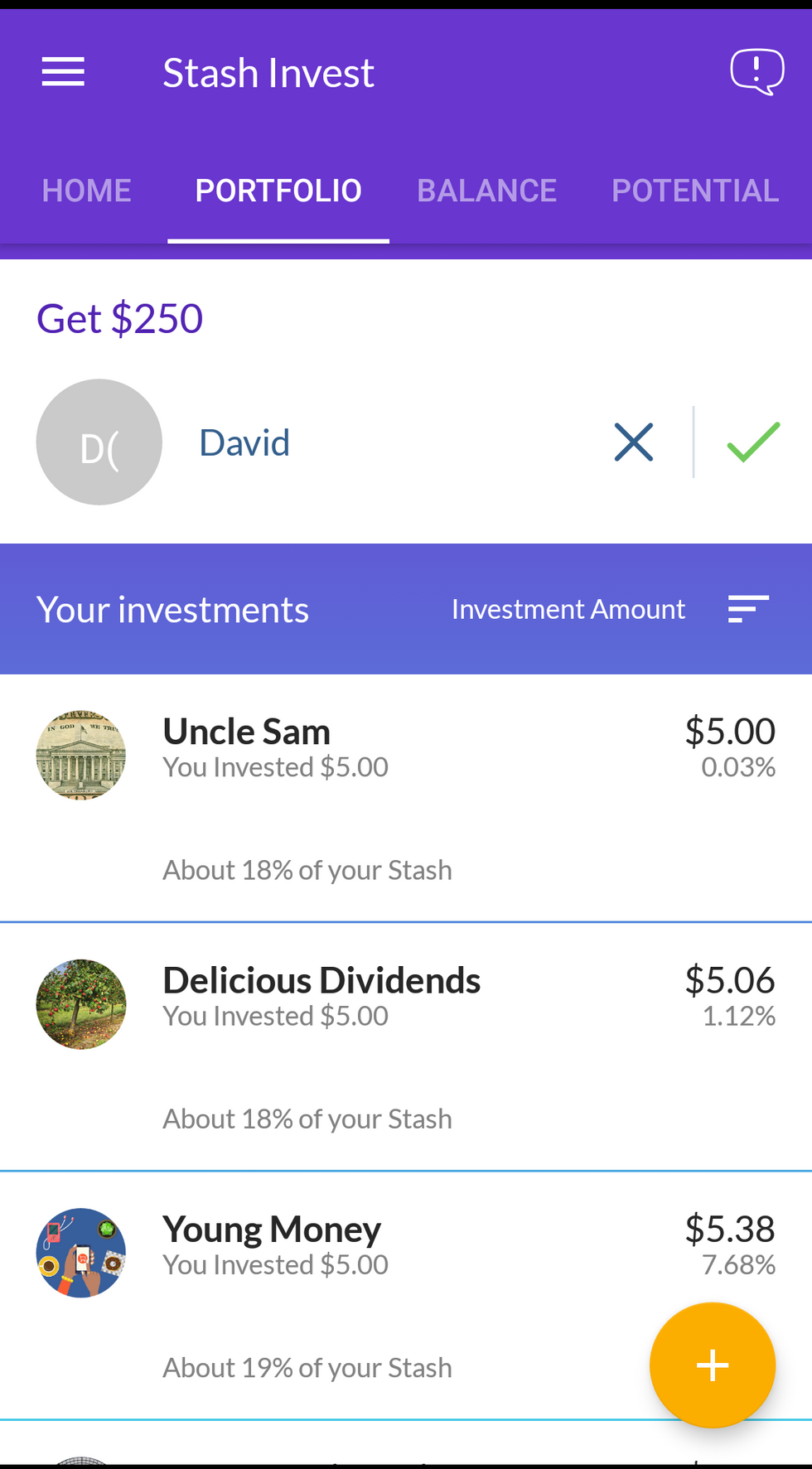 Stash lets you invest in stocks based on categories like Young Money.GearBrain
Stash: How to save
Users can deposit as little as $5 to begin investing on Stash — I began with $20. From here, you can add deposits via Auto Stash to continue growing your investment portfolio. I deduct $5.00 every two weeks, and at this rate, the app estimates I could save approximately $1,224 in the next year, $6,024 in five years and $12,024 in 20 years. Again, while not retirement level savings, I have the benefit of putting money aside and not majorly disrupt my everyday spending.
You can use Stash to learn how to tackle the real stock market. Turning investing into a game, you earn points for completing certain tasks, such as buying specific stock and bonds, holding stocks for a certain amount of time, and maintaining Auto-Stash settings. Once you surpass a points goal, the app sets a new one. Currently, my score is 250 out of 500 points, after surpassing 100 and 250 points milestones.
People can also dive into various stocks and folders through the app, including risk level, the stock ticker, the last trading price and dividend yield, among other details. You can also view a stock's performance, before and after you buy shares to decide whether to keep them or sell.
Like Acorns, users can also earn money when recommending friends to use Stash. The app advertises that users can earn up to $250 when invited friends accept their invitation to Stash and prominently suggests people in user contacts list to invite to join.
Stash: Final thought
Stash could be great for people who understand the stock market, have extra money to invest, and like the simplicity of using an app instead of a broker. However, I'm sure I'm not the only one who feels cautious about investing a lot of money through an apps.
Rating: 7 rating out of 10.
Pros:
Investment tips are readily available

Details about stocks and their progress are readily available

The app is easy to navigate

Cons:
Standard notification settings are frequent.

The points incentive doesn't appear to have value beyond collecting points

Users can't hide the suggestion tab for friends to invite to join Stash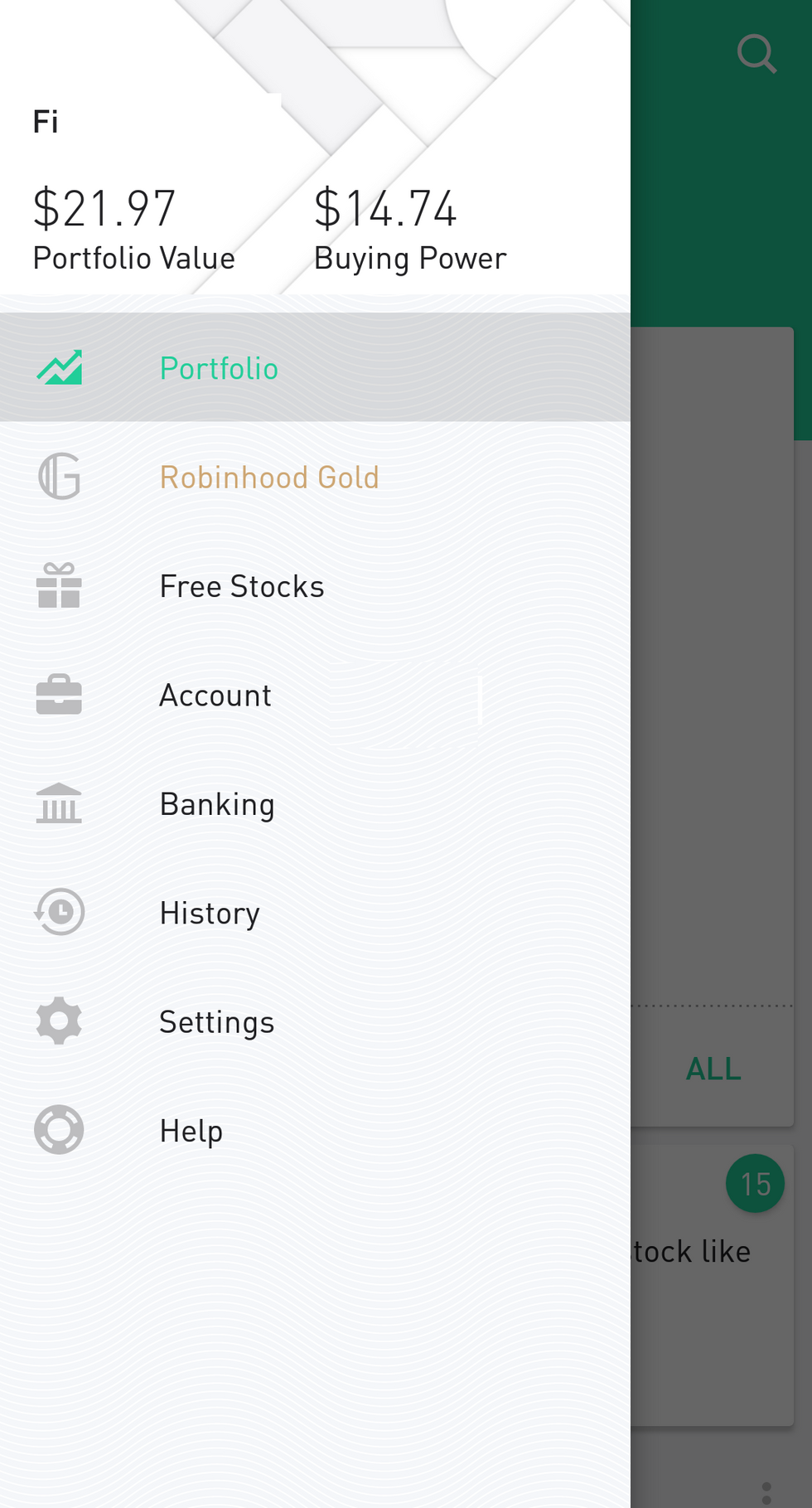 Robinhood shows you your portfolio value, as well as how much you can invest.GearBrain
Robinhood: Getting started
Of the three investing apps I tried, I found Robinhood the most investment-centric app of all. Although I did not set automatic deposits on Robinhood, you can set up these up through the Banking section of the sliding menu. In that way, Robinhood works as much like Stash and Acorns— or you can add investment money into your account on your own.
I put a single-time transfer of $20 into my account, and purchased one share of Fitbit at $5.26. To date, I earned a total of $2, as the stock is already worth $7.26 a share. Despite my portfolio being rather quiet, I've found it interesting to watch the real-time dips and spikes of my share, as well as popular stocks and cryptocurrencies — all listed on the home page. My current buying power, however, is $14.74, which means I can buy one more share of Fitbit, a share of GoPro, a single share of Ford or GE.
Users can see their investment history for up to five years, as well as recent news about stocks they're following, through a feature powered by Yahoo! Finance.
Robinhood: How to save
Acorns and Stash have long-term investment options, called Stash Retire and Acorns Later, which let you set up IRA accounts for retirement. Robinhood has something similar called a Gold account, which gives you extended trading hours and lets you make instant cash deposits. A standard transfer, for example, takes three days to clear.
Gold members must deposit a minimum of $1,000 and are charged a monthly fee of at least $6; however, they receive one month free for upgrading.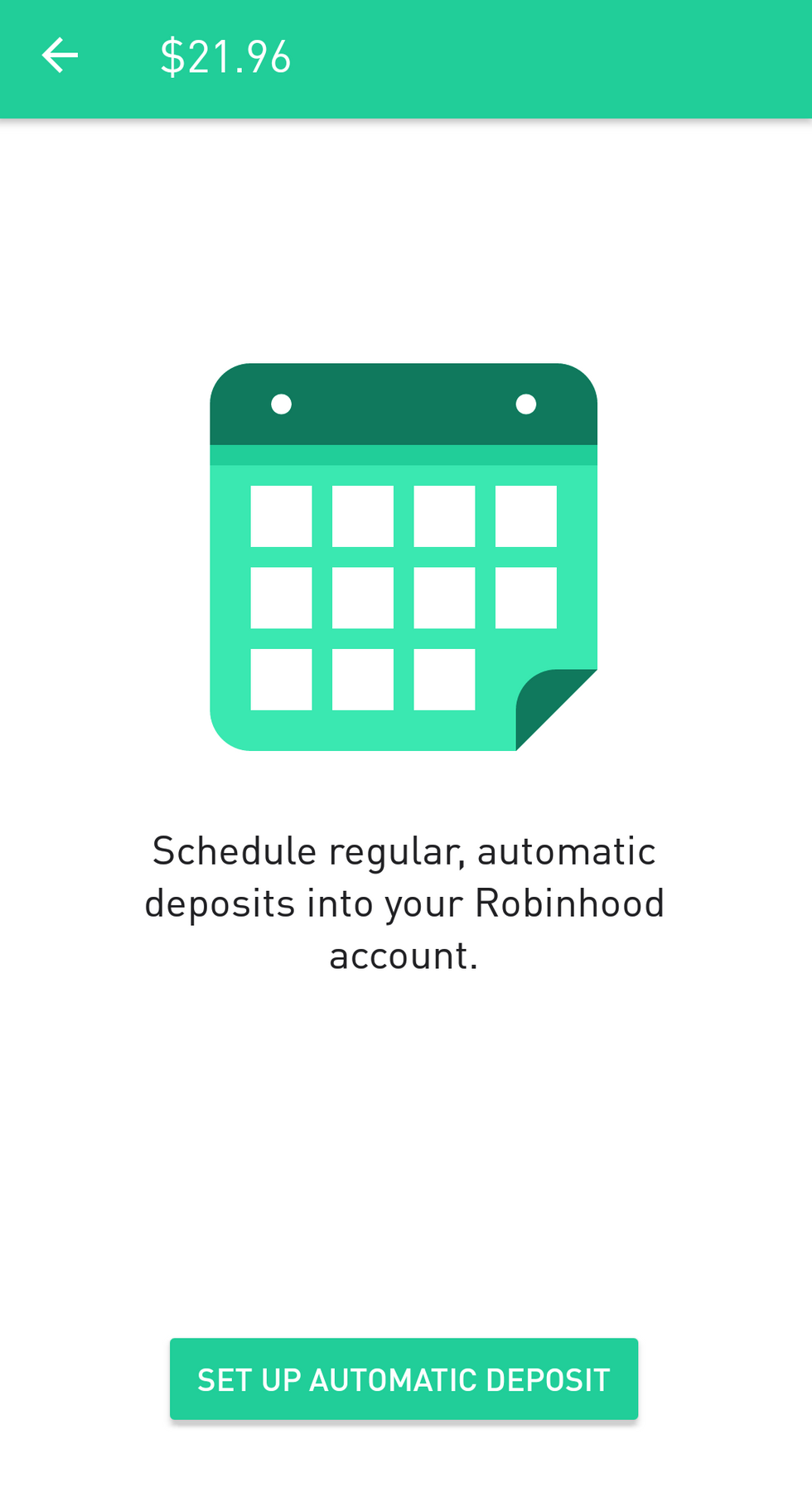 Robinhood lets you set up automatic deposits from different accounts to boost your investment balance.GearBrain
Robinhood: Final thought
I liked that Robinhood gives free shares of popular stocks as an incentive for inviting friends instead of cash. This keeps the app more investment oriented, and gives users the opportunity to earn shares they may not be able to otherwise afford.
Rating: 8 out of 10.
Pros:
The experience is most like real investing

Shows real time changes in the market

Users get free stocks instead of free cash for inviting friends to join

Cons:
Less hands on than the other investment apps

Money transfers take 3 days to clear

Best features are locked confined within the Gold version, which requires a significant investment.