GearBrain has been busy roaming the Las Vegas Convention Center and back halls to hunt down this year's hottest new gadgets. From smart home tech to artificial intelligence, augmented reality and cars, we've seen it all.
To celebrate this year's show and introduce you to our favorite devices coming over the next 12 months, here are our winners for CES 2018.
Most Innovative Smart Home Device
Winner - Ugo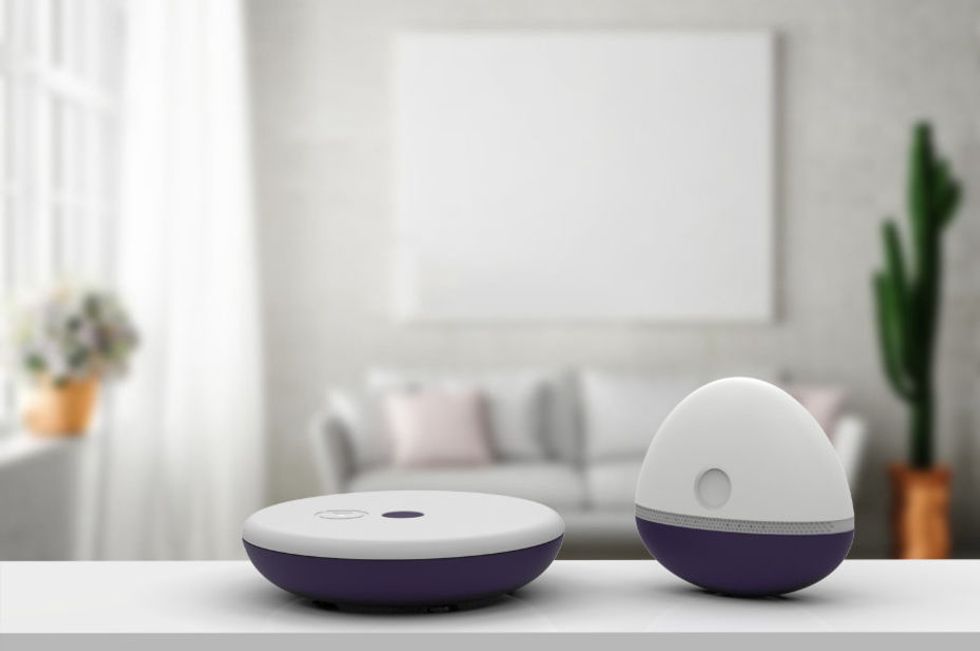 Ugo is a soft-touch pebble for controlling all smart home devicesOtodo
Described by manufacturer Otodo as a magic wand for controlling your smart home, the Ugo is a soft-feel pebble that you can tap or flip to make commands to control other smart devices. Ugo communicates with other smart home products via the Otodo hub and can recognize 16 different users through their fingerprint; it is also compatible with Amazon Alexa. Designed in France, the Ugo and hub will be available through internet providers in Europe from March, with plans for distribution through U.S. operators afterwards. The Otodo hub will cost $20, with the Ugo pebble priced at $60 — and an expected monthly fee from telecommunication companies.
Best Health Wearable
Winner - L'Oreal UV Sense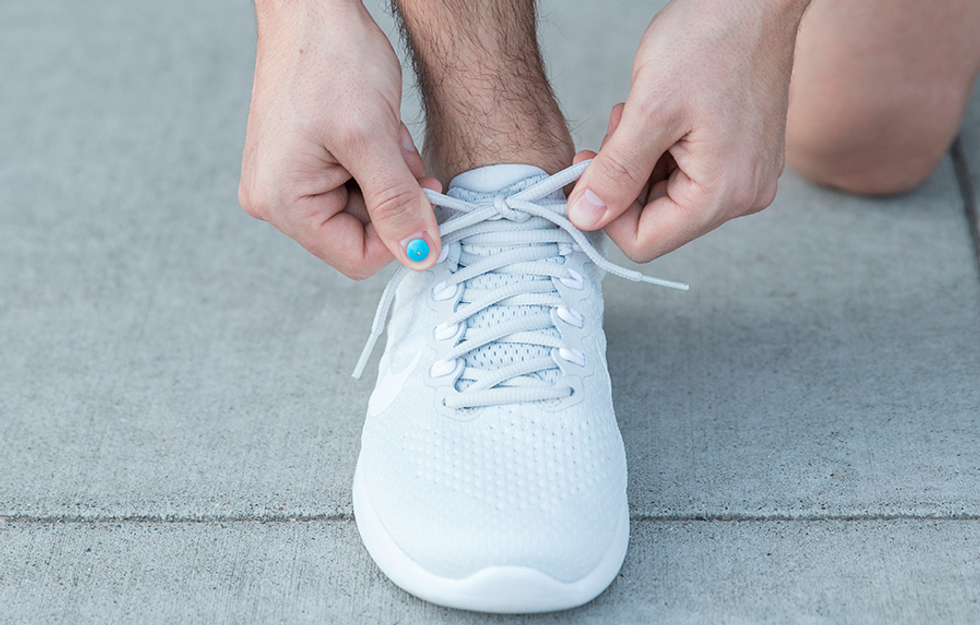 Worn on your nail, the device picks up data over the course of two weeksL'Oreal
UV Sense is a tiny sensor placed on the finger nail, and designed to be worn for two weeks at a time. Cleaning it is simple — peel, wipe the nail clean — then re-attach so the sensor can record data for up to three months. Connected to a smartphone app, L'Oreal wants to help wearers learn what's affecting your body from pollution to UV rays. The company will start testing this year, by giving the device away for free to dermatologists and their patients. L'Oreal expects to start selling to the public in 2019
Most Creative Use of AI
Winner - My Special Aflac Duck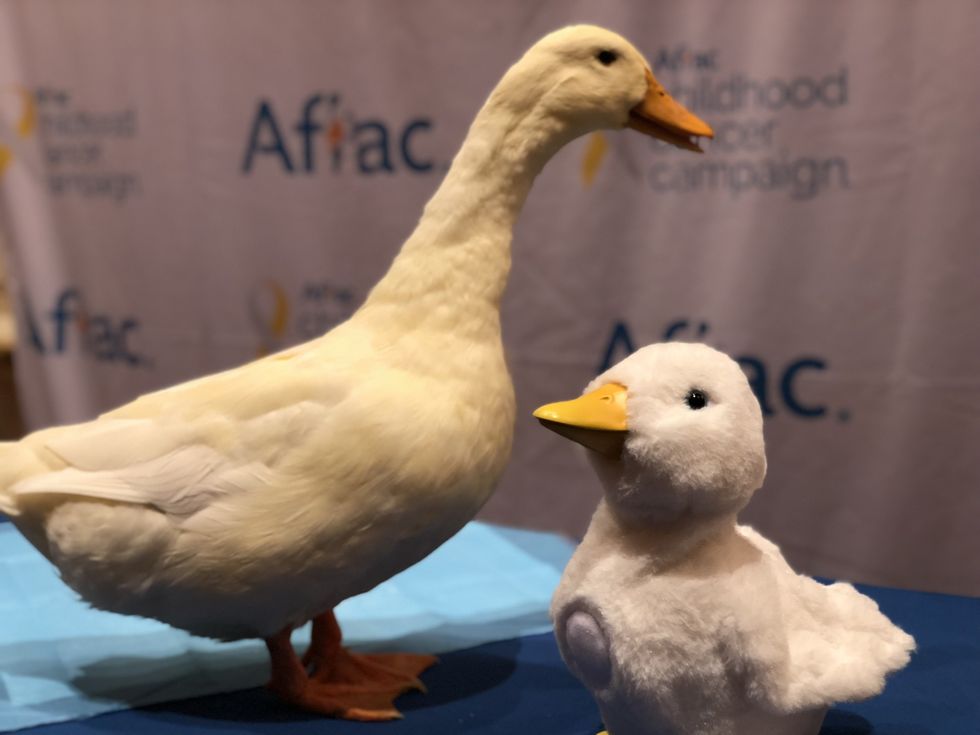 Aflac duck is intended as a toy and comfort device for children with cancerGearBrain
The My Special Aflac Duck is an artificial intelligence toy designed for the best intentions — to bring comfort to children who have cancer. Made in conjunction with Aaron Horowitz, founder of a robot development company, Sproutel, the My Special Aflac Duck will be given for free to children with cancer. Paired with a smartphone app, the duck is embedded with sensors, can quack and dance, but is soft and cuddly, like a stuffed animal. Children can pretend to feed the duck — even put it through its own medical tests, and act as a buddy, with them every step of the way through their treatment. Aflac expects the duck will be available before the end of 2018, and we think it represents an interesting and heartwarming way to use artificial intelligence.
Best IoT Security Integration
Winner - Cujo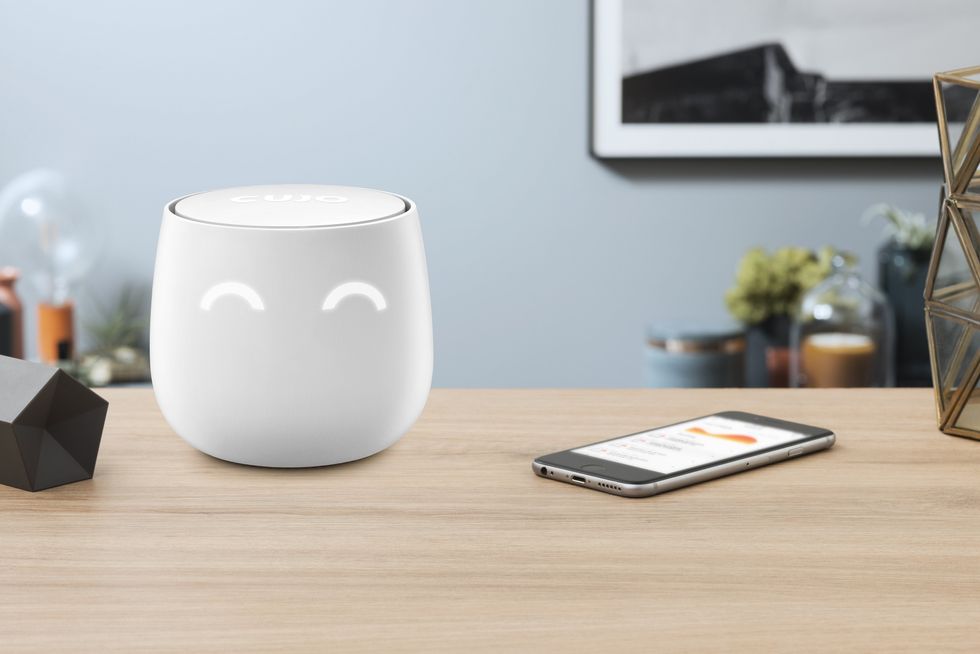 The Cujo aims to protect all devices in and out of your homeCujo
Cujo's updated security platform is aimed at protecting every device you own from being hacked — this includes all of the smart, Internet of Things devices in your home, and those you take with you — like your smartphone. We like how Cujo is talking with internet service providers to deeply integrate its protection products into customer's homes. New for this year is an alert system which notifies you when someone is trying to hack into your network, or even into your smartphone when you are away from home and connected to a different network. Naturally, parental controls are included to limit what your children can see and do online, and there is a system for keeping track of any malware which has worked its way onto your devices.
Most Innovative Wearable
Winner - Seam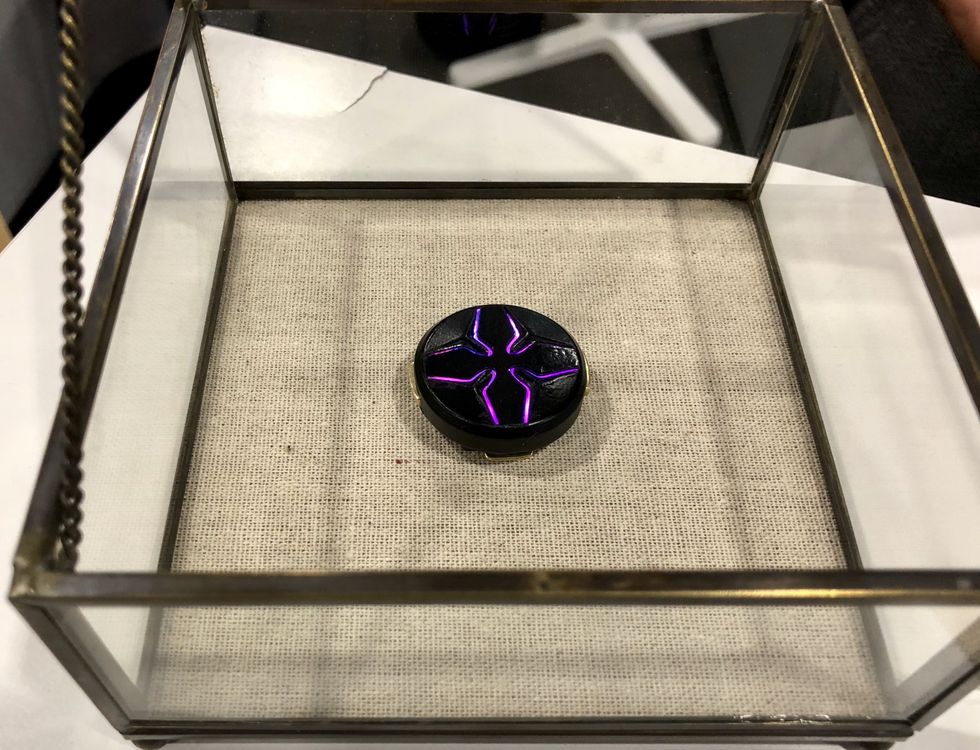 Personal safety device records live images and audio if you get into troubleGearBrain
Seam is a small wearable device which records audio and images, and paired with an iOS and Android app, it can be activated if you feel you're in danger. The $119 Seam stores data for 24 hours for free — after that there's a $5 monthly fee to keep recording longer. Once paired with your smartphone, Seam can alert five contacts if you push the front of the gadget, who can then access live streams coming from the device, to check you are okay. A longer press starts a free two-way phone call between you and your one nominated 'closest contact' — such as your partner, or even a parent if Seam is being used by a child.
Best Smart Energy Device
Winner - Smappee Plus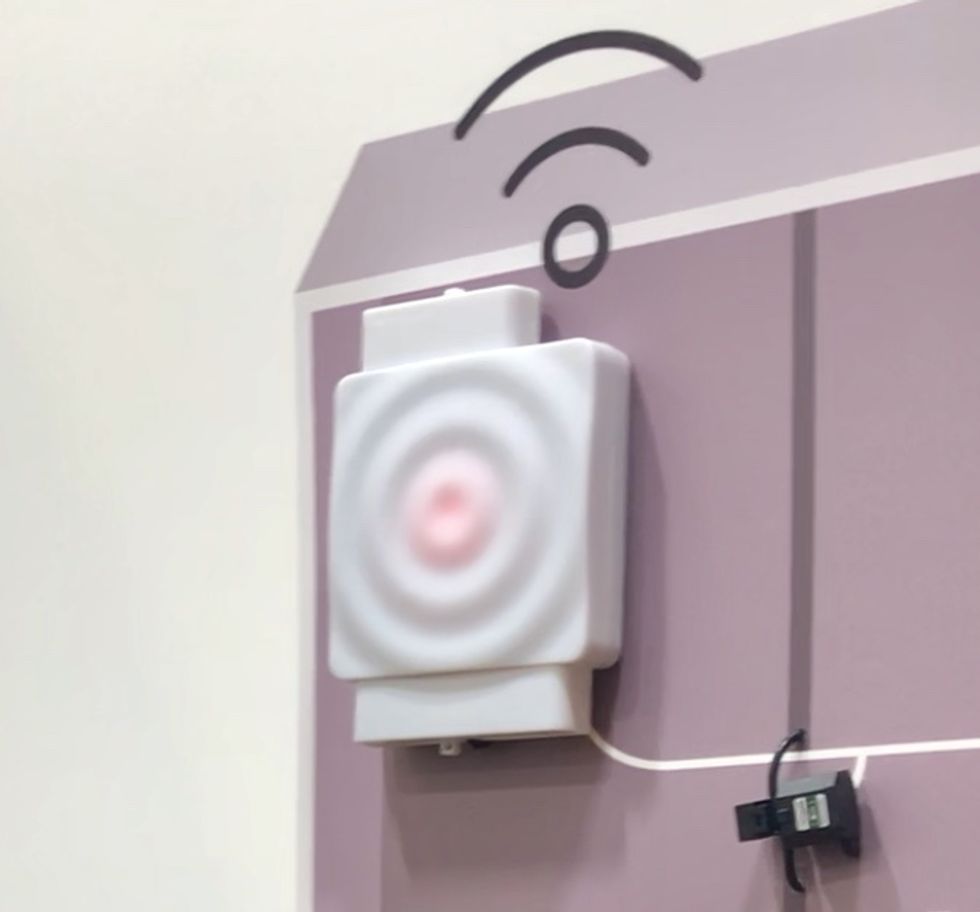 This smart energy monitor is set to cost $500 but has no monthly feeGearBrain
Smappee Plus helps homeowners make smart decisions on the energy usage in your home. This $500 energy monitor reads how energy from a home is being used — and also energy that a home is generating on its own. For example, homes that create their own solar energy can have that re-routed to their own devices before sending extra back to the grid. How would that work? Smappee Plus can shift extra energy to start recharging an electric car on sunny days, but then when the clouds come shut that down so it's not pulling from the expensive electric grid.
Best Use of Augmented Reality

Winner - Magik Toothbrush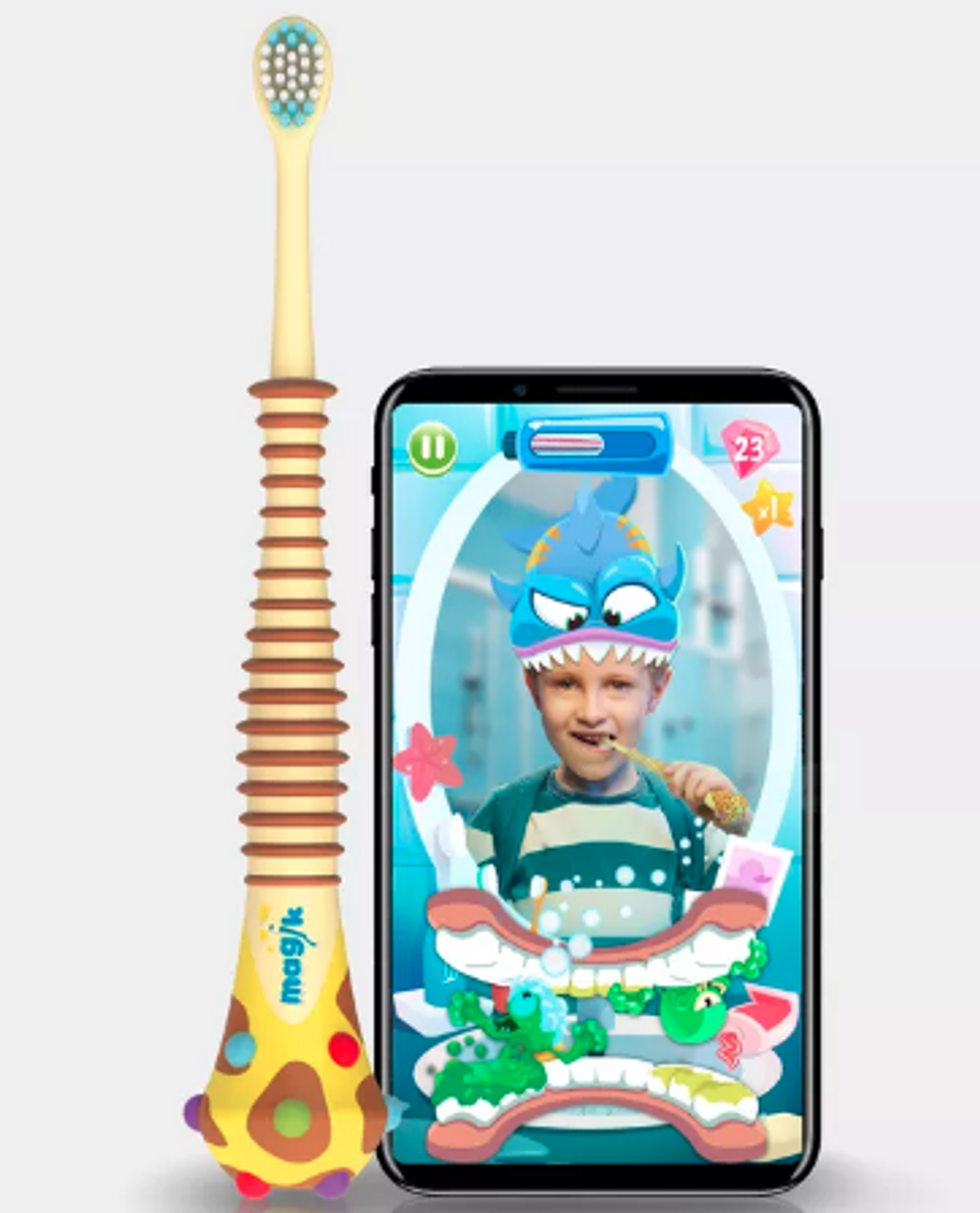 The toothbrush is set to cost 'under $30' Kolibree
Think of this as a Snapchat filter for brushing your teeth. The child simply holds up a smartphone with the app open, and as they brush with the Magik Toothbrush, animated monsters appear on the screen. The child then must brush to get rid of the creatures. We like this because it makes brushing teeth fun, and helps children to learn how long they should be brushing for each day. It's also an interesting use of augmented reality, showing how the technology has far wider uses than gaming and gimmicks.
Best Smart Water Device
Winner - Delta Faucet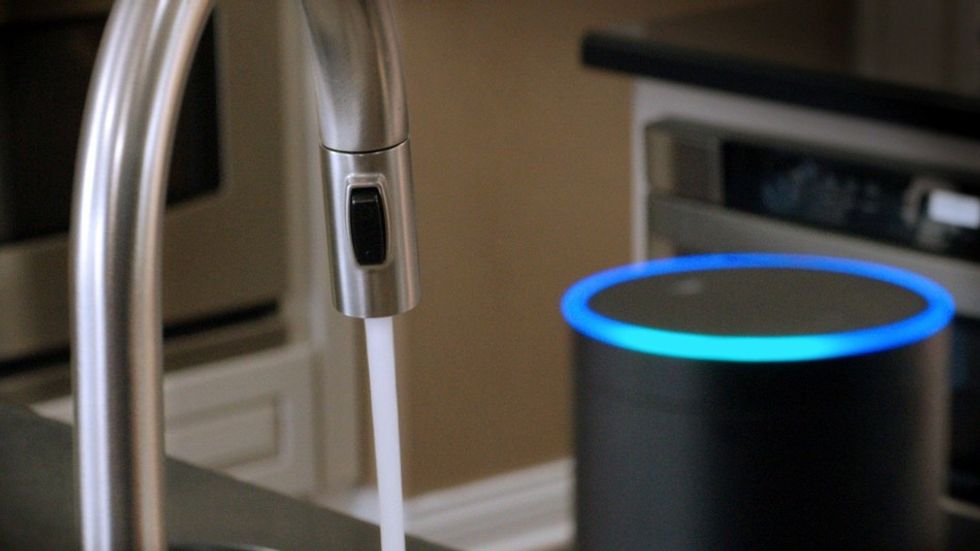 Alexa now controls everything - including the kitchen sinkDelta Faucet
Delta Faucet Company has added a new feature to their Touch Technology Faucet: Voice Activation via Amazon Alexa. We know, this sounds like a gimmick, but it could actually help save you money, by limiting the water flow to only as much as you need. Think about how many times you turn your kitchen faucet on and it runs for a while before the water gets hot. Now you can ask Alexa to turn on your hot water for a glass and the faucet will not dispense hot water until it's hot and will only dispense the amount for a glass. No waste of water and a good example of Alexa working with smart home appliances.
Best Connected Car Personalization Technology
Winner - Derive

Derive's technology claims to help prevent distracted drivingDerive Systems
Derive Systems has a cutting-edge automotive technology that prevents distracted driving and empowers drivers and owners with unprecedented levels of vehicle personalization. These guys work with many vehicle fleet owners and its new OBD2 device offers them a robust platform to help save money each time their staff drives. Derive Systems' is the first OBD2 device that is more than just a reader when connected to the vehicle - the conversation here between vehicle and device is a two-way street. It can talk back to your car and help set parameters which provides an extra layer of safety for those behind the wheel. For example, there are controls the fleet manager can put in place to help stop drivers from speeding and gain a better understanding of how your staff are driving their company car.
Best Smart Appliance App
Winner - LG ThinQ App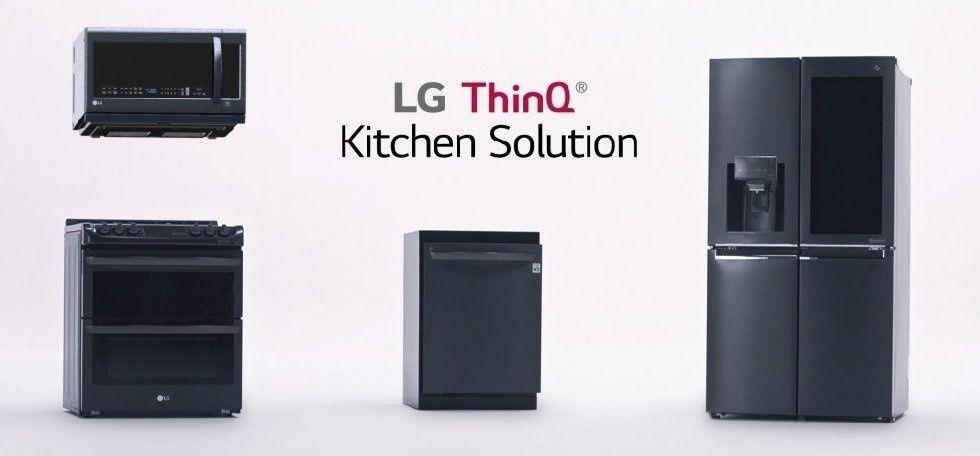 ThinQ is the name given to LG's global AI platform, covering the kitchen, lounge and moreLG
LG ThinQ App is the best smart home appliance app from this year's CES. The platform is all about software and connectivity. Their products offer solutions which consumers can manage through the global AI platform called LG ThinQ, which appears on a range of LG home appliances - from ovens and fridges to washing mashing, dryers and televisions. This platform learns from users and helps provide intelligent services via LG's ThinQ products. The platform effectively uses AI to learn from the users and look to offer better solutions on the usage of their everyday products. We like how ThinQ works with best of breed smart home devices, like Google Assistant and Amazon Alexa, to make your home smarter and help you save money and time. Making things easier for consumers is key today and LG is doing this with the ThinQ platform.
Best IoT Strategy
Winner - Samsung SmartThings App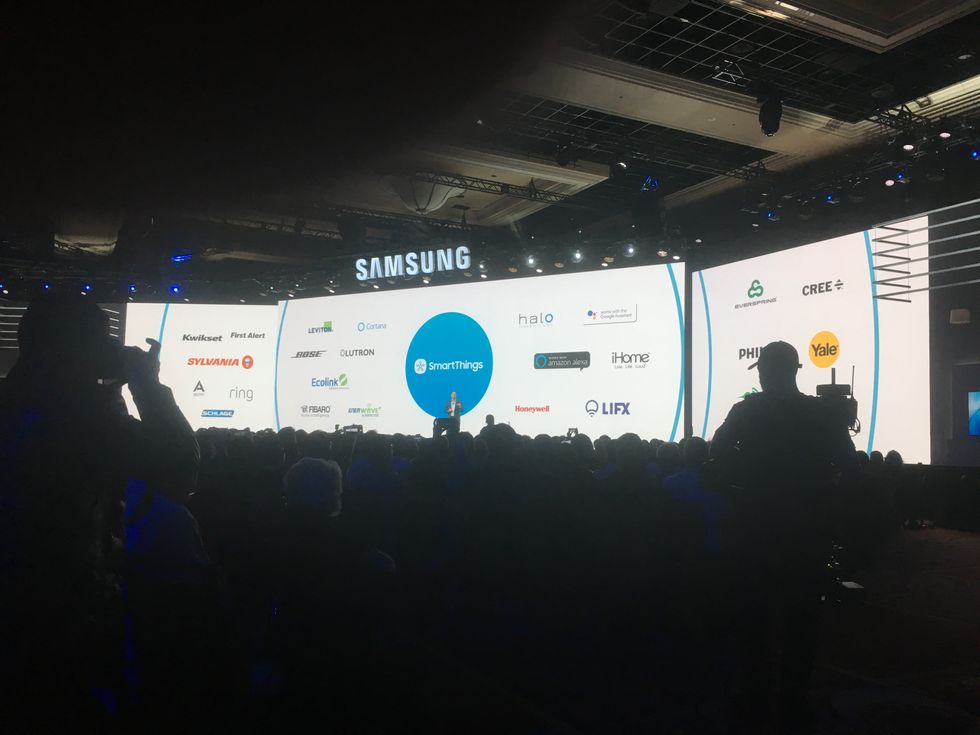 Samsung's aim is to connect half a billion devices globally into a single cloud platformGearBrain
Samsung has a multi-device connected product strategy. The company currently has over a half of billion connected devices globally and their goal is to give all of them seamless connectivity and intelligence through the use of a single cloud. Samsung has taken the SmartThings platform and created a universal app called SmartThings App which will offer its customers a way to seamlessly connect all of the company's devices and partners' devices for the smart home, connected car and wearables. We like how Samsung is taking the initiative to make the consumer experience easier by unifying Samsung Connect, Samsung Smart Home and Smart View into one app. By doing this, the SmartThings app becomes as effective remote control for all Samsung connected devices. The company's IoT strategy is what makes it our choice for this year's show.
Best Outdoor Connected Smart Home Device
Winner - Mistbox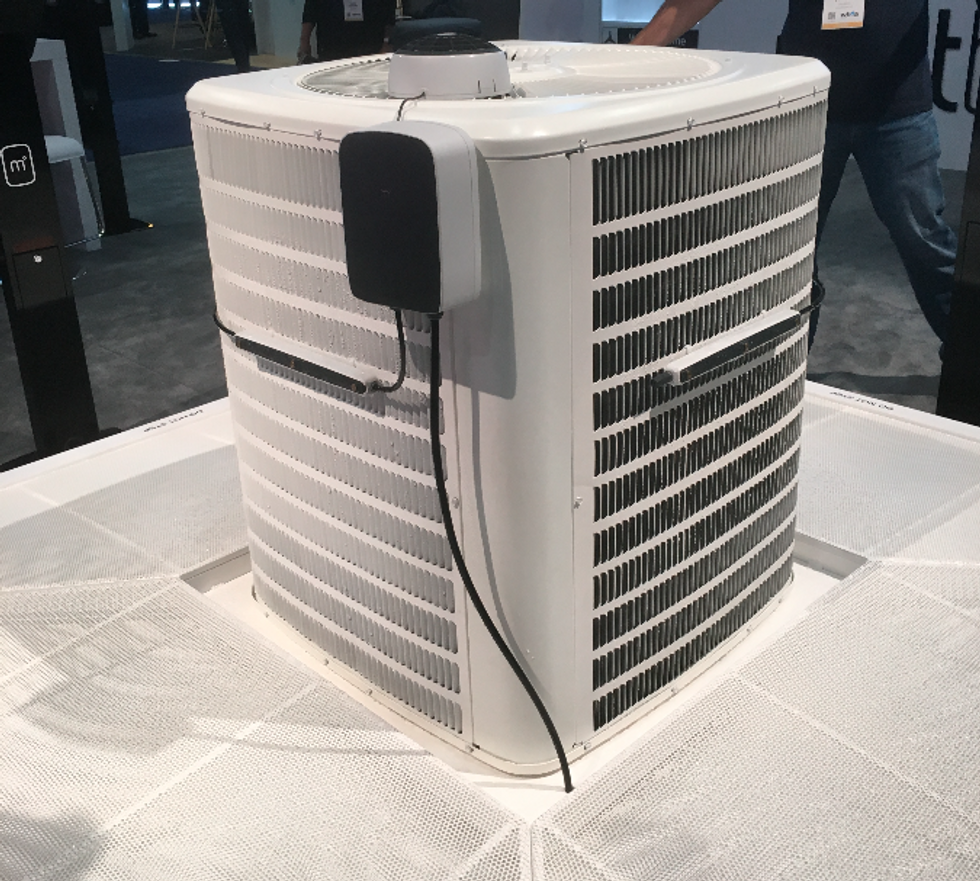 The Mistbox could save you a fortune in AC bills during the summerGearBrain
Mistbox is not the sexiest new product at CES 2018, but it's one of the most effective smart home devices. if you own a central air conditioning system, Mistbox is one of the smart home devices you need to consider because it can help you save money, especially during those long stretches of hot weather in the summer months. We have tested it for ourselves and it saves us a significant amount of money on our electric bill. For 2018, the company has come out with a new unit which is easier to install. The pricing has also changed and Mistbox now offers a lifetime warranty. It costs $99 a year and if your product needs servicing or you need a new one, the company will fix or replace it free of charge. We particularly like how it uses wind power from your fan inside the AC unit to power the batteries.
Best Smart Water Management System
Winner - Buoy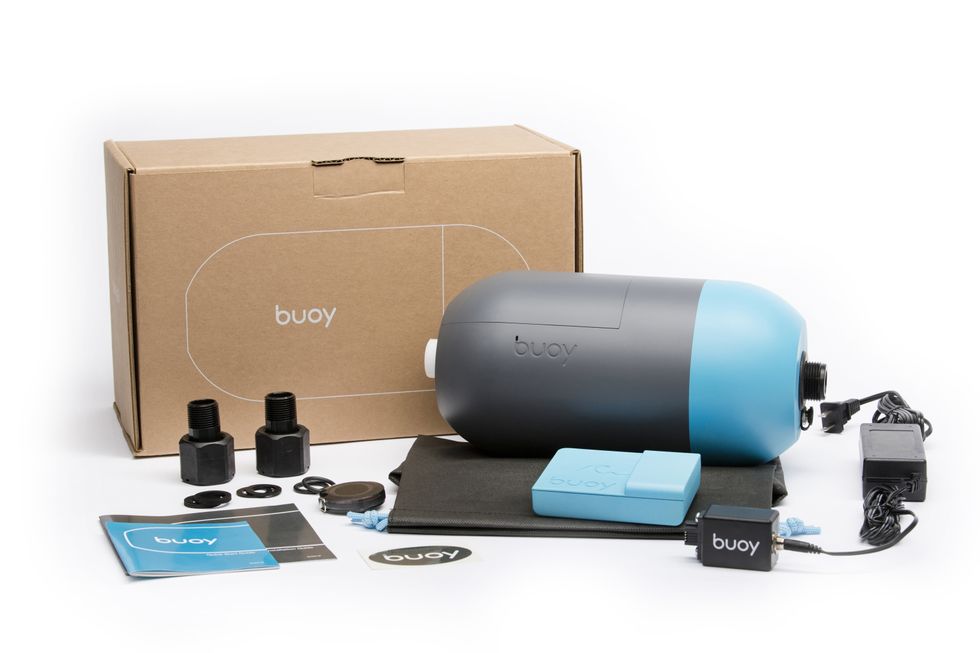 Buoy keeps a eye on your water usage and will shut off the supply if a leak is detectedBuoy
Buoy is a smart home water device that uses AI and machine learning to let you better understand your home water usage, make smarter decisions, and shut off leaks with an app before they drain your budget or destroy your home. We like how this system can help consumers easily manage their home's water usage and show you where you can save money without having to give up some of the things you really like to do, like having hot showers. We also like how, as part of the cost of the product, you get a licensed professional plumber to install it for you. Buoy is shipping now and costs $799.00; this includes one Buoy device, worry-free installation by a licensed plumber, and a lifetime data subscription to the Buoy service.
Best Car Dashcam
Winner - Raven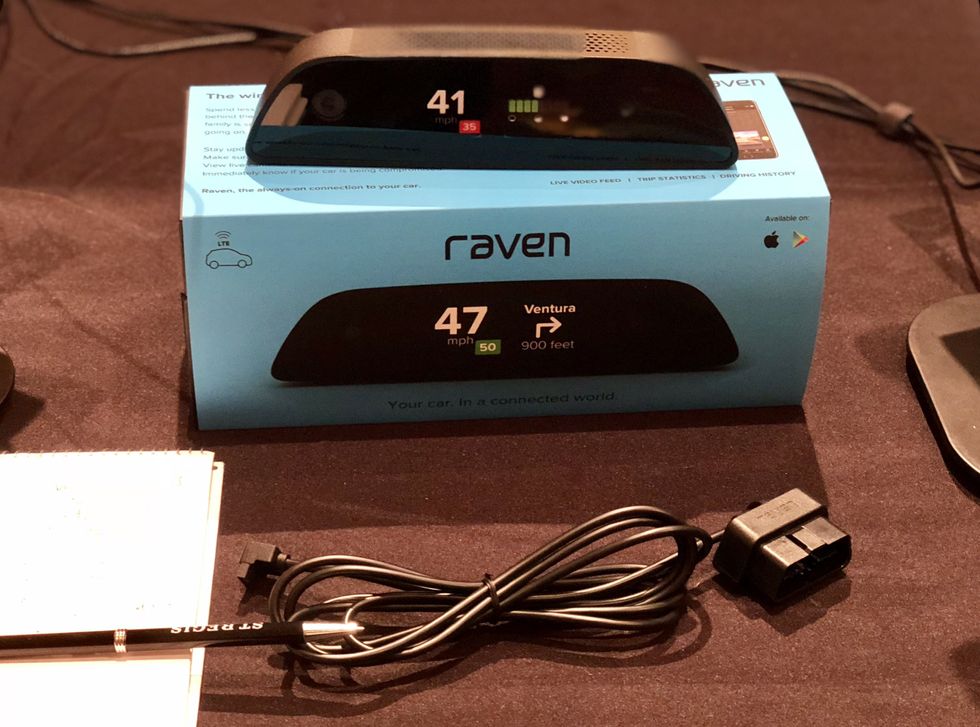 Is this the ultimate dashcam? We think it might beGearBrain
We think Raven could be the ultimate car dash cam, a connected device that is both a camera and security system. Raven's cellular connection alerts you via app of a potential break-in or even is someone drives into your car while it's parked. The device connects to your car's OBD2 port, is powered by the car's battery so it never runs out, and has sensors which monitor everything from speed, G-force and noise, to air pressure (which can help to tell if someone has opened the door.) The forward-facing camera records collisions and can condense each journey into a time-lapse video. If you need a recoding of something — an incident you drive past, for example — a wave of your hand by the dash cam stores the previous 20 seconds of video, ready to be downloaded and watched on your smartphone. With a retail price of $299 — or $269 in pre-sales — Raven starts shipping in March. The device comes with an $8 monthly fee, which can rise as high as $32 per month, but you also get a Wi-Fi hotspot and cloud storage for recorded video.
Best use of Smart Lights
Winner - Philips Hue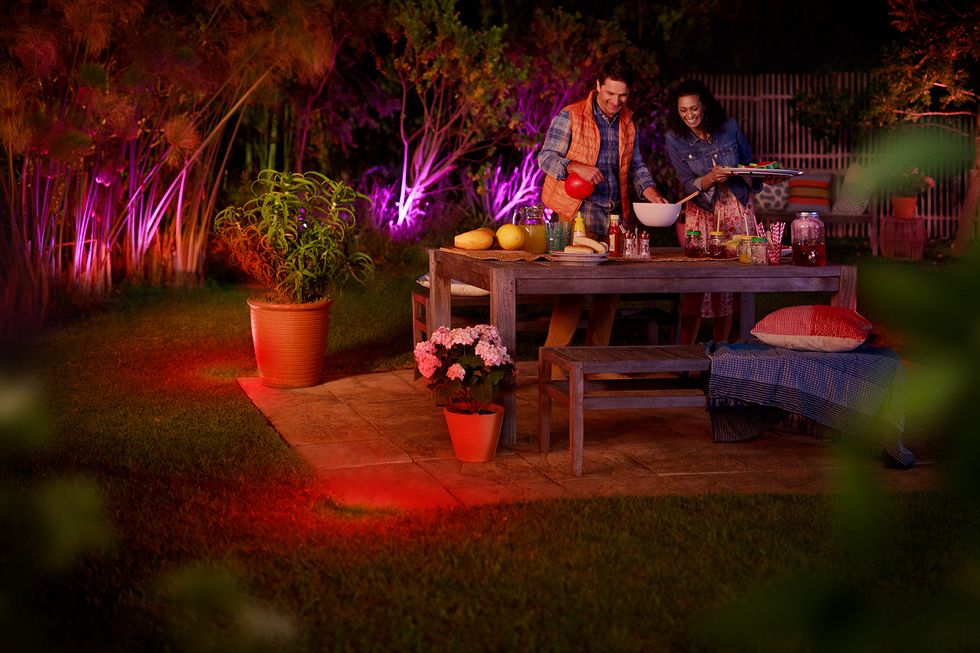 Time to give your garden a smart light makeoverPhilips
Having dominated the indoor smart lighting market with its Hue range, Philips is now ready to step into our gardens and work its multicolored magic there, too. As well as illuminating your patio and BBQ area, the lights can be configured to act as a security system, switching on when movement is detected at night, for example. Philips, which provides the lighting for the Empire State Building, says its outdoor smart lights will go on sale this summer.
Best Smart Display
Winner — Lenovo Smart Display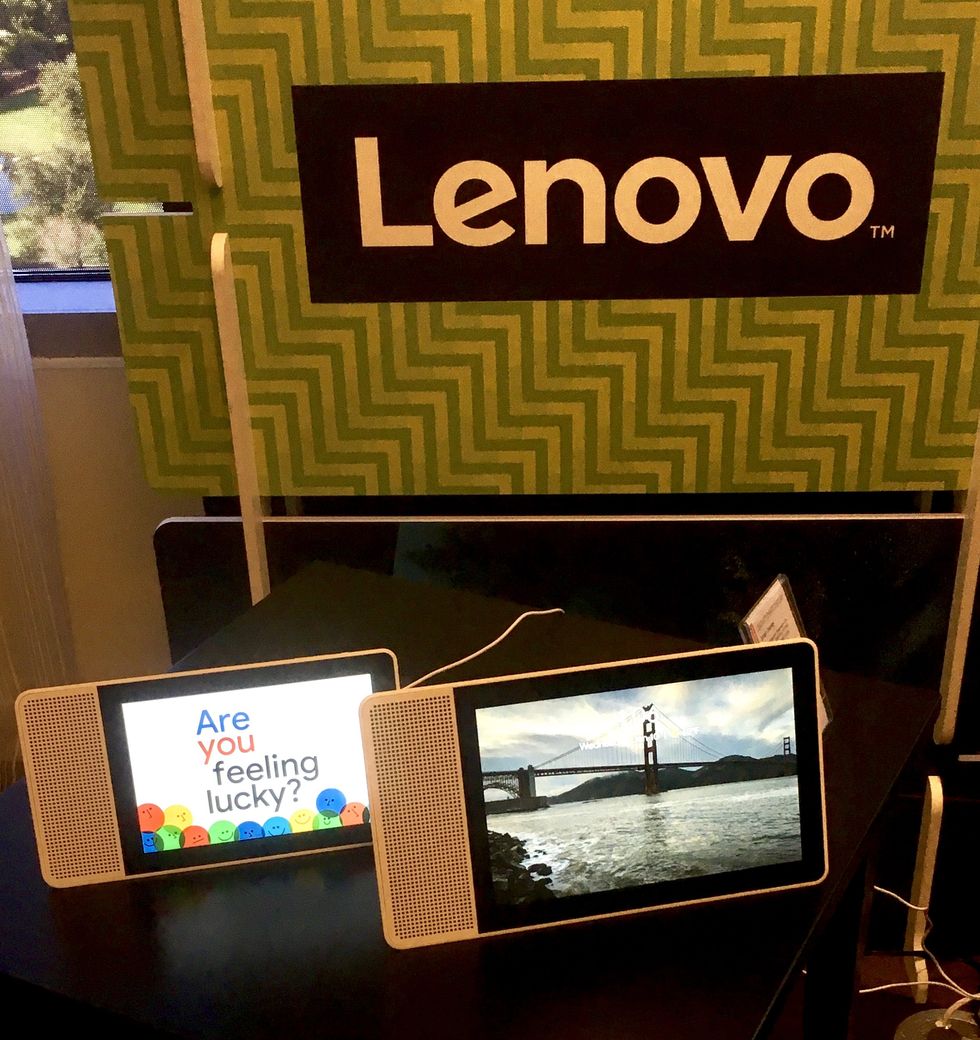 The privacy mode in the Lenovo Smart Display allows you to shutter the cameraGearBrain
The Lenovo Smart Display is one of the latest smart devices that has a voice assistant baked inside. In Lenovo's case, it's Google Assistant, allowing the display to operate as a Google Home hub and connect to other gadgets in the home. But it's the display's privacy mode that caught our eye — a nod to those concerned with having an always-watching, always-listening device in their home. Sometimes we just don't want video callers dropping in — and we don't want to worry that perhaps someone can hear us. Yes, we live in a world where privacy, as an idea, is slowly eroding away. But Lenovo at least acknowledges that some consumers (actually, a lot of consumers) still want to be able to come home, and shut the doors to the world outside.