Like GearBrain on Facebook
Boston Dynamics, the robotics firm sold by Google to SoftBank, has yet again shown off the abilities of its four-legged robotic dog.
This time, ten of the robots, called SpotMini, are shown pulling a box truck, like futuristic huskies pulling a sled. Arranged in pairs, the dogs stand up in unison and begin pawing at the ground, before slowly heaving the truck across a parking lot and up a small incline.
Read More:
A driver is in the truck, but Boston Dynamics says the vehicle was in neutral during the demonstration,
The dog-like contraptions, which share an uncanny resemblance with the robotic dogs in the Black Mirror episode Meathead , have previously demonstrated how they can pick up objects, open doors, climb stairs, and recover from being kicked over.
Although not intended to be a consumer product just yet (probably for the best), Boston Dynamics describes the SpotMini as: "A nimble robot that handles objects, climbs stairs, and will operate in offices, homes and outdoors."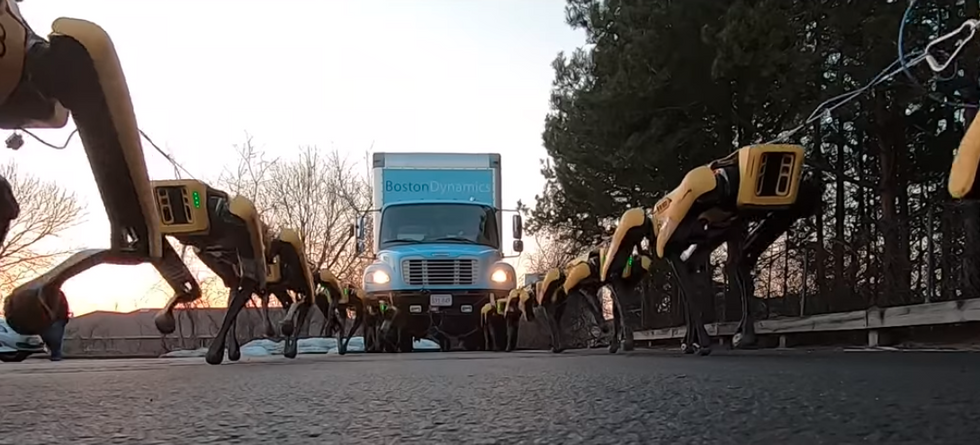 Robots pull a truck across a parking lot with a one-degree incline Boston Dynamics
The robot is 84cm tall, weighs 30kg and can carry a payload of up to 14kg. It is battery-powered and can run for up to 90 minutes on a charge, although we suspect this time will decrease when you ask them to pull a truck.

There is also a 3D vision system to help the SpotMini understand its surroundings and navigate complex environments like office spaces and building sites. Seventeen joints give the robot eerily lifelike movement, and a detachable arm can be used to pick up and interact with objects (or open doors, if that's where your nightmares take you).
Boston Dynamics said: "These Spot robots are coming off the production line now and will be available for a range of applications soon." The company also says the SpotMini is the quieter robot it has ever made, helping it fit into office and potentially even home environments, where it will presumably pass you the TV remote, let the real dog out into the garden, and scare the children.

More sensible applications could see the robot carry objects around warehouses and building sites.
From Your Site Articles
Related Articles Around the Web
Like GearBrain on Facebook