Like GearBrain on Facebook
As you may have read yesterday, CES 2017 is underway with new gear, gadgets, and gizmos that will be sure to wow the public with new and exciting features, fine-tuning, and fascination never seen before. With each new year, CES always delivers the latest and greatest, and this year's been no exception thus far.

Quell can help manage chronic pain through nerve pulses.
Quell
The FDA-cleared Quell is helping chronic pain sufferers by dampening the pain receptors in the body. Those with issues including diabetic pain, arthritis, lower back pain, fibromyalgia, and other concerns can use Quell, with two-third of those in tests finding they've lower the use of pain medication with the device. The company just released a second version this week, which includes an app that can better calibrate Quell to a user, testing nerve health, skin condition, and even body mass. Wear the device comfortably around your leg with a gel bandage and Quell sends high-frequency electro-stimulations (vibrations/pulses). The device also works while you're asleep measuring pain levels, restless leg issues, and more. Quell costs $249 to start for the first month, with the cost of additional gel bandages at approximately $1 per day.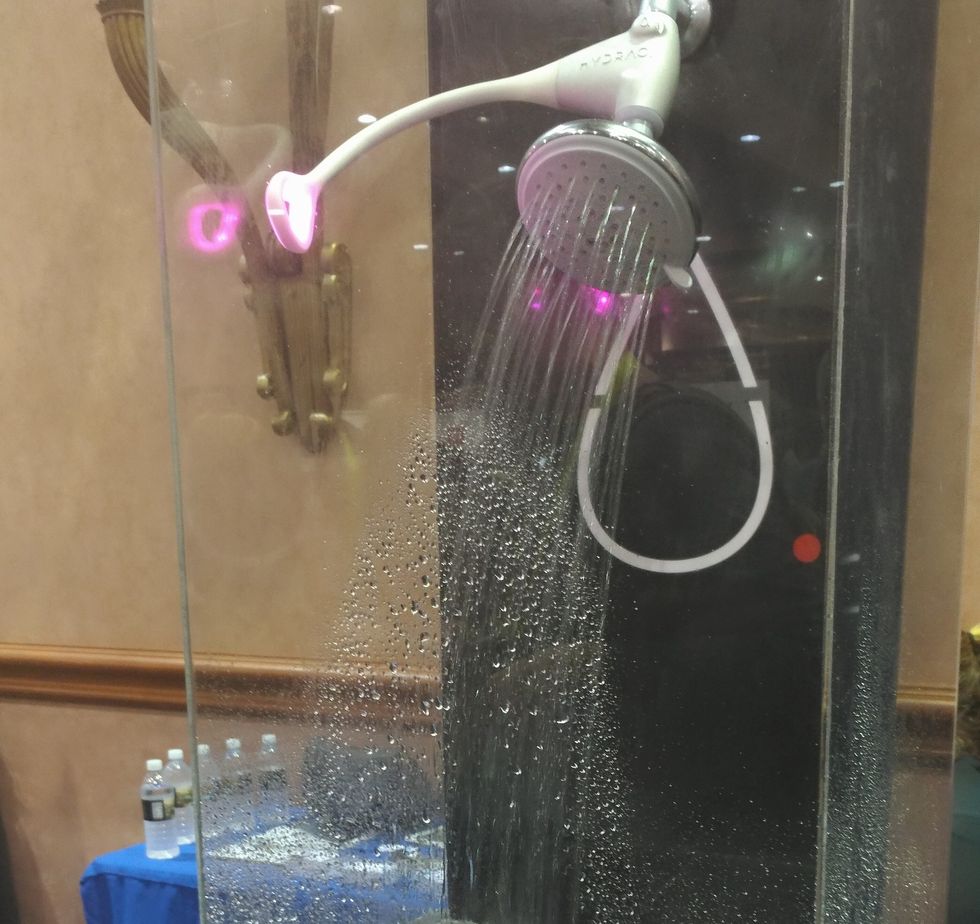 Boot your water hogs out of the shower with Hydrao Drop
Hydrao Drop
Overuse of water and lack of knowledge about eco-friendly measures we can take is ruining the planet. That's where Hydrao Drop comes in to make people more aware of their daily water usage teaching even young kids about eco-friendly behavior when it comes to how much water their using. With the use of Hydrao Drop's app (which conveniently links to Alexa), users will be alerted to their water consumption, watching the app change colors as the water runs using its integrated LED system. Users can customize the colors for their own benefit – for instance, if you want your child to cut down on their shower time, once the color on the app turns red, they know it's time to rinse off and get out. Using Hydrao Drop saves 5 gallons of water per shower. Multiply this by the millions and we can all make a difference. For $99, Hydrao Drop is a wise and eco-conscious purchase and the cost will save you in the long run as you cut down on water usage in your home.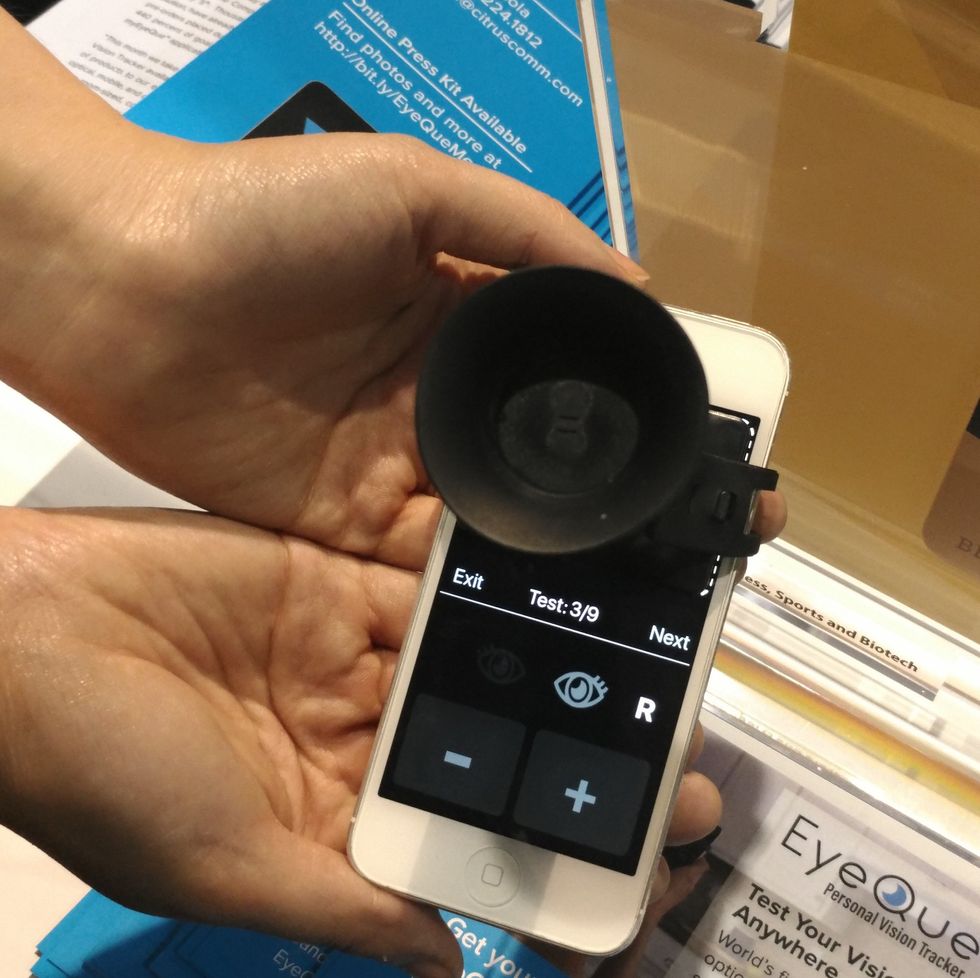 Eye Que lets you take instant reads on your eye's health.
Eye Que
One of the winners of the CES Innovation Award for 2017 for Best of Innovation, Eye Que, a personal vision tracker, is a real standout for health management for eye care. Snapped right on to a smartphone, the device tests eye health in between regular doctor visits. While it cannot replace a visit with a doctor or provide prescriptions, Eye Que does allow those with eye issues to stay abreast of their eye health and any changes to their vision. See your eye progress on the online personal dashboard and get helpful tips for healthy eye care and vision. Eye Que, priced at $30, runs the eyes through a battery of tests, taking about 20 to 30 minutes from start to finish.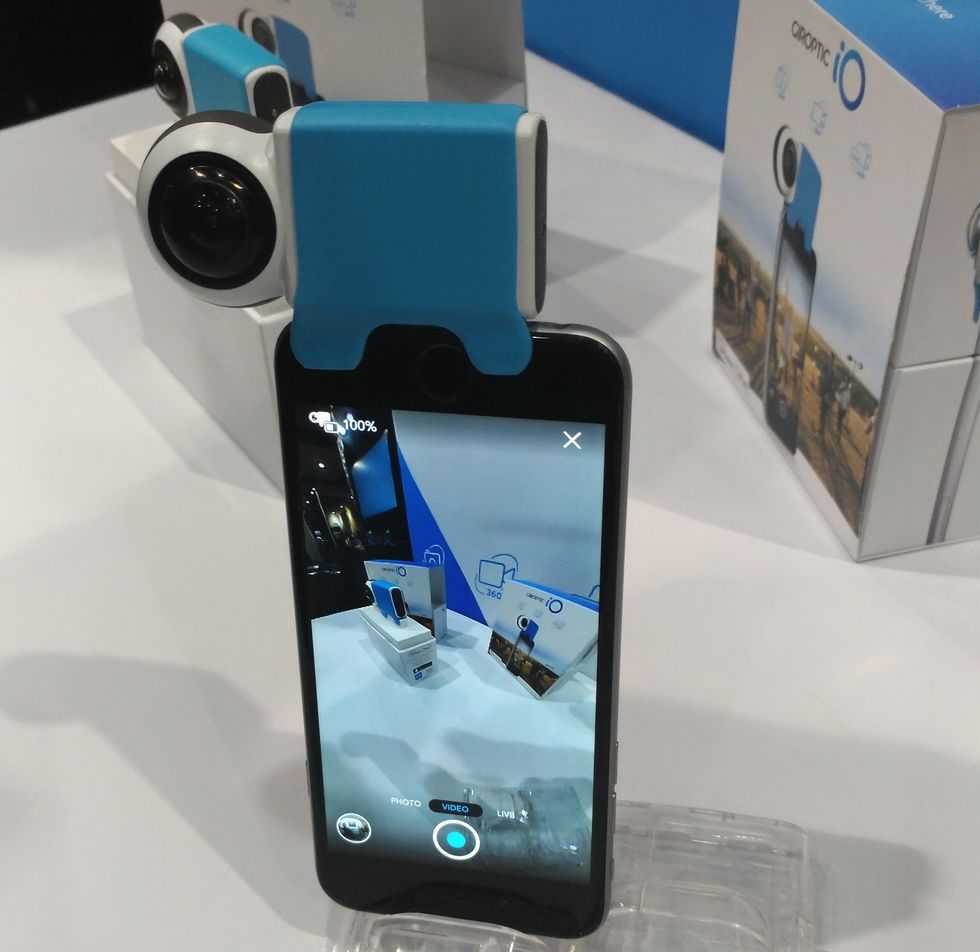 With two cameras, Giroptic iO supports live 360-degree video.
Giroptic iO
Attach this camera to your smartphone or tablet via the lightening connector and take real-time photos, videos, and live stream with 360-degree views from a dual camera. Giroptic iO is also fully VR compatible, making it truly current and immersive. Currently Giroptic iO works only with iOS, but Android compatibility is underway, so stay tuned. Share what you capture by uploading live videos to YouTube. Facebook and Twitter uploading capabilities to come. The $249 device just launched two weeks ago, and expects to start shipping in coming weeks.
Smart Hugs
While Smart Hugs by Sevenhugs won't show you any affection, it will delight you as a universal remote control. After raising $1.1 million via Kickstarter, the company is taking pre-orders at $229 for the regularly priced $299 remote. Smart Hugs is able to control 25,000 different devices, including Sonos and Roku. You just point and click—and don't have to open your smartphone to run the app. Want to know the weather? Point Smart Hugs at the window. Need to order an Uber? You'll point the remote at your front door. Like Eye Que, this device also won a CES Innovation Award for Best of Innovation this year.
Stay tuned for more to come from CES!
Like GearBrain on Facebook