Tesla this week began selling a new version of its Model 3 electric sedan, with a range of 260 miles and a starting price of $45,000 before optional extras and incentives.
The car is fundamentally the same as all rear-wheel-drive Model 3s previously sold by Tesla, with the same battery pack as the $54,000 car with a 310-mile range, but using fewer cells. As well as the 260-mile range, the mid-level Model 3 has a 0-60 mph time of 5.6 seconds (down from 4.5) and a top speed of 125 mph (down from 145). Autopilot, Tesla's driver-assistance system, costs an additional $5,000.
Read More:

Tesla will begin delivering the new Model 3 in six to 10 weeks, according to its website, which would make buyers eligible for the current $7,500 US tax credit, as long as the car arrives before the end of the year.
From January 1, that tax credit falls by half, as Tesla recently sold its 200,000th car in the US, triggering a gradual decline in the tax credit available on the new vehicles it sells. The credit will fall to $3,750 at the start of 2019, then to $1,875 on July 1, before ending completely later in the year.
This new mid-range Model 3 takes Tesla closer to its original goal, set years ago, of producing a Model 3 which costs $35,000 before any incentives.
The company is still $10,000 away from reaching that price, but says it will begin selling a car at that level in 2019. It isn't known how many of the 400,000 people who reserved a Model 3 back in 2016 are waiting for a vehicle at that price.
However, if the new mid-range Model 3 is purchased in EV-friendly California, the price falls from $45,000 to $35,000 after federal and state tax rebates. Tesla boss Elon Musk then claims the price is closer to $31,000 after money saved on not buying gas is taken into account.
Tesla says customers who have ordered the entry-level, $35,000 Model 3 will still have to wait another four to six months to take delivery, meaning their cars will arrive after the tax credit has been halved from its current level.
Regarding the new car only being rear-wheel-drive (and not all-wheel-drive, as other Model 3s are), Musk said: "Tesla rear wheel drive cars do actually work well on snow and ice. We did our traction testing on an ice lake. Dual motor and AWD is great, but not required for cold weather. Just don't use sport/summer tires."

Musk added that the Model 3 will still be available with the long range battery and rear-wheel-drive for customers "ordering off menu for another week or so." After that, all long-range cars will come with all-wheel-drive.
Tesla said in a statement: "As Model 3 production and sales continue to grow rapidly, we've achieved a steady volume in manufacturing capacity, allowing us to diversify our product offering to even more customers. Our new mid-range battery is being introduced this week in the US and Canada to better meet the varying range needs of the many customers eager to own Model 3, and our delivery estimate for customers who have ordered the standard battery is four to six months."
Another change to Tesla's website this week saw 'Full Self-Driving Capability' removed from sale. The option, which has been available since 2016 and varied in price from $3,000 to $5,000, was offered as an addition to the $5,000 Autopilot suite, and was claimed by Tesla to allow cars to become fully self-driving once the software was developed (and legal). Buyers paying for it were told it would be added to their car via a future software update, but with no estimate of when this might arrive - and when a fully autonomous vehicle would be street legal.
Musk tweeted to say the feature will be available "off menu" for one more week, and it is being removed from sale as it was "causing too much confusion".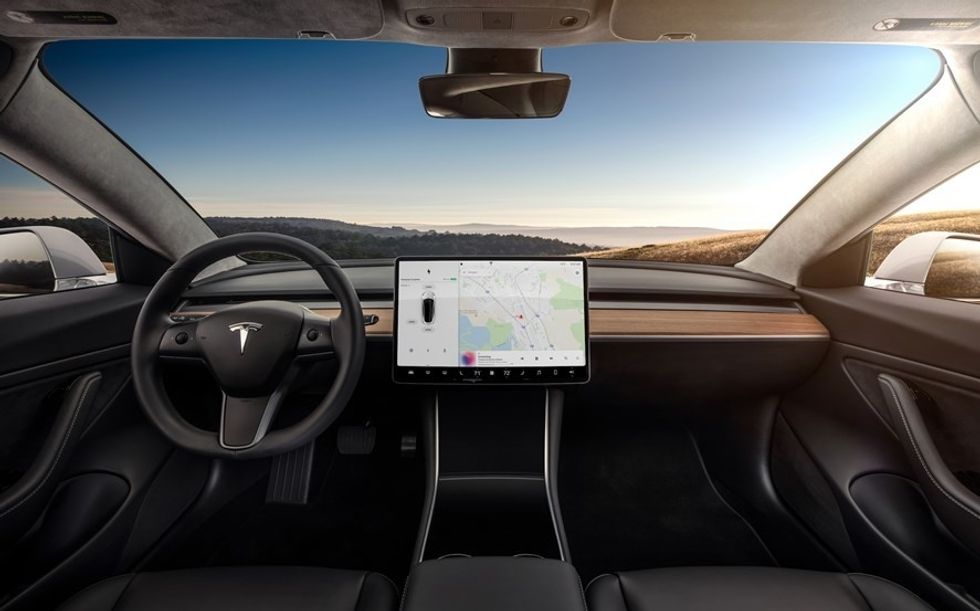 Minimalist interior of the Model 3Tesla
The electric car maker and its boss have had another rollercoaster year through 2018, most notably with the SEC fining Musk $20 million and demanding Tesla finds someone to replace him as chairman. He will remain chief executive, but the action came after Musk tweeted to say funding to take Tesla private had been "secured" when it had not.

Tesla and Musk have also spent the year wrestling with the difficulties of producing the Model 3 on a scale the company has not experienced before, resulting in "production hell" and cars being assembled in a make-shift tent in the company parking lot. That said, the company is now achieving the production goals it set for itself at the start of the year.