Comcast just gave people a new shortcut to finding their keys, wallet or anything connected to a Tile tracker — the ability to use their Xfinity remote to ask to locate these items.
A partnership announced in 2018 between Tile and Comcast first started with the people able to see where their lost Tiles were on their TV screen. They could ask their X1 Voice Remote to help them with this task.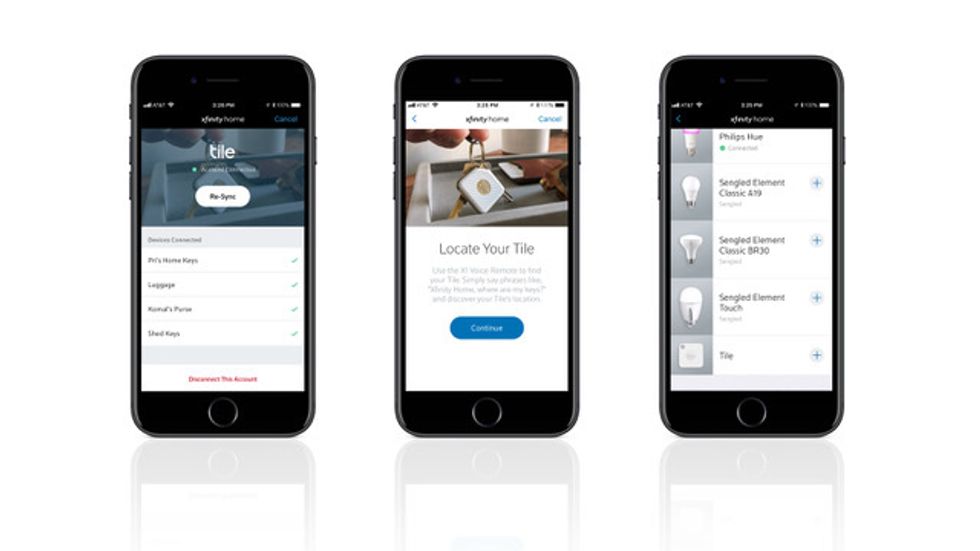 Comcast Xfinity users will want to link their Xfinity Home account with their Tile accountComcast
But now, Comcast has made it possible for its Xfinity devices that have Bluetooth — including the xFi Gateways, and the X1 and Flex set top boxes — to link up to Tile.

Customers can now do more than see where a Tile is — they can have ask the remote ring their device. The key is to ask the X1 Voice Remote to find things, by saying the name they're called in the Tile app. This would include phrases like:
"Xfinity Home, find my keys"
"Xfinity Home, where is my wallet?"
"Xfinity Home, find Jocelyn's phone."
"Xfinity Home, where is my backpack?"
Since 2018, people have been able to just ask the remote to locate where an object — with a Tile attached — was last seen. That could be keys in the bedroom, or a daughter's backpack on the school bus.
It will be important, to make this new link work, to connect an Xfinity Home app with someone's existing Tile account. Then, the actual Tile, when connected to Bluetooth, will ring, making it just a bit easier to find something given that audible clue — and hopefully take one less frustrating thing off your list.
Check out
The GearBrain,
our smart home compatibility checker to see the other compatible products that
works with Comcast's Xfinity Home X1 Platform.