Like GearBrain on Facebook
One of the better known trackers on the market, Tile has almost made a name for itself that is synonymous with what it does. The company has broaden its product line from far beyond the original Tile to include trackers that are slim enough to slip into a wallet, and others that can pick up a location from 300 feet away. Tile sent us a few of its trackers to test, and we wanted to see if it could help us keep track of our keys, luggage and our remote. We were not disappointed.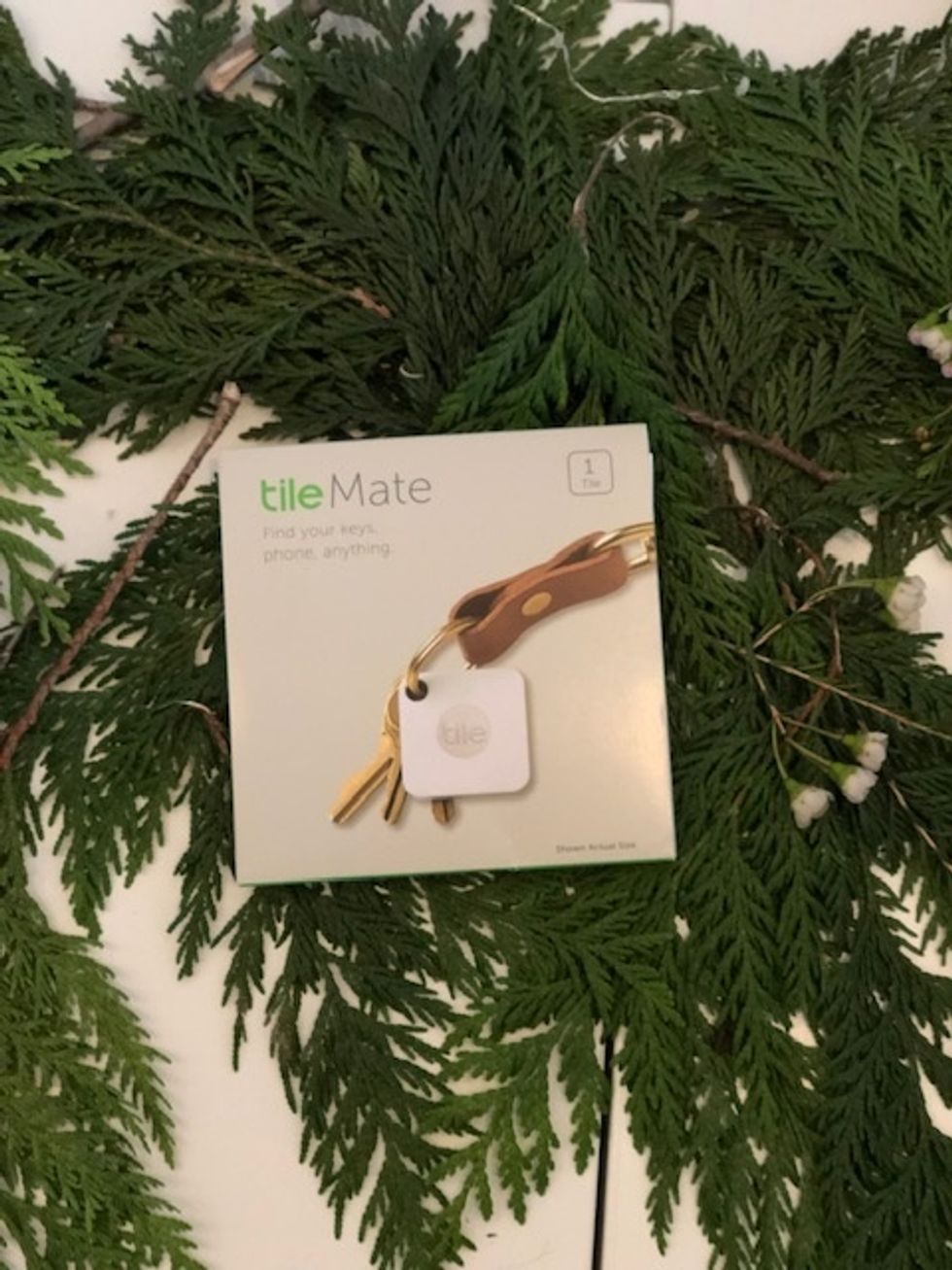 GearBrain
Tile away
Before attaching Tiles to your different items, you're going to want to download the Tile app to your smartphone. Once installed, you'll need to connect the Tile you're using to the app — which is as simple as just activating it in the app.
Whether you have a Tile Pro, Tile Slim or a regular Tile, you'll be able to keep track of all of them inside this app. We attached three Tiles, one to our luggage, one to our remote and another to, of course, our keys.
Each one can be personalized with one of eight different ringtones. You can also quickly categorize it, so it fits into five quick categories including keys, wallet, purse, phone and toys. Putting a Tile on a favorite toy or stuffed animal is a pretty fantastic idea given how attached a child can grow to these creatures. Of the three Tiles, only one — the Slim — doesn't have a loop at the top, so it's easy to attach them to key rings, or metal loops and then to zippers or even a ribbon.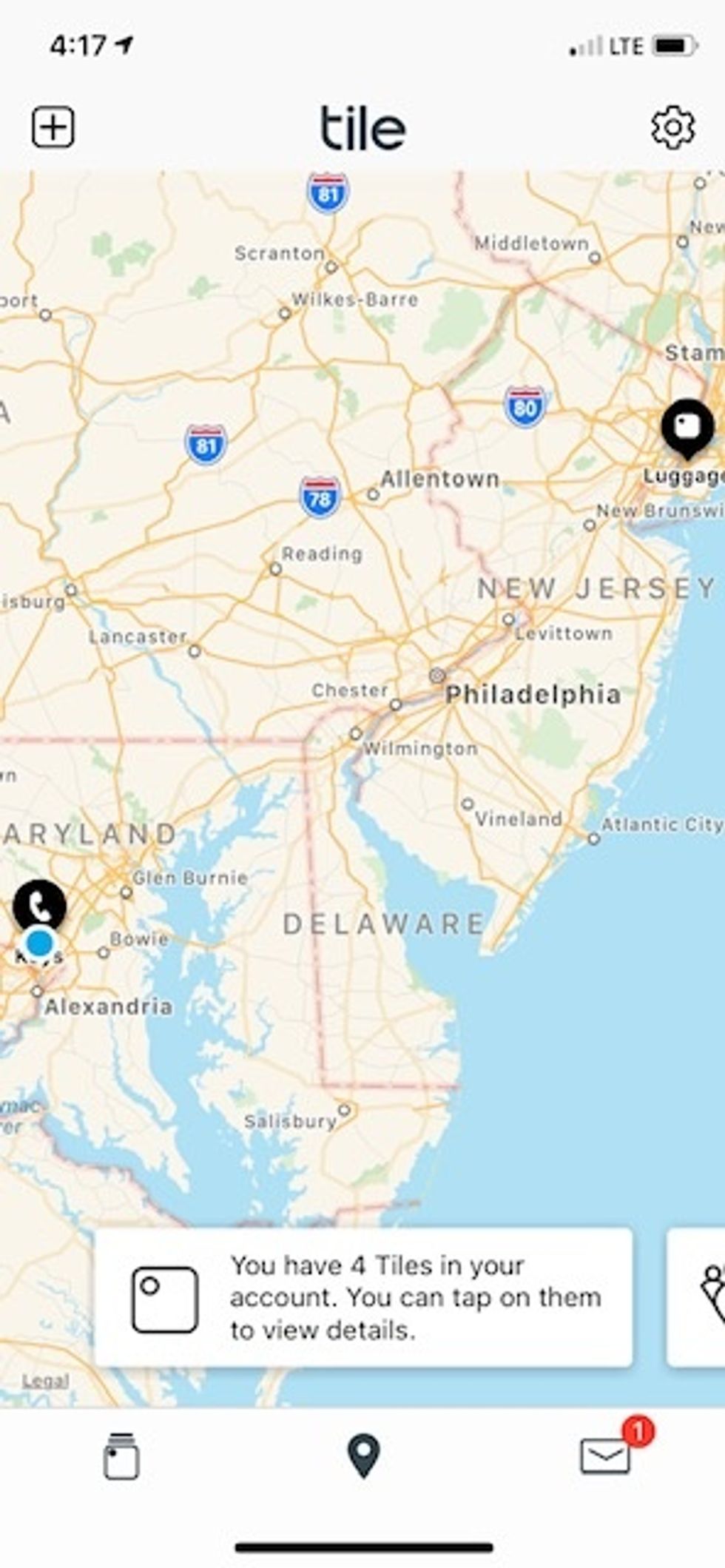 GearBrain
Bluetooth
You connect to Tile over Bluetooth, which means you need to be within a set distance in order for Tile to link up to the app in your smartphone. Outside that range, and you won't be able to get Tile to ping and make a sound so you can locate it and the item it's attached to.
However, that doesn't mean Tile isn't working. While not immediately trackable if out of range, Tile will show in the app the last location where it was detected. Tap on the location in the map inside the app, and you'll not only be able to see the last known street address, but also the date and time the app last spotted the Tile. (You can also pick up a 30-day history of its location if you have Tile Premium.)
Our remote never left the house — thankfully — but we pinged that Tile so many times while testing the tracker I'm surprised we didn't wear down the battery. This was easily the most useful function we found for our Tile, which we hacked a bit by attaching a double-sided sticker on the Tile and then to the back of our remote. This was put to use almost weekly, and worked every time. I'd love for Tile to come out with a sticker-styled tracker. Perhaps this can be put on the board for a future iteration.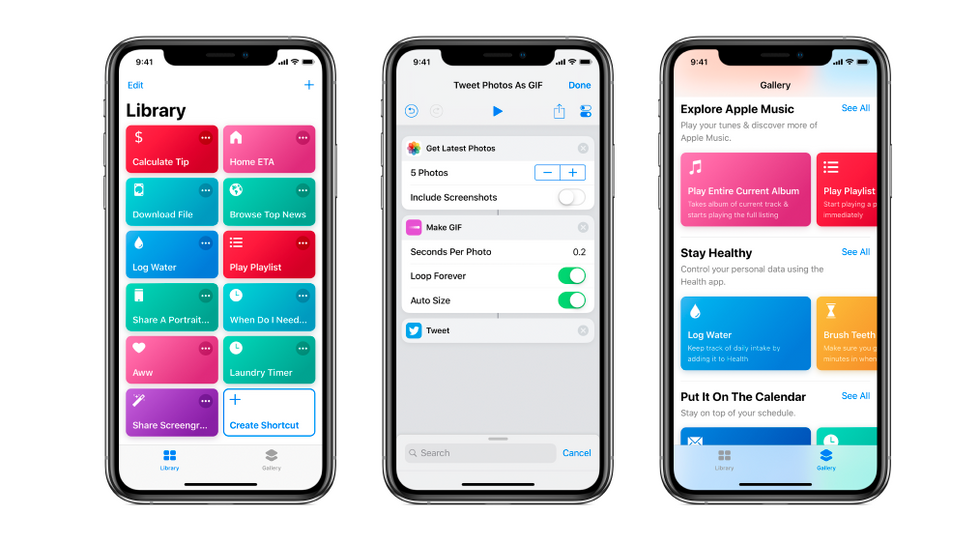 Apple
Siri, Alexa and Google Assistant
You can also add a Siri Shortcut if you're using an iPhone — adding a customized voice command. For my keys, for example, I added the fairly unoriginal, "Find my keys." This worked every time — and I loved not having to actually go into the Tile app each time I wanted to find my keys.
Alexa and Google Assistant can also be called upon to find a Tile. For Android users, or those with smart speakers that use these assistants, you can call upon them to locate an item that has a Tile attached too.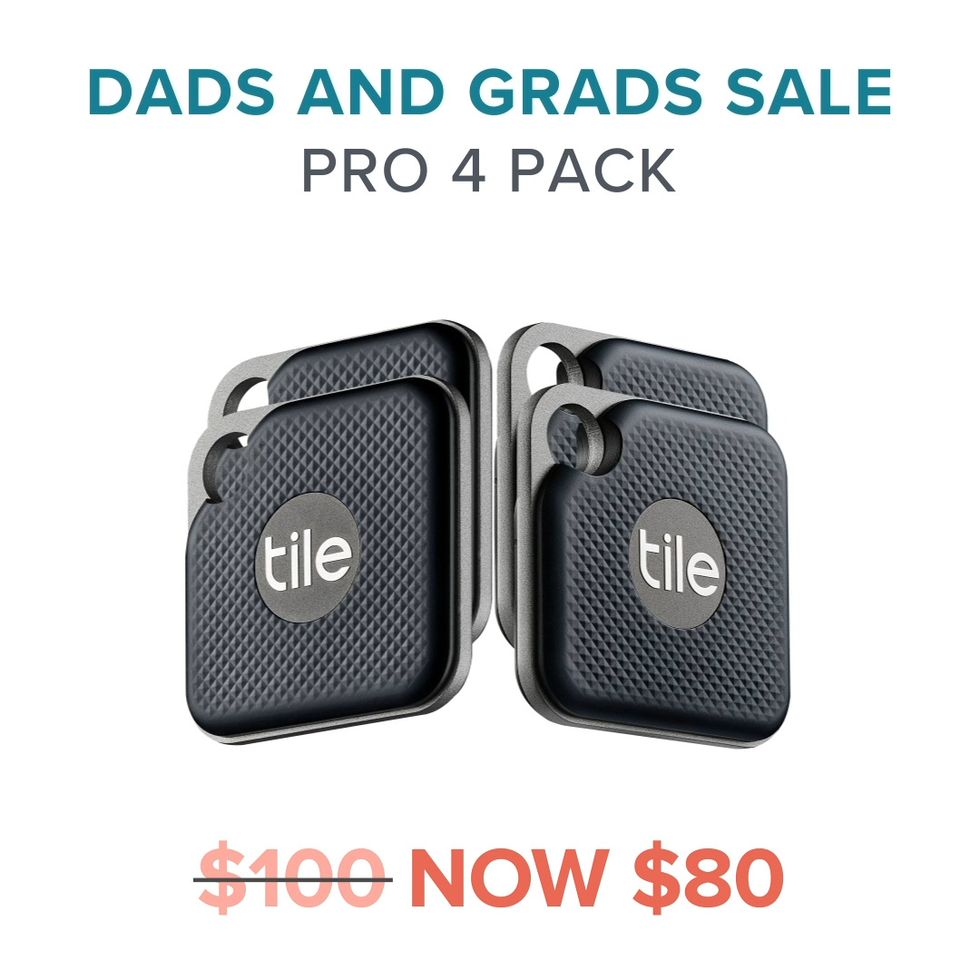 Tile Pro 4 Pack on sale for only $80 Tile
To turn off a Tile you actually need to tap the device itself. This makes sense — you're trying to find the actual item, the entire premise of the tracker. However, when something is ringing loudly, there are times when you may want to be able to turn that sound off.

Batteries
Tile works on batteries — these are not chargeable trackers you can juice back up by plugging into a wall. Batteries are said to work for one year, and are replaceable. If you actually opt for Premium, you can get these sent to you for free every year for the 2018 versions of the Mate and Pro.
One feature I kept looking for in the app though, and could not find, was the ability to see how the actual battery setting. While one year is a fairly long time, it's easy to forget when you actually bought your Tile, and when you may need a replacement. If a tracker stops working when you actually need it, that's not ideal. Having a gauge that shows how low the power level is as you use it would be a plus.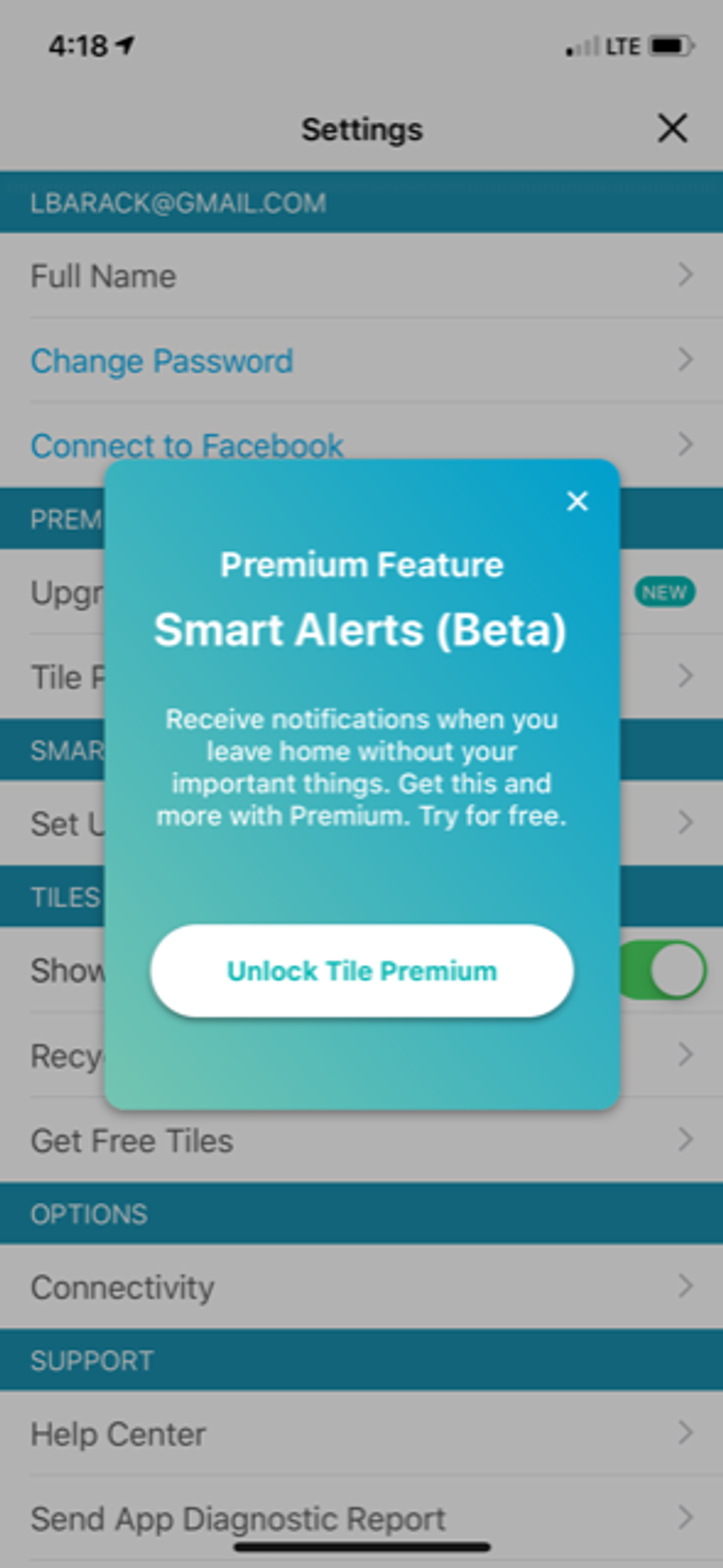 GearBrain
Premium
Tile recently launched a new Premium feature which sends you a proactive alert should you actually leave a Tile'd item behind. Currently in beta, you can try the Smart Alerts feature for one more for free.
You set up your home address in the app — or whatever location you want to be your primary spot — so Tile will ping you should you leave that area without the tracker. After a one-month trial, you can continue at $2.99 a month or $29.99 a year.
To Tile or not to Tile
Although there are a lot of trackers on the market today, Tile did stand out for a few reasons. I like that the batteries never wore out during our months-long test. I also liked being able to see where the Tile last showed up on a device, even if I didn't need to worry about where it was at the moment.
My luggage, for example, really didn't go on an airplane ride while I was testing the device. I did take it on a car ride — and I didn't worry about losing the bag. But I did like seeing that my luggage was at home, even when I was not. It made me think about tagging other items in my home — things that didn't need to ever actually leave my home, perhaps a treasured book or vase — and being able to see that they were still there even when I was away.
Finally, I liked the fact that Tile just worked — it rang as it meant to, and it also pinged when by using Siri meaning I didn't have to open the app every time I wanted to find something.
Tile can be purchased on its site, and there is currently a special. One Tile Mate is $20, four are $60, with Tile Pro ringing up at $35 each, two for $60 and four for $100. Tile Slim starts at $30, with a four pack for $100.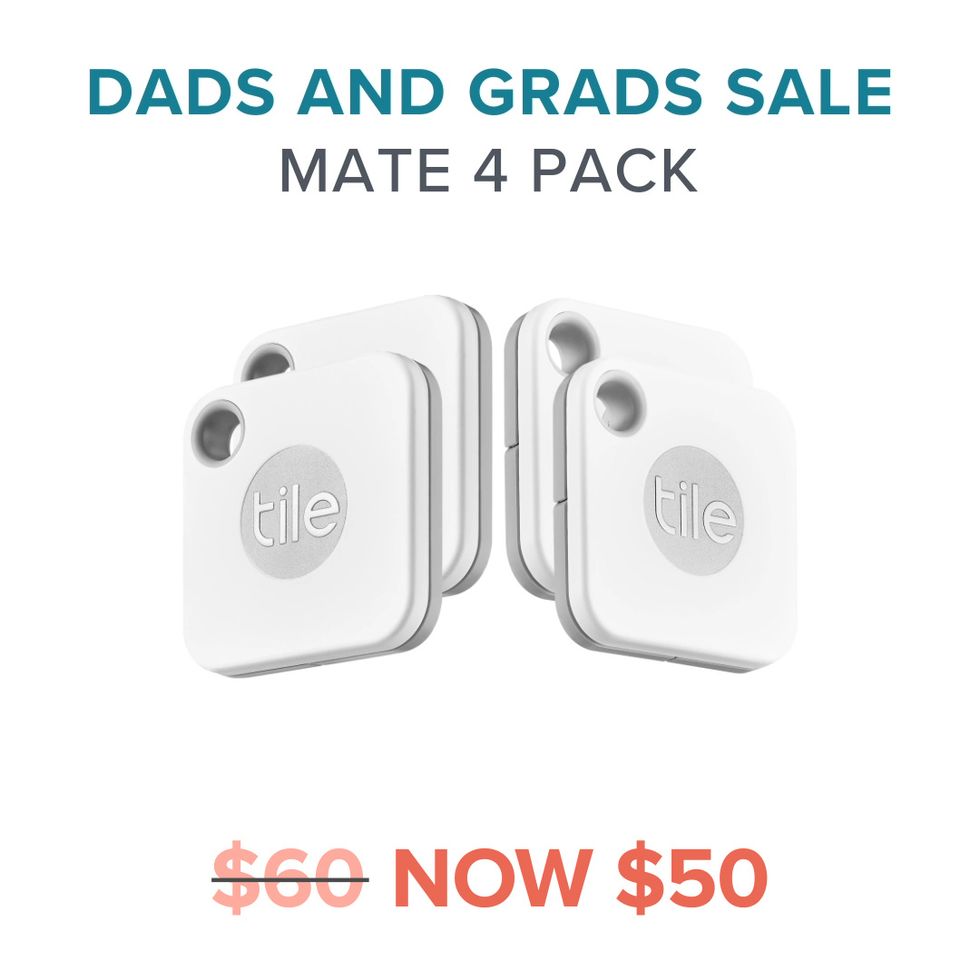 Tile Mate 4 pack only $50Tile
Like GearBrain on Facebook