Like GearBrain on Facebook
Deep inside Brooklyn's Navy Yards, DJI unveiled the latest to its Mavic line, two new drones that are sure to entice both consumers and professional users — one with a Hasselblad camera built right inside. Both the $1449 Mavic 2 Pro and the $1249 Mavic 2 Zoom have 31 minutes of flight time, Hyperlapse a time-lapse video effect optimized for social media, and ActiveTrack which helps to predict where the drone should move next.
Keep in mind, these are not drones meant for weekend flyers — they are high-quality camera drones designed for those who want, and need, imagery that's of a higher caliber than you snap with your smartphone.
Mavic 2 Zoom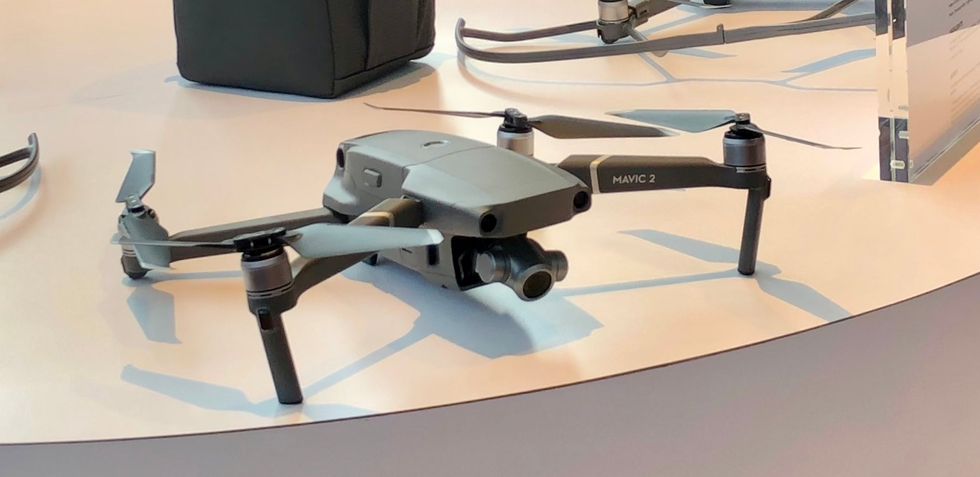 The new Mavic 2 Zoom is the first DJI drone to offer zooming capabilitiesGearBrain
To start, the Mavic 2 Zoom is a foldable drone — the first with zoom — that can mirror a 96mm telephone lens in full HD resolution. Focus speed has been ramped up by 40 percent, and the drone can shoot 12-megapixel photos. It also has a new Super Resolution feature that uses the optical zoom lens to stitch nine images together, creating one 48-megapixel photo.
For any budding filmmakers, there's also a cool cinematography trick you can use with the Mavic 2 Zoom, which DJI calls its Dolly Zoom QuickShot, but basically means the camera on board zooms in on the subject as it flies away. You'll recognize this filming technique as those cool shots in the movies where the figure stays the same size, but the background widens out at the same time.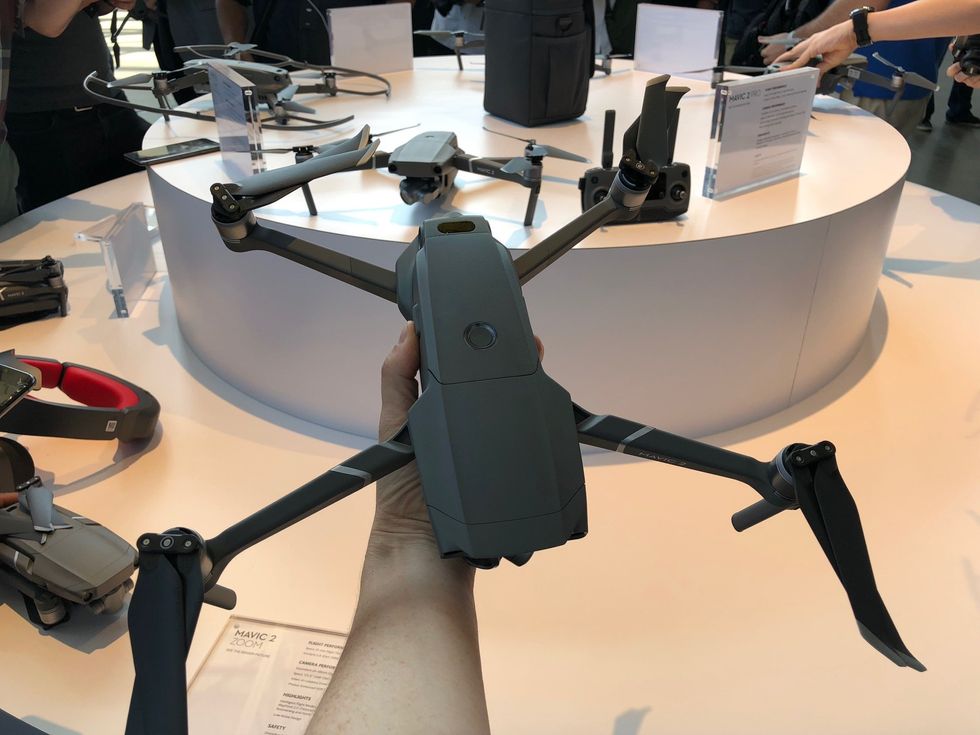 GearBrain
Mavic 2 Pro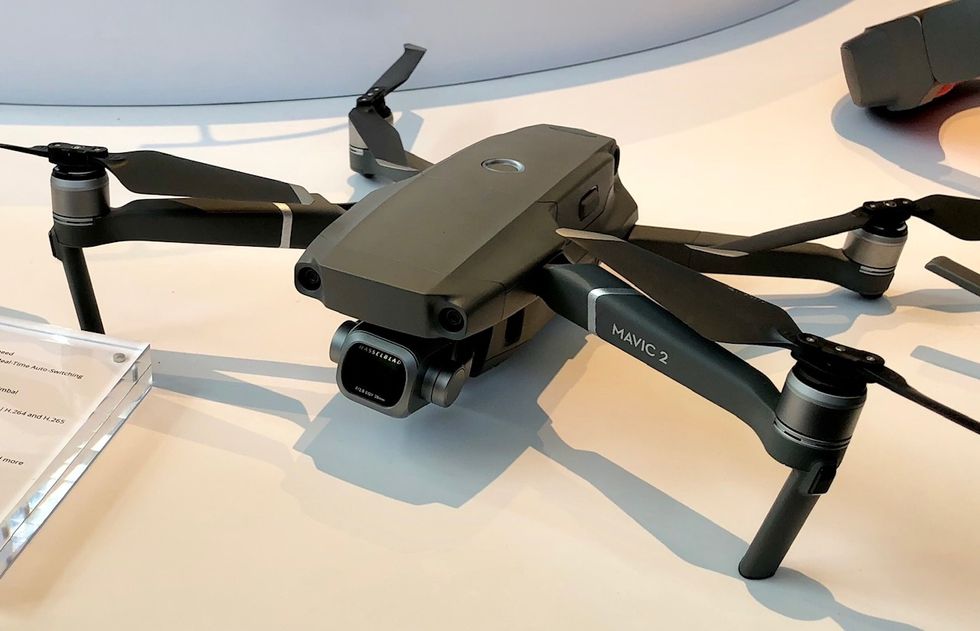 The Mavic 2 Pro features a high-end Hasselblad camera - and a $1,449 price tagGearBrain
The Mavic Pro is the first drone with a Hasselblad camera baked inside. What does that mean? You get four times the color levels than the past Mavic Pro. The onboard camera captures 20-megapixel aerial shots through an aperture with a f/2.8 to f/11 range. There's 4K 10-bit HDR support so you can play back directly on to a 4K TV.
Like Mavic 2 Zoom, the drone can go up to 44 mph — a speed reached thanks to a redesigned body which creates 19 percent less drag than the original Mavic Pro, and this drone, like the Zoom, is quieter, said DJI. There's also 8 GB of onboard storage — which you can expand with a removable SD card.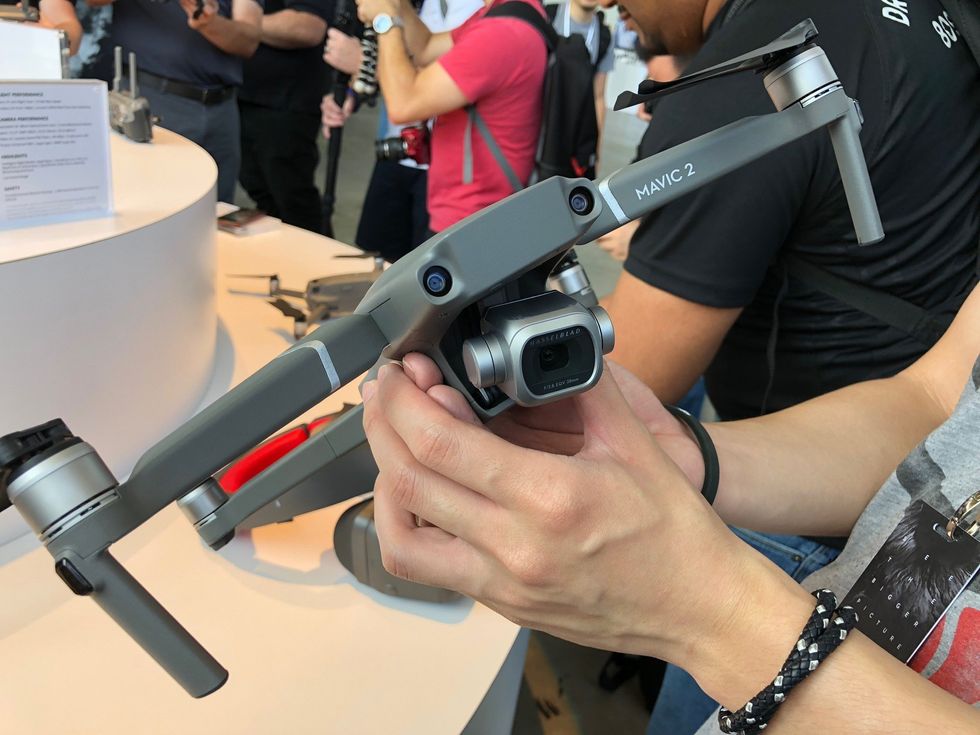 GearBrain
Hyperlapse details
Hyperlapse comes in four modes:
Free: This lets you fly the drone the way you want, while it shoots the Hyperlapse video
Circle: In Circle mode, the drone flies in a circle around a set subject capturing the time-lapse video
Course Lock: Here, the drone stays fixed on one subject while flying straight
Waypoint: Pilots can use Waypoint to shoot a flight plan of their choosing basing it on the altitude and GPS.
Both drones are available now at DJI's online store — shipping immediately — and its four physical stores.
Like GearBrain on Facebook