Like GearBrain on Facebook
The Mavic Air is DJI's newest drone and its most compact yet. But if you think the Air's small size makes it less capable than the larger and more expensive Mavic Pro, you'll be in for a surprise.
Sitting above DJI's entry-level Spark and below the range-topping Phantom range, the Mavic Air is a $799 drone with a three-axis gimbal, 4K camera, a plethora of shooting modes, elements of autonomous flying, and a claimed 20 minutes of flight time.
Read More:
DJI Mavic Air review: Hardware

The DJI Mavic Air is a masterclass in packaging. Its four arms fold up to sit snugly next to the slim body, making the drone incredibly compact - even more so than the Spark.There's no need to remove the rotor blades as they sit flush alongside the body, and there's a neat removable cover to protect the camera and delicate gimbal mechanism when the drone isn't in use.
On my first day with the Mavic Air I honestly couldn't get over how compact it is and how neatly it folds up. You could easily slip the drone into a large coat pocket, then put the controller into the other pocket. Speaking of the controller, this is also a lesson in smart packaging; the hand grips fold out and serve as a mount for your smartphone, which is used to view a live video feed from the Air's camera and control its settings and flight modes.
Two joysticks store snugly inside the controller and screw into place when you are preparing for flight. All of the controls fall easily to hand and the joysticks are nice and grippy, meaning your fingers are unlikely to slip off them when manoeuvring the Mavic Air. Even before you take flight for the first time, it is easy to see where your $800 has gone when buying a device as smartly designed as this.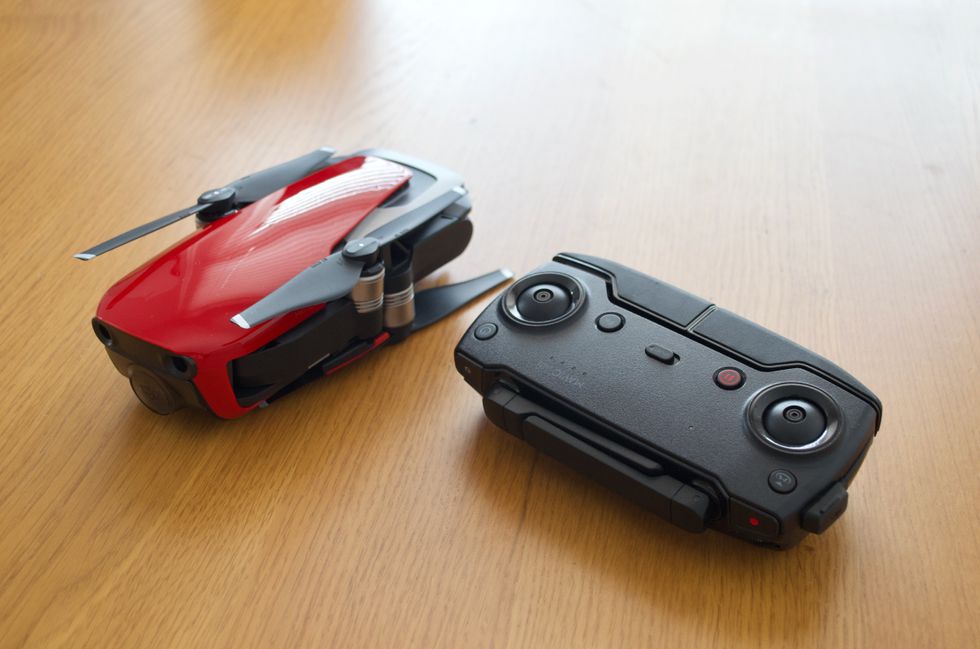 When folded up, the Air is remarkably compactGearBrain
The drone weighs just 430g (0.95 pounds) and measures 168 x 83 x 49mm when folded up, or 168 x 184 x 64mm when ready for flight. It can fly at up to 68.4km/h (42.5mph), which is really quite incredible when you see it zipping through the sky above your head. All that performance means the Air is quite loud, and while this is fine when several hundred feet in the sky, it can be a nuisance when filming at low altitudes and sounds a bit like you are flying a lawnmower.
As well as the 12-megapixel camera (which can shoot HD and Ultra HD video), the Mavic Air has six further cameras to help it avoid crashing into objects, or follow an object when instructed to.
The controller includes dedicated buttons for shooting video and taking photographs, plus a scroll wheel under your left index finger for tilting the camera up and down, a button to tell the drone to land from where it took off from, and a switch for enabling sport mode, which ups the top speed from 28.8km/h to 68.4km/h. Sport mode also switches off the drone's obstacle avoidance system, letting skilful pilots fly it exactly how they want.

The Mavic Air comes with a battery charger which also has a USB port for charging the controller at the same time. Finally, the controller itself has a full-size USB port for powering your smartphone, although doing so while flying is optional.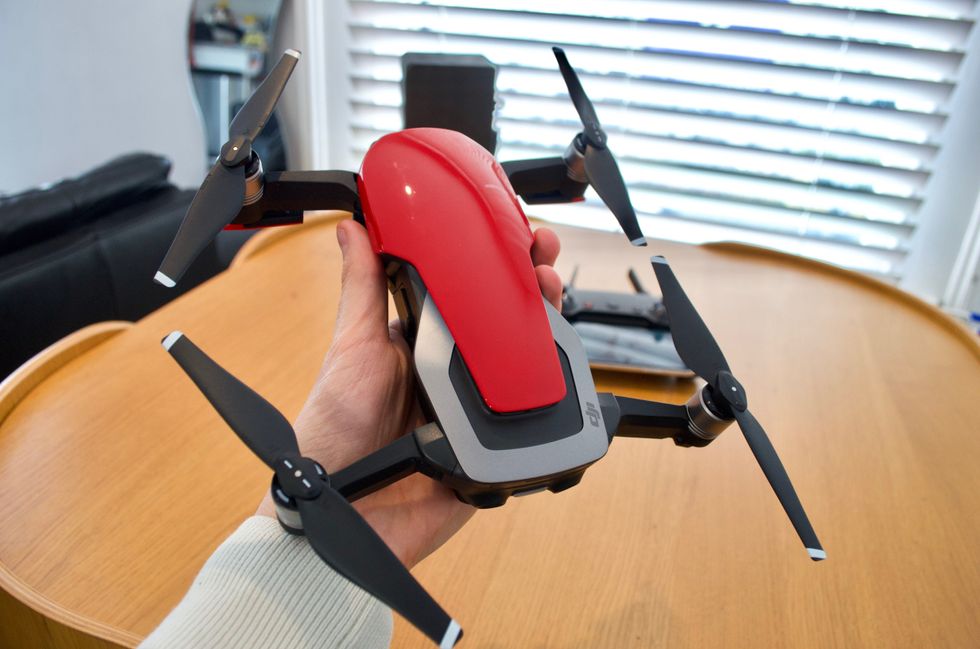 When unfolded, the Air is still small enough to hold in one handGearBrain
DJI Mavic Air review: Software
As with other DJI drones, the Mavic Air requires the DJI Go 4 app for flight. The app is free, relatively simple to operate, and is used to set up a connection between the drone, controller and smartphone before each flight. The app is where you can see the status of the drone and a live video feed broadcast by the camera; the Air's various flight modes are all accessed from here.
The app serves up a quick test on drone safety before you can fly and although you can skip this four times, on the fifth time you are forced to answer several questions about safe drone operation before you can take flight.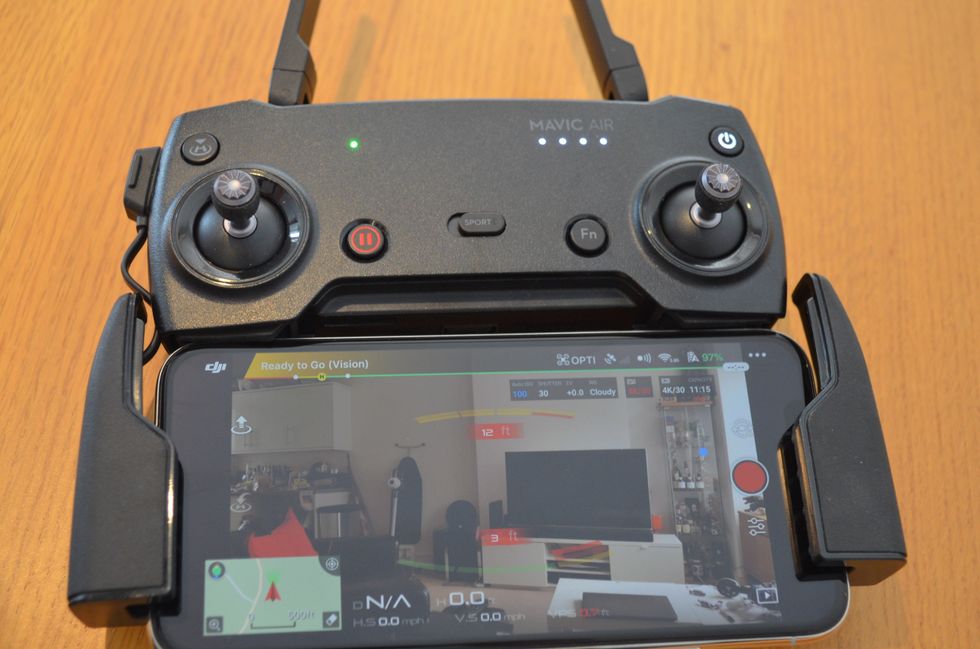 The controller grips your smartphone, which runs an app to run the droneGearBrain
Any drone pilot should be aware of these guidelines, such as maximum flight altitude, how far they should be from buildings and crowds of people, and how close they are allowed to fly to airports. These limits vary by country and the app's answers are relevant to the country you are operating the drone in.
Preparing to fly takes just a few seconds, although sometimes the drone's compass will need calibrating. The app explains how to do this (pick the drone up and turn in a circle) and it only takes a moment. Once the compass is ready and the Air has a GPS position locked down - so it can return to you all by itself, if needs be - you are ready to fly.
The app also knows where no-fly zones are and warns you about these before taking off. I encountered an area of Class D airspace, which the app warned me about. In the UK where I am based, this means hobby pilots of drones weighing less than 7kg (15.4 pounds) are allowed to continue flying "if reasonably satisfied that the flight can safely be made" and below an altitude of 400 feet.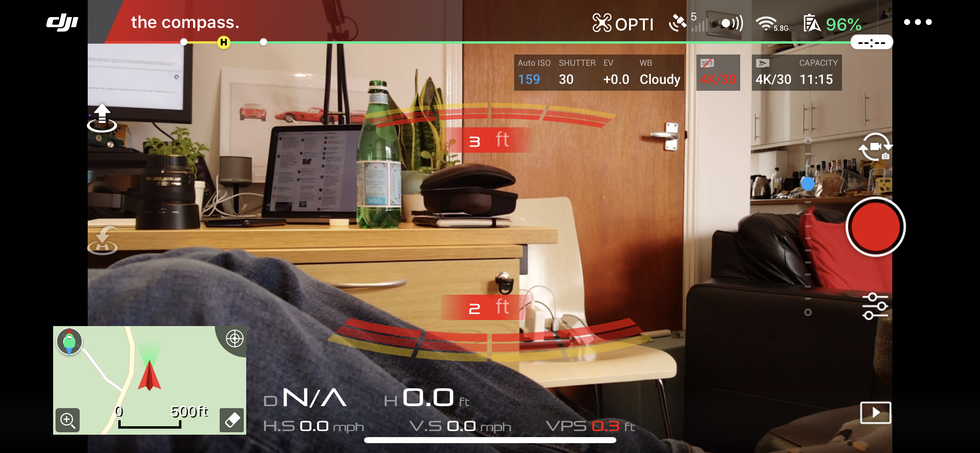 Screenshot of the DJI Go 4 smartphone appGearBrain
DJI Mavic Air review: Flight performance
I last flew a DJI drone when I reviewed the Phantom 4 Pro almost two years ago and that memory helped make the Mavic Air feel immediately familiar. The Air is a very capable drone despite being much smaller than the Phantom. It is remarkably stable, even in gusts strong enough to trigger the app's high wind warning, and in sport mode it can change direction with an almost alarming turn of pace.
As with other DJIs, the left stick controls altitude and rotation, while the right stick is used to move the drone forwards or backwards, and to track left and right. Because of its reduced size compared to the Phantom, it can sometimes be tricky to tell which way the Air is facing, but a glance at the video feed or map on the smartphone app solves this.

Powerful drones like the Air are noisy and can at first be intimidating to fly. But once you get the hang of it you soon realize that the Air has your back. Let go of the controls and it will hover perfectly until you are ready to carry on; if you still aren't comfortable a single press of the land button will bring the Air back to exactly where it took off from.
To help novice flyers, the Mavic Air has pairs of cameras facing forwards, backwards and down. These help the drone avoid crashing into solid objects, and will even help it plot a route around some obstructions. I can confirm the Air successfully spots and refuses to fly towards walls and buildings, although I was less confident about its ability to avoid objects like trees and bushes, especially at this time of year before their leaves have grown.
Also helping the novice flyer are a set of propeller guards which can be clipped into place to prevent damage to them and whatever you crash into. These should be used when operating the Mavic Air with hand gestures - something which works, but felt like a gimmick to me and not something I would bother using in place of the controller.
The air has a suite of impressive shooting modes which are simple to use and provide some truly impressive results. My favorite is 'Asteroid', which starts by focusing on the pilot from just above head height. Describing what this does is tricky - it's a bit like zooming out quickly on Google Earth - so I have included an example below. Shooting this was a case of hovering nearby, tapping 'Asteroid' in the app and leaving the drone to fly about shooting all of the imagery it needs for a couple of minutes, before returning to where it started.
These are then stitched together into one smooth video, ready to be downloaded onto your computer. Simply put, it's an awesome feature which neatly shows off how impressive drone technology is - and where your $800 has gone.
Also impressive, although in a heart-stopping kind of way, is the Air's ability to faithfully come back to exactly where it took off from. I had to use this in a panic just once, when I recklessly flew the drone into a cloud and out of visual sight. The video stream to my iPhone then failed, meaning I no longer knew exactly where the drone was. To make matters worse, the app told me it had lost contact with the drone. I began walking towards where I thought it was, and once I had passed my parked car the signal mercifully returned. I immediately hit the land button and the Mavic Air faithfully returned.
[MG5DRH1523477580]
My understanding is that, despite being stood on the top of a hill and in the middle of nowhere, my car had got in the way of the signal - a simple oversight. Thankfully, when signal is lost the drone hovers in one place until its dimwitted pilot comes closer.

DJI claims a flight time of 21 minutes at a constant 25km/h, or 20 minutes of hovering with no wind. In reality - and on a blustery weekend with freezing temperature - I found 15-17 minutes to be closer to the mark, and a bit less when flying in sport mode. But, as you become more familiar with the DJI Go app and its many settings and features, you will waste less time hovering and setting things up, and more time flying and shooting video. Extra batteries can be purchased for $89 each and swapped in a matter of seconds.
DJI Mavic Air review: Camera quality
The Air's 1/2.3-inch CMOS sensor is smaller than the Phantom 4 Pro's one-inch offering, so image quality is naturally going to be reduced. But 4K video still looks impressive, and so too do the Air's 12-megapixel photos.
The unrelenting grayness of a British Easter weekend meant I wasn't able to fly the Mavic Air in bright, sunny conditions. As a result, the footage lacks vibrancy and sometimes looks rather dull and monochromatic. This is partly down to the weather and partly down to the Air's camera not being as capable as the Phantom 4 Pro's. To help counter this, ISO levels can be manually increased and images can be shot in RAW to give you more headspace for improvements in the edit suite afterwards.
It's still a very good camera for its size, but needs better weather to really thrive.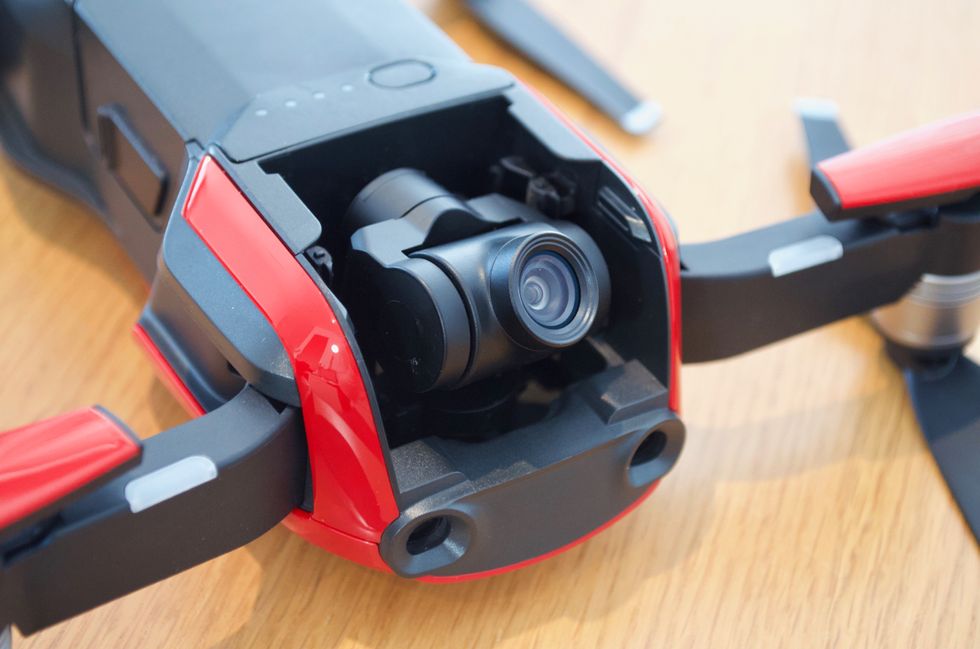 Three-axis gimbal keeps the 4K camera stable during flightGearBrain
The three-axis gimbal does an great job of keeping the camera steady, even when the wind picks up and the drone is accelerating and changing direction quickly. The result, as with the larger Phantom series, is that sometimes it's hard to tell if the recorded footage has been paused, or if the drone really is hovering perfectly in place - it's that stable.
However, reviewing footage shot on the Mavic Air, I found a couple of occasions (over the course of an hour or so of flying in different locations) the camera would tilt drastically to one side, then take a couple of seconds to right itself. This only happened when suddenly changing direction at high speed, but is something for pilots to be aware of.
Thankfully, and unlike with the Phantom series, the Mavic Air's rotors do not make a cameo appearance on camera when quickly changing direction.
I found exposure levels weren't as quick to automatically adjust as they are on the smartphone cameras we are all used to, so while the Air is perfectly adequate for most users, pilots wanting truly professional quality footage will want to up their budget to the $1,200 DJI Phantom 4, or even the $2,000 DJI Inspire 2.
The Air has 8GB of internal storage, but shooting at full quality will see this filled twice over during each 18-20 minutes flight. Thankfully there's a microSD card slot to boost storage.
DJI Mavic Air review: Verdict

Drones are certainly not cheap - especially if you don't have a specific purpose in mind for yours - but they are incredibly smart pieces of technology. The DJI Mavic Air is no exception. It is an incredible feat of engineering to design something so small and compact, but which has such high levels of performance.
It can fly at over 40mph, has a stabilized 4K camera the size of a thimble, can avoid flying into objects, and is capable of producing awesome visual effects with the tap of a smartphone screen. The Air's portability is hugely impressive, and so too is its performance despite its small size.
For hobby drone pilots wanting the best compromise between size and performance, the Mavic Air is the drone to get.
Pros:
Very portable
Stable in flight
Great range of autonomous flight and photography modes
Cons:
Noisy
Battery life a limiting factor
Camera exposure can be slow to adjust
Like GearBrain on Facebook