You don't need us to remind you of how artificial intelligence has an almost unlimited range of uses. From automated photograph correction on your smartphone, to the voice of your smart speaker, AI is becoming an evermore valuable part of our lives.
But while those applications are fun, useful and rarely worth a second thought, AI has a more serious side. The latest use of AI to fall into this category is described in a paper called Eye in the Sky, written by researchers who have created a system for drones to identify potential acts of violence in a crowd.
Read More:
The premise of the technology is fairly simple. AI is loaded onto a simple, shop-bought $200 drone equipped with a camera, giving it the ability to scan crowded areas - at a protest, for example, or as opposing fans spill out of sports stadium - and spot acts of violence, like punching, kicking, strangling, stabbing and even shooting.
In theory, this could help security or law enforcement find the guilty party more easily, and the footage could end up being used as evidence against them.

The technology has been developed by researchers from the University of Cambridge, England, as well as the National Institute of Technology in Warangal, India and the Indian Institute of Science in Bangalore, India. The system uses "human pose estimation" to spot acts of violence...The system detects the violent individuals in real-time by processing the drone images in the cloud."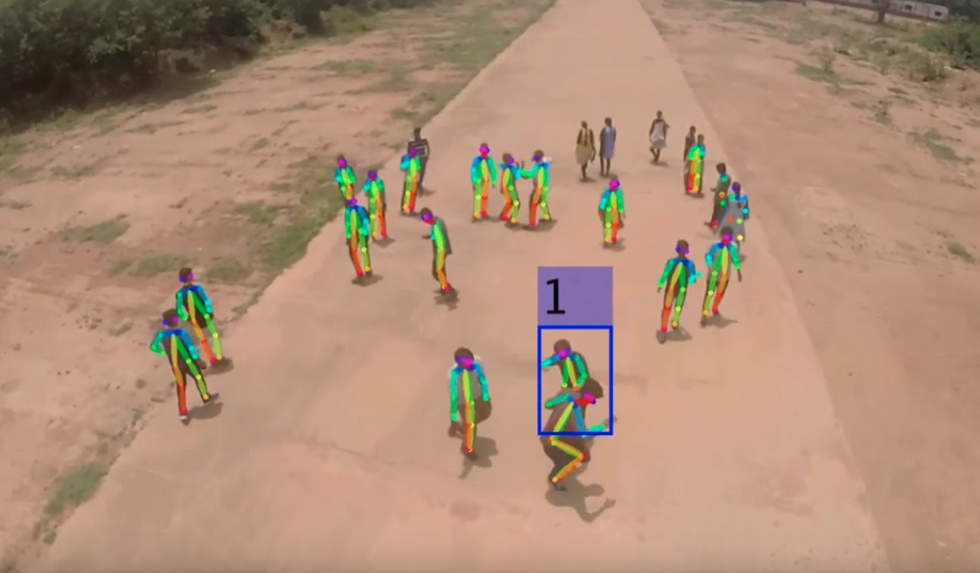 AI identifies violent act between two peopleAmarjot Singh
Researchers explain how such a system could supplement existing drone-based technologies used to spot abandoned objects, theft, and fire or smoke.
The headline figures are promising; 94 percent accuracy when asked to identify violent poses. But these poses are only the five we mentioned earlier - punching, kicking, strangling, stabbing and shooting - and if just 10 people are in the frame at once, accuracy tumbles to 79 percent. Additionally, the violent acts correctly identified were performed by researchers themselves, spaced out across the scene and using exaggerated movements to give the AI a helping hand.
For the next stage of its development, researchers intend to fly their drone across two festivals in India as a test.
Looking further forward, the researchers are confident of the potential for their surveillance system. They conclude: "This framework will be instrumental in detecting individuals engaged in violent activities in public areas of large gatherings."