In what is believed to be a world-first, a drone has been used to save the lives of two swimmers who got into difficulty off the coast of New South Wales, Australia, this week.
While trying the new technology, a lifeguard noticed the teenagers struggling in rough seas on January 18. The lifeguard sounded the alarm and a drone pilot picked it up, launching the unmanned vehicle to fly over to the two boys.
The drone then dropped a flotation device for them to hold onto, helping them make it back to the beach.
You can watch a video, shot by the drone, of the rescue mission here.
The drone, a Stellar X1000 called the Little Ripper, is part of a $16 million shark mitigation strategy, and as well as being able to drop flotation devices, it uses a downwards-facing camera and artificial intelligence to spot sharks. The A.I. claims to have a 90 percent success rate at correctly identifying sharks, compared to 16 percent accuracy for lifeguards on the beach.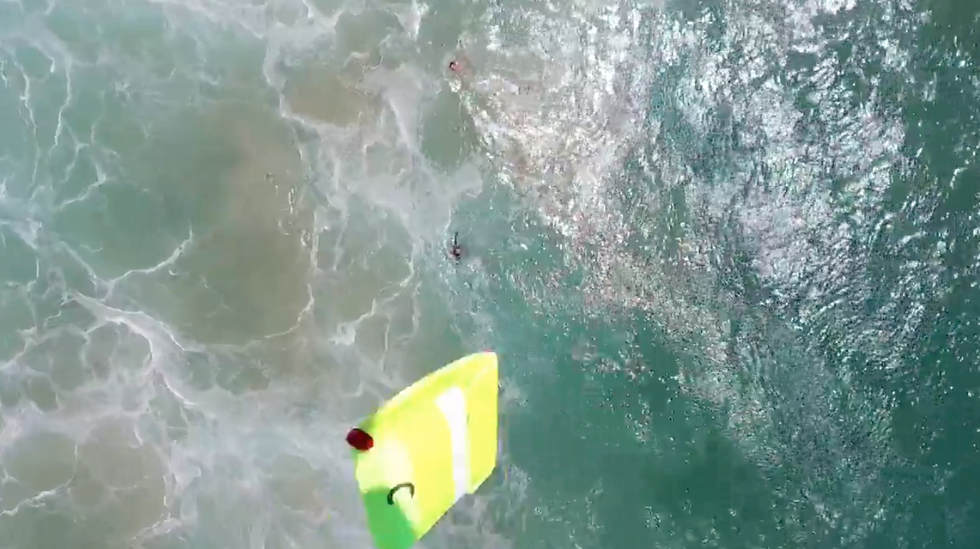 This is the moment the drone dropped a flotation devicesLittle Ripper UAV
Lifeguard supervisor Jai Sheridan told the Sydney Morning Herald: "The Little Ripper UAV certainly proved itself today, it is an amazingly efficient piece of lifesaving equipment and a delight to fly."
"I was able to launch it, fly it to the location, and drop the pod all in about one or two minutes," added Sheridan. "On a normal day that would have taken our lifeguards a few minutes longer to reach the members of the public."
In December 2017, the New South Wales government announced it would invest $430,000 in drone technology as part of a trial on the North Coast of NSW. Deputy Premier for the region.