With its fleet of high-performance supercars, Dubai police force is already known for being unlike any other. But now they've upped the stakes, showing off a criminal-chasing hoverbike straight out of "Star Wars."
Called the Hoversurf Scorpion, the hoverbike was just revealed at the Gitex Technology Week conference and used by officers responding to emergencies made inaccessible by bad highway traffic.
According to Gulf News, the electric hoverbike can fly for 25 minutes per charge, carry 300kg, and has a top speed of 44 mph.
Although the bikes might seem like a publicity stunt, so-called flying cars are expected to be the next big thing in city-center travel. Uber wants to launch such a service by 2020. And with Dubai planning its own personal flying car network as early as next year, it isn't surprising to see law enforcement staying one step ahead.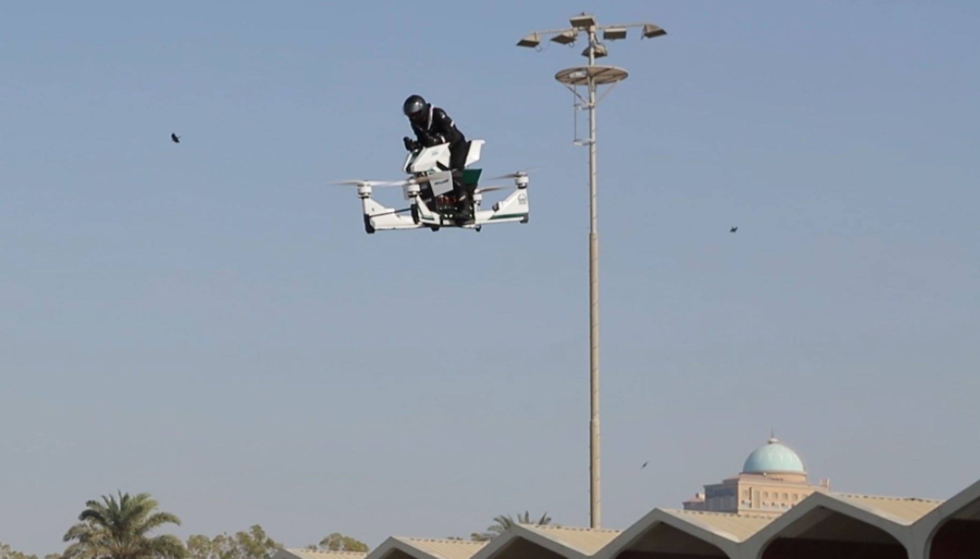 The police hoverbike can fly at up to 40mphAlexander Atamanov via Facebook
Alexander Atamanov, chief executive of Russia-based Hoversurf, says his company and the Dubai police force have signed an official memorandum of understanding, with an invitation to start mass producing the hoverbike in Dubai. They also have support of local authorities.
Dubai Police also revealed a new electric motorbike — this time with conventional wheels — but still looking suitably sci-fi. The cycle features eight cameras to shoot video and take photos of any law-breaking vehicles, and has a top speed of 124 mph.
Finally, Dubai is pushing out an unmanned police robot the size of a shopping cart to patrol tourist destinations across Dubai. The device uses artificial intelligence to identify suspicious packages and track suspects.
After an initial testing phase, the three vehicles will join a police force which boasts supercars from McLaren, Audi, Bugatti and Lamborghini, autonomous pursuit drones and robotic police officers.