Elon Musk published the first photo from inside the tunnel his new company's digging beneath Los Angeles. He also revealed where the private construction project will go next.
Constructed by The Boring Company, the tunnel is currently 500 feet long, Musk says, but the goal is to hit two miles by the end of February.
The billionaire entrepreneur says the tunnel will eventually stretch the entire length of the San Diego Freeway, or the 405, heading north from Los Angeles International (LAX) airport, following the route of the 405 towards the 101, the freeway that runs through the San Fernando Valley. Musk hopes the tunnel will reach the 101, approximately 18 miles away, "in a year or so".
The Boring Company began its tunnel as an experiment in the car park of Musk's rocket manufacturing company, SpaceX, located close to LAX. The city of Hawthorne then gave Boring Company permission to keep digging, extending the tunnel from 160-feet to a two-mile stretch under 120th street and towards LAX.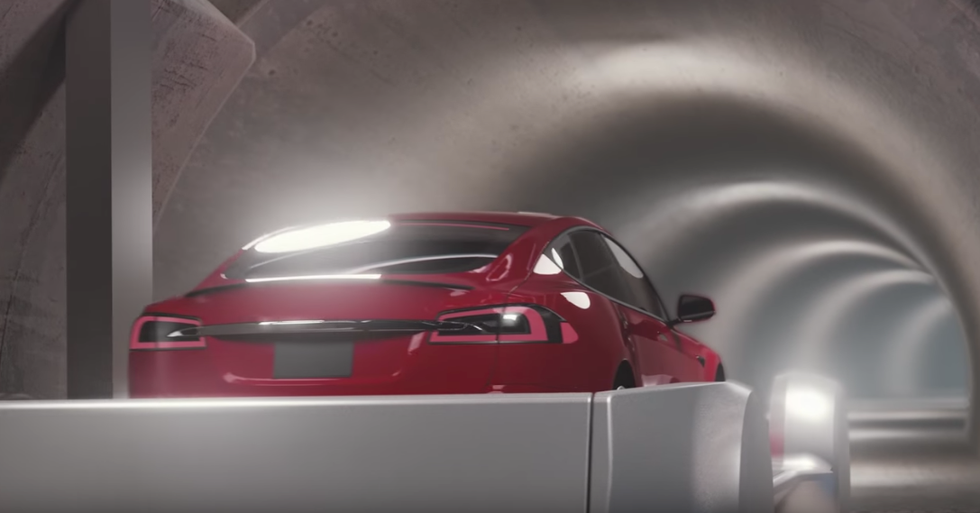 Cars will be fired through tunnels on electric sledsThe Boring Company
Musk, who is also chief executive of electric car company Tesla, plans to build a network of tunnels beneath Los Angeles. They would be accessed via a series of car lifts, lowering vehicles into the tunnel then shuttling them along a sled at up to 120mph, before lifting them back out at the driver's destination.
The plan is for the electric sleds to be powered by Tesla, although it isn't clear for now if the service would be exclusive to Tesla drivers or available to everyone. Musk came up with the idea while sat in LA's notoriously bad traffic in late 2016. "Traffic is driving me nuts. Am going to build a tunnel boring machine and just start digging," he tweeted in December. "I'm actually going to do this" he said two hours later.
In building the tunnels, Musk hopes to increase the current speed of tunnel boring by a factor of 10.
As well as tunnels for car sleds, Musk is using The Boring Company to construct tunnels for the hyperloop, an 800 mph magnetic-levitation train the executive revealed plans for back in 2013. The Boring Company recently started work on a hyperloop tunnel between Baltimore and Washington DC.