Like GearBrain on Facebook
Elon Musk's Boring Company gave its first passenger rides on a 1.14-mile test tunnel beneath Los Angeles this week, and while the execution didn't quite live up to the computer-generated hype, the system has potential.
Despite Musk previously saying the tunnels built by The Boring Company would use electric pods on skates to whisk passengers and vehicles across cities at 150 mph, the reality is instead a Tesla Model X with some deployable guide wheels.
Read More:
Similar to those used by buses to navigate dedicated lanes, the guide wheels (which are fixed into position for now and not the final product) sit horizontally and run up against the flat edges of the tunnel, keeping the car heading in the right direction.

"It was a surprisingly bumpy ride," said Electrek, adding that despite the claimed top speed of over 150 mph, the test ran at a more pedestrian 35 mpg. But, this being Los Angeles, such a speed could still save time compared to using the congested roads above.
TechCrunch, who also tried out the demonstration tunnel, said it "delivered a bumpy-ish ride on occasion. Musk later explained that this was because they had some trouble with the paving. A system for the public would be much smoother, he said."
The Boring Company had previously published computer-generated videos showing how a fleet of electric pods would be used to shuttle passengers - including pedestrians and cyclists - and cars through the tunnels.
Now, having decided this would be too complex, the plan is to have Tesla vehicles run constantly through the tunnel, driving out at one end, then along normal roads back to the start. These vehicles would be used for pedestrians, but Musk also says that other car manufacturers can adapt their vehicles for use in the tunnel, providing they are electric and capable of starting and stopping autonomously.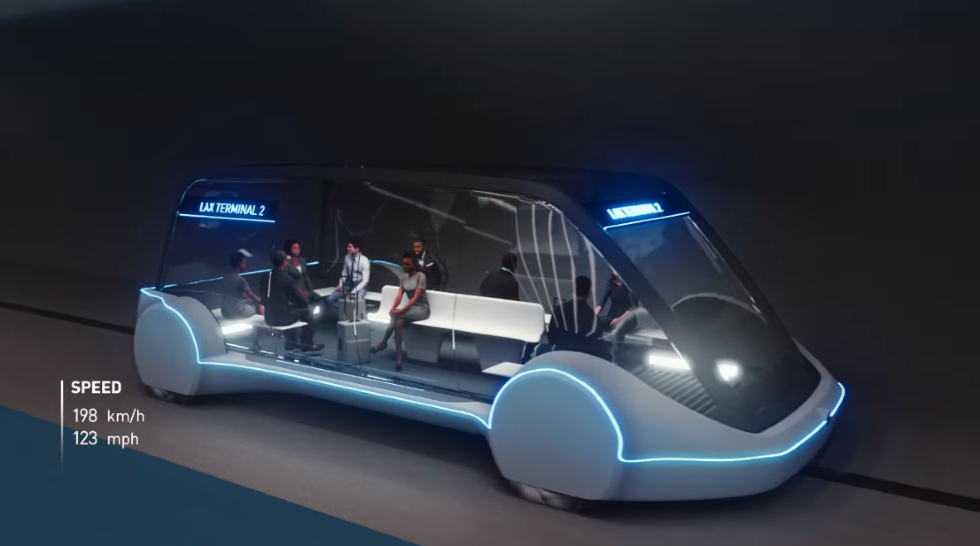 Electric pods on skates were ditched due to being too 'complex'The Boring Company
With no need for autonomous steering - the guide wheels take care of that - this potentially means any electric vehicles with radar cruise control capable of handling stop-start traffic should work in the tunnel. Musk added that the guide wheels could one day be offered as a $200-$300 aftermarket addition for other vehicles.

Musk said on Twitter during the launch event on Tuesday evening: "This [guide wheel system] can be applied to any autonomous, electric vehicle, not just Tesla. Capable of traveling safely at over 150mph. At that speed, it will feel like teleporting within a city. The demo ride takes you in [the] same car on road, down elevator, zips through tunnel using guide wheels, up elevator at destination and then drives on normal roads back to start."
The entry and exit point can be the size of two parking spaces, Musk claims, with the potential for many to be dotted around a city. They would lower cars into a 3D network of tunnels constructed at different depths; as previously explained, smaller, slower tunnels would feed into larger, faster ones for covering greater distances. Musk said at the demonstration event how they could eventually take passengers to a hyperloop system, but did not expand on this.

What he likely means here is that these tunnels would lead to a hyperloop station, where passengers would disembark, then step aboard a hyperloop train, which runs in a near-vacuum tunnel and capable of around 700 mph.
While a Tesla-powered underground transport system will always create headlines, what's of equal interest is the boring machines being developed here. The Boring Company's next challenge is to create a machine capable of delivering a 15-fold cost saving, according to Musk. The company is aiming to triple the current speed of boring, and build a machine which can simultaneously bore and install reinforcement sections at the same time.
From Your Site Articles
Related Articles Around the Web
Like GearBrain on Facebook