Like GearBrain on Facebook
What began as a throwaway tweet about awful Los Angeles traffic has turned into a genuine effort to build an entirely new subterranean transportation system — only one where passengers pay $1 to travel between dozens or even hundreds of tiny stations at 150 mph.
At least that is Elon Musk's grand plan for his newest business venture, The Boring Company. The idea is to combine elements of his hyperloop plans with a revolution in tunnel building technology to help get commuters across town — either on foot or in their cars — far more quickly than is currently possible.
Read More:

Dubbed a "personalized mass transit" system, the so-called Loop (as opposed to hyperloop) is intended to carry up to 16 passengers in an electric capsule driven through a huge network of underground tunnels, in some places many layers deep.
The capsules will be lowered from parking spot-sized stations at street level, then raised again at their destination, The Boring Company says. Capsules will join an underground highway, travel at high speed across the city, then split off along one of many tributaries, delivery passengers closer to their destination than today's trains or buses.
Shedding more light on the grand plan, Musk broadcasted a discussion with Steve Davis, director of The Boring Company, on May 17 in Los Angeles, Calif. They claim the Loop system could transport passengers from downtown Los Angeles to the Los Angeles International Airport in just eight minutes. The Boring Company has previously published animations showing how sleds can also be used in these tunnels for transporting cars at over 100 mph.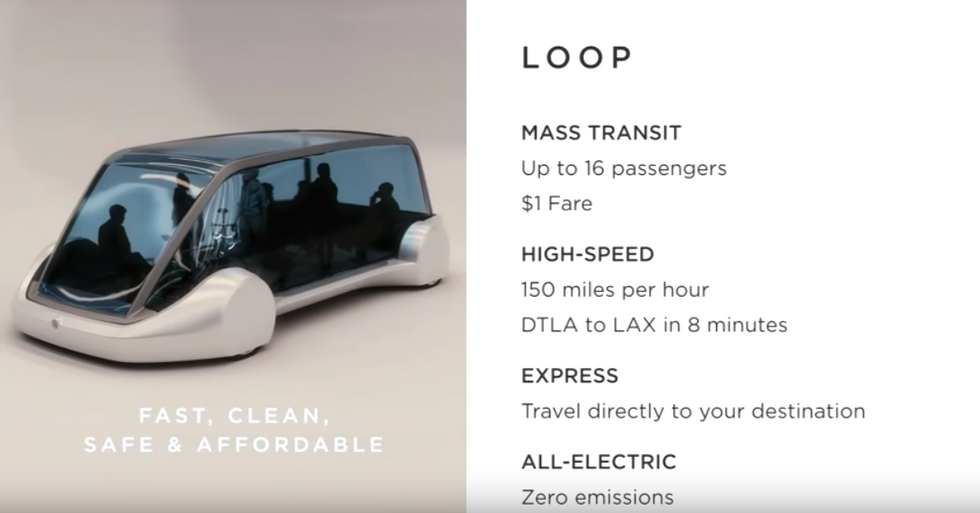 The Loop vehicle is claimed to travel at 150mphThe Boring Company
Before then — likely many, many years before then — the company plans to construct a 2.7-mile test tunnel parallel to the 405 Freeway. Although this tunnel will not carry the general public, Musk said those interested in what he is doing could go for a test ride. For now, Musk and The Boring Company are experimenting with a test tunnel dug beneath the campus of SpaceX, his rocket company in Hawthorne, Calif.
Key to making any of this a reality is finding a way to dramatically speed up current tunnel boring methods, and to make excavation cheaper. Currently, tunnels like those Musk wants are bored at about 0.003 mph, and between 15 and 20 percent of the construction cost is taken up by moving dirt displaced by the tunnel.
Musk wants to increase this tenfold, to 0.03 mph, the same speed as the company's mascot, Gary the snail (yes, really). "If we can [find a way to] dig continuously and put the reinforcing segments in at the same time, that would be more than a doubling of speed, maybe a tripling or quadrupling of speed," Musk said this week as he spoke at the community meeting held in the Leo Baeck Temple, in the Bel-Air neighborhood of Los Angeles. He feels that the problems are "not brain surgery...pretty straight forward."

The second half of the equation is lowering costs, and Musk plans to achieve this in part by turning the displaced dirt into reinforcing segments to hold up the tunnel, and into bricks. Built on-site at the start of the tunnel, these bricks are made from compressing the waste dirt and adding a small amount of concrete. Musk said the bricks are "rated for California seismic loads" and could be "sold for 10 cents a brick, or something like that."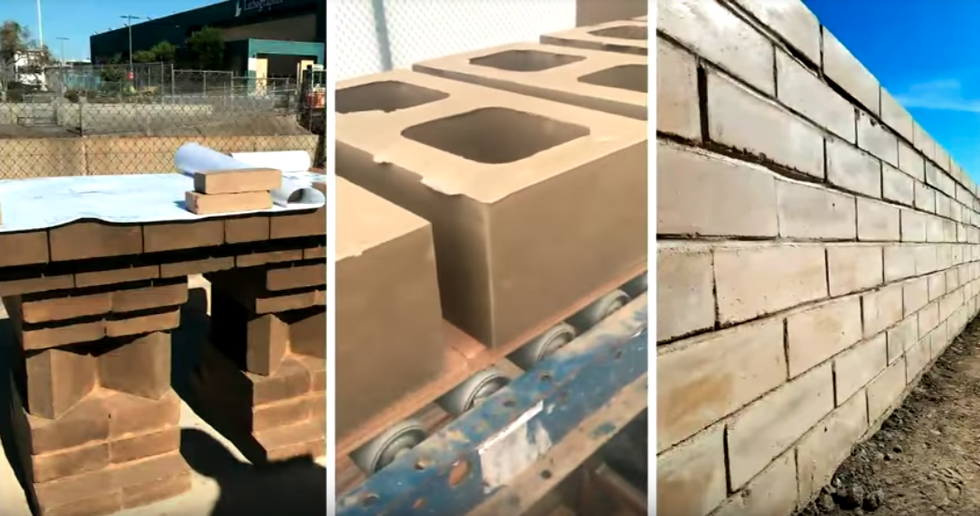 Bricks produced from dirt excavatedThe Boring Company
Musk really likes these bricks. "They're really great bricks," he said, adding: "You can like, build houses with them and things...these are way better than cinder block because cinder block is not that strong, and rough and grainy. These are super-strong...they're incredibly smooth...these bricks are way better than any bricks I've ever seen at a construction site, they're capable of taking extremely high loads." The Boring Company's director Davis also said the bricks have a "higher compression strength" than concrete during the presentation.
"We're going to do some fun things," Musk said. "Like make full-size Lego kits, where you can order a set and build anything. I'm thinking of starting with the Egyptian Pantheon...If you want you could order the kit and build this in your backyard and it seems like a fun thing you could do with an afternoon." With the audience laughing, Davis added: "You told us to build a pyramid. We're building a pyramid and a temple for you."
For transporting excavated dirt to the surface, the company is using a locomotive powered by Tesla Model 3 batteries and motors, instead of diesel, which uses two motors to carry 250,000 pounds of dirt, something the company believes is a world-first.
Another issue with boring long tunnels is the need to power the boring equipment with long and heavy high-voltage cable. To solve this, Musk and his team are working on making boring machine "like a cordless drill" with Tesla battery packs and motors.
While this all seems fairly simple in theory — simpler than Musk's plans for taking humanity to Mars, at any rate — there are a lot of legal hurdles to overcome. Musk claimed there are still "600 pages" of permit applications to complete to build the 2.7-mile test tunnel, and that such a process can sometimes take between one and two years. However, the state of California seems to be on his side and willing to be as accommodating as possible.
A
tweet
from Metro, the Los Angeles County Metropolitan Transportation Authority, published on the evening of Musk's presentation read: "Metro leadership with CEO Phil Washington had a great meeting today with the talented staff of the @boring_company. They will coordinate with is as they move ahead with their proof of concept tunnel under Sepulveda Boulevard to ensure it doesn't interfere with out Sepulveda Transit Corridor rail project. We'll be partners moving forward."
Like GearBrain on Facebook