Neuralink, the secretive startup run by Elon Musk, stepped out of the shadows this week and announced its plans to create a telepathic link between computers and the human brain.
Hosting an event at the California Academy of Sciences in San Francisco, Musk spoke of his plans for implanting a device in the human brain which would enable wireless communication with computers.
Read More:
Founded in 2017, the goal of Neuralink is also to fight off what Musk has previously described as an existential threat posed by artificial intelligence. The company has received $158 million in funding and has 90 employees.

Outlined in a 12-page white paper, the goal of Neuralink is to implant a device in the brain of a paralyzed human which would enable them to control a computer or smartphone. Musk said: "I think this is going to be important at a civilisation-wide scale," adding: "Even under a benign AI, we will be left behind. With a high bandwidth brain-machine interface, we will have the option to go along for the ride."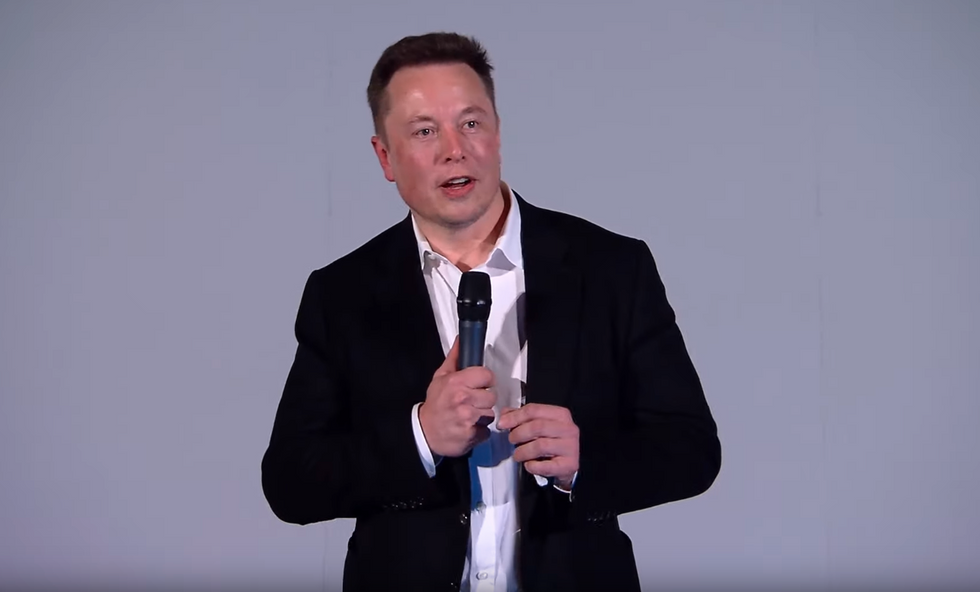 Elon Musk speaking on stage during the Neuralink presentationNeuralink
Although brain-machine interfaces are not new, the company has produced a flexible thread that is less likely to damage the brain than materials currently used in this way. These threads are between four and six microns thick, much thinner than a human hair, and can transfer more data than existing technologies. It is claimed the Neuralink hardware has 1,000 times more electrodes in contact with the brain than devices currently used by humans.

Musk hopes to seek FDA approval for a human clinical trial in 2020. Neuralink said these first trials would focus on patients with complete paralysis due to upper spinal cord damage.
Another difference between what Neuralink plans to do, and what is possible today, is to use a high-power laser beam to get through the patient's skull, instead of drilling holes. Before then, the company says it will use a "sewing machine-like" robot to implant the thin threads into the brain.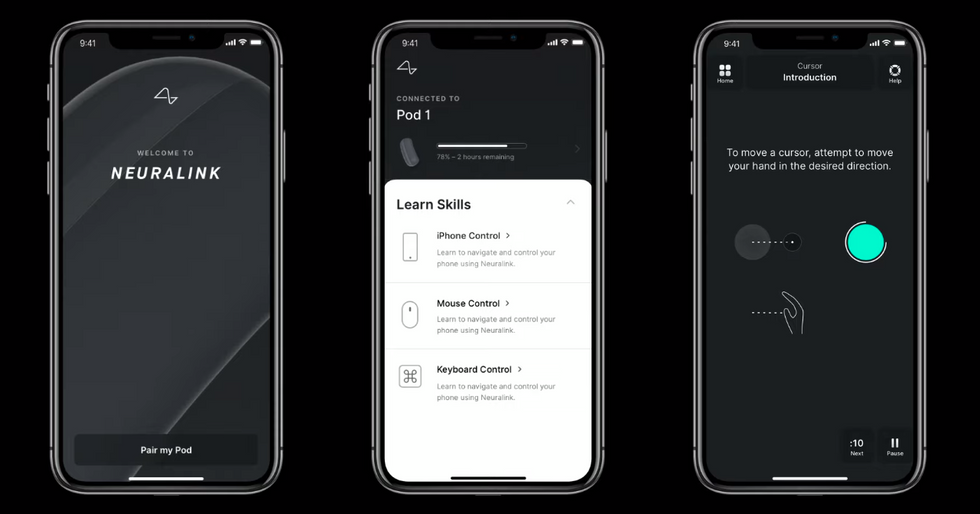 Images suggesting what a Neuralink iPhone app could look likeNeuralink/MetaLab
According to an exclusive report on Neuralink by the New York Times, experiments will be done with neuroscientists at Stanford University soon. Musk said: "We hope to have this in a human patient by the end of next year."

Musk, along with Neuralink president Max Hodak, gave a 90-minute presentation about the company and what it has achieved to date. They said the main reason for the presentation was to recruit new scientists to help them achieve their telepathic goals.
During a demonstration given to the NYT before the presentation, Nueralink showed a system connected to a laboratory rat reading information from 1,500 electrodes. This is 15 times better than systems currently embedded in human brains.
Acknowledging that testing on animals is a sensitive topic, Musk added during a Q&A session: "We definitely need to address the elephant in the room, the monkey in the room. A money has been able to control the computer with his brain. Just, FYI." It appeared that Hodak was not aware that Musk was going to make this announcement, and there is no mention of monkeys in Neuralink's white paper.

Humans speaking telepathically to computers may feel like science fiction - and with Musk at the helm, some creative license is to be expected. But the starting point Neuralink is taking is grounded in reality. Hodak said the startup and its technology "didn't come out of nowhere, there's a long history of academic research here". He added that the company is "building on the shoulders of giants".
7 Tips Everyone Needs to Know About How to Use Amazon Alexa and Google Assistant Enabled Devices www.youtube.com