Just a few days after it revealed its first electric truck, Ford has today added a second model to its F-150 Lightning family.
Called the Lightning Pro, this truck is intended for commercial customers and is priced from $39,974 for the standard model with an estimated 230 miles of range. An extended-range version with a larger battery pack, higher power output and superior towing capability has an estimated range of 300 miles and will start at $49,974.
Read More:
Both versions of Lightning Pro have two motors and all-wheel-drive. The regular model has a power output of 426 horsepower, while the extended-range version increases this to 563hp. Towing capacity is also increased with the extended-range model, from 7,700 pounds to 10,000 when both are equipped with the optional Max Trailer Tow package.
This is a smart move by Ford to target the commercial market. Until now, rival trucks like the GMC Hummer, Rivian R1T and Tesla Cybertruck have been aimed primarily at the consumer market. Ford will no doubt expect to earn a lot of business from companies looking to electrify their commercial fleets over the coming decade, either because legislation forces them too, or they see the cost benefits of switching from gas to electricity.
On that note, Ford says the Lightning Pro could have maintenance costs that are 40 percent lower over eight years and 100,000 miles compared to its 2.7-liter EcoBoost version of the F-150 truck.
Available from spring 2022, both models of Lightning Pro include an 80-amp Ford Charge Station Pro, which when combined with the onboard dual chargers means the battery can be filled using Level Two AC charging instead of needing a DC connection.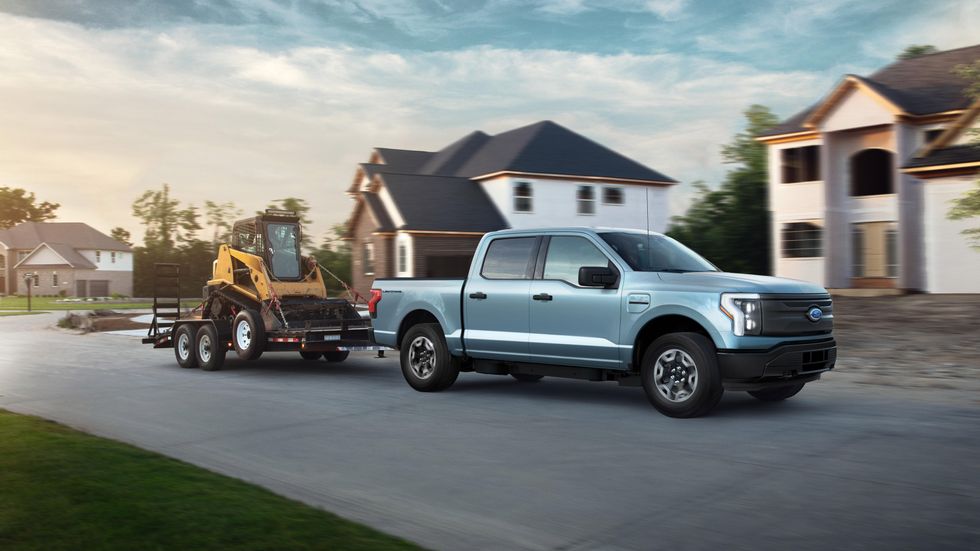 The commercial electric truck is priced from $39.974Ford
The truck also features a cavernous and water-resistant frunk (front trunk) with 14.1 cubic feet of storage and electrical outlets for powering tools and other devices. Further to this, there is an optional 240-volt outlet in the bed.

Although physically very similar to the consumer-facing F-150 Lighting, the Pro comes with Ford's commercial telematics software. A free addition, Ford explains how the digital fleet planning tool "calculates a variety of factors including purchase and lease cost, federal and regional tax incentives, and regional fuel and energy costs."
The software is designed so that commercial fleet managers can check on the location of their trucks, as well as the charging status and overall health of the vehicle.
Together with its electric Transit van, Ford has a string duo of commercial electric vehicles coming in the next year. We will be interested to see if other electric truck companies like Rivian, GMC and Tesla counter this move by Ford and make commercial EVs of their own.
Home Level 2 Electric Vehicle (EV) Charger. Delay Start to optimize Utility Rates. 240V, 30-AMP, 18 Ft Cord. Charges All EVs Including Tesla. SAEJ1772
GearBrain www.youtube.com