Like GearBrain on Facebook
American electric vehicle startup Rivian has revealed plans to build its own charging network across the US.
Following in Tesla's footsteps, the Rivian Adventure Network will feature more than 3,500 fast chargers at over 600 sites across the US by the end of 2023. These chargers will be powered by entirely renewable energy and add up to 140 miles of range to Rivian's vehicles in 20 minutes.
Read More:
The chargers will work with the Rivian R1T pickup truck and R1S SUV, both of which are currently in development. Like Tesla's Supercharger network, the chargers simply need plugging into a Rivian vehicle, then the driver is automatically billed based on how much energy they use.
Also like Tesla, the navigation system of Rivian cars will include charger locations and integrate them when route-planning. Rivian says its fast chargers will offer a rate of 200kW initially, with over 300kW promised in the future. For context, Tesla's latest V3 Supercharger can deliver power at up to 250kW, while Electrify America promises up to 350kW, although for now the fastest-charging car is the 270kW Porsche Taycan.
These DC fast chargers will mostly be located on highways and main roads, often by cafes and shops. But Rivian also wants to encourage its customers to drive further afield, and as such there will be some fast chargers in more remote locations. The map below shows where Rivian plans to install its fast chargers between now and the end of 2023.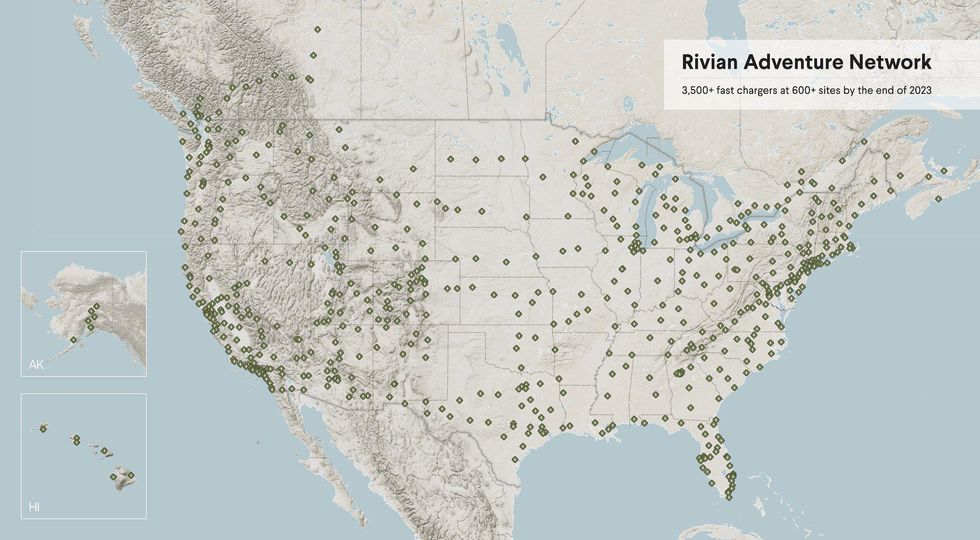 Map of the proposed Rivian Adventure Network of electric car chargersRivian
The company said: "Los Angeles to Tahoe. Manhattan to the Adirondacks. San Francisco to Seattle. I-70 to The Rockies. Michigan's UP via I-75. California's Hwy 395. The entire Blue Ridge Parkway from Shenandoah National Park down to Great Smoky Mountains National Park. All these routes and more will begin opening this year."

Rivian also announced this week a network of slower chargers, called Rivian Waypoint. These work like Tesla's Destination Chargers and are designed to be used when parked up for a long time. Rivian says these will be located across the US and Canada, at locations like shopping centers, restaurants hotels, campsites and parks.
These will be Level 2 AC chargers with an 11.4kW charge rate capable of adding up to 25 miles of range per hour. Over 10,000 of these chargers are to be installed through 2023, with the first locations being all 42 Colorado State Parks, which will have two Waypoints each, starting in July 2021.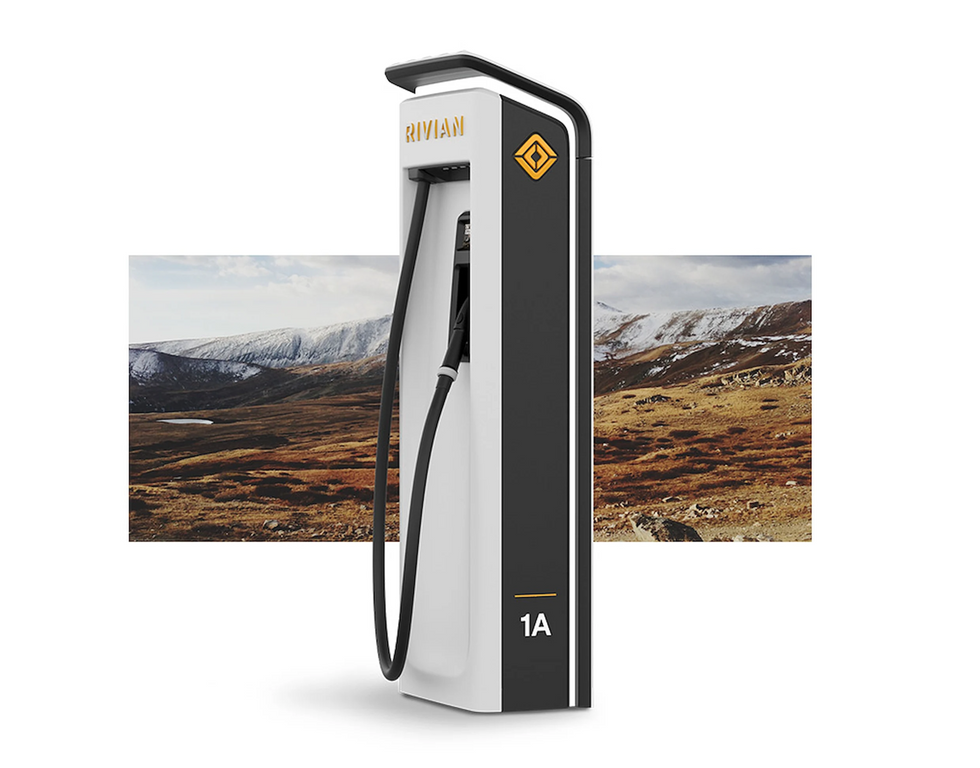 Rivian's DC fast charger can add up to 140 miles of range in 20 minutesRivian
Finally, Rivian has announced its own home charger, called the Rivian Wall Charger. This is to be fitted in the garage or at the side of a Rivian driver's home, and is capable of delivering up to 25 miles of range per hour. They can fill a Rivian car from almost empty to full overnight, and can be bought when ordering a Rivian vehicle.

Rivian's approach here is the right one to take. As much as we would like to say electric car drivers can trust the public charging network, Tesla still provides the best network, and Rivian's taking the same approach makes perfect sense – at least until networks like Electrify America and Europe's Ionity can match the scale, speed and reliability of the Tesla Supercharger and Rivian Adventure networks.
BougeRV Level 2 EV Charger (240V, 32A, 25FT) Portable EV Charging Cable EVSE Electric Vehicle Charger with NEMA 14-50P
From Your Site Articles
Related Articles Around the Web
Like GearBrain on Facebook