Like GearBrain on Facebook
When Ford revealed its first mass-production electric car, the Mustang Mach-E, back in November 2019, it said a quicker and sportier GT model would come later.
Now we know more about that car, how in fact there will be two versions of Mach-E GT, and all-important details like its price and performance.
Read More:
Here is a quick look at how the new, quicker versions of the Mach-E compare to the regular model.
Ford Mustang Mach-E GT vs Regular Mach-E: Range
There are multiple versions of the regular, non-Performance Mach-E, including the Select, Premium, California Route 1 and First Edition.
These cars have an EPA range of between 211 miles for the dual-motor Select and Premium models, to 230 miles for the single-motor, rear-wheel-drive versions, 270 miles for the Premium and First Edition, and 300 miles for the California Route 1 model.
By comparison, the more powerful GT and GT Performance versions have an estimated EPA range of 250 miles and 235 miles respectively. As is usually the case for electric cars, the quicker models have a shorter range. Both GT models have the same larger 88kWh battery pack as the Premium, California Route 1 and First Edition, while the Select and Premium cars, in single- and dual-motor configuration, have a smaller (but lighter) 68kWh battery.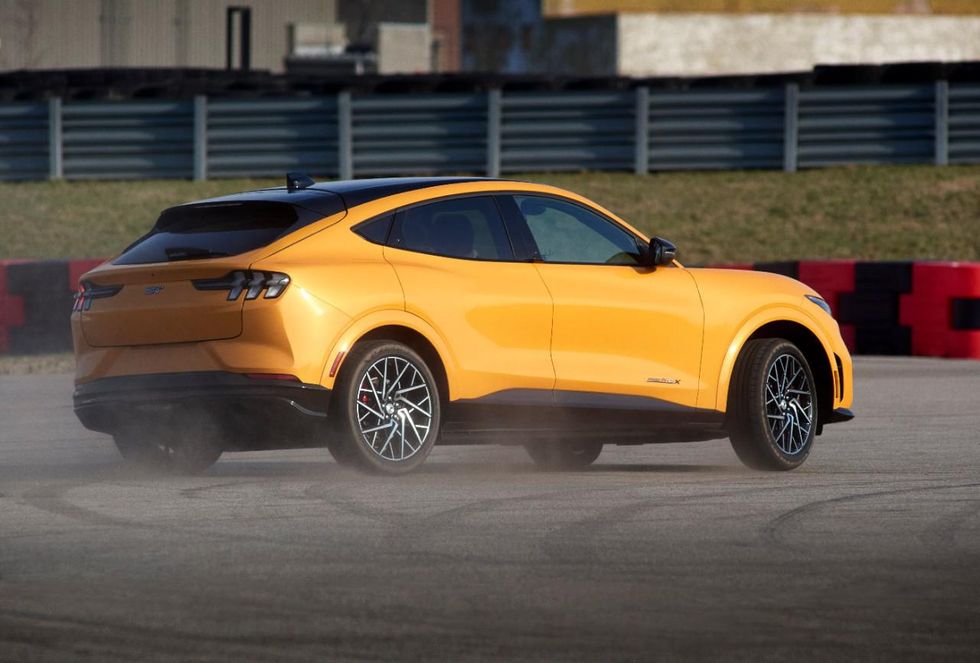 The Mach-E GT has a new Unbridled Extend mode for track useFord
Ford Mustang Mach-E GT vs Regular Mach-E: Performance

The longest-range Mach-E also has the slowest acceleration, due to having just a single motor driving the rear axle instead of two motors powering an axle each. This results in a 0-60mph time for the California Route 1 of 6.1 seconds; still spritely for an SUV, but some way short of its stablemates.
Next up is the single-motor Select and Premium versions, which have a sprint time of 5.8 seconds, followed by the dual-motor versions at 5.2 seconds. The Premium and First Edition take that time down to 4.8 seconds, while the GT and GT Performance are significantly quicker, posting 0-60mph times of 3.8 and 3.5 seconds respectively. The Performance gets its extra speed from an increase in torque from 600 lb-ft to 634 lb-ft.
The Ford's acceleration is slightly short of the 3.2 seconds of a Tesla Model 3, but still phenomenally quick for a family SUV.
The top speed of an electric car is often less impressive than their acceleration, and for the Mach-E it's a similar story. All models apart from the GT and GT Performance have a top speed of 112mph, while the GT duo can reach 124mph.
Ford is keen to point out how the Mach-E GT has the same 480 horsepower output as the gas-powered Mustang Mach 1 coupe.
Ford Mustang Mach-E GT vs Regular Mach-E: Price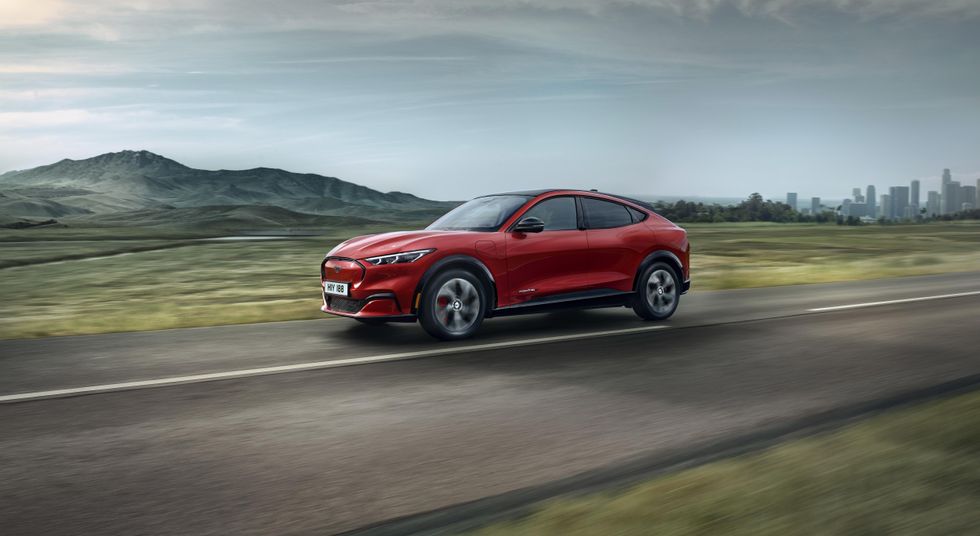 The regular Ford Mustang Mach-E is priced from $43,000 Ford
The Mach-E collection starts at $42,895 for the single-motor Select version, rising to $49,700 for the dual-motor Mach-E Premium. Stepping up to the larger battery pack, the single-motor California Route 1 starts at $49,800, the Premium is $54,700 and the First Edition is $58,300.

The Mach-E GT is priced from $59,900, slightly less than Ford's original estimate of $60,500, The Mach-E GT Performance starts at $64,900.
Ford Mustang Mach-E GT vs Regular Mach-E: Other differences

As well as being quicker and more powerful than the rest of the Mach-E range, the GT and GT Performance benefit from illuminated pony badges, a black front grille, Ford Performance front seats, MageRide suspension and a new drive mode called Unbridled Extend.
Building on the Unbridled mode of the regular Mach-E (known as Untamed outside of the US), Ford says how the new mode is "a track- and closed course-only mode extension for more performance-oriented traction and stability control, including a revamped interior sound."
Other changes unique to the range-topping GT Performance include 20-inch machined-face aluminum wheels with high-gloss black details and aero covers, plus red painted brake calipers and larger brake rotors. The cars get Ford's optional nine-speaker Bang & Olufsen sound system as standard, plus copper metallic stitching and matching accent piping on the seats.
GearBrain www.youtube.com
Like GearBrain on Facebook