The F-series pickup truck has been the best-selling vehicle in the U.S. for 44 years, and now Ford has revealed the first all-electric version, called the F-150 Lightning.
It is due to arrive with customers in 2022, is initially available in two variants, and will go up against competition from the upstart Rivian R1T and the unconventional Tesla Cybertruck.
Read More:
Here we have compared the three electric trucks – on paper, at least – ahead of them hitting the roads.
Ford F-150 Lightning vs Cybertruck vs Rivian R1T: Dimensions
Despite the Tesla Cybertruck's imposing design, it is actually the new Ford that is the largest of these three trucks. It measures 232.7 inches long, 80 inches wide and 78.9 inches tall. This is larger in every direction than both the Tesla and startup Rivain's pickup, the R1T.
Initial reports said that Tesla might decrease the size of the Cybertruck before putting it into production. For now, though, this has not been confirmed and the EV's original dimensions remain. This means a length of 231.7 inches, a width of 79.8 inches and a height of 75 inches. All that said, the only Cybertruck shown publicly by Tesla is a pre-production concept and the company is yet to confirm the exact specifications for the production version. Elon Musk said in March that an update on the Cybertruck will be shared by Tesla in the second quarter of 2021.
Meanwhile, deliveries of the Rivian R1T are scheduled to begin next month, in June 2021. This electric truck is 216 inches long, 78 inches wide and 71.5 inches tall.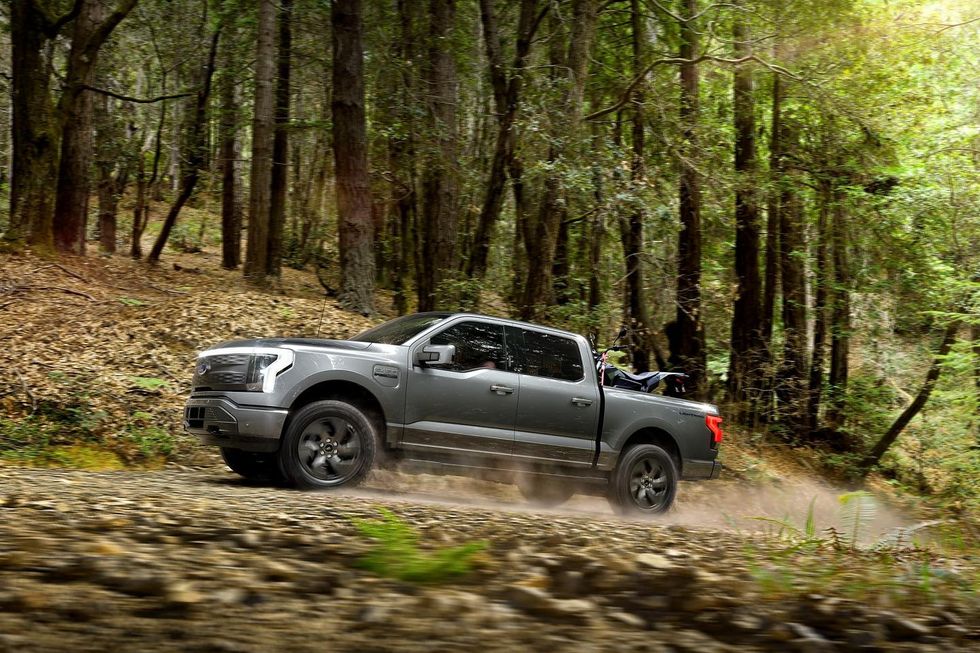 The F-150 Lighting starts at just under $40,000Ford
Ford F-150 Lightning vs Cybertruck vs Rivian R1T: Battery pack and range

All three manufacturers are yet to say exactly what size the battery packs of their electric trucks will be. Instead, Ford and Rivian both say their trucks will initially be offered with two battery capacities, while Tesla is offering three models of Cybertruck, also with unknown battery sizes.
Rivian has previously said how its R1T pickup and R1S SUV will have battery packs of 105, 135 and 180 kWh, but for now the online configurator refers to the 'large pack' and 'max pack', without disclosing their capacity.
Instead of focusing on battery capacity, all three manufacturers have stated a target range for their electric trucks. Ford says the F-150 Lightning will manage 230 miles with the standard battery and 300 miles with the larger battery – both of these are targeted EPA estimates for now and may differ once the trucks have gone into production.
Tesla says the Cybertruck will manage an EPA range of over 250 miles for the entry-level, single-motor model, over 300 miles for the dual-motor Cybertruck, and over 500 miles for the flagship tri-motor model.
Finally, Rivian claims the R1T will achieve a range of over 300 miles for the standard-issue 'large battery' and over 400 miles with the 'max battery'.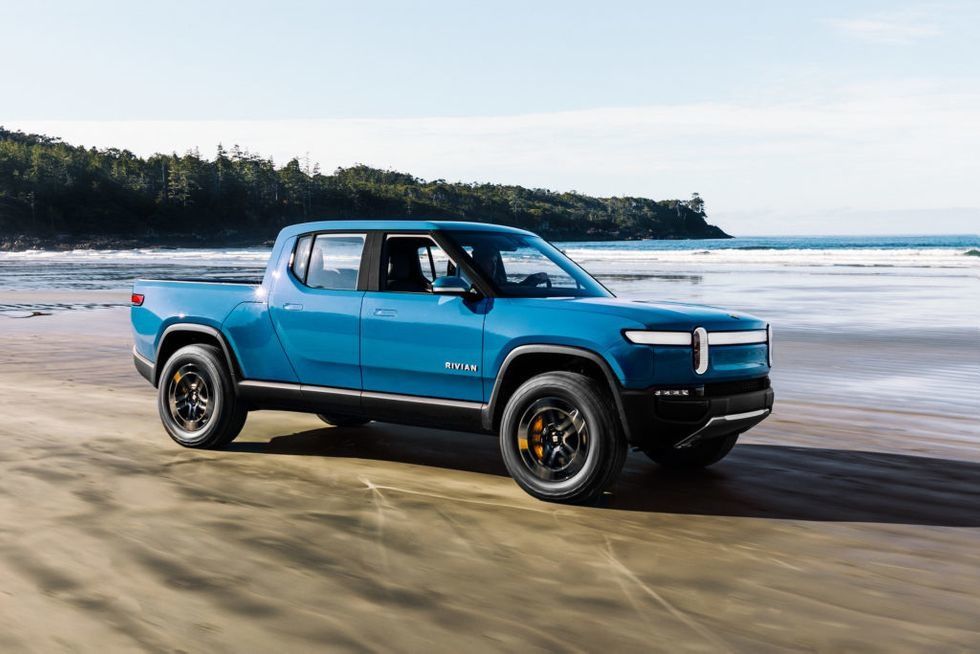 Rivian will begin shipping the R1T in June 2021 Rivian
Ford F-150 Lightning vs Cybertruck vs Rivian R1T: Motors and performance
Ford says both versions of the F-150 Lightning will have a dual-motor, all-wheel-drive platform. The standard model will produce 426 horsepower and the improved model with the larger battery will produce 563 horsepower. Both versions produce 775 lb-ft of torque.
Tesla has not revealed the horsepower or torque figures for any model of Cybertruck, but has stated 0-60mph times of <6.5, <4.5 and <2.9 seconds for its three models of truck.
Rivian has previously stated power outputs of 402 horsepower, 753hp and 700hp for the smaller, medium and large battery pack options. Torque for the smaller 105kWh battery model is a claimed 413 lb-ft, while the two larger versions both produce 826 lb-ft of torque. But all that said, Rivian is currently offering two versions of R1T for sale, and does not state which of the three battery packs these trucks use.
Rivian's website currently states a 0-60mph time of three seconds but doesn't say which model of R1T this refers to.
Given these are pickup trucks, their towing capability is more important than a supercar-beating 0-60mph time. Ford says the regular F-150 Lightning can tow up to 7,700 pounds, and the larger battery model can tow 10,000 pounds. Tesla claims the Cybertruck can tow between 7,500 and 14,000 pounds depending on the model, and the Rivian R1T can tow a claimed 11,000 pounds.
Ford F-150 Lightning vs Cybertruck vs Rivian R1T: Charging network
Public charger availability is still a sticking point for electric cars. Tesla's Supercharger network, which the Cybertruck will have access to, is the most successful implementation so far. Ford has created the FordPass Charging Network, which (like several other EV manufacturers) gives drivers access to a range of public charge networks via Ford's own smartphone app. This removes the need for creating accounts for each charging network, but isn't as seamless a solution as the Tesla Supercharger network.
Rivian understand this and is currently building its own high-speed charging network. It has pledged to install over 10,000 chargers across the US and Canada by 2024, as part of the Rivian Adventure Network. This will feature more than 3,500 fast chargers at over 600 sites across the US by the end of 2023.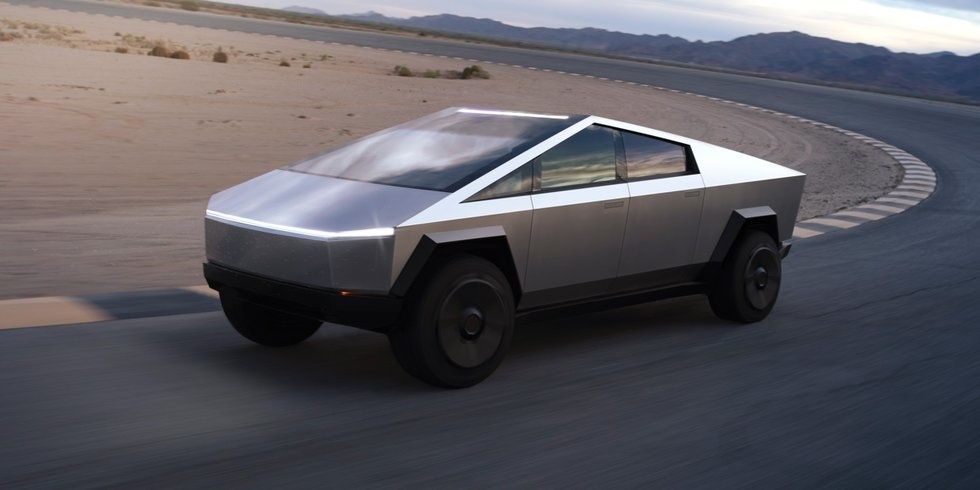 The Cybertruck is to be priced from under $39,900 Tesla
Ford F-150 Lightning vs Cybertruck vs Rivian R1T: Price and availability

Both Ford and Tesla are targeting aggressive entry prices for their electric trucks, with the base trim offered at $39,974 and $39,900 respectively. The larger-capacity Ford is expected to be priced around $55,000, and the Tesla Cybertruck is currently listed at $49,900 for the mid-range and $69,900 for the flagship.
The Rivian R1T is priced higher, starting at $69,000 for the base trim, $79,000 for the larger battery, and an extra $5,000 for a unique, integrated camping kitchen.
Rivian says it will begin delivering the R1T in June 2021, while Tesla says production of the Cybertruck will begin in late 2021 and the Ford will arrive in 2022.