Like GearBrain on Facebook
Last updated: April 13, 2018
As an avid golfer, I am always looking for new ways to improve my game. Whether it's practicing on the driving range, the putting green or down in the pit at Wheatley Hills Golf Club in East Williston, NY, I'm devoted to developing my shot-making skills and find the right touch around the green. I was intrigued then, by a new connected golf device called Game Golf. A number of connected golf tools are coming to the market, promising to improve a golfer's swing and discover how far they can hit a ball with each club. Game Golf, however, takes connected golf to a new level—in my opinion.
Game Golf is the first company to bring real-time shot-tracking data to the course with its new Game Golf Live product. The company has two other golf devices, Game Golf Classic and Tag Set, but Game Golf Live combines all the benefits of their first two while capturing how you play in real-time. At first, I didn't believe a device could help my game as I've played under the rule of practice, practice, practice. But after a few rounds, I was impressed with the data and insights Game Golf provided. Here is how the device works.
Setup
First, take Game Golf's tracking device out of its box, then charge for 2 hours prior to playing your first round. I accidentally tried to use the device on my first round with only a few minutes of charging. Game Golf died on me.
While charging the device, download the Game Golf app, available from either Google Play (Android) or Apple Store (iOS). I spent no more than two minutes to download the app on my iPhone 6S, then created an account and profile, which included selecting each of my clubs. Note that when choosing the clubs, you might not find the make and model of your own.
While Game Golf does provide a selection, it's limited to more recent model clubs. Some of my clubs were easy to identify and link. However my irons, which are about 5 years old, were not listed. So, I selected the most recent make and model for my irons in order to complete the set up process. If you have clubs in your bag that are not listed, like two or three hybrids, no worries. Game Golf provides extra set of tags to use on these clubs. Just make sure you align the tag to the club during the set up process and you will be fine.
Once club selection is completed, you need to attach a tag to each one of your clubs. Game Golf provides 18 tags and each is labeled (i.e. D, 3W, H, 3i, 4i, etc.). Just screw the corresponding tag to the top of your club, which should take about 10 minutes. Then I put Game Golf's tracking device on my belt and headed to the first tee.
Tee Time

At the tee, I logged into Game Golf's app and hit the 'Play Golf' button. The app has mapped over 33,000 courses, with 830,000 rounds of golf uploaded from more than 125 countries. Their platform also has data on over 68 million golf shots, which is pretty impressive.
After I selected my course and hit the 'Play Round' button, I grabbed my Nike driver and set up my tee shot. Once my ball was ready, I tagged my club by tapping it against the tracking device on my belt. Then I took a few practice swings and hit the ball. Note that when you tag your club to the tracking device, you will feel it vibrate. If the device doesn't vibrate, more than likely the tracking device is off or out of power. You must connect your club to the device or no data will be collected.
Tagging is all you have to do to link your data to the device, and tagging before or after you hit doesn't seem to make a difference in the actual data. Game Golf, though, recommends you tag prior to each shot for the most accurate results.
If you do forget to tag your club prior to the shot, no worries. Just go to the place you last hit your ball, tag the club you used to the tracking device, and your data will be saved. (Note: Game Golf can automatically detect most swings taken from outside the green, based on the motion of your hips. So in most cases, if you forget to tag a shot during the round, you will be able to go back and see where you took a swing and simply assign a club to that shot.)

While tapping your club to the device sounds simple, some golfers might find this difficult if they're used to a certain routine when playing. You just need to be diligent. I made the gesture part of my pre-game ritual, but there were a few times each round even I forgot. It's something every golfer will have to get used to when using any of these new connected golf devices.
"The easiest way to incorporate Game Golf tagging into the pre-swing routine is to make it the first thing you do," says Rob Labritz, PGA Director of Golf at Glen Arbor Golf Club in Bedford Hills, N.Y. "The Juniors we work with are good at this. They do their yardages, know if they have to hit a draw or a fade, and analyze the ups and downs of the fairways or greens. Then, as they walk to the shot, they tag as they're walking, so by the time they take their stance, they're ready to go."
Compare and Contrast
During testing, I decided to compare the GPS on Game Golf's app to my golf watch, a Bushnell Neo X. I wanted to see how accurate the reading would be on the course. The distance for both devices reads the same yardage, nice to see.
Many golfers like to use a golf watch with built in GPS or a GPS view finder while playing instead of relying on their smartphone. Some private courses and tournaments, don't actually allow a smartphone. Luckily, you can integrate Game Golf on a golf watch, and with Pebble and Apple Watch as well. A Windows smartwatch version is available and Android smartwatch version is expected later this year. Game Golf does not offer a Blackberry smartphone app. I found my smartphone adequate with Game Golf. Personally, I prefer using a golf watch as that is what I am used to playing with and it's not as bulky as the phone when checking yardage.
However, if you don't have a golf watch or viewfinder Game Golf's app for your smartphone is a good alternative. The tracking device has built in GPS, sending data to your phone, and includes Google Maps, Apple Maps and Bing Maps. Connected golf devices often depend on your smartphone's GPS, draining the battery. Yet I found Game Golf's app drained just 30 percent of my battery life during a round—and that was with heavy usage. Don't want to use your smartphone during the round? Not a problem. Once you start a round, you can leave your phone in your bag, the cart or even in your car if you want. The data will still get collected. (But we all know we can't live without our precious smartphones for that long.)

As my round continued, my routine continued: I tagged my clubs for each shot. Occasionally, I used the app for a few holes, and found the details around the green screen very helpful and accurate. When finished, I selected 'End Round' which then promoted me to review the holes I'd played to make sure the shots were tracked and recorded. If you want the round included in your overall stats, select 'End Round' again, or you might end up losing all your data. Keep in mind you need at least 5 rounds of golf recorded to collect enough data to be useful.
19th Hole
To find your data, check the 'Insights' section of the app as well as online. If you are a data junkie, like many young golfers today, log on to Game Golf's website from a computer or tablet. There you'll find a wealth of details—much more than what you can view from the app.
One section I liked, called "Strokes versus Scratch," gives tips on how to update your game, such as where you are losing strokes and where you can improve your handicap.
"Both scratch and weekend golfers can benefit from learning more about their games through data," says Labritz. "For instance, for golfers with lower handicaps, the most important data is what they can learn about distance control. They'll learn precisely how far each club will carry."
Labritz notes that the more they play, the more the stats will show details like whether they're a great driver or a great mid-iron player, and also where their game is still lacking.
"Higher handicap golfers benefit from the more general data," he says. "Distance of each club is important, but they learn what their shots look like and they begin to see consistencies so they can do a better job of game planning."

Game Golf doesn't forget the social piece of playing a round as well. Like most connected golf devices, you can share your data across Facebook, Twitter and email. But Game Golf also has a closed system so you can challenge friends and follow their rounds.
Finally, I also liked the detail data and aerial views of each shot on each hole which you can see from both the app and desktop view. How handy is this feature? When you are sitting at the 19th hole, talking about that great shot you hit, now you'll have proof you actually hit a great shot like my 239 yard 3 iron on the 4th hole! (Evidence is below.)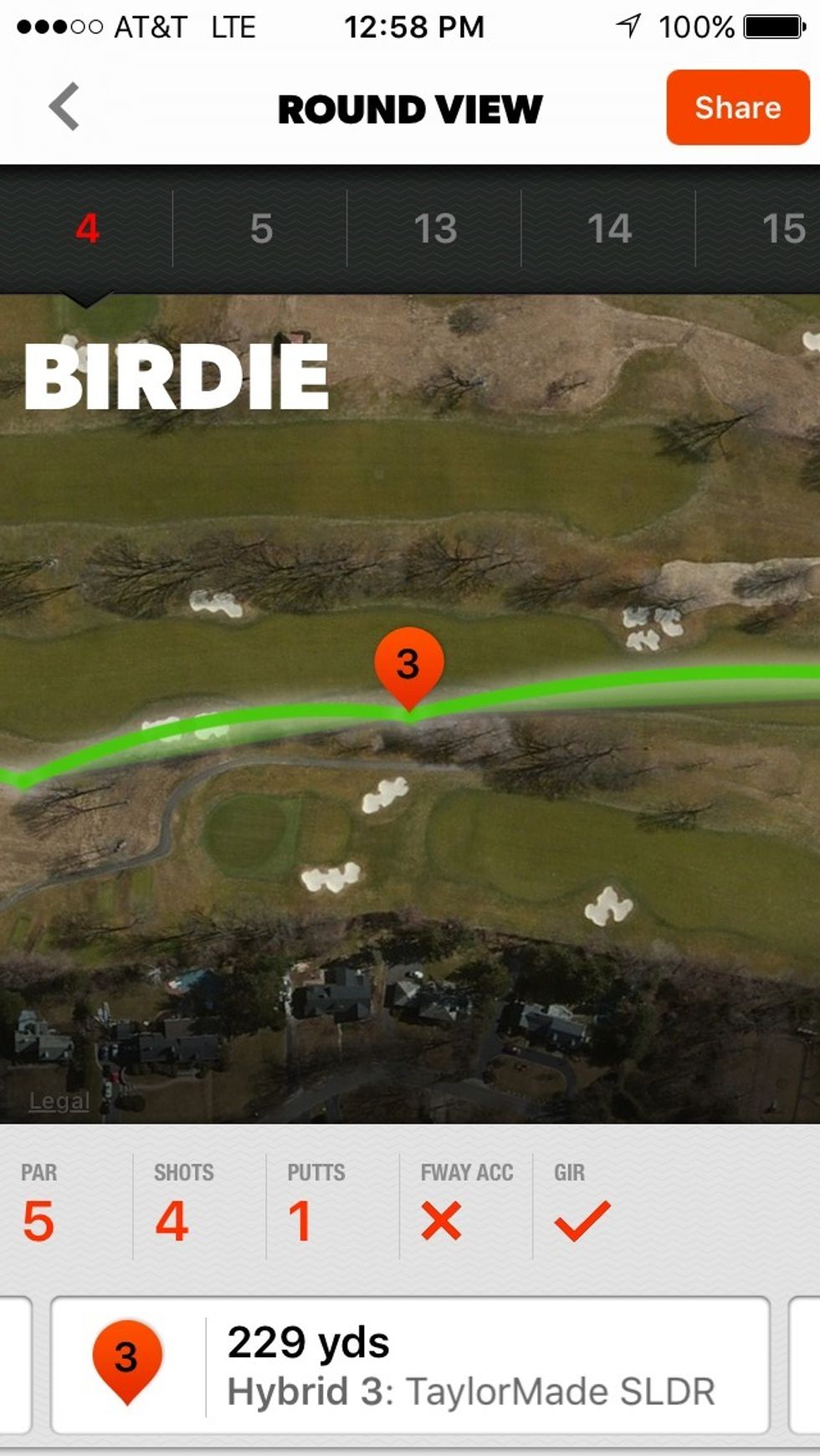 Game Golf aerial view of hole in Insights Section
Who should use Game Golf?
Game Golf is for all types of golfers—whether you are a low handicapper, a weekend warrior or a junior player. Just stay open to changing the way you approach your shots, and dig into the data. Labritz mentioned,
"Age does appear to affect how easily someone accepts using a device like Game Golf," says Labritz. "Younger golfers started training early, and they're still in the mindset of tweaking their games, so adjusting pre-shot routines is easier."
He says that younger players, who grew up on computer games, seem a bit more comfortable around the technology. Plus they're motivated by being able to share their shots with friends and coaches. Labritz finds older players a bit more reticent to adopt the device.
"They want to do what they've always done and just want the data to appear," he says. "Unfortunately, they have to do a little work, like change their pre-shot routine, which honestly, is a good thing because it really makes them think about each shot."

Game Golf is sold globally in golf specialty shops and more than 800 green grass pro shops, along with Amazon. There are currently three products on the market: Game Golf Live retails ($299), Classic ($199) and Tags ($99). A fourth, Golf Pride Talkback Grips Powered by Game Golf, is expected in coming months. The company says the new product will be the first all-in-one tech enabled system for tracking golf shot performance on the course, integrating Game Golf's sensor tags into Golf Pride's grips. (Keep an eye out on GearBrain for this review. We just need to test this new product like we do for all of our product reviews. Stay tuned.)
Game Golf's product is endorsed by pro golfers Lee Westwood, Graeme McDowell, Jim Furyk, Chesson Hadley and Sophie Walker. Plus the device is the first and only wearable technology permitted in tournaments under the rules of Golf by The Royal and Ancient Golf Club of St Andrews and United States Golf Association (USGA). Game Golf is also the Official Shot Tracking System for the Hurricane Junior Golf Tour, the largest junior golf tour in the U.S., and the company has partnerships with both the Professional Golf Association (PGA) and Golf Channel.
Overall, I really like this new technology, and had an easy time both setting up Game Golf and using the device. As we move into a more connected world, I am sure there will be more of these devices coming to the market. For now, if you are a scratch golfer who wants to understand where you are losing strokes, or even a beginner hoping to see how far you hit each club, Game Golf is a very good connected golf device you should consider adding to your bag.
Pros: lightweight tags, built in GPS, helpful smart tips, didn't drain smartphone power

Cons: must tag clubs before shots, tracking device moves, doesn't work well in golf scramble
Like GearBrain on Facebook