Like GearBrain on Facebook
Google has launched five new Android applications intended to reduce smartphone use and help improve our relationship with technology.
The apps, for now described by the tech giant as experiments, encourage users to pick up their phone less often and be more thoughtful about how and when they use them.
Read More:
The overall theme is one of using your phone in a more meaningful and purposeful way, not just picking it up and aimlessly scrolling through social media for the sake of it - something we are surely all guilty of.
Google said: "As technology becomes more and more integral to everything we do, it can sometimes distract us from the things that matter most to us. We are committed to helping everyone with the tools they need to develop their own sense of digital wellbeing. So that life, not the technology in it, stays front and center.
Here's a quick look at each of the five apps, along with a brief video published by Google:
We Flip
The first new digital wellbeing app is called We Flip, and is a way to encourage groups of friends to all stop using their phones at the same time. Once all members have logged into the app and joined their group, they all flip a switch and a timer is started.
There's no target here or a goal to reach, but when any member of the group unlocks their phone, the session ends and everyone is told how long they lasted. The app also shows the number of 'peaks' - that is, looking at the phone without unlocking it - and names the person who caved and unlocked their phone first.
We can see this being a good idea for social occasions where it's all too easy for friends to grab their phone instead of engaging in conversation with those around them.
Morph
The next experimental app is called Morph, and it adjusts your phone depending on what you are doing. To set this up, you create a number of modes, like 'Travel' or 'Work', then pick which apps you're allowed to use during this time. For example, the Work mode might not contain any distracting social media apps, and 'Home' might not include your work email.

You can then set these modes to switch on and off based on your location and the time of day. That way, the Work mode will switch on when you arrive at the office, preventing you from checking social media. Then, when you get home in the evening, Home mode is enabled, granting you access to Twitter but locking away your work email app until the next day.
Post Box
Experimental app number three is called Post Box, and is designed to deliver all of your notifications at set times during the day - a bit like checking your post box for mail once each day, instead of constantly.

You can ask the app to deliver your notifications one, two, three or four times each day. Checking your phone between these times will cause a message to come up saying what time your next delivery of notifications will be made. When they arrive, they are neatly organized for you to read through and process.
Of course, if you desperately need to check something, you can override the app and tap a button to check your notifications outside of the set delivery times.
Desert Island
Next up is an app called Desert Island, which challenges Android users to "find focus" by going an entire day with access to just a small set of applications. First you are invited to pick which apps are most important to you (ideally Twitter and Instagram won't be on this list…) then start a 24-hour countdown timer.

During this time, only the apps you chose at the start can be accessed. Afterwards, the app shows how well you did, and encourages you to try again with one less app.
Catalyst - Official Google Pixel 4 Case with Clear Back, Compatible with Active Edge, Heavy Duty 9.9ft Drop Proof, Truss Cushioning System, Compatible with Wireless Charging, Lanyard Included - Black
Unlock Clock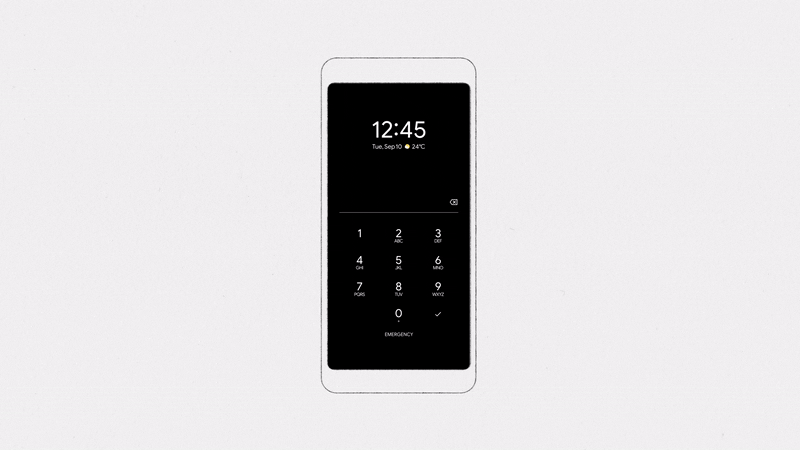 Unlock Clock is a wallpaper counting your daily phone unlocksGoogle
Finally, the fifth experimental digital wellbeing app is called Unlock Clock. Actually a wallpaper rather than an app, when enabled this replaces your usual wallpaper with a large counter which increases each time you unlock your phone through the day.

The idea is that, seeing the number grow will act as a deterrent when you idly reach for your phone without a real purpose.
Build your app
As well as these five apps, Google is inviting app developers to create their own, and is providing a 'Hack Pack' to download and get started. Google says it can take "several weeks" for digital wellbeing experiment apps to be reviewed before appearing on the Play Store.
Spigen Tough Armor Designed for Google Pixel 4 XL Case (2019) - Black
From Your Site Articles
Related Articles Around the Web
Like GearBrain on Facebook