Like GearBrain on Facebook
Like many people who work from home on their own, I sometimes struggle to concentrate. The smartphone at my side — usually no more than a few inches from my hand — is the main culprit, nagging at me with its endless symphony of buzzes, bings, beeps and vibrations.
Social networks, email, calls, texts, group messages, calendar events, breaking news. On top of the endless stream of notifications, there is the lure of social media posts on Instagram, Twitter and Facebook to scroll through, constantly replenished by the few hundred people I follow on each. It's so easy to pick up, unlock, tap and scroll, then completely forget what I was supposed to be doing.
Read More:

Thankfully, I've found an application which has helped correct this behavior. Called Forest (available for iOS and Android and costing $1.99), the app asks you to grow a virtual tree by not using any other application for a set amount of time. If you open a different app for more than a couple of seconds, the tree dies, leaving your virtual forest with a dead, brown stump.
But if you resist the urge and let the tree grow — by leaving the app running, or locking the phone — it is added to your forest and points are earned.
Each tree becomes a block of concentration, the visual representation of an amount of time in which you did not use your smartphone for anything (apart from incoming calls, which are granted access without harming your tree).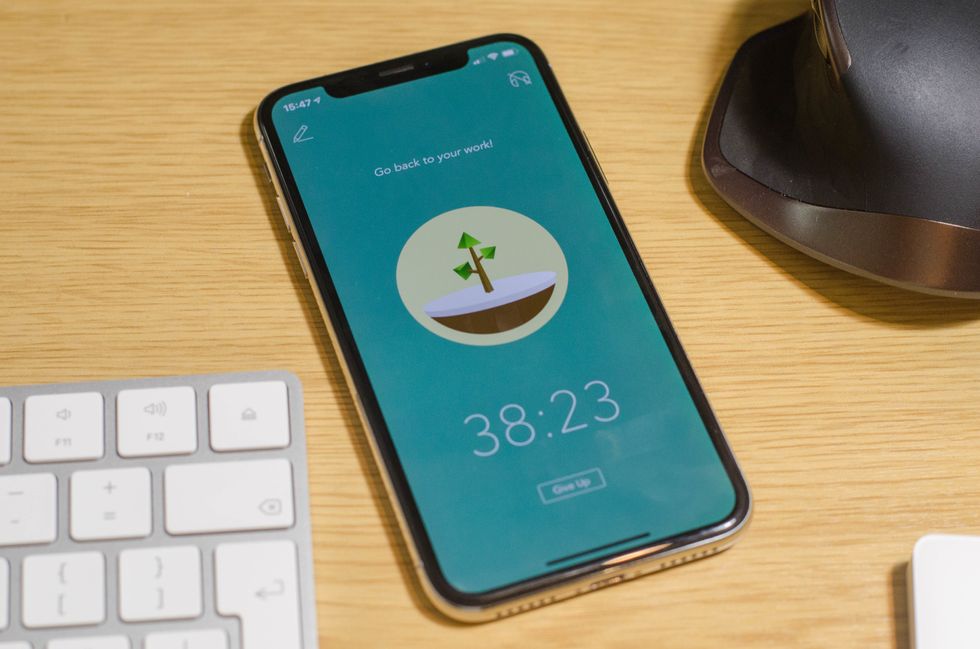 GearBrain
The minimum time you can set is 10 minutes, and in return you will get a small bush to add to your forest. Increase this to 20 minutes and you get a tree, and 60 minutes earns you a larger tree — which, because it's December as I write this, includes Christmas presents beneath it and snow on its branches.

The maximum time you can allocate yourself is two hours, which rewards you with the largest tree and the most points. Essentially, the Forest app is gamifying concentration by rewarding you with a small gift, but also guilt-tripping you if you fail, because the dead tree remains in your forest, a constant reminder of the time you failed to stay away from your phone for a single hour.
There are daily, weekly, monthly and yearly views of your forest, so you can see how your concentration has changed while using the app, and there are graphs to show the data in a more quantifiable way. Points can be used to unlock new items, such as tree houses, or exotic breeds of plant to make your forest look more interesting — a forest which you can share with friends and fellow app users via social media, of course.

Forest includes a couple of in-app purchases to help earn you more points for each tree successfully grown; these cost between $0.99 and $1.99. There is also a range of sound affects to be purchased, which can be played while your trees grow; one is included with the app, playing the sounds of rainfall in a rainforest.
But there is no pressure to use or buy these, which I liked — probably because the app itself costs $1.99, so the developer can earn money while avoiding ads and aggressive promotions of in-app purchases.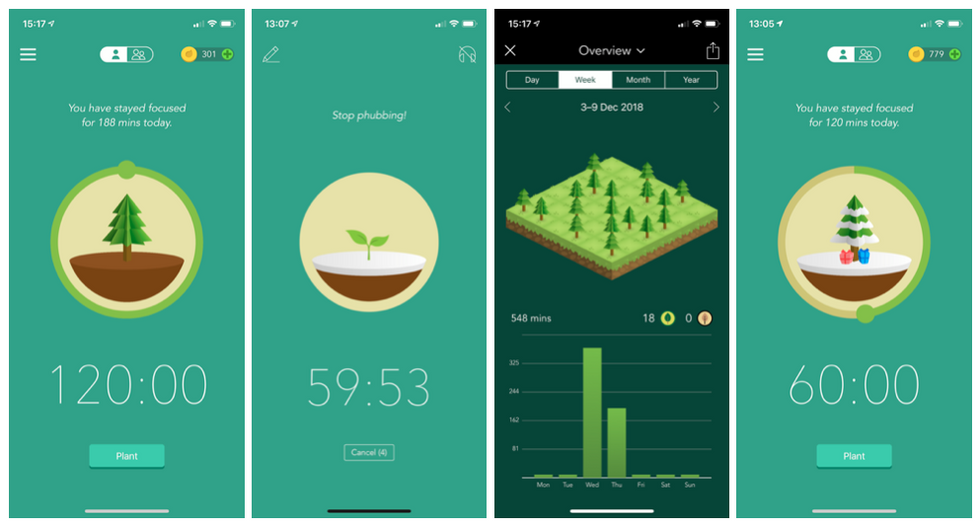 GearBrain
There are 15 different achievements to unlock, for tasks like concentrating for a cumulative three days, or when you plant healthy trees for several consecutive days. Time spent growing trees can be exported to the Apple Health app, where it appears as time spent focusing.

At a time when technology companies are coming up with software like Apple's Screen Time and Google's Digital Wellbeing to help curb our smartphone addictions, Forest fits in well by offering the same basic service, but wraps it up in something far more fun than cold numbers and graphs.

But the greatest achievement is that of planting real trees. For every 2,500 points you earn, you can ask for a real tree to be planted by Trees For The Future, a non-profit which helps plant trees and vegetation in East and West Africa. Currently, the organization is working in Cameroon, Kenya, Senegal, Uganda and Tanzania.
At the time of writing, Forest users have planted over 350,000 trees with Trees For The Future, helping families adopt more sustainable farming techniques. For now, each Forest user is limited to planting five real trees, due to budget constraints, says developer Seekrtech. However, a series of one-off events allowing users to plant more are hosted occasionally, with information on these found in the app.
I don't always remember to switch Forest on, and there is no way to have the app plant trees automatically when it senses your phone isn't moving. But, when I remember to get a tree planted at the start of my day, I've found it to be a real help when I need to get an article written and want to ban myself from looking at Instagram for an hour or two.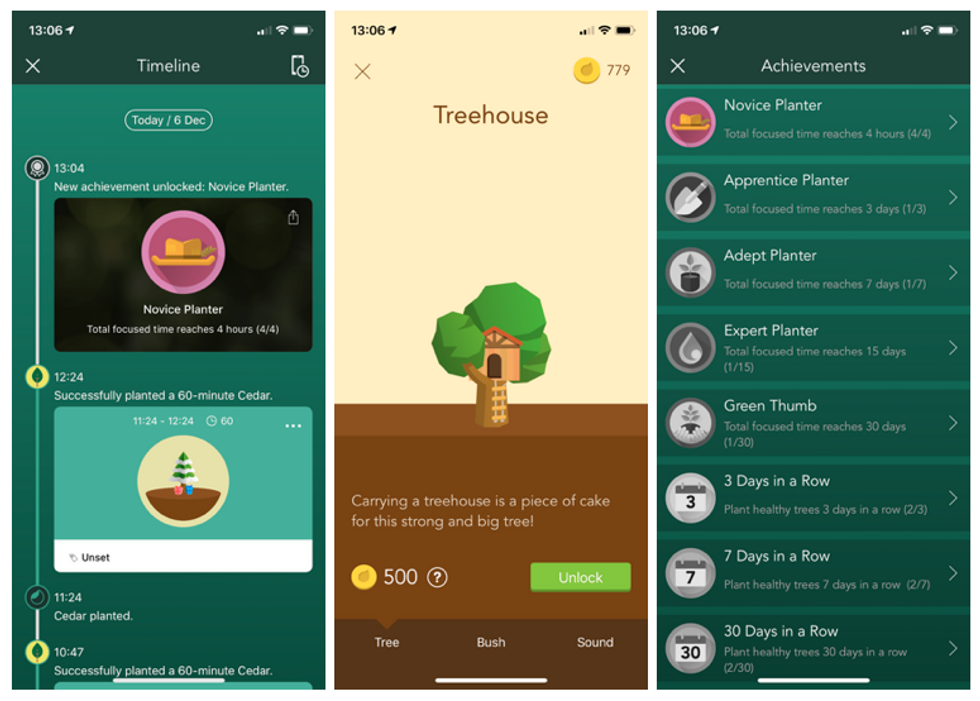 GearBrain
I've been surprised at how such a simple thing — the responsibility of keeping a virtual tree alive — can actually change my behavior. On only a couple of occasions have I actively killed a tree, when I needed to use my phone to adjust a Philips Hue light, or hunt down a Spotify playlist. Otherwise, if I feel the urge to open a social media app, I remind myself that Forest is switched on, and I can check later instead.
I can see the app being used socially too, where a couple can both plant a tree as they sit down for dinner, then not touch their phones for an hour. Their attention is directed at each other, and they'll both get a reward from the app in an hour's time.
Seekrtech also has an app called SleepTown, which uses the same concept to build a virtual town as you sleep. This app encourages you to firstly get off your phone before bedtime, but also to wake up and start your day as your alarm goes off — otherwise the town constructed overnight will be destroyed. I'm looking forward to using SleepTown, and will report back soon with how I get on.
As for Forest, it's the perfect application for anyone who feels they need to spend less time on their smartphone, and more time concentrating elsewhere. Whether that means committing more time to work, family, and friends, or just spending time doing something else, like exercise or meditation, Forest can help give just enough encouragement you need.
From Your Site Articles
Related Articles Around the Web
Like GearBrain on Facebook