Like GearBrain on Facebook
Google is hosting a media event during the Game Developers Conference in San Francisco later this month, where it is expected to talk about a new video game streaming service.
Now, just days ahead of that event, a patent belonging to Google has been discovered, showing a video game controller and explaining how it would work.
Read More:
The patent, filed back in October 2018 and made public at the end of January 2019, is titled 'Notifications on Game Controller', and describes a system where the gamepad is used to control video games on a so-called 'host device'.
What Google appears to be working on here is a game controller which can work with a wide range of compatible devices. For example, you could play a game on a television, then switch to a tablet and use that as the display when someone else wants to use the TV.
In essence, Google is believed to be working on a 'Netflix for video games', where the content can be streamed on a wide range of devices, and the processing is done by Google's servers instead of on a console owned by the gamer. This would be a similar system to OnLive, a video game streaming service which launched in 2010 but shut down after being acquired by Sony in 2015.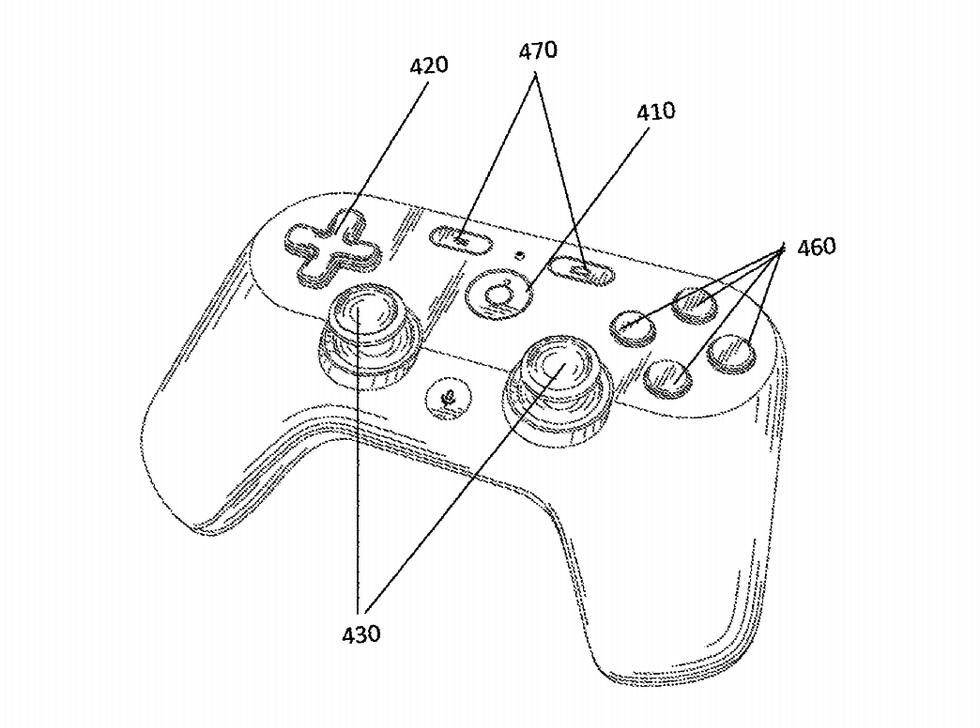 Patent sketch shows a classic video game controllerGoogle
The abstract of Google's patent describes a "seamless activation of a game or other application on a host device from a game controller. The game may be launched on the host device in response to an activation signal that is dispatched from the game controller."

Put simply, this sounds like a system where the controller is the heart of the system, telling the host device - such as an internet-connected TV, computer, smartphone or tablet - what game to display on its screen.
The patent also explains how your account details could be saved on the controller, making it easy to pick up a game where you left off, whether you start playing on a different screen, or at a different location.
Sketches accompanying the patent show a classically-designed video game controller, complete with two thumb sticks, directional and action buttons, triggers on the back, and a microphone icon. The latter could mean the integration of the Google Assistant, or simply point to a service for talking with fellow gamers.
Google intends a notification system described by the patent to be used to tell users when a game is ready to play, when friends are online, and when they want to chat. Gamers who use Xbox Live and other online services will be familiar with such a system.
We expect to hear more about Google's gaming plans at its event, which takes place at 10am PT / 1pm ET on March 19, at the Game Developer Conference (GDC) in San Francisco. "Gather around," Google's cryptic invitation says, adding: "All will be revealed".
It is likely that whatever is announced will build on the foundations built by Google's Project Stream, a trial where games can be streamed through the Chrome web browser. Limited to just a single game,
Assassin's Creed Odyssey,
for now, Project Stream's public tests wrapped up in January, suggesting a fully-fledged service will follow shortly.
(Check out The GearBrain, our smart home compatibility checker to see the other compatible products that work with Google Home and Home Mini)

Related Articles Around the Web
Like GearBrain on Facebook