Like GearBrain on Facebook
Google today reimagined how video games work, with its new streaming platform, called Stadia.
An on-demand streaming platform, Stadia replaces gaming computers and consoles with a service which uses Google's vast cloud computing power to do the hard work for you.
Read More:
At its simplest, this means high-end AAA video games can be played, instantly and without any downloading, on almost any display with an internet connection. This includes smartphones, tablets, PCs, laptops, and televisions, which connect via the Chromecast Ultra streaming dongle.
Announced at the company's first Game Developer Conference keynote, Google demonstrated how Stadia games can be played on any device, with players easily able to switch from the TV to their smartphone, then seamlessly to a laptop.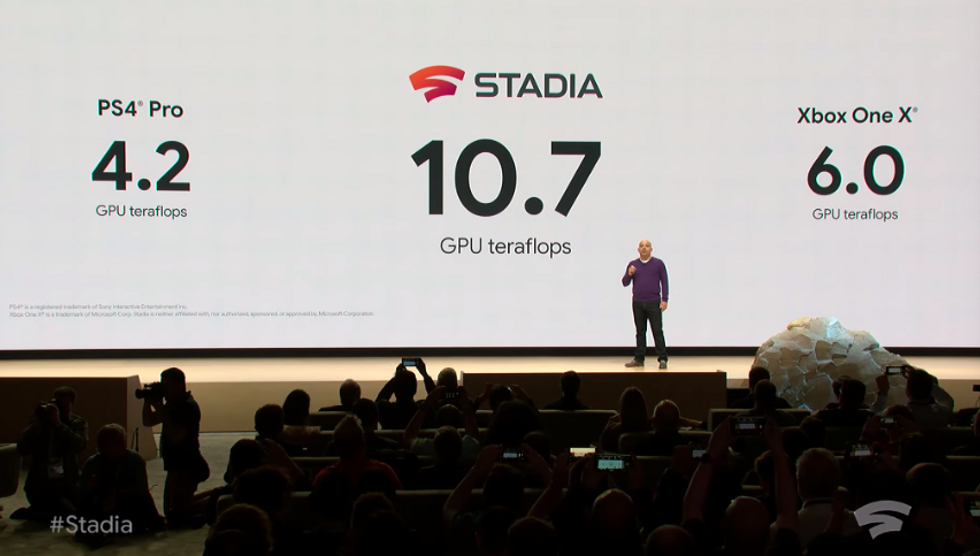 Stadia offers more power than the PS4 Pro and Xbox One X combinedGoogle
Gamers can use their own USB controller, mouse and keyboard, but Google has also created its own Wi-Fi gamepad for Stadia. This dual-stick controller looks like most others, but includes a button for summoning the Google Assistant, which can be used to help you progress through a tricky part of a game.

As long as the developer has fed the Assistant with the information it needs, the AI can answer your questions about the game, and offer hints about how to complete a difficult section you might be struggling with.
Google said Stadia currently streams games in 4K Ultra HD resolution, with HDR color, at 60 frames per second, and with surround sound. In the future, the company says it wants to offer 8K resolution, to take advantage of the next-generation of televisions arriving on the market.
As for computing power, Google said that a single session of Stadia - in other words, the computing power accessed by each individual Stadia player - is more than the combined power of the PlayStation 4 Pro and Xbox One X.
The emphasis from Google's announcement was on how quickly Stadia games can be fired up and played. One suggestion Google made was how you could view a YouTube advert for a video game, then click on the ad and begin playing the game within five seconds. Compared to buying a video game on disc, or downloading a file measuring tens of gigabytes, the speed Stadia can offer is remarkable.
Another example is how you could be watching a YouTube video from a game streamer, then click a link to begin playing that game right away.
Google is yet to say how much access to Stadia will cost, and what speed internet connection will be required to play games smoothly. It also failed to say how many games will be available at launch, and what that catalogue will look like. Having said that, Google has set up its own video game company called Stadia Games & Entertainment - a move you can assimilate to Netflix when it began creating its own movies and TV shows.
The company said more details will be revealed in the summer - likely at the E3 video game conference in June - and that Stadia will launch in the US, Canada, UK and Europe before the end of 2019.
Like GearBrain on Facebook