Like GearBrain on Facebook
The Google Stadia video game streaming services launches tomorrow, November 19, and could very well change the gaming landscape. But, until just yesterday, a major criticism leveled at Google was a lack of games to play on day one, with just 12 titles for subscribers to buy.
This situation has now changed, and at the 11th hour Google has almost doubled its Stadia launch lineup. Now there are 22 titles, and of the 10 additions there are some big names, including Final Fantasy XV, Football Manager 2020 and NBA 2K20.
Read More:
Just last week, Google said there would be 12 games available on Stadia at launch, but then on Sunday evening Phil Harrison, vice president and Stadia boss, tweeted: "Excited to announce that we are increasing day one launch line-up of titles...we now have 22 games launching with the platform on Tuesday. Huge thank you to our game developers and publisher partners for bringing more titles."
Excited to announce that we are INCREASING the Day One launch line-up of titles for @GoogleStadia - we now have TWENTY TWO games launching with the platform on Tuesday. Huge thank you to our game developer and publisher partners for bringing more titles #stadia
— Phil Harrison (@MrPhilHarrison) November 18, 2019
It isn't clear if these additional titles were rushed out of the door to prevent day one criticism, or if Google's plan had been to add the titles gradually over the coming weeks, increasing the value of Stadia with every new title. Whatever the situation, Google has helped to avoid some of the criticism sent Apple's way when it launched its TV+ service earlier this month with just a handful of original shows to watch on day one, each with just three episodes for the first week.

The original Google Stadia launch title list looked like this:
Assassin's Creed Odyssey
Destiny 2
Gylt
Just Dance 2020
Kine
Mortal Kombat 11
Red Dead Redemption 2
Rise of the Tomb Raider
Shadow of the Tomb Raider
Samurai Shodown
Thumper
Tomb Raider
And the additional titles now also available from November 19 include:
Attack on Titan: Final Battle 2
Farming Simulator 2019
Final Fantasy XV
Football Manager 2020
Grid 2019
Metro Exodus
NBA 2K20
Rage 2
Trials Rising
Wolfenstein: Youngblood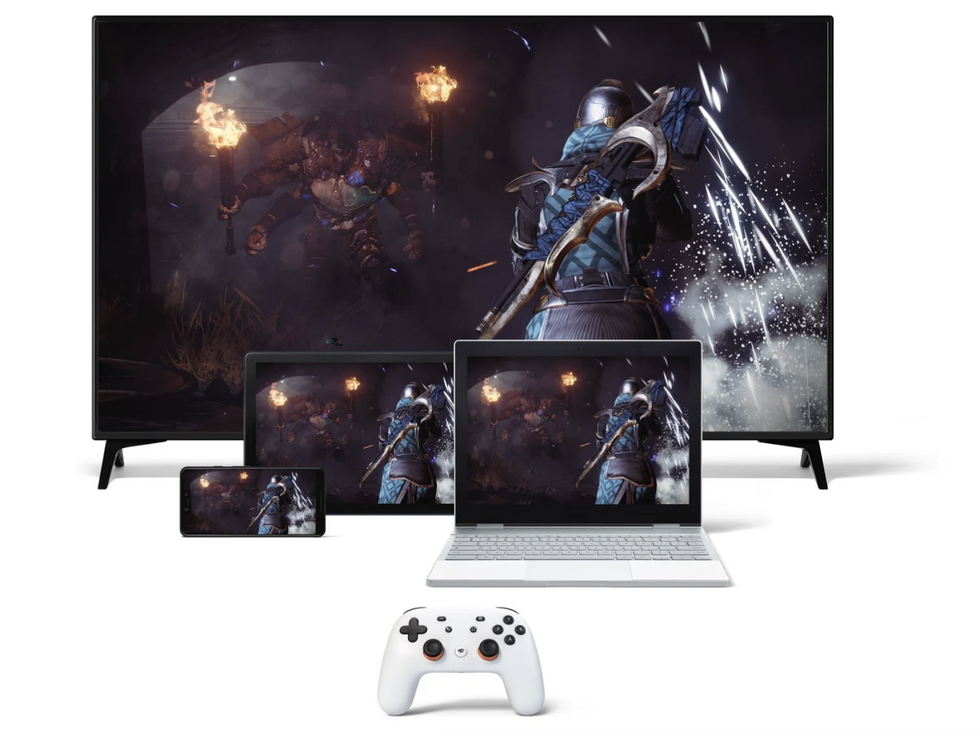 Stadia can run on most devices with a screen and internet connectionGoogle
Furthermore, Tom Clancy's Ghost Recon Breakpoint will arrive in 2019 instead of 2020 as originally planned, and Doom: Eternal, Watch Dogs: Legion, Gods & Monsters, and Cyberpunk 2077 are now all confirmed for 2020.

Although a marked improvement over what gamers had been expecting, this list is still fairly small, even for day one, and means Stadia subscribers will have to exercise some patience if their favorite games aren't yet available. The good news is that Google's Stadia website includes a list of more than 40 titles which are either launching on day one, or are due out in early 2020.
Google Stadia costs $10 per month at launch, although a free tier will be available at a later date. For that price, gamers get access to the streaming service, but still have to buy the games, which are priced the same as they are on Xbox and PlayStation.
The difference with Stadia is the games don't require a console to play, as they are streamed to a wide range of devices, including smartphones, tablets, computers through the Chrome web browser, and to televisions using the Google Chromecast Ultra. If your internet connection can handle it, the games will stream in Ultra HD 4K with HDR and surround sound. The free tier due in 2020 will limit video resolution to 1080p Full HD.
Another final 11th-hour change is that subscribers will get access to two free games instead of one, with Samurai Shodown joining Destiny 2 as the second free title.
From Your Site Articles
Related Articles Around the Web
Like GearBrain on Facebook