Like GearBrain on Facebook
Pros: Cost, design, size allows the gadget to go anywhere, both iOS and Android.

Cons: Alarm sounds only if gadget in Bluetooth range, not a home security device
Security systems are easy to find. They're also fairly costly. How about a system that can tell if anything you choose has moved? That's the conceit behind GuardPeanut, a $29 gadget that links to your smartphone via Bluetooth Smart, and alerts you when an object you've tagged has shifted its location. GearBrain awarded Sense a Best of CES mention this year, and this is our second review of its products.
Sense offered a GuardPeanut to review. I'd already spent time, and installed, the iOS app for the ThermoPeanut, Sense's smart thermometer. (The app is also available for Android devices.) Adding GuardPeanut, then, was simple. Within the app, there is a gray button to "Add a Peanut." Clicking on that brings you to a screen that lets you link your Peanut to the app.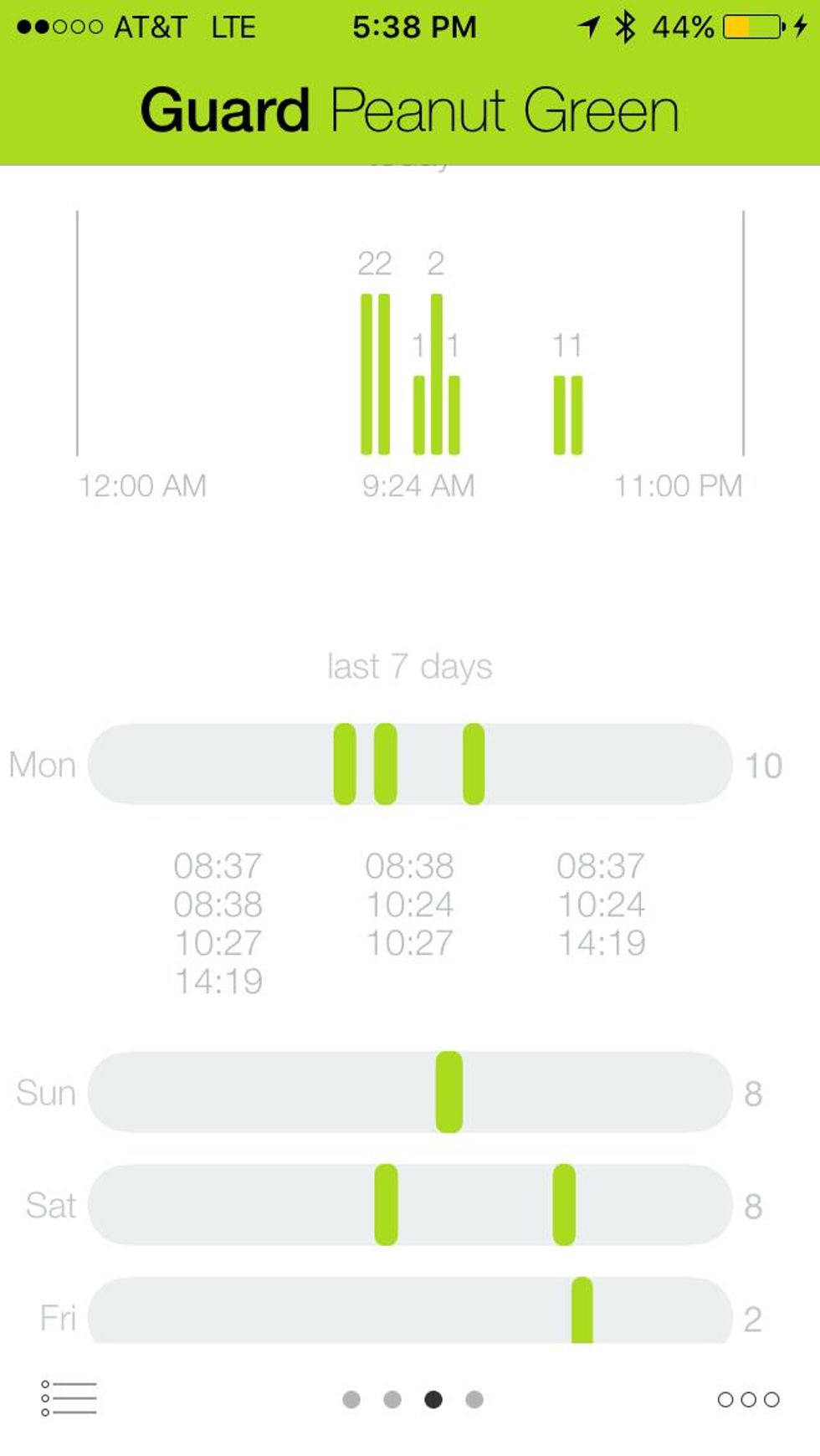 You can select a name for the Peanut as well if you choose—perhaps something to recognize what your Peanut will be guarding. This is particularly useful if you have multiple Peanuts. (If GuardPeanut is your first Peanut, you can follow the easy instructions we outlined in our review of ThermoPeanut.)

Next, I selected something to guard: a dresser drawer, something opened and closed often. Using the putty supplied in the small package, I affixed the guard to the side of the wooden drawer, primarily because we wanted to be able to take the Peanut off easily later. The box also comes with sticky adhesive tape, a clip holder and a key ring.
Finally, I pressed on the Peanut and it linked up with the app on the iPhone, turning monitoring on. You can also verify that the Peanut is active through the app—and also turn the Peanut off through the app or by either pushing on the Peanut for a long time.

GuardPeanut lived up to its promise—sending off alerts, very loud alerts, every time the drawer opened or closed. When I say loud, I mean loud—90dB loud. You could hear the alert all over the house. The dog reacted. Why is this important to note? If you attach GuardPeanut to your laptop in a coffee house, walk away from your machine while you get a second muffin (not saying we've done this), and hear the alarm, rest assured the rest of the coffee house is going to hear this too—and not just from the laptop, but from your smart device that's link to the Peanut. (Yes, the alarm is in stereo.) If you're a shy person, who doesn't want to be the vector of a loud alarm, reflect on using this in public. That said, no one is sneaking out with your clanging, bells of a laptop.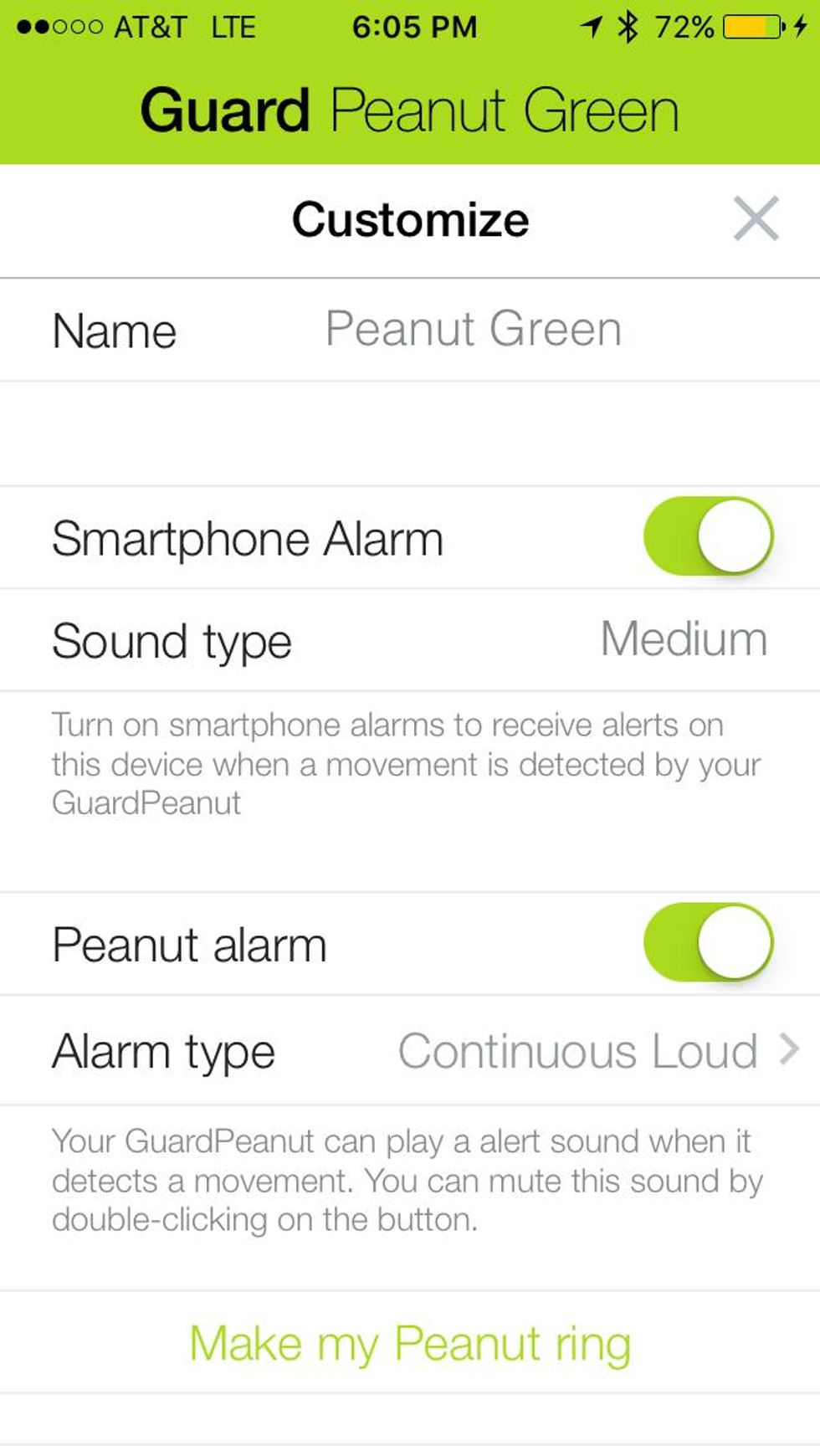 You can adjust the sensitivity of the motion tracking—so that a gentle nudge doesn't set off the alarm, but picking up and moving the gadget does. You can also select the kind of alarm you want for your device including "discreet, loud siren and medium. (Set at medium, I heard that alarm, and well.) And you can also set the Peanut's alarm for short discreet, loud loud and continuous loud.
GuardPeanut, like ThermoPeanut, works across a Bluetooth connection. The alarm goes off on your smart device in real time only if you're within range of the Peanut. If not, the Peanut does not go off, but still tracks movement, allowing you to see each moment your tagged item, and the Peanut, were moved.
How does this work as a home security device? Honestly, GuardPeanut doesn't work as a home security device. You could purchase multiple GuardPeanuts and attract them to multiple points in your home such as front and back doors, window sashes, basement doors and the like. These would go off as an alert if moved, and act as a home security system: if you are home. If not, you'll receive a report later when one of those Peanuts was activated. That's helpful if you want to know your kids came home from school when they said they did. But less helpful if you're on vacation in Baja and your home is fleeced.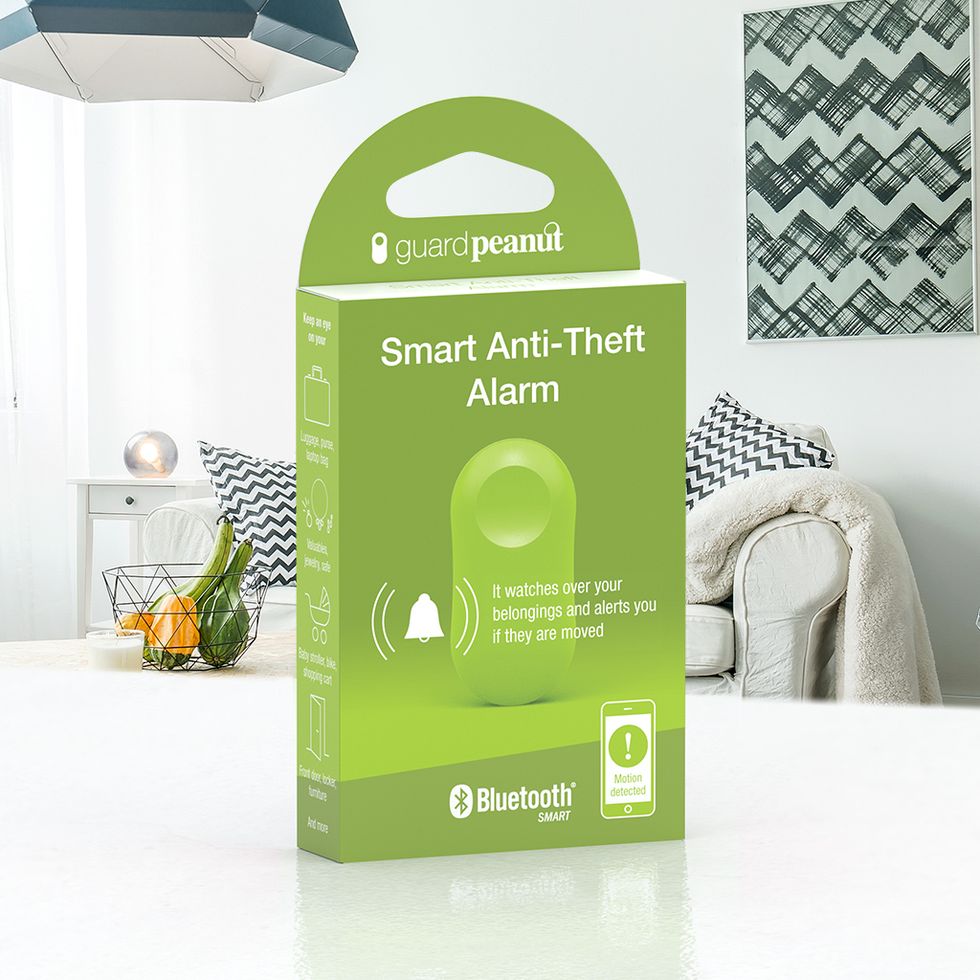 Then again, Guard Peanut doesn't bill itself as an all-inclusive security system. Instead, it's an extra eye (and a loud one at that) to watch belongings when you turn your back. And for that matter, we wish there was a tracking element added to the gadget. If someone feels they can handle the alarm as they dash for the door, and still nab your coat, computer or coffee mug, you might want to be able to follow the item.
Still, even without a tracker, we like the GuardPeanut. The gadget works as billed, sending an alert to your smart device when moved, sending off an alarm itself and keeping a log of its movement. For a device to make sure little hands stay out of the cookie jar, keep hands off your yoga mat or ensure houseguests don't snoop in your closets, GuardPeanut is a winner.
Like GearBrain on Facebook