Like GearBrain on Facebook
When looking to secure and watch over the entry way of your smart home, there are quite a few options. Video doorbells, like Ring and Skybell, can monitor individuals coming up your walkway and those who ring your video doorbell. Security cameras with motion sensors can track unwanted visitors, send alerts when motion is detected, and record events, storing them either locally or in the cloud. But Panasonic has another option: its HomeHawk monitoring camera which is installed on top of an exterior door frame, angled to view the entire area right outside your door. GearBrain recently tested one of these cameras, impressed by its performance, and how it offered another way to monitor the outside of your smart home. Here is what we found after testing the camera inside a real home with normal connectivity.

What is Panasonic's HomeHawk Front Door Monitoring Camera?
Panasonic's HomeHawk is a home monitoring HD camera that mounts over an external door, and protects the outside of your home. The device has a very wide field of view (FOV) of 172 degrees, color night vision and two-way communication. The camera streams live video of your front door in high definition (720p), which you can access anywhere while using the free Panasonic mobile app. Recorded video is possible, but needs to be stored locally using a microSD card as Panasonic doesn't offer cloud storage for videos.
The camera is a long rectangle shaped device measuring 58mm x 271mm x 61mm (3 7/8"x2 13/16"x3 11/16"). HomeHawk weighs 200g or .44lbs. and is battery-powered (120V), with a rechargeable battery that has seven hours of operating time which have a battery life of 7 hours of operating time. If used five minutes a day, which is about average, you can get three months of battery life on just one charge.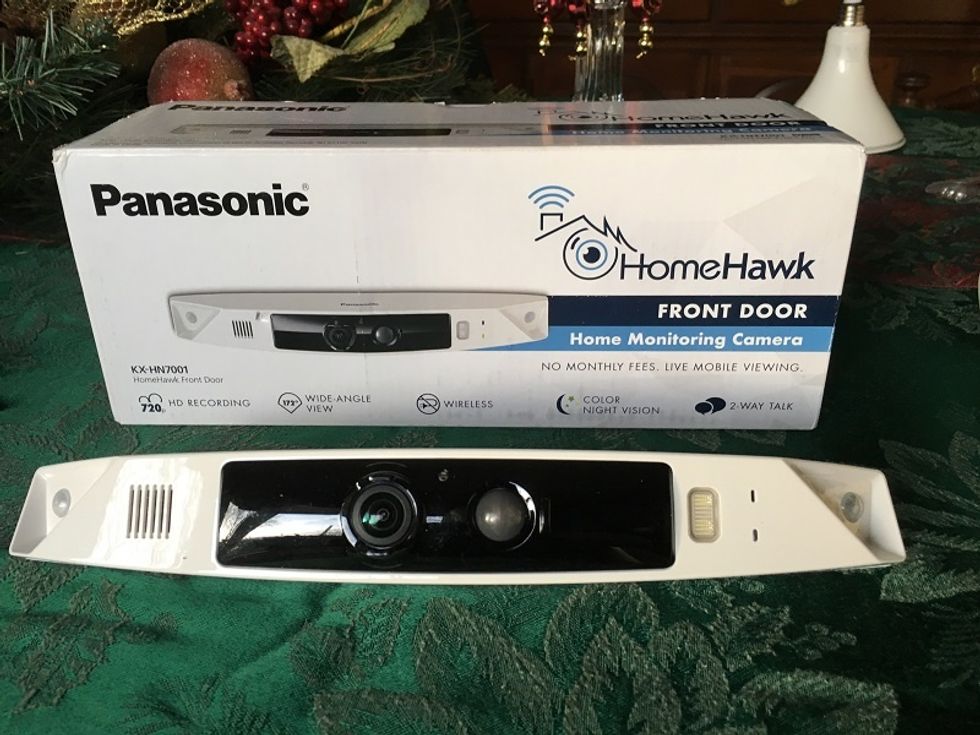 Panasonic HomeHawk Front Door Home Monitoring CamerasGearBrain
Panasonic HomeHawk camera is installed outside and is designed to handle temperature ranges quite well. The camera has a weatherproofing rating of IP65, plus an operating temperature that ranges from -4° F to 122° F. There's an image sensor (1-megapixel CMOS) that uses PIR (pyroelectrical Infrared sensor) to help it detect objects, or movement, at certain ranges that change depending on the temperature . For instance, if it's 77° F degrees outside, HomeHawk camera can see up to 2.5 meters or 8 feet 2 inches.

Priced at $249.95, each HomeHawk needs to connect to your home's Wi-Fi using a 2.4GHz wireless connection, and you'll need to position the camera within 100 meters or 328 feet of your router. You'll find inside each box an access point or hub, the HomeHawk camera itself, a quick start guide, an Ethernet cable, an AC adapter, a USB cable, a wall mounting screws, a wall mounting adapter, a spacer and an installation guide.
How to setup the HomeHawk by Panasonic camera

To start, charge your HomeHawk camera for at least seven hours using the supplied USB cable. Once your camera is charged, find a spot on your door frame where you plan to install the HomeHawk camera. The company recommends placing it at a height of 7 feet 3 inches to get the maximum operating angle. Also, make sure to check the internet connection at that spot, to ensure you have a strong signal reaching the camera. If there isn't a good signal, the Panasonic app will actually alert you, so check that before putting the camera on the final mounting bracket.)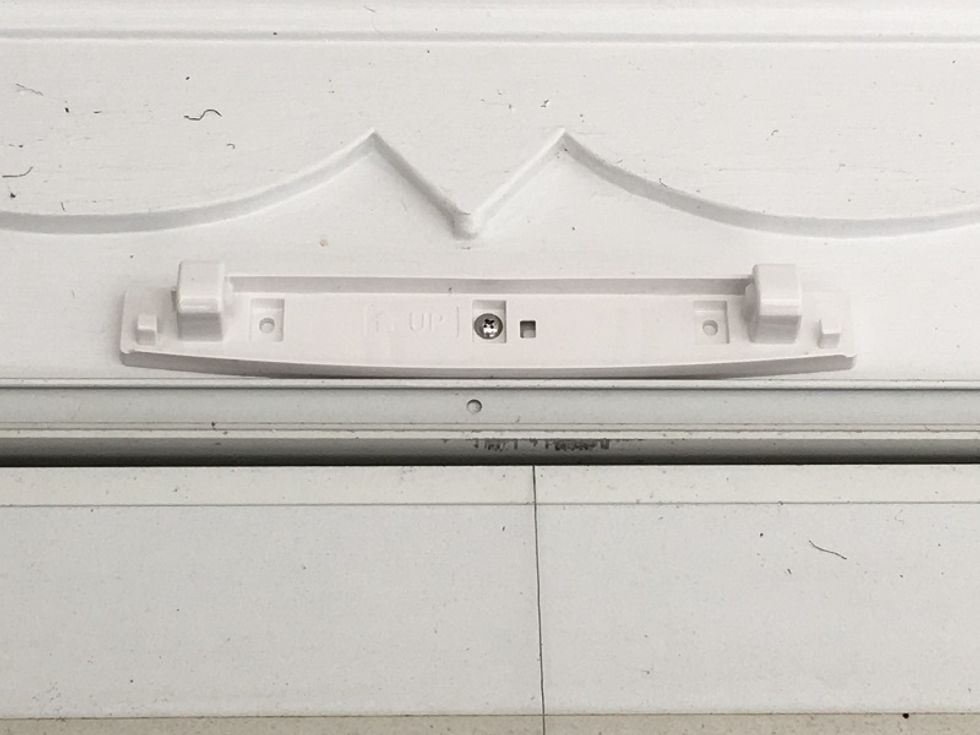 Mount bracket above your front door using supplied screws.GearBrain
You also need to setup the Access Point, or hub, before doing your final installation. Take the supplied Ethernet cable and connect it to the back of the Access point. Then plug the other end into an open slot on your home Wi-Fi router. As we mentioned before, HomeHawk works off a 2.4GHz wireless connection — not a 5GHz connection. Once you connect your Access Point to your router, plug in the hub's power cable and turn on your HomeHawk camera.

Next, download the Panasonic HomeHawk app to your smartphone, which works with both iOS and Android devices. You'll need to create an account before you can launch the set-up instructions — and you'll want to use them as we found them both helpful and easy to follow. Expect to spend about 30 minutes for the entire set-up and installation.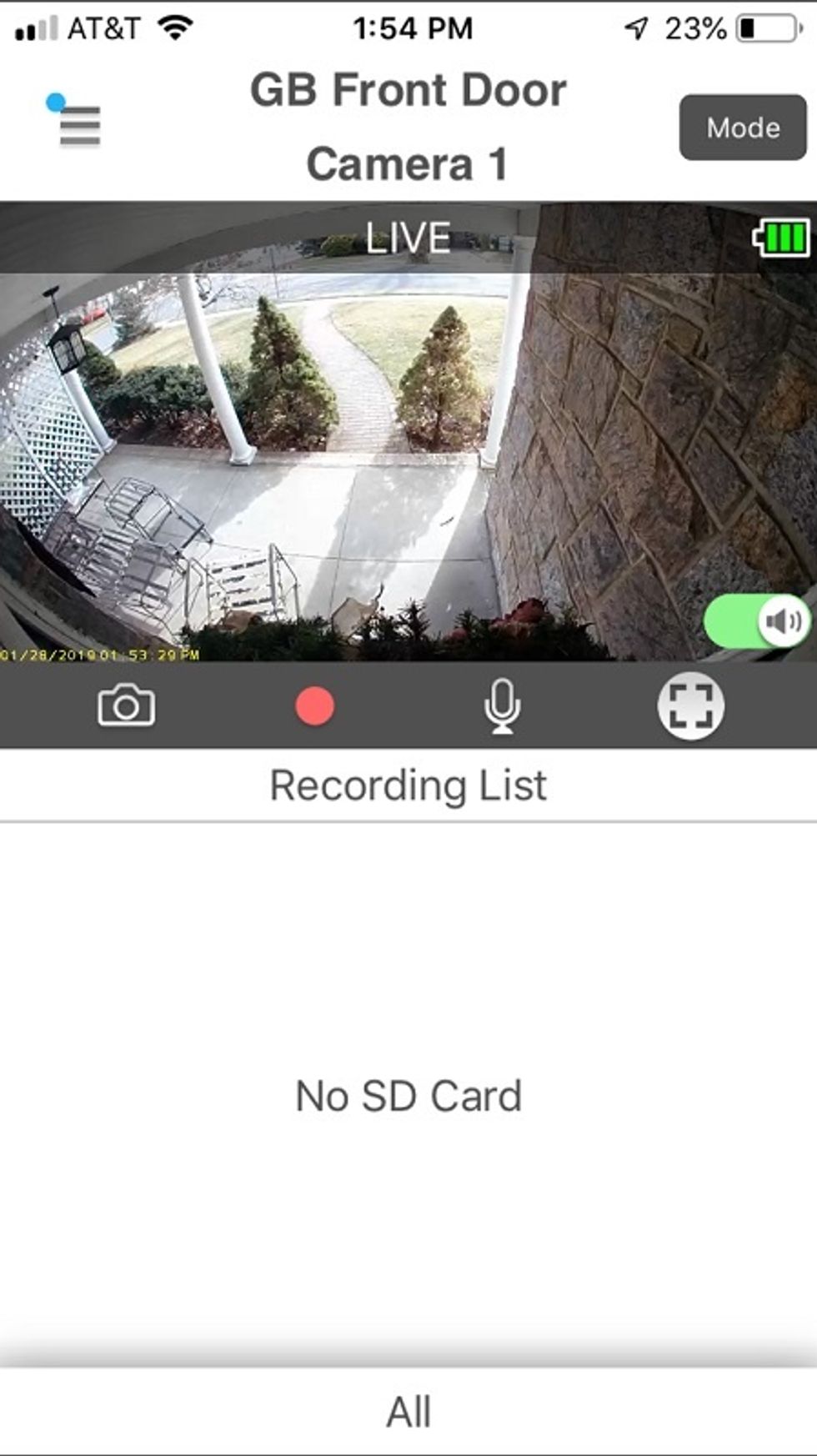 Dashboard of Panasonic HomeHawk app which allows you to see and talk with any visitors at your front door.GearBrain
Features

One of the best features of the Panasonic HomeHawk camera is that you don't need to spend any monthly fees. But you will need to install — and buy, if you don't have one — a microSD card if you want to keep video of events. The camera does have adjustable motion sensors, and you can record video if motion is detected through them, and no one rings the doorbell. That's a nice feature to use when monitoring home deliveries.
The camera not only supports night vision, but shows color, and both features work well. There are Infrared LEDs to let you see in the dark, and the HomeHawk supports two-way communication — so you can talk to visitors from your smartphone even if you're far from home. You can also just tune in and listen to any noise outside your door, even if you're away. But note, we found the sound worked, but wasn't great. Ultimately, its best feature is the 172-degree FOV, which makes it one of the few outdoor HD cameras with a FOV greater than 160 degrees.
172 degree Field of View (FOV)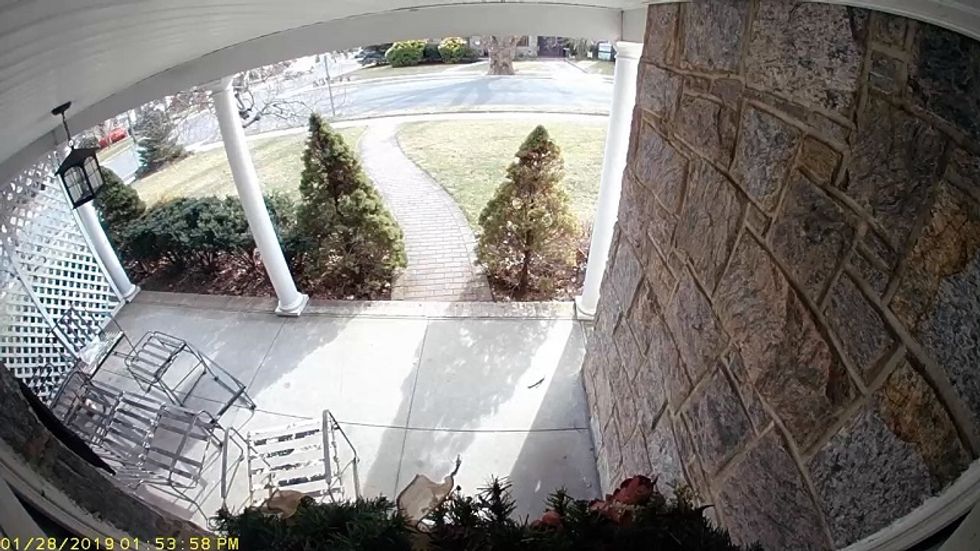 Daytime look at FOV
GearBrain
172 degree Field of View (FOV)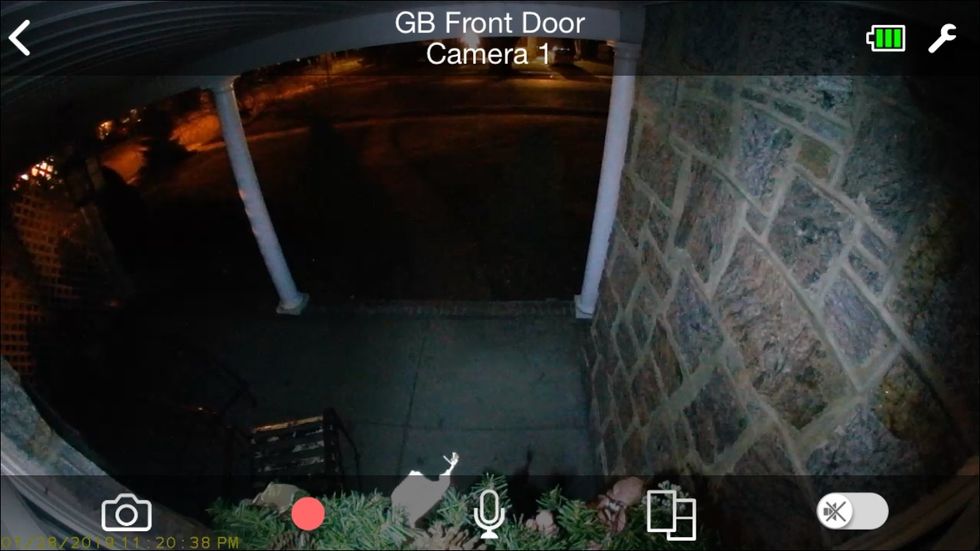 Night time look at FOV in color
GearBrain
Smart Home Integrations
Panasonic's HomeHawk works with Amazon Alexa and Google Assistant — and if you have an Amazon Echo Show, Fire TV or Google Chromecast you can see who is at your front door, and also access videos. We tested the Fire TV connection ourselves, and found the image passable.
Besides these two voice platforms, HomeHawk only connects with other Panasonic HomeHawk security cameras, those that are both inside and outside the home.
Summary

HomeHawk by Panasonic Front Door Monitoring Camera is not meant as a home security system but a home monitoring device. You can see what's happening outside your door, and if you get a lot of deliveries to your home while you're away, we think this is a good system to install. You won't have to pay a monthly storage fee for videos, and the 172 degree FOV is one of the largest we have seen in a home camera.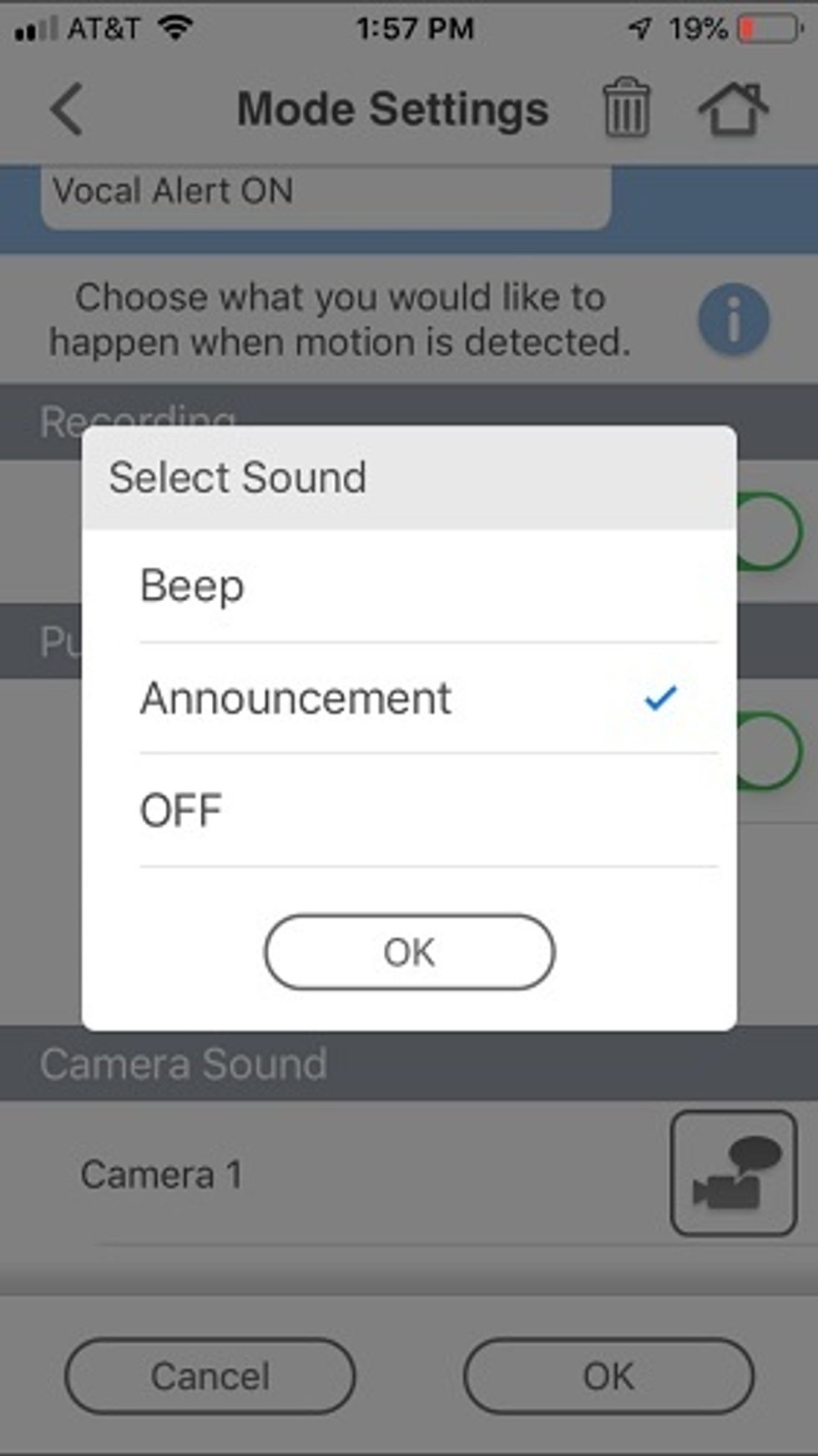 Can select the sound to go off when motion is detectedGearBrain
You can easily add other Panasonic cameras to your HomeHawk system, so you monitor both the interior and exterior of your home — and you can connect up to16 cameras. It's a well-performing home monitoring system.

However, if you are looking for more of a home security system, then you might want to look elsewhere. Though Panasonic's HomeHawk cameras offer incredible FOV, HD video resolution, color night vision, two-way communication and won't charge monthly fees for video storage, so do several other home security cameras. And many of these other HD security cameras are easily connected to other home security devices and systems to offer a level of security you can customize to fit your budget.
Pros:
No monthly video subscription fees
Videos stored locally
Incredible FOV
Good two-way communication
Cons:
No smart home integrations
Requires a hub
720 HD video resolution
Small motion detection range
The 5 Best Questions To Ask Before Buying Security Cameras - GearBrain www.youtube.com
Like GearBrain on Facebook