Over 18 months after we first tried out a wireless HTC Vive headset - using the third-party TPCAST system - HTC has finally announced a cord-cutting solution of its own.
The device, predictably called the Vive Wireless Adapter, means owners of the high-end virtual reality headset can go completely cable-free and not worry about getting themselves tangled up while exploring VR worlds.
Read More:
However, this wireless freedom doesn't come cheap. The adapter costs $300, and owners of the newer, higher-performance HTC Vive Pro will have to purchase a $60 'compatibility pack' to make it all work.
A further limitation is that Vive owners can't use the adapter with a laptop, as the transmitter has to be fitted to an internal PCI-E port. To soften the blow, HTC is throwing in a free two-month Viveport subscription for all buyers of the adapter, which offers access to over 500 VR titles.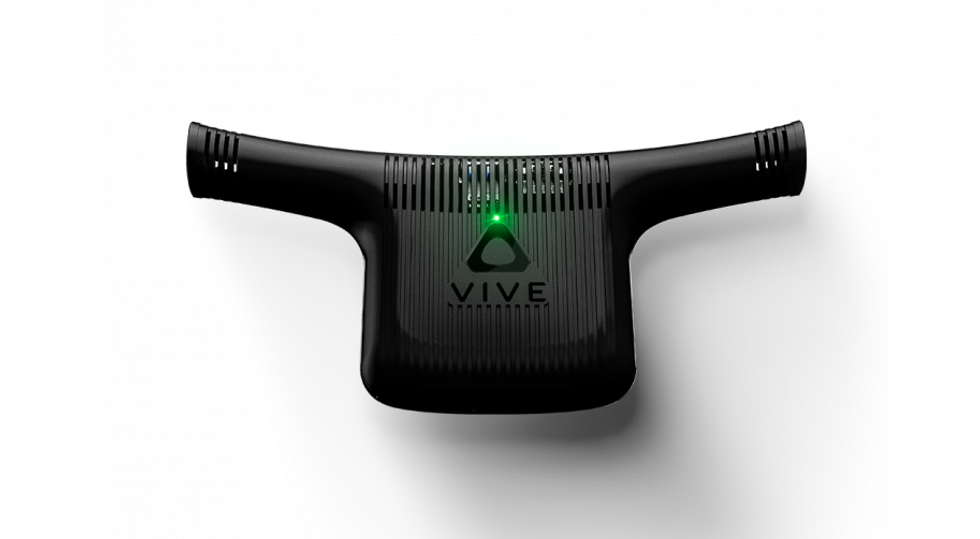 The adapter works at a distance of up to six metersHTC
The adapter mounts to the top of the VR headset - to help maintain a line-of-sight connection with a transmitter which connects to your PC - and comes with a battery pack which you can slip into your pocket. HTC claims battery life for the system is 2.5 hours and the adapter weighs 4.55 ounces.
HTC says it is using Intel's 60GHz WiGig technology with DisplayLink's XR codec to keep latency - the delay between your physical movements turning into visual ones - as low as possible.
The system is said to work at a distance of up to six meters, which should be enough for most consumer Vive owners, even those with large areas dedicated to VR. But this could be a limitation for commercial owners, such as those who use VR headsets in museum installations where visitors are invited to walk around.
Pre-orders for the Vive Wireless Adapter open at Amazon, Best Buy, Microsoft, NewEgg and Vive.com on September 5 and the release date is September 24.