Like GearBrain on Facebook
Last Updated: May 29, 2017
Check out GearBrain's review of Verizon's HumX, the newest addition to the Hum OBD2 device line released by Verizon Telematics, a divsion of Verizon Wireless.
Cars of a certain age may be more fun to drive than today's more utilitarian vehicles, but they can't connect with your phone to show where you parked, ping when it's time to change the oil or make an emergency call for help. Until now. Hum by Verizon is an add-on kit that can bring many 20-year vehicles (and younger) into the 21st century.

The key to Hum is the car's On-Board Diagnostics port, used by mechanics to talk to the car's phalanx of processors. Using Bluetooth, the port powers and connects the base Hum device to the car. The kit also includes a communications module that clips to your visor for making hands-free calls and getting help in an emergency.
To get started, you'll need to enter your name and create an account on Verizon's Web site. Pick a fairly strong password, you'll need one, and you'll have to respond to an authentication email to prove that you are, in fact, you.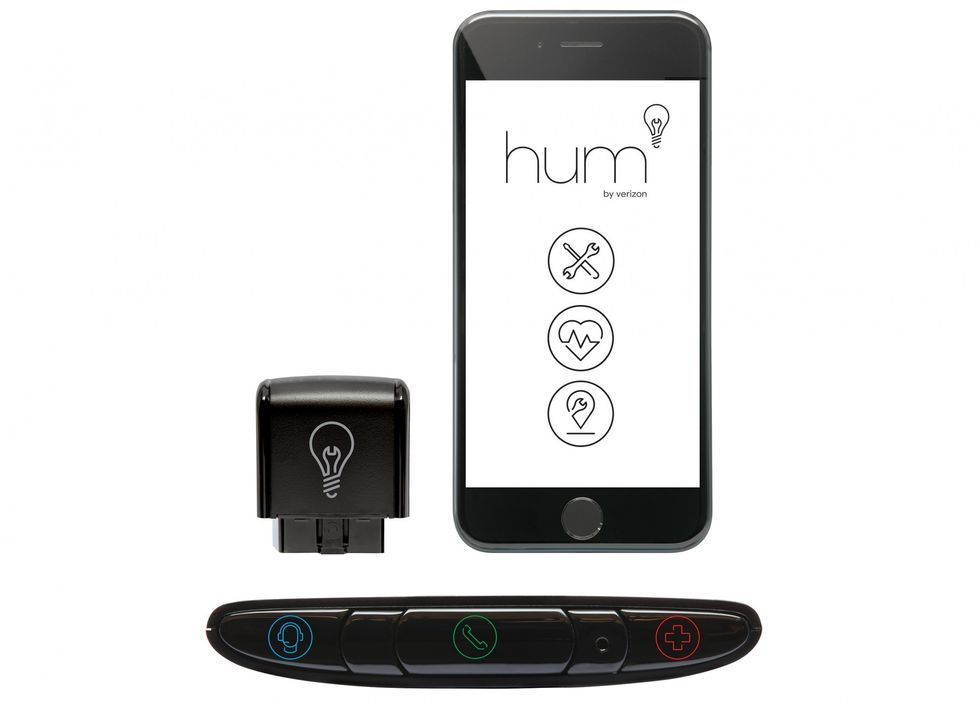 Ports of Call
Next—you'll need to see if your car can work with Hum. Basically, anything vehicle with an OBD-II port works if the car is a 1996 model or newer: from a 1996 Pontiac Trans Sport to a 2017 Porsche 911. Hum's Web interface asks for the year, make, model and color of your vehicle to check compatibility.
After ordering Hum, you'll need to sit tight and wait for a package to arrive a few days later from Verizon containing the hardware. With the gear in front of you, finding the car's OBD port is next. This can be a chore for those who aren't intimately acquainted with their cars. Hint: It's usually under the dashboard or in the front console.
Hum can help with this detail, including an OBD finder that shows a detailed photo of where the elusive port is located. Plugging into my Audi AllRoad wagon took less than a minute. But a word of advice: Have a flashlight with you because the port is usually in a not-too accessible—and often dark—place.
Be careful, the Hum device sticks out a few inches and can get in the way. Although the gear should link with each other and the Hum account in a few minutes, that didn't happen for me. This required a 20-minute tech support call with a knowledgeable technician who solved the problem by resetting my account and starting over the process. After that, everything went smoothly.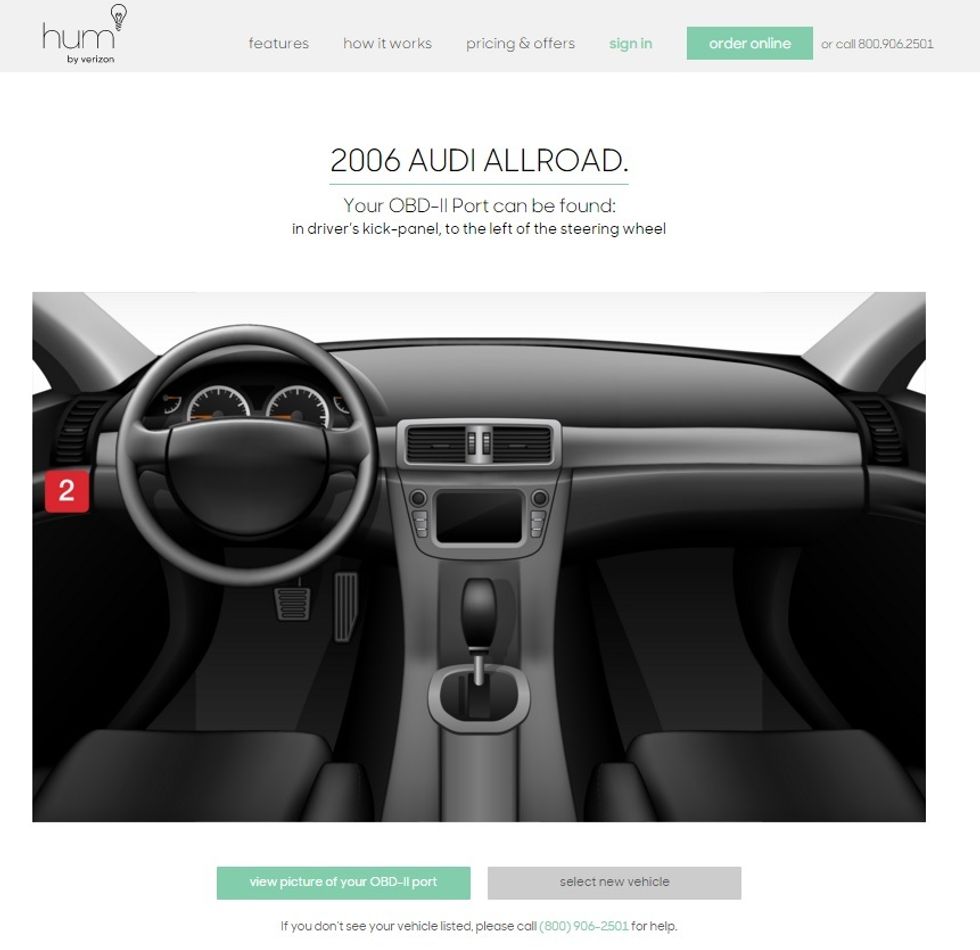 Hum is apptastic
The last step in getting Hum online is to open the device's online portal for PCs and Macs, or load the iOS (iPhones and iPads) or Android app on your phone or tablet. The Android app takes up 28MB while the iOS one requires 65MB of storage space.
The good news is that you can use all three to always be connected with your car. Finally, you'll need to link your phone to Hum through Bluetooth and log on as well.
Hum can teach your car a thing or two, injecting smarts usually reserved for new cars. In addition to grabbing information from the car's control computers and sending you a health report, Hum can give you maintenance reminders.
Every trip gets logged and you can even set geographic limits. When the car crosses the border, you get a notification through email, text message or the online portal. At any time, you can also review details like fuel economy plus average and top speed: quite useful (some would say essential) if you have a teenage driver in the house.
Like Ford's Sync 3, Hum tells you when your parking meter is about to expire—plus help you find where you actually left your car. When carrying bags and boxes through a limitless sea of cars at a mall parking lot, that tool is a big help. (In indoor parking structures, however, the tool didn't work as well.)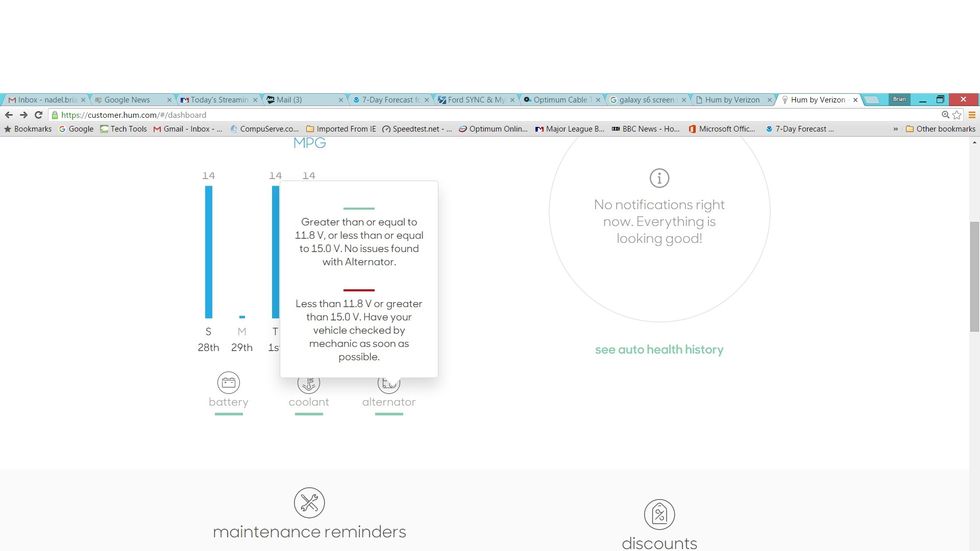 Hum, call home
To make a call, press the Hum's central button on the visor to dial someone in your address book. A microphone and speaker is inside the device, powered by a battery that can be charged through a cigarette lighter adapter and a USB cable. Compared to a hands-free system built into a car's stereo, the sound is okay, but often tinny and hollow.
Got a question about your vehicle you can't figure out, like why the infamous "Check Engine" light is on or how to change the clock to Daylight Savings time? Hum comes with a hotline that connects you with an ASE certified mechanic.
The device also can help should you become incapacitated. If the airbags are deployed, or the car senses a rapid deceleration, Hum automatically calls for assistance using its GPS fix. The service includes roadside service from Signature Motor Club, mirroring what you get from the Automobile Club of America, that includes 10 miles of towing, a jump start, help if you're locked out of the car — plus up to three gallons of fuel if you run out of gas. The plan limits you to four service calls a year.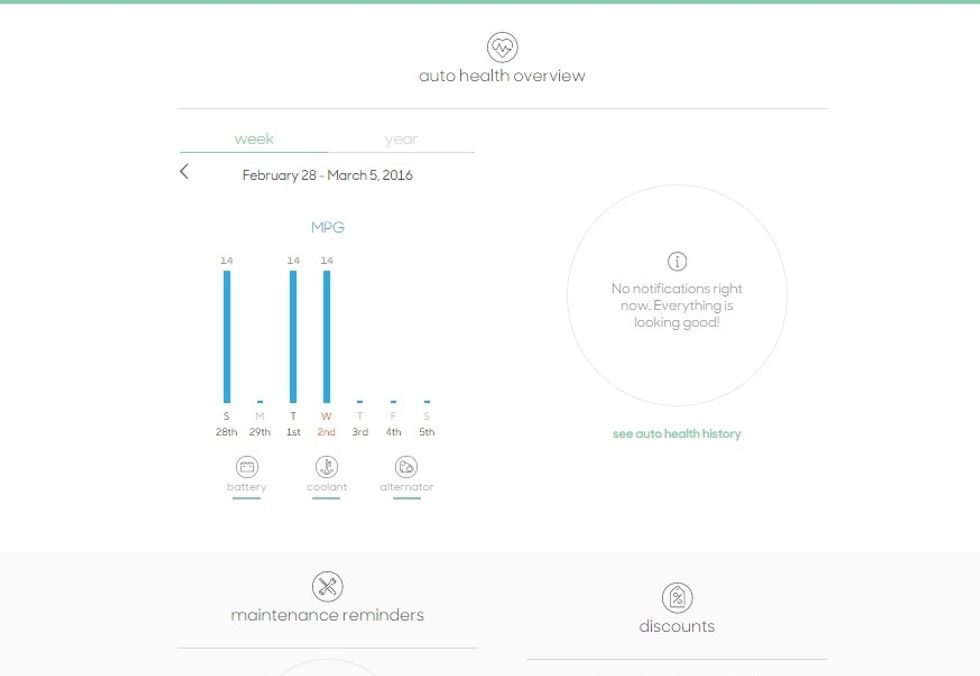 Automotive disconnect
Unlike GM's OnStar-based vehicle communications, entertainment and control system, Hum doesn't let you do things like lock and unlock the car or remotely start it on a cold morning. Plus, there are no plans in the works to integrate Hum with Amazon's Echo technology as Ford is doing.
While OnStar can charge upwards of $50 a month for its entire menu of services, and Ford's Sync 3's more limited array of services is free, Hum is somewhere in between. The hardware costs $50 and Verizon charges a $20 activation fee for upfront costs of $70. Service costs an additional $10 a month per car and requires a two-year contract. Cancel before that, and you could incur a $120 charge if you don't return the gear.
After having Hum as my road trip companion for six weeks in my Audi AllRoad, I'm convinced it is the right product at the right time. The device can not only bring an older car into the 21st century, but allows less expensive vehicles to connect to internal data and activate some extra services.
However, Hum does illustrate the problem of a first-generation device that tries to straddles all three worlds of computer, automotive and communications technology. The device can neither show you where the closest gas station is (as Zubie can) nor compile information for expense account purposes (as Mojio can).
But, by far the biggest chink in Hum's armor is that unlike Vinli, Hum lacks a built-in 4G hotspot so that passengers can connect to the Internet while on the road. This is ironic in the extreme because Verizon is one of the world's largest communications companies, has 3- and 4G networks that span the US and sells mobile hotspot gear.
With that one addition, the device would really hum.
Pros: Easy setup, phone, tablet and PC apps, includes hands-free phone connection, emergency contact, maintenance and diagnostics

Cons: No 4G hotspot, can't remotely start vehicle
Specs:
Hum by Verizon
Plugs into OBD-II port for power and data
Hands-free phone connection and emergency service

Android and iOS app includes car location, maintenance, health report, fuel economy, driving history,
Hardware costs $50, there's a $20 activation fee and a $10/month service fee.
Like GearBrain on Facebook